Subscription eCommerce is about convenience. With brick-and-mortar stores, you can't shop for groceries, in your underwear, at 2 am. Not without consequences at least. 🙂
eCommerce takes away many of the hassles of shopping: the commuting, the store hours, the amount of time it takes to browse, the limited selection, sometimes even the cost.
According to a Mckinsey research, although streaming-media subscriptions have been popular for some time—46 percent of consumers in our survey subscribed to an online streaming-media service, such as Netflix—shoppers are now also turning to subscriptions for consumer goods. Their research indicates that 15 percent of online shoppers have subscribed to an e-commerce service over the past year.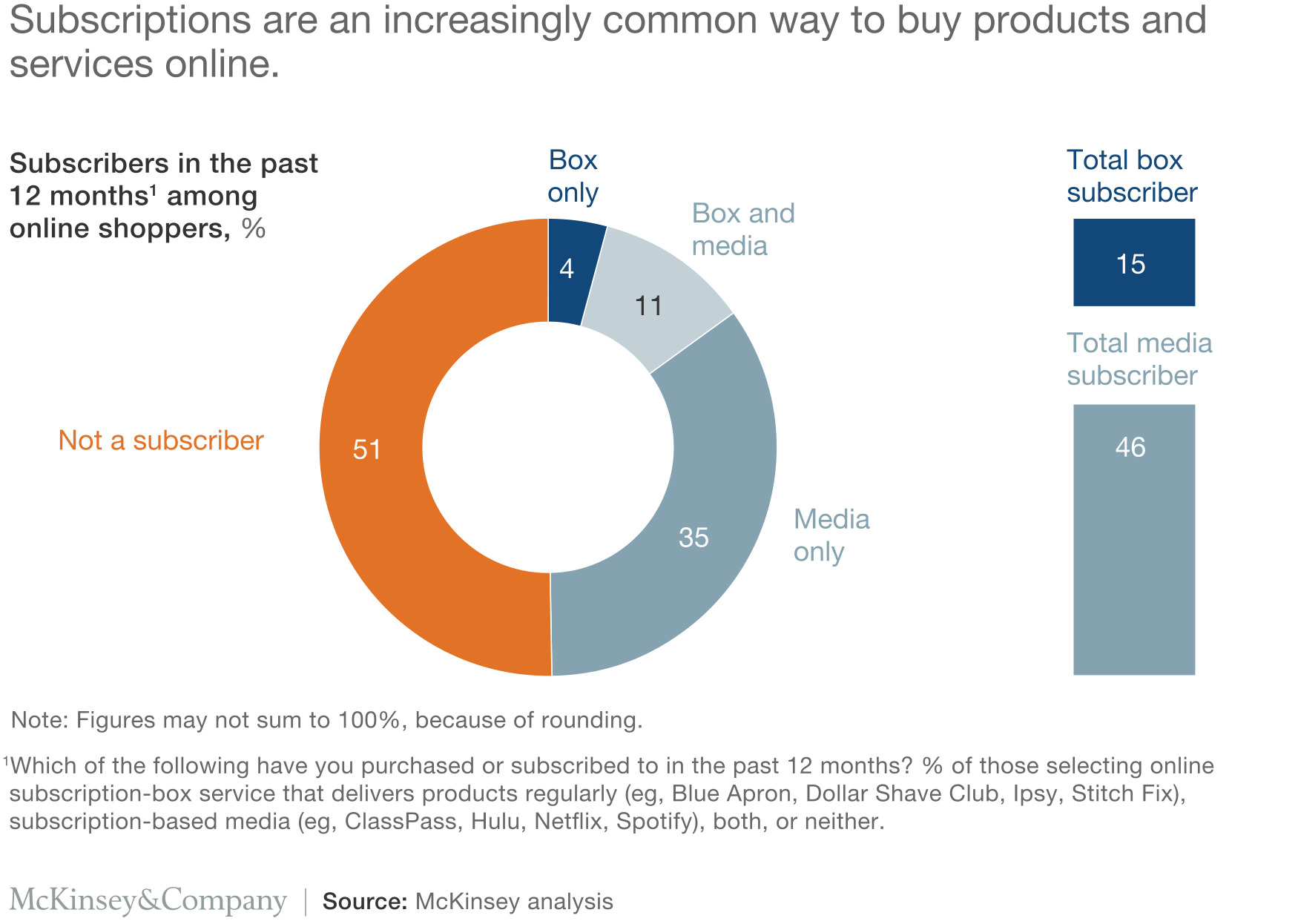 #1. Why The Subscription Business Succeed
The subscription business model take shopping to the next level by eliminating one last final hassle: the shopping itself!
Subscription boxes and other such services have been steadily gaining momentum since the early 2010s.
Even if they're not your cup of tea personally, there are plenty of customers out there who disagree — enough to make it a highly lucrative venture, especially now when it's hitting its stride.
Here we'll explain why online retailers need to start taking subscription services seriously, not as competition, but as a new, viable branch of their own businesses.
1.1. By the Numbers: Subscription eCommerce on the Rise
Before we go any further, let's clarify what, exactly, subscription eCommerce is. While there's a wiggle room on the specifics, generally speaking, it's a package of products delivered to the customer at recurring intervals.
The most popular type is the subscription box, but the business model also applies to "subscribe and save" offers, and mystery boxes.
A lot of factors are variable, such as how frequently the packages are delivered, how much choice the shopper has in the products (or if they prefer the surprise), and even the types of products, ranging from pet toys to sex toys.
What we're talking about is the business model of offering such automatic product deliveries on a regular basis. And today, this business model has become quite successful.
Here are some stats:
Subscription box sites have grown nearly 3,000% in just the last three years: visits to subscription box sites went from 722,000 in Jan. 2013 to 21.4 million in Jan. 2016. By comparison, Hitwise Retail 500, an aggregation of the top 500 online retail sites, saw only a 168% increase in visits during that same period.
Brick-and-mortar behemoths like Starbucks and Sephora are also following the trend by offering their own subscription package deliveries.
Subscription box services see more social media engagement: in Dec. 2015, subscription box sites received 13.5% of its referred traffic from social media, compared to 8.4% for traditional retailers.
The same study outlined the demographic data for the most popular subscription shoppers:
Female
25-44 years old
Educated
Higher-than-average income
Don't confuse the prevalence of female buyers: subscription services are almost equally viable for male shoppers as well. As Thomas Rankin reports, men seem statistically predisposed to subscription services:
In general, men shop more than women by 20-30%.
83% of men prefer shopping online rather than in-store.
48% of young men (18-25) feel overwhelmed by the multitude of choices in eCommerce.
60% of young men want recommendations when shopping (compared with only 25% of women).
Given the meteoric rise in interest for subscription box services, combined with the natural online shopping habits of both men and women, it's clear why subscription eCommerce is getting more attention now than ever before.
And not just by shoppers — online retailers are sizing up the model as their next prospective venture.
1.2 A New Set of Rules
The subscription business model does not follow the same rules as traditional eCommerce. While her article focused only on "beauty boxes," her points remain valid across the industry as a whole.
First, for traditional eCommerce, a portion of profits are determined by how well they manage their warehouse (if they're selling their own products, which we discuss below). These concerns tend to be more about efficiency and automation. Subscription services, however, tend to be more manual and require a more hands-on touch.
Subscription deliveries demand more attention. These boxes are supposed to feel like a monthly "gift," and to achieve that effect, should be presented with a little flair and decoration to set them apart from other, duller eCommerce deliveries. This flair often means extra effects: the arrangement of the items, wrapping paper, ribbons, stickers, and "sizzle," the industry term for crinkled tissue paper that keeps the items in place.
Of course, these effects means more effort from the packers, i.e., they can't just throw the needed items in a cardboard box, tape it up, and ship it out as with other eCommerce deliveries. Simply put, subscription deliveries require more work than those of traditional eCommerce.
On the bright side, the shipping schedules are more predictable. Because the same or similar shipments are sent out on a regular and set schedule, stores can more efficiently preplan their inventories and delivery methods to meet their needs. This circumvents some of the problems that conventional eCommerce sites run into with "surprise" orders.
#2. What are the benefits of Subscription eCommerce?
The idea might seem foreign at first — after all, it is a relatively new addition to eCommerce — but when you break the subscription business model open and look at what it's made of, it makes perfect sense, for both the store and the consumer.
2.1 Benefits for the Store
Recurring Revenue without Checkout. Obviously return shoppers are good for business and increase profits, which is why brands fight so hard for customer loyalty. But every time the shopper has to check out, there's a substantial risk that the sale won't go through — in fact, the Baymard Institute puts the cart abandonment rate at 68.81%, as of Oct. 2016. The subscription business model reaps all the benefits of return customers, but with greater security, so you don't have to take a chance for every payment.
Predictable Revenue. Another byproduct of a steady recurring revenue is predictability. This allows you to more accurately manage your company's finances and future investments without too much uncertainty.
Inventory Control. Your inventory demands are also predictable. You have a better idea of how much of what to keep in stock, reducing waste and circumventing running out of stock.
2.2 Benefits for the Consumer
Niche Markets. Everyone has a niche, but not every niche is satisfied. Subscription businesses, especially subscription boxes, are capable of targeting specific niche groups in a way more generalized eCommerce stores cannot. Given the cost advantages for stores (see below), subscription brands can afford to specialize in particular tastes. As long as its economically viable, no market is too small.
Relieves the Burden of Choice. Choice can easily fall into the category of "too much of a good thing." Especially in eCommerce, the number of decisions can be overwhelming, and weigh down your UX by causing cognitive overload. The subscription business model sidesteps this, not only by making the decisions for their customers but by making better decisions. Part of the appeal of subscription boxes is that they're curated by experts, enticing people to sign up so the choice for their best interest is made for them.
Automatic/Convenient. Just as the stores benefit from predictable revenue streams, customers benefit from predictable deliveries. One of the major selling points of the subscription business model is that it's automated. No forgetting orders, no getting items late. After the initial transaction, the consumer never has to worry about fulfilling that need again. For this reason, subscription services work well with products that need to be regularly reordered.
Savings. Because eCommerce stores save money with subscription services, the savvy ones pass some of those savings onto the customer. This price break adds more incentive to join — often buying a regular subscription delivery turns out cheaper than periodic, individual purchases, plus without the nuisance of having to place an order every time.
Discoverability. As is usually the case, subscription services throw in an unexpected or surprise item, whether as a gift or part of the service. This gives the customer a no-commitment opportunity to try new products they wouldn't choose on their own, and sometimes that's even the sole reason they sign up. This benefits the store as well, as it gives them the opportunity to promote new, experimental, or unknown products.
#3. Million-Dollar Subscription Companies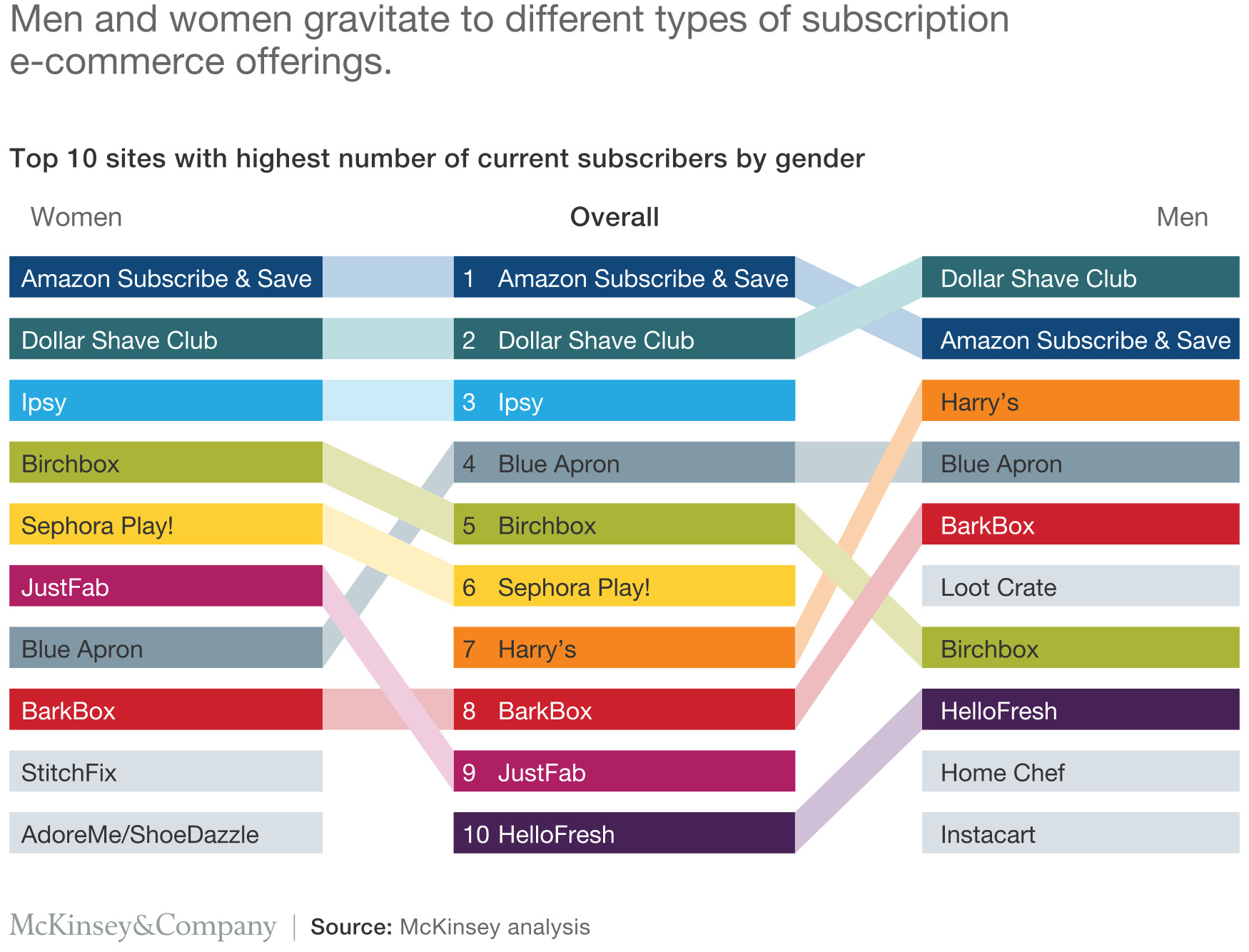 The truth is, the subscription business model can lead to a million-dollar company if done correctly. As proof, here's the Subscription Commerce Insider's list of the most profitable subscription-based companies, all worth over one million dollars: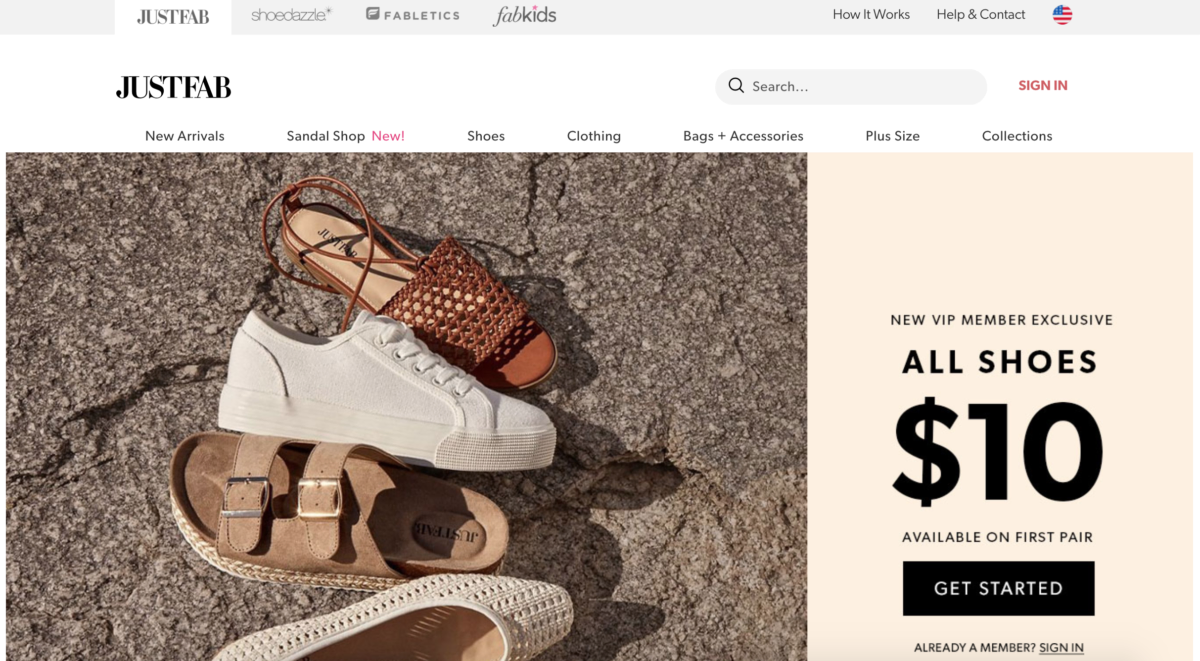 Source: JustFab
One of the most successful subscription business models, JustFab combines the bankable fashion industry, the convenience of subscription services, and the allure of personalized professional styling. By becoming a VIP member, customers receive a 30% discount and personalized styling choices, based on the results of their style quiz.
Of course, the fee for the membership is billed automatically at the beginning of each month, but shoppers are given 5 days to skip the month if they choose. However, if you don't pick or skip by the 5th of each month, you get charged $39.95 store credit to spend any time.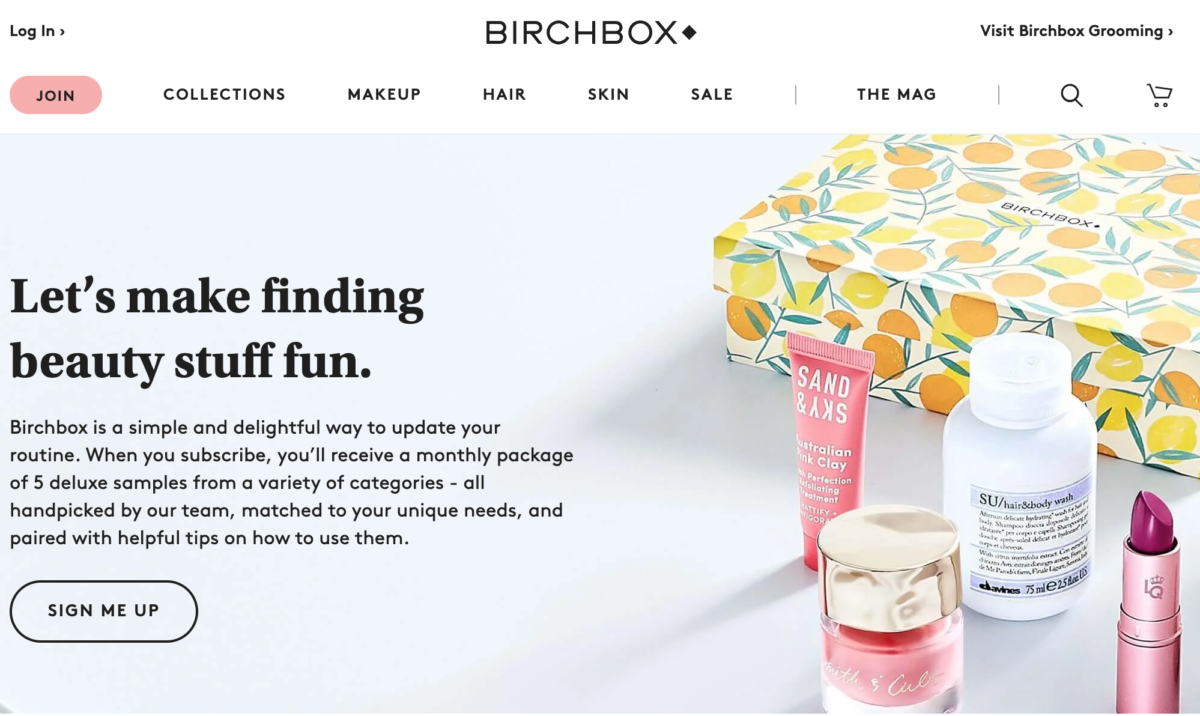 Source: Birchbox
The "Amazon" of subscription boxes, Birchbox sets a precedent that other subscription boxes should strive to follow. Every month, they send their customers a box full of beauty product samples, each personalized to the customer's special tastes.
Subscription choices range from makeup, hair, fragrance, skincare, bath & body, nails, lifestyle accessories, etc., and have options available for men as well (such as beard and shaving products). Playing on motifs of discoverability/sampling, personalization, and a product type that needs regular refilling, Birchbox sets itself as the "gold standard" that other subscription boxes can base their strategy on.
The service itself is phenomenal and is perfectly aligned with all the ideals of eCommerce subscription services. It targets women 25-44 years old, its products are considered "pampering," and the industry is flooded with products, making the subscription box a practical aid in deciding which brands to buy. Those same brands appreciate the exposure, so Birchbox is making and saving money on both ends.
Their model is traditional but effective. Subscribers narrow down their skin types and style preferences, and then catered monthly boxes deliver five new products. It's not necessarily about buying five beauty products as it is about discovering new products personalized to your taste. Pay attention to those two concepts — "discovering" and "personalization" — as all eCommerce subscription services should implement those core values into their strategy.
It's also worth mentioning that Birchbox has exemplary social media. Their successful Facebook page is a good example. The company takes full advantage of Facebook Live by streaming "unboxings" from their subscribers. This demonstrates the thrill of receiving their product and keeps subscribers excited while they're waiting for their next box. It also entices new subscribers by showing them what they can expect.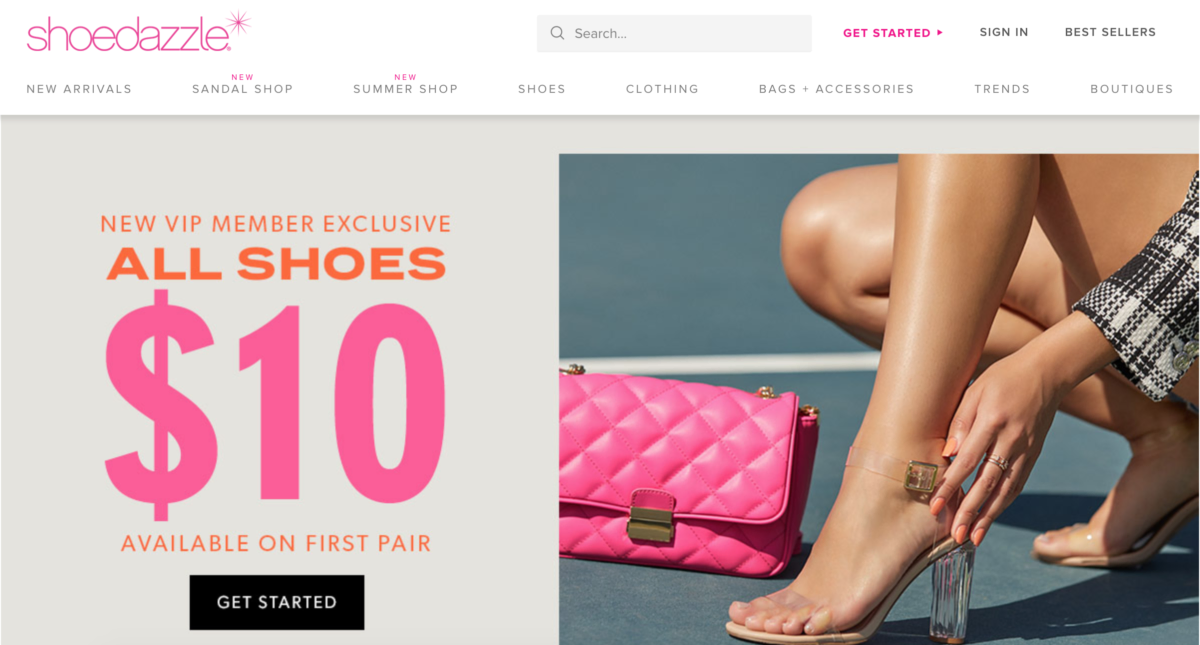 Source: Shoedazzle
Using JustFab's model for shoes, Shoedazzle offers discounts and exclusive deals to membership subscribers. One of their hooks is that they offer personalized recommendations, based on an initial styling quiz, for non-subscribers as well, a way of ingratiating themselves to potential joiners.
ShoeDazzle offers an optional subscription service as a "VIP membership." For a flat monthly fee, the subscriber gets to choose a pair of shoes valued at that price each month. On top of that, they also receive additional benefits, including free shipping and access to exclusive sales, previews, and events.
The VIP membership is entirely optional, however. Shoppers can still buy shoes online as with any other eCommerce store, with one-time purchases. ShoeDazzle is the perfect example of how any eCommerce store, no matter what industry, can implement eCommerce subscription services into their existing site.
Furthermore, ShoeDazzle offers a similar personalization guide as the other sites on this list. After taking a fun quiz for a few minutes, the site records your "style profile" so that it can give hand-tailored recommendations in your customized "Showroom."
As you'll see, again and again, personalization is a key ingredient to all successful eCommerce subscription services.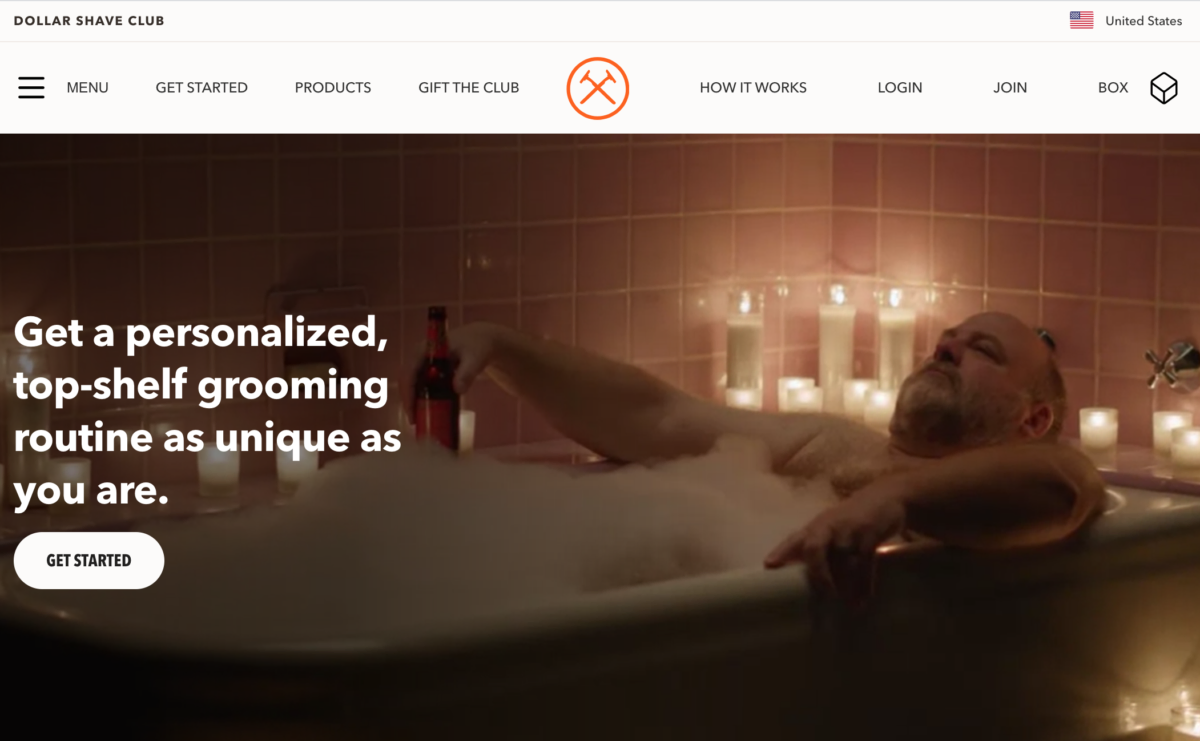 Source: Dollar Shave Club
You may know the Dollar Shave Club from their famous viral launch video, which sent the business into orbit shortly after its opening. But content marketing isn't the only thing they do well: their subscription business model is also exemplary. Not only do they offer a quality product (razor blades) at a cheaper price, they also give customers the first month free as an extra incentive. A great model made better, considering that razors are one of those products that need periodic reordering.
3.5 Graze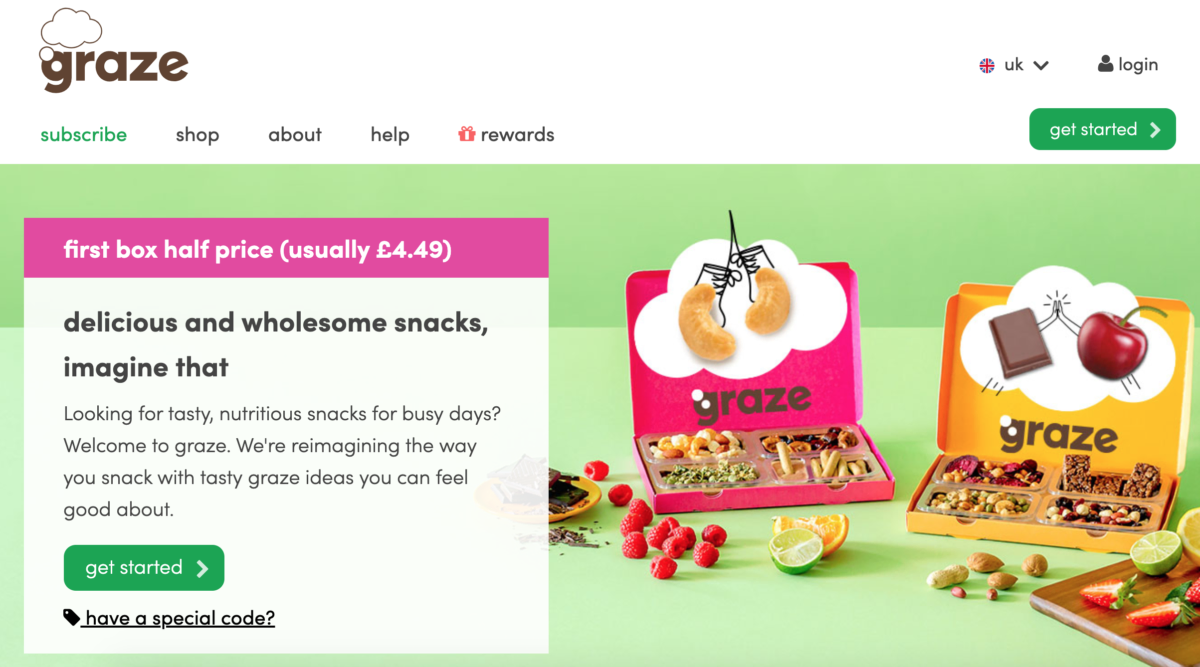 Along with fashion and beauty, another ideal market for eCommerce subscription services is food. It's true that the grocery industry on a whole doesn't perform too well in eCommerce; people tend to prefer shopping for food in person for its freshness and immediacy, plus they can choose which selections to buy. However, the subscription model opens up the door for a plethora of niche markets like organic, specialty foods, delicacies, and — as with Graze — health foods.
Graze delivers monthly boxes of healthy snacks to their subscribers, again personalized to their own preferences. Their business model takes advantage of all the subscription eCommerce staples: discoverability, personalization, and surprise.
In a nutshell, the success of Graze's business model can be boiled down to taking an unpleasant necessity like dieting or eating healthy, and turning into a positive, enjoyable experience as in eating snacks you'll actually enjoy.
3.6 LootCrate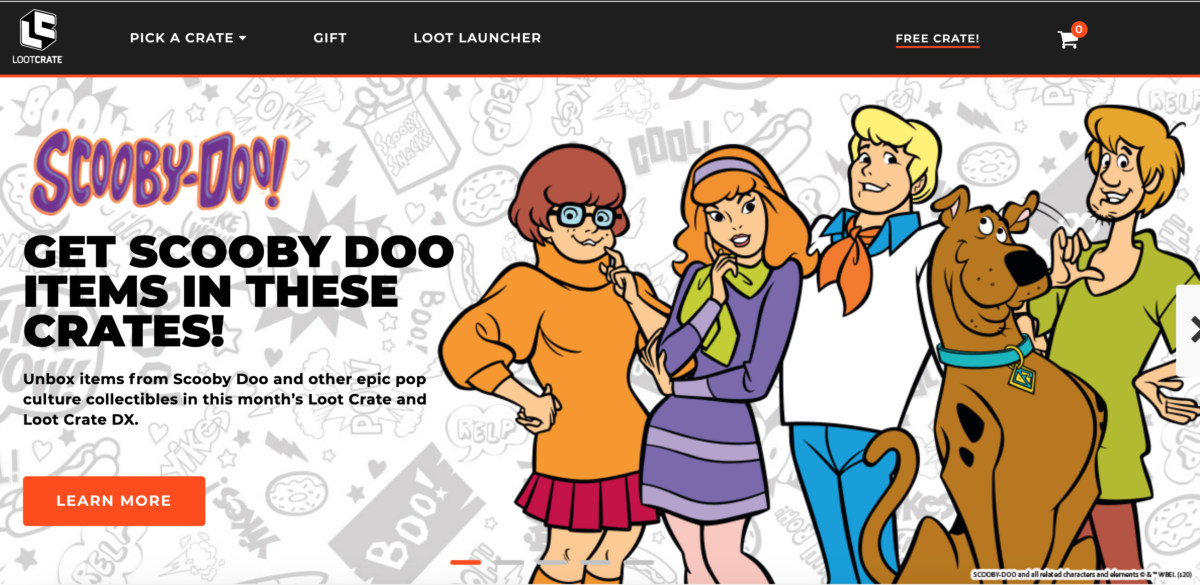 As "geek" culture embeds itself more and more in the mainstream with shows like Game of Thrones and Marvel movies, businesses are more eager to latch on to the lucrative trend. The Loot Crate is the most successful of many contenders to capitalize on geek culture in the subscription box arena.
Rather than personalization, Loot Crate focuses more on discoverability and surprise (although they do have specialized crates, such as Anime and Gaming). They send the same contents to each subscriber, organized by theme. February's theme is "Build," for example, while last October it was "Horror" to tie into Halloween.
While this uniform-box-for-everyone model wouldn't work for more diverse industries like fashion, as a niche market like geek culture, it's a safe assumption that most of their subscribers have the same taste. Add to that the top-name brands for that niche market — Lego, comic book publishers, video game designers — and you have a subscription box that the target customer will happily pay for.
It's also worth mentioning the Loot Crate's marketing strategy. To get their name out there and garner an edge over their competition, Loot Crate sponsors free giveaways on popular geek vblog's, like Mr Sunday Movies on YouTube. Viewers enter for a drawing in the comments section, and a winner is chosen for every episode.
This is a smart marketing plan because it spreads brand awareness to the exact target shopper, and also offers the social media influencer incentive for partnering.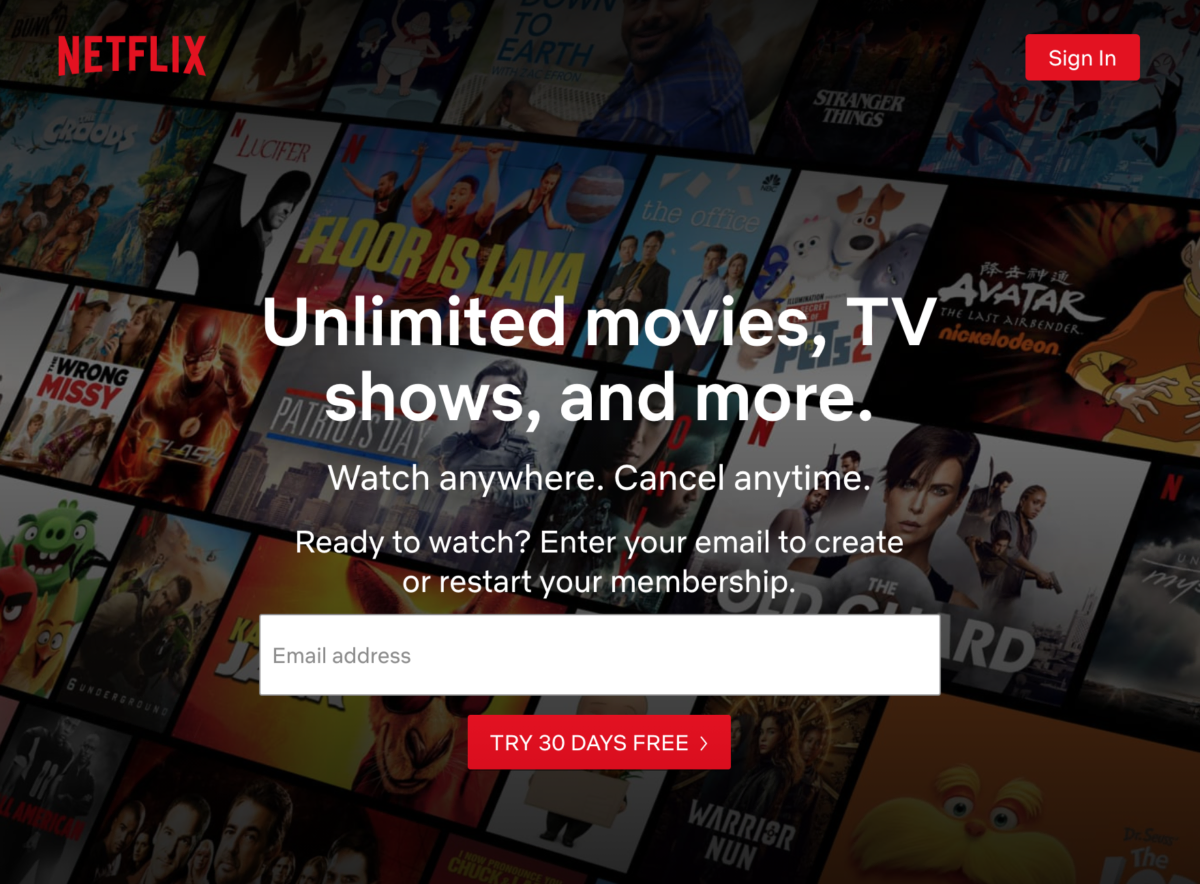 Last but certainly not least, we have what is arguably the most successful of the eCommerce subscriptions services of all time, Netflix.
You probably don't need us to explain the service they offer, and chances are you're already one of their subscribers. By streaming an enormous library of movies, TV shows, and specials, Netflix's service rivals that of television in general.
While Netflix can't offer the "first airing" of conventional TV, they compensate with on-demand viewings of any number of shows and movies at their disposal. This is not to mention their own original programming, with which they always have "first airing" rights.
But an unsung hero in Netflix's business strategy is their personalization options, a crucial part of all eCommerce subscription services through and through.
Using a complex algorithm that matches the subscriber's rating with the preferences of other subscribers who have similar ratings, Netflix gives personalized recommendations on what to watch. This also fulfils the discoverability factor in eCommerce subscription.
Netflix subscribers feel like appreciated individuals, and they're able to discover new movies and shows based on what they like.
#4. The Best Industries for Subscription eCommerce
While eCommerce subscription services are broad and applicable almost anywhere, some areas are better than others. Early research indicates which markets have a higher conversion rate, and which types of customer are more likely to sign up.
If you find your current eCommerce store within these areas, chances are a subscription model will work for you. If not, you can still consider putting feelers out in these areas.
4.1. Grocery and Food
Products that need regular replenishing naturally work well with the subscription model, as do perishables. Add to that the fact that everyone needs food, and it's clear why the grocery industry is a hot market subscription eCommerce.
It's not exactly that simple, though. eCommerce has been having difficulty breaking into the grocery industry for normal, everyday food shopping. Food isn't always the kind of thing you want to wait a day to be delivered, and while eCommerce offers a greater range of products, shoppers traditionally enjoy selecting the foods they can see in-person.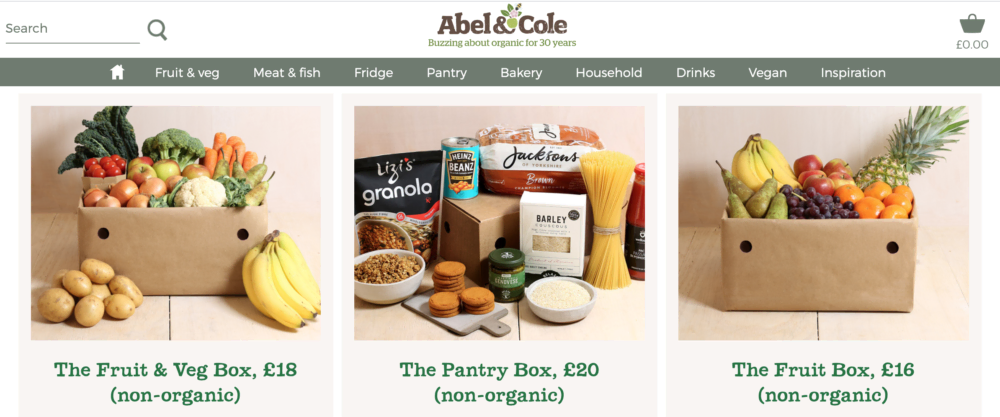 Source: Abel&Cole.co.uk
For these reasons, subscription eCommerce works best for speciality and niche food industries. Markets like organic, vegan, gluten-free, etc. are able to offer their specialized and sometimes hard-to-find product range in group packages, incentivizing their target customers with the convenience of not having to hunt them down, plus eliminates the distrust in standard, store-bought products.
Likewise, gourmet industries work well. Chococurb offers speciality chocolates from around the world, and a major selling point is that these products are difficult to find elsewhere, let alone all together in one package. Subscription wine clubs work well, too — historically, wine has been a favourite of connoisseurs, so a model delivering surprise recommendations periodically satisfies a need, as long as the source is credible as an expert.
Basically, subscription-based services do wonders for food categories with devoted enthusiasts, but lose their effectiveness as they get into more general, everyday grocery shopping. Shoppers are more likely to pay for a local, farm-to-table selection of ingredients to cook, rather than a weekly delivery of coffee cream.
4.2. Fashion
While high-end fashion scoffs at the idea of mail-order clothes, the pret-a-porter industries can leverage a subscription-based model in a variety of ways:
For subscription-based eCommerce, fashion works a little differently than other industries. For starters, there's the price; fashion items tend to have higher price tags than other industries, especially the most in-demand items.
One of the key advantages of subscription eCommerce in fashion is undercutting the cost of other eCommerce and brick-and-mortar competitors.

The financial advantages of subscription eCommerce mean that companies can give some of these savings back to shoppers. For paying a regular subscription fee, customers receive the same products for cheaper, with companies leveraging the steady recurring revenue to balance their bottom line.
Another issue with fashion is customer satisfaction, both matching the shopper's stylistic tastes (for curated and surprise boxes) as well as the apparel actually fitting them. The clearest solution to both of these issues is an expected return policy. Similar to renting the items on a trial basis, it's fairly common in fashion subscription eCommerce for companies to send customers multiple items and request that they return the ones they don't like.
Not only is this a great safeguard to ensure customer satisfaction, but it also generates more income through shoppers keeping items they otherwise wouldn't have.
4.3. Pet Goodies
For all the reasons subscription services benefit the human grocery industry, they also benefit the pet industry. The pet industry, though, has extra advantages in offering toys and accessories.
Pet products on their own are expanding almost on par with the subscription eCommerce industry, which creates a lucrative opportunity to get two birds with one stone.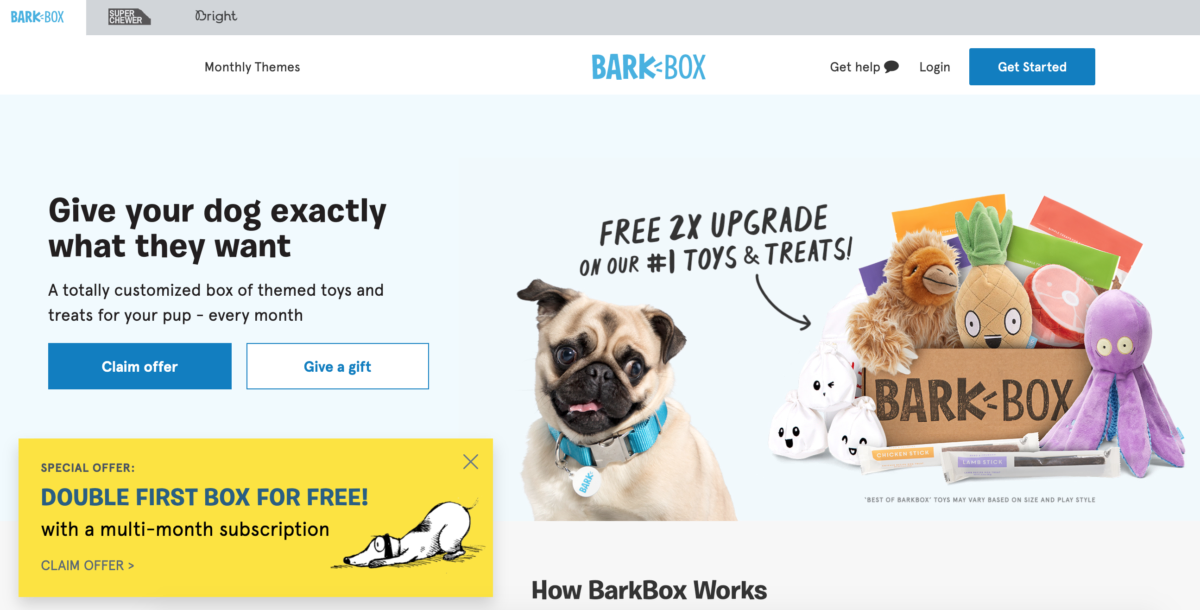 A recent trend shows pet consumables for holistic/organic/all-natural sensibilities, opening them up for specialized niche subscription services. Standard products like flea repellent and cat litter have all-natural variants, as well as toys made from natural materials.
4.4. Beauty
If subscription box giant Birchbox is any indicator, the subscription model is made for beauty products. On the surface, the pieces fit. Beauty products are diverse, small enough to be packaged easily, consumable to require a refill, and diverse enough to encourage experimenting with new products and brands. They also fit well into the model of a surprise gift, as its an enjoyable product that gets customers excited to see what's inside.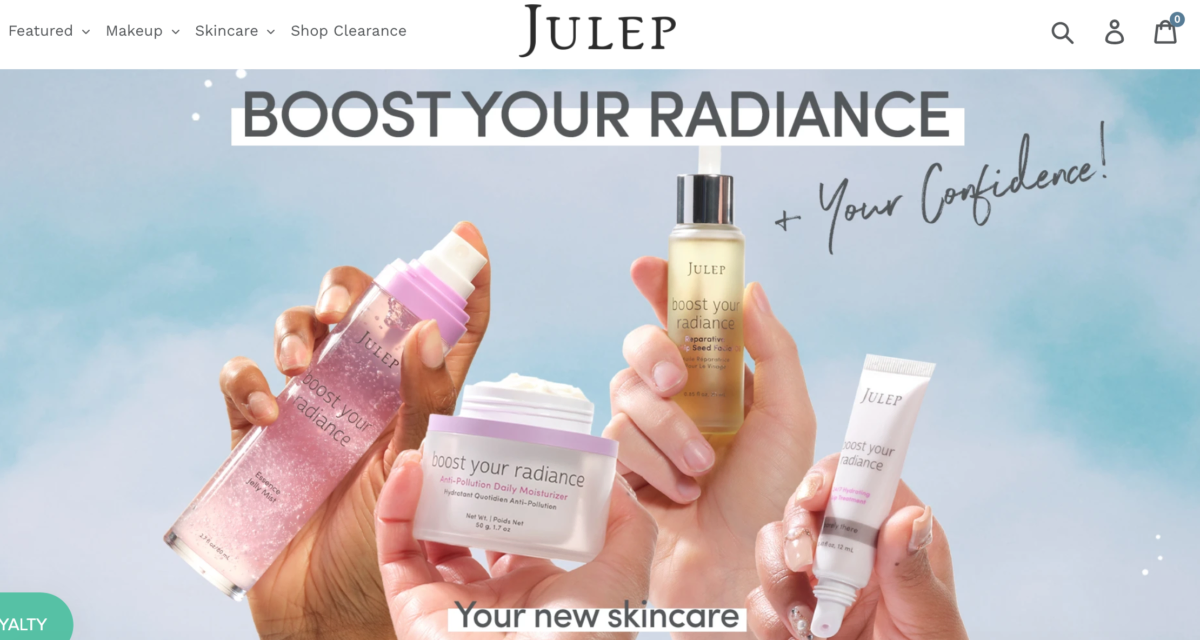 Source: Julep
But Hayley Wilbur of Style.Mic claims it goes deeper than that, and that beauty subscription boxes play directly into millennials' innate shopping habits. Millennials reportedly enjoy self-indulgence, which is inherent in both beauty products and the subscription box business. Beauty products themselves are meant to make the user look or feel better, and when they come as a gift that just accentuates this aspect.
On top of that, millennials are especially partial to convenience, so part of the appeal is not having to go out and buy these consumable products over and over again. For curated boxes, customers don't even have to bother with choosing what to buy — everything is handled beforehand and delivered to their doorstep. All they have to do is open their present and enjoy it… for a monthly fee.
One of the best methods of choosing your industry is to isolate a common problem and offer a solution, with an emphasis on what subscription eCommerce can offer that conventional eCommerce and brick-and-mortar stores cannot.
Marketing of eCommerce veteran Armando Roggio distinguishes three key areas where subscription eCommerce has the advantage:
Replenishment — People periodically need products like razors, tampons, makeup, and even food. If a service takes care of replenishing these products at a reliable frequency, it's a huge convenience for the shopper. Other shopping experiences involve the thrill of buying something new, but replenishing the same product over and over is a hassle the customer would be happy to get rid of.
Discovery — Part of the magic of subscription boxes and falling in love with a new product or brand you wouldn't have bought on your own. Subscription boxes appeal to those who enjoy both expert recommendations and surprises. Each package is like a gift you buy yourself, though you don't know what's in it. Often, one of the best selling points is that the products are chosen by someone who knows better then the shopper.
Ongoing Service — Rather than a pay-as-you-go model (which has its own merits) subscription service allows customers to use their service any time they want, as much as they want. Netflix is the perfect example of a subscription service; for a single monthly fee, customers can watch an unlimited number of movies whenever it's convenient to them.
Roggio recommends first answering what kind of problem your eCommerce subscription service will solve, and then look into what kind of competition you'll face. This is where niche-targeting comes in handy.
For example, there are plenty of generic women's apparel subscription services, but what about one that targeted Native American jewellery? This type of specialization works well with the subscription model, for reasons we'll explain below.
#5. Selling Your Own Products vs. Partnerships
When determining if subscription eCommerce will work for you, you need to consider where your products come from. You're either selling your own products or partnering with other companies — both have their own advantages and disadvantages in subscription-based eCommerce.
5.1 Selling Your Own Products
Advantages
Selling your own products lets you customize exactly what your subscription eCommerce service offers. You and you alone decide the parameters of what you're offering, the price of the subscription service itself, and also the amount for any bonuses and discounts involved. If you're selling a subscription box, you also decide exactly which products you put into it. This makes the whole endeavour feel more like yours.
Disadvantages
These advantages and the control come at a cost, quite literally. The downside of selling your own products with subscription-based eCommerce is financial. First, you're in charge of all the up-front costs, including management, advertising, and keeping your initial inventory stocked. Sure, you can get some income from early subscribers and maybe teaser launches (see below), but for the most part, you may not be turning a profit for around a year.
If you already have an established and profitable eCommerce store, though, these costs may be negligible, and your patience may pay off ten-fold if the subscription eCommerce trend continues to rise as it is now.
5.2 Partnerships
Advantages
Don't have your own products? Sell someone else's! Initiating partnerships with on-board companies can undercut the startup costs of eCommerce subscription services. It can also allow you get the business up-and-running sooner, even immediately, depending on your negotiation skills.
With the lower margins, you're less reliant on the customers, and can better navigate the ups-and-downs of the business. This is especially useful to those inexperienced in subscription eCommerce, as kind of a safety net while you learn the ropes.
Disadvantages
Diluting the risks among other partners also means diluting the gains. While selling your own products means spending more at the beginning, partnerships mean receiving less at the end.
Moreover, you have a lot less control over the details. You'll have to factor in your partner's demands in the vital decisions about cost and shipping specifics. If you're working with subscription boxes, a partnership will restrict the choices you have in which and how many products you put into it. You may even have no choice at all, being limited to whatever items your partners offer as part of the deal.
5.3 Comparison
For well-established eCommerce stores, selling your own products is the best choice. Assuming you have the capital to pay the upfront costs, your existing revenue will let you live comfortably until the subscription services start turning a profit. And when they do, you'll be glad you kept the operation in-house because that's exactly where those profits will stay.
If, however, your current eCommerce store is not so secure — or if you're an entrepreneur trying to break into subscription-based eCommerce without enough investment — some degree of partnerships can help you get started, even if just a stepping stone.
The less risk provides a more forgiving atmosphere if you make a mistake, which is all but inevitable if you're new to the subscription business. And if your overheads are low, you won't mind sharing the profits with your partners.
#6. Identify Your Target Customer
With any business, from subscription eCommerce to selling home-grown vegetables from your truck, it pays off to know your target customer.
As we mentioned before, there are four common traits among the standard subscription box customer:
female
age 25-44
higher income
higher education
The same profile also applies to frequent social media users. According to the report, subscription eCommerce sites "help older millennials and Gen X-ers get new stuff they can talk about without exerting much effort."
Another reason for this age group is that they're familiar enough with subscription-based models to know how they work, but still enchanted by the novelty of the delivery box iteration.
That's not to say that this group is the only group worth targeting. Men, as well, are receptive to subscription eCommerce. In fact, Thomas Rankin reported that, statistically, men are more likely to feel overwhelmed when shopping and appreciate recommendations more than women. On top of that, men on average shop more than women, and prefer shopping online to in-store.
But perhaps one of the most important aspects of eCommerce subscription services is its ability to reach niche markets. Vegan foods, particular fashion styles, even personal items like menstrual products — part of the appeal of subscriptions eCommerce is indulging in specific and unique interests and need that isn't fulfilled by standard shopping, especially considering the discovery aspects of subscription boxes.
Choosing on your target market and your type of product is a bit of a chicken-and-the-egg conundrum. It's best to examine and decide on both at the same time.
#7. Create Your Value Proposition
You're not the only one who noticed how effective subscription-based eCommerce is, and competition is fierce. From the outset of your new venture, determine your company's value proposition.
What problem are you and your products solving for your customers? And, more importantly, why should they choose you over your competitors? You need to be able to answer these questions as soon as possible so you can build your business around your advantages.
Writing for Forbes, Michael Skok outlines 4 steps to creating a workable value proposition:
Define the problem — Explore every corner of the pain points your customer suffers from, so you can build the most satisfying solution as possible.
Evaluate your solution — Will you subscription service solve the customer's problems? For how long?
Measure potential customer adoption — Analyze the market and make some preliminary predictions to see how viable your plan is.
Build your value proposition — Skok recommends the following format: For [customers] who are dissatisfied with [pain point], we offer [product and subscription service] that proves [solution] unlike [competitors' solutions].
Your completed value proposition will then help you build or modify your website, especially what needs to be expressed on the home and landing page to demonstrate your value quickly.
#8. Find a Sustainable Pricing Model
According to Jameson Morris, founder of Conscious Box, Escape Monthly, and Yogi Surprise, the biggest reason subscription businesses fail is they don't build in enough of a profit margin. You can overcome this pitfall by identifying their Cost of Goods Sold (COGS) early on.
A lot of times new subscription companies just copy or base their own pricing model on their competitors, thinking that they already crunched the numbers. But who's to say the competitors didn't just copy the model of someone else? Long story short, the companies that don't do their own math tend to fail.
In addition to COGS, you'll also want to calculate your Customer Lifetime Value (CLV). This is an estimate of the total amount of net profit you'll receive from a customer throughout the future.
In other words, how long will they be a paying subscriber combined with your monthly fees. For subscription eCommerce, this value is essential; the CLV is the advantage eCommerce subscription services have over traditional eCommerce.
#9. Know Precisely How Much Startup Capital You Need
Morris also advises calculating your startup capital as accurately as you can. One of the benefits of the subscription-based eCommerce model is that it can survive on low overhead. Save yourself some hassle later-on by only raising as much as you need. This is more easily accomplished if you've already checked off the previous item and know your COGS, CLV, and pricing model.
One consideration to factor in is that you can use preexisting technology to save on development. Subscription eCommerce isn't as new as it was a few years ago, and today there are plenty of secondary services aimed at helping subscription beginners.
#10. Decide on Your Shipping and Fulfillment
If you're selling a subscription box, both shipping and product fulfilment are enormous factors. Unlike traditional eCommerce, there is more reliability and routine in fulfilment, especially with subscription boxes, where practically the same shipments go out at the same time every month.
The fulfilment downside of subscription boxes is that you have to assemble packages of products from different sources before shipping.
Here are some factors to consider before finalizing your decision:
Are your items perishable? Can you buy in bulk and ship them from a warehouse?
For eCommerce subscription services that offer products from a new company every month, can you have that company ship them directly?
Do you need a custom package, or will any cardboard box do? Some fulfilment companies (more on them below) can print custom boxes on their site, and monitor when you need to reorder more.
How important is the presentation of your package? In other words, is an artfully arranged, decorated package part of your service (a la that "gift for myself" spirit)? If so, you may need to spend more on your packaging team. This is known as "kitting," and it's often overlooked by traditional eCommerce professionals transitioning into subscription eCommerce. Traditional eCommerce uses the less involved "pick and pack" method. Make sure your fulfilment centre has experience in kitting.
In an article on his own blog, Morris gives more of his personal advice in eCommerce subscription services. A common misconception is that handling packaging and shipping yourself will save you money, and assure that its done to your specifications, but that's not always the case. Often fulfilment centres are the more rational option, saving both time and money, and giving you one less hassle to worry about.
A professional fulfilment centre has more experience in this area than you, especially if you're new to subscription eCommerce. Don't be fooled into thinking subscription box businesses start out by packaging everything themselves in their garage (the prototype, maybe…). Moreover, the bigger your company gets, the more help you'll need. It's best to start a working relationship early on and grow together.
One thing to watch out for, though, is postage. Fulfilment centres may try to include buying and processing postage in your bill; however, they may not be able to get the best pricing for this. Hold your ground and agree to process your own labels and send them every month.
#11. How to Increase Profits of Your Subscription Business
The subscription box business has its own unique and particular best practices, distinguished from other eCommerce techniques. There are concerns about packaging, shipping, marketing, and product sourcing that other single-session eCommerce stores don't need to worry about.
Here, we're going to talk about the 7 best techniques help your subscription box thrive. For both customer and vendor, a subscription box is a gift that keeps on giving… and giving, and giving, and giving…
11.1. Branding and Customized Packaging
The first way that subscription boxes differ from traditional eCommerce is the emphasis on branding.
You're no longer selling individual products, one-by-one. You're selling the feeling of receiving that box every cycle. The feeling itself varies, from surprise to relief to sheer joy, but regardless, a brand can capitalize on this feeling by associating itself with it strongly. The goal is that the customer has the brand to thank for this feeling, and they know it. That's the key to moving from one-time service to recurring service.
One of the best ways to do this, according to the co-founder of Conscious Box (now Bestowed) Jesse Richardson, is with the package itself:
"Great brands are personal, they stand out from the crowd, they allow their customers to connect with them and ultimately establish trust. Now that we understand what a brand is, we can apply that to our product, and the place this can be most pronounced is in the packaging. For your subscription service, this is your physical box, the wrapper of your product offering and the visual storyboard of your brand.
It may seem like a stretch goal, but developing custom packaging is one the best ways to make your service iconic, recognizable, and ultimately, more successful. Here, it's about taking that character we learned about earlier and applying it to an image. It's about visually infusing personality into your brand."
He goes on to list some common ways to infuse your brand's character into your subscription box:
The Box — The colour, type of material, and even quality, not to mention extras like a shiny gloss or glitter, will communicate what kind of brand you are, and exhibit a visual cue that gets your customers excited when they see their mail.
Stickers and Stamps — Useful if you don't have the resources to decorate your box as you want, or even as some extra flair.
Packing Material — Seemingly small decisions such as the colour and amount of tissue paper can have a big impact. Richardson advises to think in terms of "How would your brand package things?"
Continuity of Products — Of course, your type of product reflects the brand identity, but so does consistency. Maintain continuity among product quality and product features like "healthy" or "organic."
You want your brand to feel friendly and familiar with your customer, and that involves getting personal. Create a "face" that your customers want to see over and over again.
11.2. Box Size and Weight
Small reductions to the size and weight of your box can add up to save you a lot. As we mentioned above, box presentation is a significant issue that traditional eCommerce doesn't have to worry about as much. The point is to send out an abundance of boxes at high frequency, so shaving a little off each one can make a huge difference altogether.
The most important concern with box size is whether it fits in standard mailboxes. Shippers often have to pay an additional fee for packages that exceed this minimum.
While this depends largely on your shipping provider, check out these shipping prices basics for the Canada Post and United States Postal Service to use as a frame of reference.
11.3. Play on Mystery
Recurring services like the subscription box have a separate array of sales techniques than one-time purchases. One of the most effective is mystery. "What will come in the next box? I'll have to continue subscribing to find out."
Remember that subscription services are more emotion-driven, and delightful surprises create stronger emotions. Whenever a customer opens a new cycle's box, they remember for a moment the surprises of past boxes; if these are effective, each new surprise reinforces the bond.
Moreover, mystery products break up the monotony of receiving the same package every cycle. While you're trying to prolong your customer retention over time, the longer they stay subscribed, the less interesting the same boxes become.
Philip Wilkinson, the founder of the subscription gourmet coffee service Kopi, cites this as one of the drawbacks of the subscription eCommerce, saying "a lot of subscription businesses just send the same thing each month and then it just becomes a dull commodity item."
With surprises, though, there's something new to look forward to every time. For this reason, even regular deliveries should throw in a surprise gift. The customer may have signed up for the same exact product or products every single cycle, but you can throw in a little something extra to keep them intrigued and show your appreciation.
Because subscription services tend to be niche markets, you can more easily narrow down your target customers preferences. Based on the fact that they signed up for your subscription box of a certain type of product, you should be able to guess what other types of products they like — or at least give surprise new variations on the current product.
When done correctly, mystery can be even more alluring than reality. Just look at how many people threw away great deals for the "mystery door" on the classic game show Let's Make a Deal.
11.4. Open Communication
At the risk of contradicting ourselves… too much mystery is a bad thing.
The fear of getting scammed is higher for recurring payment services, and this fear is exacerbated by the 2015 scandal from eCommerce subscription service JustFab and the sketchy advertising and billing policies of Adore Me. What this means for eCommerce subscription services is that they have to try a little harder to reassure their customers.
First, subscription box services should outline what their customers can expect in each shipment. These work best when they're vague, so as not to reveal the mystery, but should still tell the type and quantity of each product. Even if you're doing a surprising motif, mention the number of products without giving away what they are.
Another common tactic is to show past boxes. This shows potential customers what to expect without ruin the upcoming surprise.
Next, be forthright about your billing and cancellation policies. If you allow cancellation any time or the option to skip a month, mention it boldly as a feature. Customers appreciate both honesty and freedom. If the customer has questions or concerns, have a customer service line open 24 hours if possible.
Last, send notifications about charges, shipments, and deliveries. This extends the conversation you have with your customer, which is always good but particularly in subscription eCommerce where branding is so important. Echoing what we said above, you want your customer to think of your brand as their friend.
These notifications also alleviate some of the fears that come with subscription services ("it's been a month and I haven't heard from them,"), but also build on the anticipation. If they know their subscription box is waiting for them at home after work, it gives them something to look forward to.
11.5. Anticipate Scaling
Part of the allure of subscription boxes is the quick upstart. The focus on niche markets narrows in on a clearly defined group of customers, so marketing and advertising efforts are more efficient.
Subscription box companies tend to "take off" quickly, furthering the rumours that anyone can make it big in subscription eCommerce. The truth is a little different.
As reported by Digiday, in the early stages, the cost of acquiring new subscribers is relatively low. "When you start to scale is when these businesses are so punishing," says Alex Lutz, the head of the business strategy group at Huge. The cost of customer acquisition continues to grow as the businesses get larger, running out of their initial niche market. To put a number on it, business starts to change after 3,000 subscribers or so.
In order to ensure a successful — and sustainable — subscription box business, you have to plan ahead. You need a long-term strategy to see you through the lean stages after the initial boom. Perhaps offer new products, additional products, or roll out a multiple, entirely new subscription boxes. For example, Kiwi Crate offers educational toys, with different boxes for different age groups, with a new age 0-2 on the way.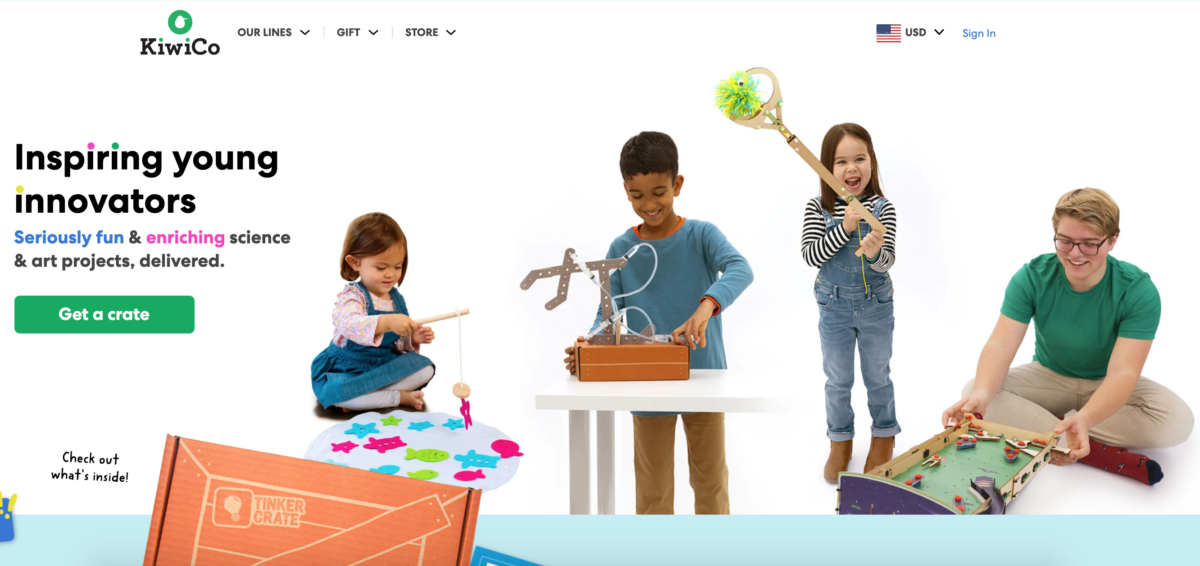 Of course, whatever strategy you use, it helps to simply manage your money to have a nest egg. Don't assume your assume income will remain consistent after the first phase of your business. Learn to budget and employ cost-cutting manoeuvres, and beware of costly mistakes like free samples, which we'll explain now.
6. No Free Samples
Because scaling can be a killer, suppliers can't afford to send free samples to subscription box companies after a certain amount of customers. And what happens to those long-time customers when you either increase the price or cut out one of your products?
Free samples may be a tempting way to attract new or more customers, but the model falls short in the long run. In the end, you're left with a supplier who's not making enough profit or a high rate of customer churn due to pricing changes or fewer products.
The free-sample model originated in a different landscape when subscription boxes were not so popular. "Discovery boxes" allowed customers to sample new products for a reduced cost and permitted suppliers to get their name out… but they only worked when the competition was slim and the idea was unique.
Nowadays, discovery boxes are everywhere, and customer focus veered from abstracts like expert curation and professional recommendations to more quantifiable traits like retail value.
Even with box variations — offering different sample products in different boxes — the room for error is too high at larger levels. Even ignoring the effort it takes to manage and organize variant curations on a large level, the sheer statistics of it mean some people are receiving boxes stacked with high-quality products while others unfairly receive boxes full of low-quality ones.
Brands that use the variation model suffer 20-40% churn month to month. In an industry built on customer retention, this is a death sentence.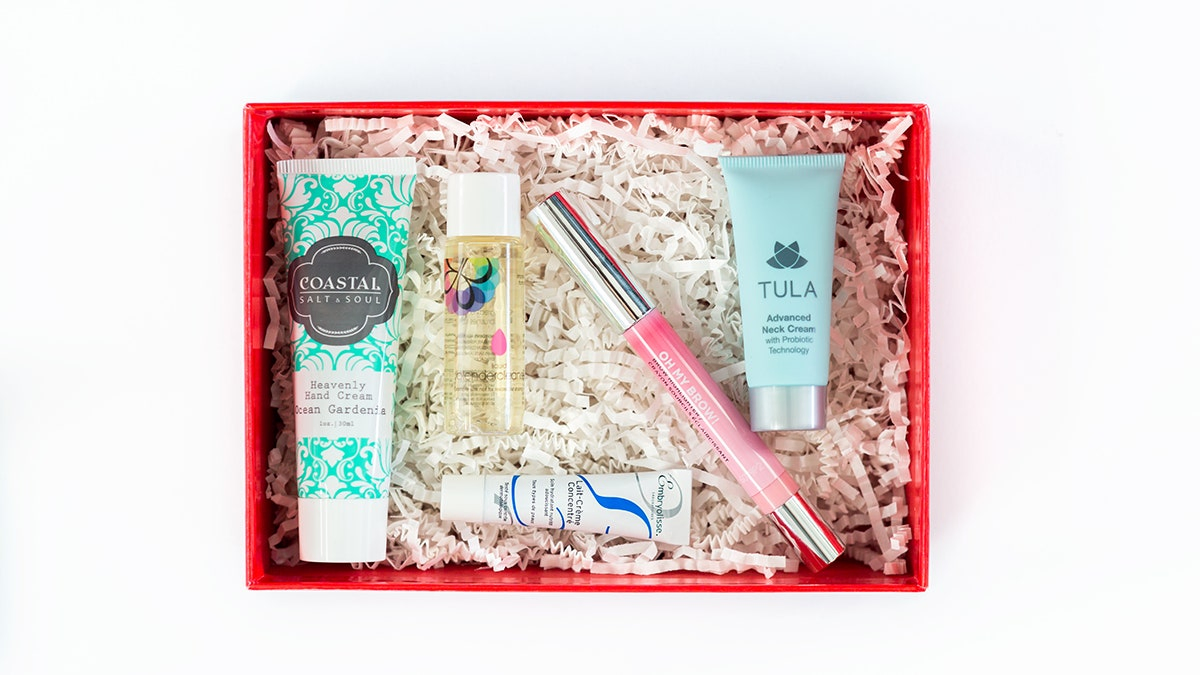 The one exception is niche markets with large mark-ups on the manufacturing cost. The beauty industry, for example: considering the cost of production against the retail value, beauty brands can afford to give up large quantities of free samples on the promise of more sales due to exposure.
7. Negotiate with Suppliers
Selling subscription boxes is still a business, and no business is immune to the power of negotiation. Use it to your advantage by striking the best deals from product suppliers.
Jameson Morris, a serial subscription box entrepreneur and ex-partner of Jesse Richardson (mentioned above), offers some firsthard and directly applicable advice on negotiating with suppliers:
Suppliers will often quote the wholesale price as a starting point, but you should always argue lower. Some sellers even have a secondary price below wholesale, known as "distributor pricing."
Being transparent about your own budget invites them to do the same. If you're upfront about how much you can and can't spend — namely your price cap per unit — suppliers may be more willing to compromise rather than lose the sale.
Maintain good relations with your suppliers, so you can remain partners for the long-term and hopefully grow together. You'll also get a better sense of how much products in your market are truly worth the longer you do business.
Don't be afraid to offer a cost-share agreement if negotiations threaten to run aground.
Remember the promotional value you're offering them. As we mentioned, one of the advantages of subscription boxes is discoverability, both for customers and product manufacturers. If your box is teaming up a little-known supplier with well-known brands, then the bigger brands have a built-in customer base with or without the smaller brand. You're doing small suppliers a service by including their products in with more successful ones, and you can leverage that in negotiations.
Morris warns against over-valuing promotion, however; your suppliers may come to expect more than you can deliver. As the veteran in subscription boxes puts it, "Personally, I prefer to drive the price down as far as I can without promising anything."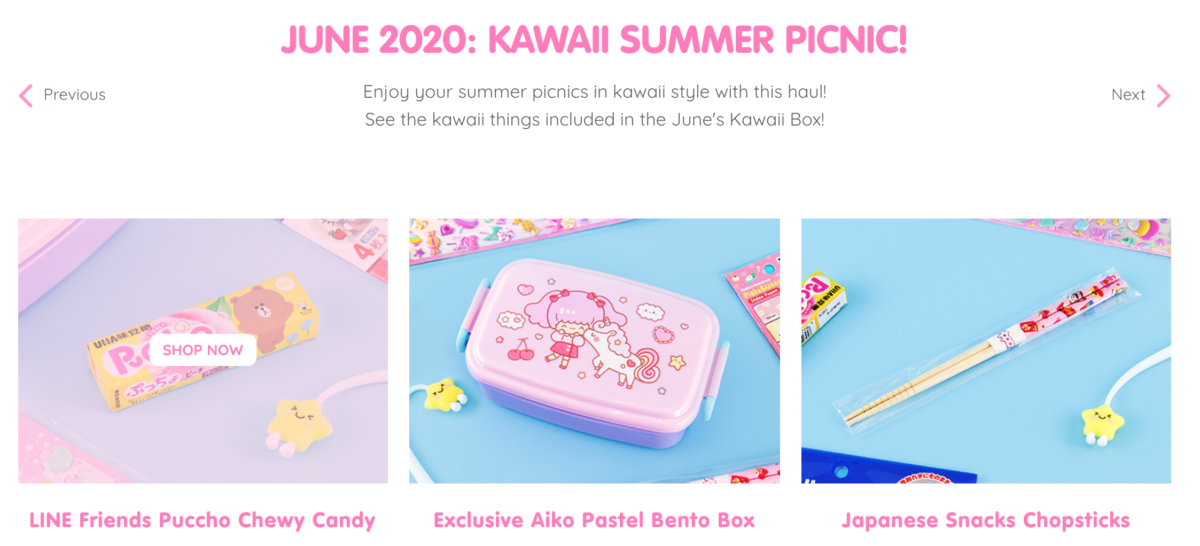 Source: Kawaii Box
Conclusion
Subscription box sites grew 3,000% since 2013, compared to only 168% growth for other online retailers, represented by an aggregation of the top 500 eCommerce sites. In July 2016, Forbes reported that the subscription business had a gross margin of 36%.
The success of subscription services is simply a reflection of eCommerce's natural predilection towards convenience and personalization.
Don't think of this model as a trend, think of it as the next evolutionary branch of eCommerce. Even aside from the specifications, we mentioned above, all companies could learn a thing or two from the subscription business model.
After that, we'll start diving into the best practices of actually managing a subscription eCommerce business.
Can you adopt the subscription model into your existing eCommerce site?
Is there anything about subscription eCommerce that you'd like us to cover? Do you have any specific questions? Let us know now in the comments below.