This article will review the 21 best affiliate marketing networks. Also, I will show you how to signup and get approved in these affiliate networks, what's the best for you, and how to get your payments.
Affiliate marketing is not an easy game. But if you take the time to educate yourself, you can become good at it and make a nice monthly income. Here is our complete affiliate marketing guide for beginners.
Below are the top recommended affiliate marketing networks you can check out and choose those that suit your needs.
Whereas affiliate networks like Amazon Associates are focused entirely on Amazon products, ShareASale houses affiliate programs for 4,500+ merchants, both big and small.
You can sign up to all these merchants from one spot- the ShareASale dashboard, generate links and view your statistics.
Overall, ShareASale is an excellent option for both digital and physical products.
For example, you'll find plenty of WordPress theme and plugin shops, hosting providers, etc.
And on the physical side, you'll find plenty of big and small merchants. For example, Warby Parker (sunglasses), Sun Basket, Wayfair, Reebok, NFL Shop, and thousands of other small and large businesses.
ShareASale affiliate marketing network also has a fair and honest reputation, well known and recognized within the industry.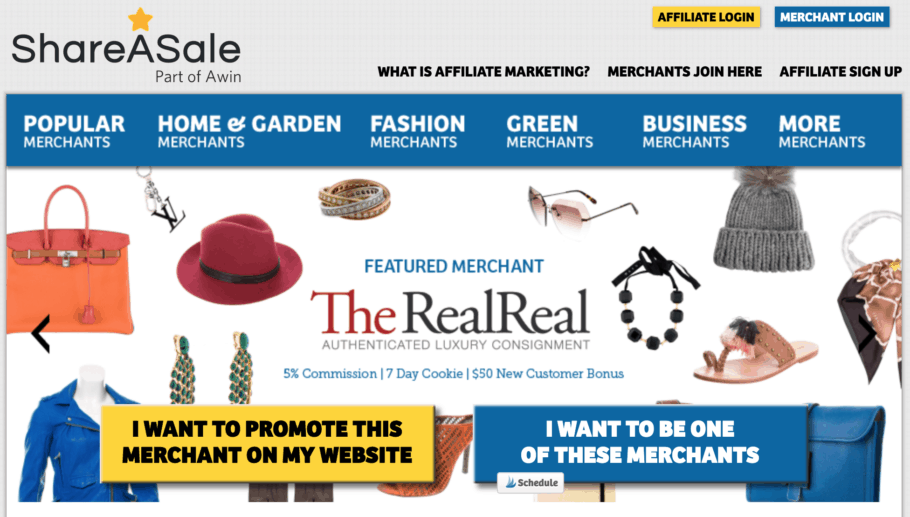 Join ShareASale
ShareASale details:
Niche/product types: A little bit of everything, including physical and digital products.
Average commission rate: Depends on the specific merchant you sign up with.
Cookie duration: Depends on the specific merchant you sign up with.
Minimum payout: $50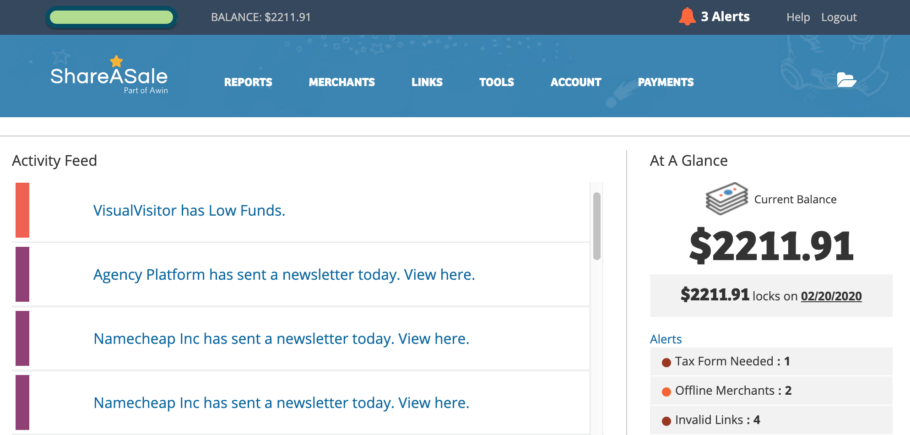 ShareASale PROs:
Thousands of merchants for both physical and digital products, including lots of well-known merchants
Trustworthy – They've been around forever and work with lots of big brands
ShareASale CONs:
The dashboard design is a little clunky, though it's gotten a lot better
Why should you use ShareASale to find affiliate products?
Their affiliate network is vast, and it offers around 4000 affiliate programs in 40 different categories to choose from
Direct deposits available (so you can have commissions directly deposited into your account on the 20th of each month)
Custom link creation feature is available (which helps you easily create license plate links with social media features and deep links directly to products)
You can have ShareASale pay you via checks in the mail, wire transfer, or direct deposit, and it's completely free to join as an affiliate.
Join ShareASale
2. Amazon Associates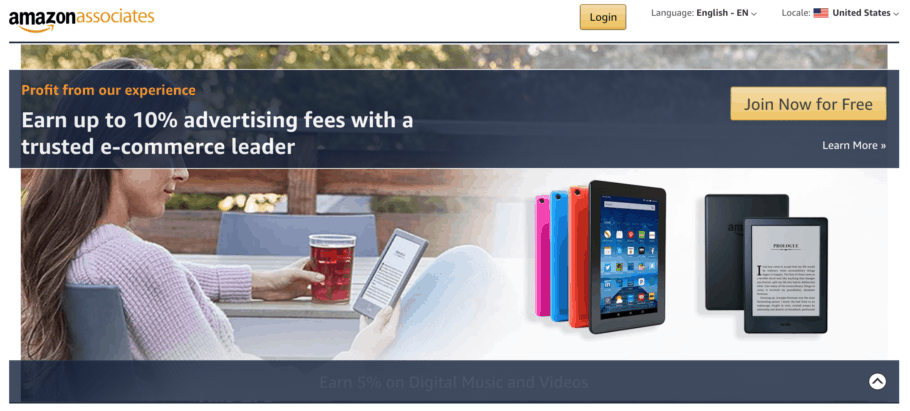 Amazon Associates Review
Well, do I even need to introduce this? Anyway, Amazon is American electronic commerce and a cloud computing company in Seattle, Washington.
In the US, this is the largest internet retailer. You can use this affiliate network to tap into more than a million products that can enable you to advertise to your consumers.
Check our guide on how to make money with Amazon Associates.
Amazon Associates PROs:
Massive selection of products;
Universal cookie, so you get credit for everything people buy within the cookie duration;
Amazon is by far the biggest name in eCommerce;
Very low payout threshold – only $10.
Amazon Associates CONs:
The universal cookie only lasts for 24 hours
Some categories – like video games – have very low commissions (1%)
You need to register for each country individually
Why should you use Amazon Associates to find affiliate products?
You will get access to millions of products.
Amazon is a trusted brand worldwide (and almost everyone knows this brand)
You can include product search and look-up capability, product information. Also, add features such as Customer Reviews, Similar Products, Wish Lists, and New and Used listings.
One of the biggest pros is that you have 90 days to get a commission if your customers visit your links and add anything to the shopping cart.
Join Amazon Associates
3. CJ Affiliate by Conversant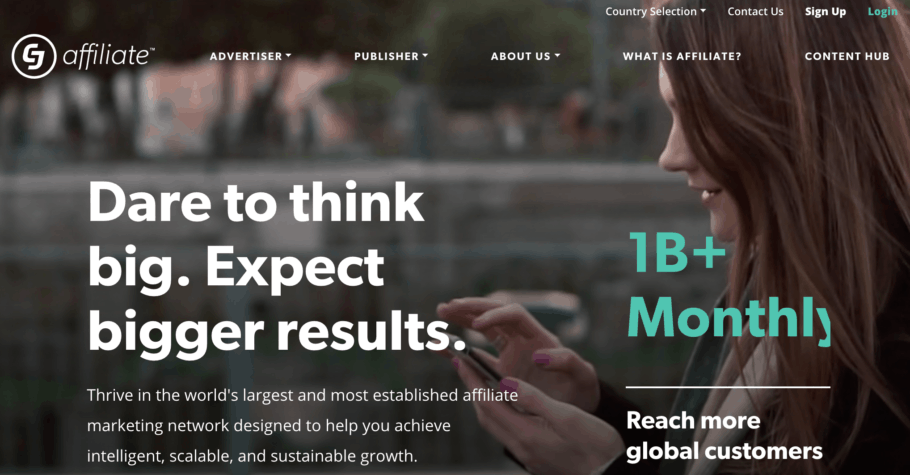 Commission Junction Review
This was also formally known as Commission Junction. They also reach millions of consumers who usually shop online through their affiliate marketing companies. They also include Dotomi, Mediaplex, ValueClick Media, Greystripe, and Commission Junction.
Commission Junction PROs:
Huge range of big and small merchants to choose from
A nice back-end dashboard to help you manage your affiliate marketing efforts
Has a deep link generator bookmarklet that makes it really easy to generate links
Commission Junction CONs:
The dashboard is a little complicated when you're just getting started (though I like it overall).
Why should you use CJ affiliate to find affiliate products?
Offers cookieless tracking. This type of tracking generates unique click ids from users, created only when a user clicks on your affiliate referral tracking link. So the advertisers can precisely track individual transactions.
It offers you real-time reporting so you can get up-to-the-minute analytics.
CJ Affiliate pays out within 20 days of the end of the month, as long as you have a minimum payment threshold of $50 (Direct Deposit) or $100 (Check).
Join Commision Junction
4. Impact
Impact Affiliate Network Review
This is another good affiliate marketing website that can help you make some money online. They usually have an accurate tracking technology, flexible contracting, and an automatic system for payment processing.
When combined, all these give their customers the ability to manage their marketing campaigns, thus maximizing their growth.
Impact Affiliate Network PROs:
Dedicated affiliate management dashboard. It has a ton of details for affiliates.
The Impact affiliate network is very user-friendly for new affiliates.
A huge database of affiliates and sellers that you can find to partner with.
Impact Affiliate Network CONs:
The reports section can be difficult to navigate at times.
You have to follow a learning curve to be successful with them.
Join Impact
5. MaxBounty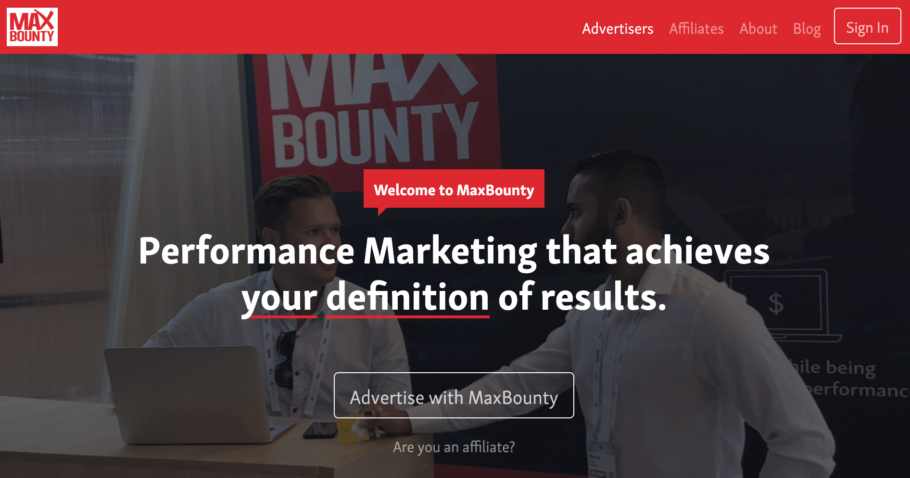 MaxBounty Review
MaxBounty is a Canadian-based CPA affiliate network established in 2004; the company has stood the test of time in becoming one of the industry's well-known and reputable names.  It is usually considered among the most popular and best CPA affiliate networks.
Currently, MaxBounty has thousands of satisfied affiliates and are earning some cash through CPA advertising. It has some of the highest-paying affiliate programs.
MaxBounty PROs:
A highly effective approval process with quick response.
Reliable platform with a user-friendly interface.
Their affiliate managers are accommodating and interested in helping you succeed.
It provides educational resources to educate yourself properly as an affiliate marketer.
MaxBounty CONs:
You can easily get banned if your traffic is questionable.
MaxBounty does have a rigorous registration process for affiliates that do not have a website.
Join Max Bounty
6. Rakuten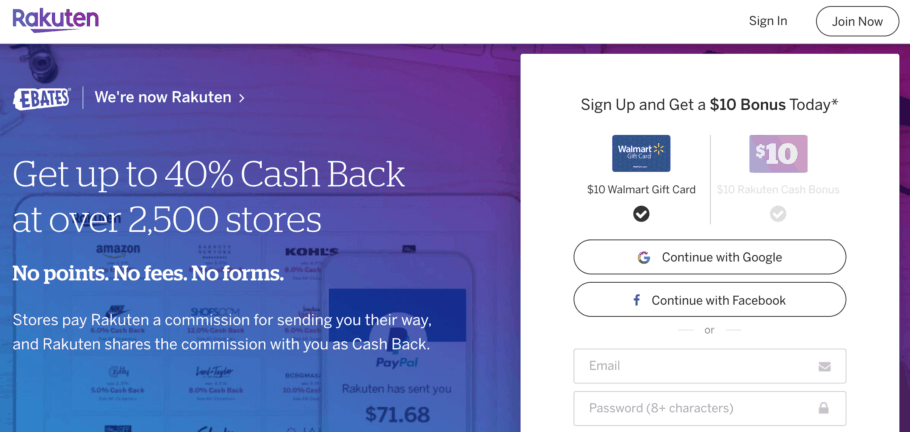 Rakuten Review
Rakuten was formally known as Buy.com. It has grown to be one of the biggest marketing affiliates and ranks among the top 3 e-commerce companies worldwide.
This is mainly because it has over 90,000 products from 38,500 shop owners with more than 18 million customers. This makes Rakuten Ichiba one of Japan's largest e-commerce sites and among the world's largest when you look at the sales.
Rakuten Affiliate Network PROs:
It gives you access to big-name merchants like Walmart and Best Buy
A trusted name (Rakuten is a billion-dollar company)
Nice-to-have features like easy ad rotation
Rakuten Affiliate Network CONs:
The back-end dashboard looks a little outdated.
Not as big a selection as some other affiliate networks
Not available for EU audience
Join Rakuten
7. Clickbank
ClickBank details:
Niche/product types: ClickBank leans towards digital products, but you'll find some physical products as well (and ClickBank makes it easy to filter between the two).
The average commission rate depends on the specific merchant you sign up with, but usually pretty high. You'll find both percentage and flat-rate commissions.
Cookie duration: Depends on the specific merchant you sign up with, but usually ~60 days.
Minimum payout: $10
This is one of the biggest paying affiliate marketing companies available today. Clickbank has been providing its services for more than 17 years while still focusing on digital information products. Being one of the largest online retailers, they have a vast library of over 6 million products to reach 200 million customers globally.
ClickBank PROs:
Lots of smaller niche offers that you won't find at other affiliate platforms
Pretty high commissions for most merchants
$10 minimum payout makes it easy to get paid
Offers weekly payments
ClickBank CONs:
ClickBank's  refund policy means you might lose commissions
You have to wade through some outdated, low-quality products.
Why should you use ClickBank to find affiliate products?
It offers more than 6 million unique affiliate products.
Join ClickBank
8. eBay Partners Network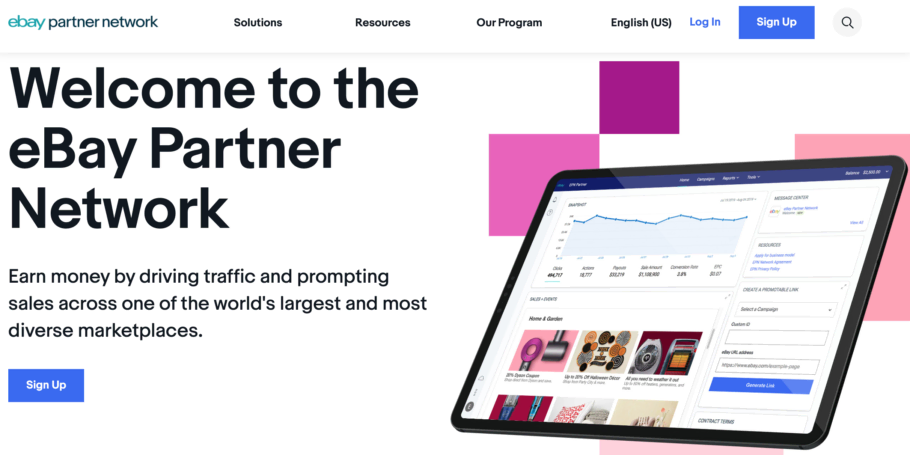 I am more than sure that many of us still don't know that eBay has an affiliate network. eBay has been in this business for more than 20 years and is still providing first-class tools, reporting, and tracking. It is also known to be one of the best affiliate programs.
eBay Partners Network PROs:
Huge variety of products because you can promote anything on eBay
Can sell used products, which is unique
Low payout – just $10
eBay Partners Network CONs:
The cookie only lasts for 24 hours
Join eBay Partners Network
9. JVzoo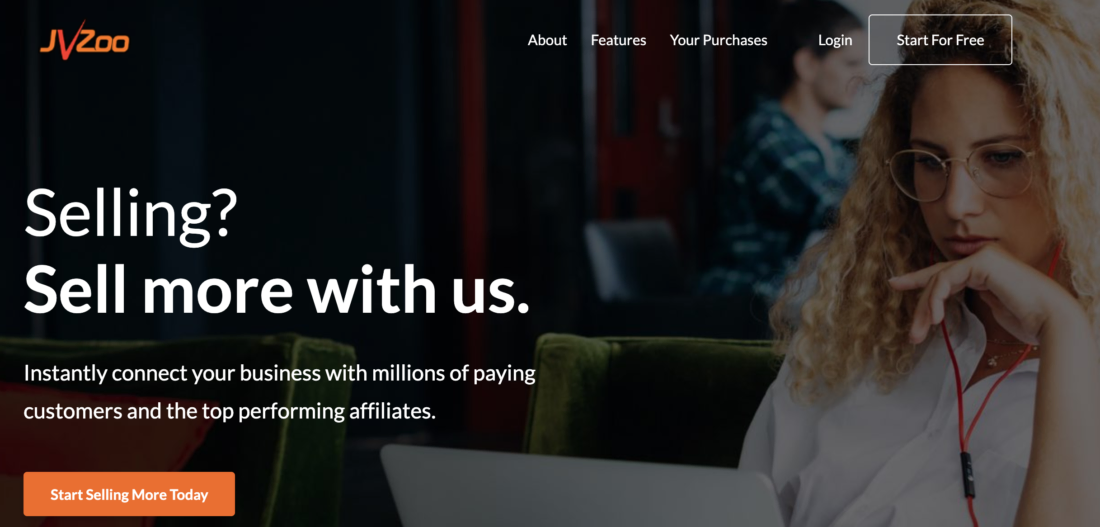 JVZoo Review
JVZoo is another most extensive affiliate program network with over 800,000 active affiliates, making over $1.2 billion in sales so far.
The best part about using JVZoo is everything is instant. That means every time you make a sale through your affiliate referral links, your affiliate commission will instantly be deposited into the affiliate's JVZooPay account.  From your JVZoo account, you can withdraw to your bank or Payoneer account.
Remember that the new affiliate members must wait until the product refund period is over before they can be paid. Still, those established in the program can avail of instant payouts.
Unlike most affiliate marketing platforms like ClickBank, JVZoo doesn't allow its affiliates to promote products immediately. You must first approve the product vendor to promote any affiliate product from the JVZoo platform.
JVZoo PROs:
JVZoo is integrated with PayPal, Stripe, and BlueSnap
It's completely free to join for affiliates as there are no setup or monthly fees whatsoever
You keep 100% of the commissions you earn
JV Zoo offers products in a wide variety of niches
JVZoo CONs:
You need to be approved by the vendors first.
There are many junk products that you should stay away from
Some of their good products also offer upsells, and you don't get commissions for those
Join JVZoo
10. FlexOffers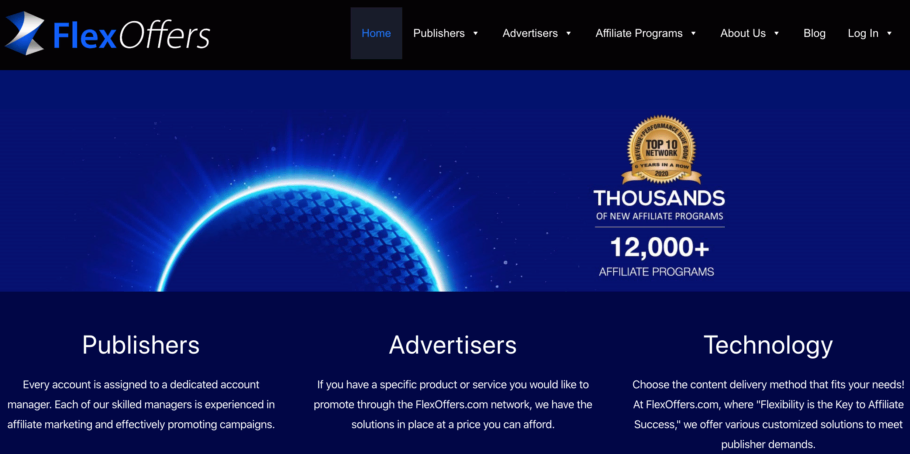 Join FlexOffers appears as one of the best websites for affiliate marketing. They always use multiple marketing, data delivery, and advanced payment solutions to cover both the advertisers' and publishers' needs. They also offer many unique products and services, and when you join them, you get access to an affiliate publishing network plus other advantages.
FlexOffers PROs:
Easy sign-up process and very friendly to new affiliates.
Flex-Rev$hare program – you get paid for sales made by sub-affiliates.
One of the few mainstream networks with credit card offers.
Literally tens of thousands of advertisers to choose from
FlexOffers CONs:
Lack of advanced link creation tools.
Customer support options are decidedly average.
If you're outside the USA, the only payment option is PayPal (For payments over $5,000, you can use a wire transfer)
Join Flex Offers
11. avangate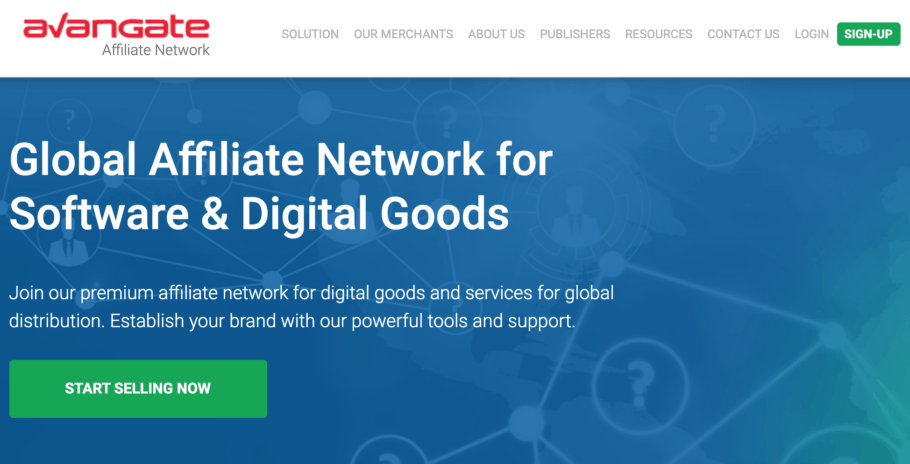 This is also one of the best affiliate programs focusing on digital commerce. A cloud platform usually backs it and focuses on subscription billing and global software payments. Over 4000 digital businesses trust this program in more than 180 countries.
Avangate Affiliate Network PROs:
Many companies sell digital products, especially software.
Reliable monthly payments
You can create your discount coupons to boost sales.
Advanced, customized reports
Avangate Affiliate Network CONs:
The software is 10 years old and works poorly.
The minimum payout threshold is $100. This is somewhat high compared to other networks.
Join Avangate
12. Pepperjam Network
Termed as the largest affiliate network globally, the Pepperjam affiliate marketing network focuses mainly on exclusive publisher distribution, development in technology, and strategic planning. All these are always channeled towards delivering great pay-for-performance results. This helps the publishers to reach their consumers while offering the products they want, thus bringing success to your business.
On July 28, 2020, Pepperjam announced its business acquisition by Partnerize, a global leader in partnership automation.
Pepperjam Affiliate Network PROs:
They provide dedicated account managers.
Several big brands are worthy of your attention, including Puma and 888Casino.
You can receive payment via PayPal as long as your earnings hit $25.
Easy-to-use affiliate link-building tools.
Pepperjam Affiliate Network CONs:
Limited payment options.
No public EPC metrics.
Oddly clumsy payment structure.
Join Pepperjam
13. AWin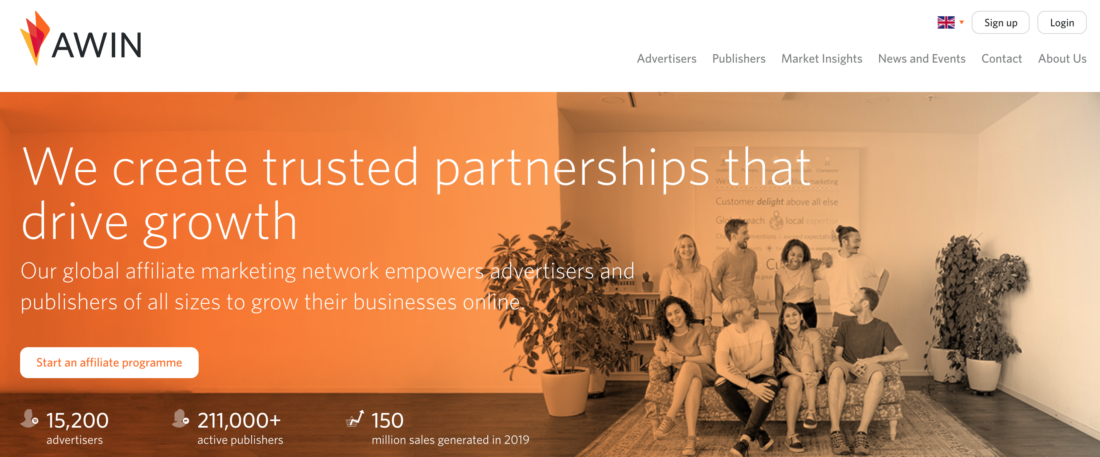 Earlier operating under the name "Zanox," Awin is an award-winning global affiliate marketplace that has been in operation since 2000. Headquarter in Berlin, Germany, CEO Mark Walter's affiliate company currently boasts around 1,000 employees, 15 offices worldwide, over 100,000 contributing publishers, 13,000 advertisers, and a global presence in over 180 countries.
The company now operates across various categories such as travel, finance, retail, and telecommunication. It has partnerships with established industry giants such as Marks & Spencer, ESI Media, Business Insider, 1&1, HP, O2, and ASOS.
Awin Affiliate Network PROs:
AWIN is simple to understand and use.
Applying to affiliate programs is easy and quick.
Various tools and widgets are available that are simple to use but still high quality.
Their convert-a-link plugin means you don't need to manually convert your links anymore!
Awin Affiliate Network CONs:
Sometimes your payments can be pending for a long time.
Some people have complained about their customer service
$5 sign up fee (it's refunded if you're approved, but you'll lose it if you're not approved)
Join Awin Affiliate Marketing Network
14. OneNetworkDirect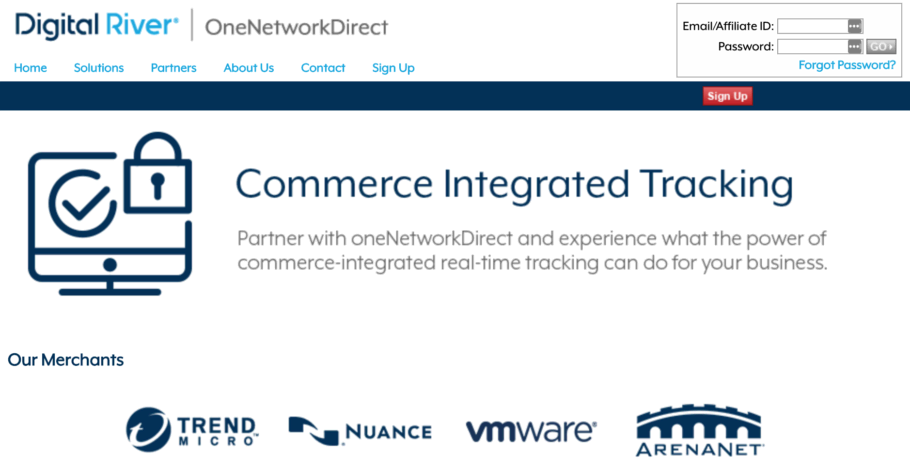 The OneNetworkDirect affiliate marketing network, which has been in business since 2006, has over 400,000 products, a good chunk of some of the world's well-known companies like Trend Micro, VMWare, BitDefender, D-Link, etc.
They have great solutions and a team of experts to help you out. Their affiliates usually receive great bonuses and advantages. Promoting their brands and unique products can earn up to 60% commission.
OneNetworkDirect PROs:
Well-known International Merchants like BitDefender, VMWare, TrendMicro, Avast, etc.
Earn up to 60% Commission as  it has one of the highest commission rates
Various Reporting Options
OneNetworkDirect CONs:
Customer Support Could be Better
Website Could be More Informative
Join OneNetwork Direct
15. RevenueWire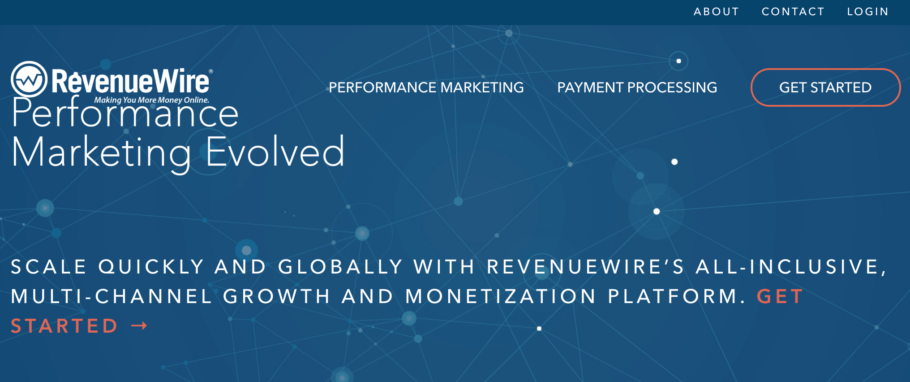 RevenueWire (formerly AffiliateWire) is a comprehensive e-business platform for affiliate marketers and merchants of digital products.
Affiliates provide high-demand digital products that convert at 3% and higher, up to 75% commission, a top-converting shopping cart with sales tracking, and powerful analytics and reporting tools all in one seamless platform.
Their e-commerce platform is available in over 120 countries.
RevenueWire Affiliate Network PROs:
Ease of Use – It's effortless to use, even for a newbie affiliate marketer.
Simple sign up as you'll have to answer a few easy questions, then you're ready to start.
An excellent user interface that offers excellent navigation and searching filtering capabilities.
RevenueWire Affiliate Network CONs:
Steep learning curve – Although you do not need prior knowledge, you need to be persistent before starting earning a decent income.
Join Revenue Wire
16. LinkConnector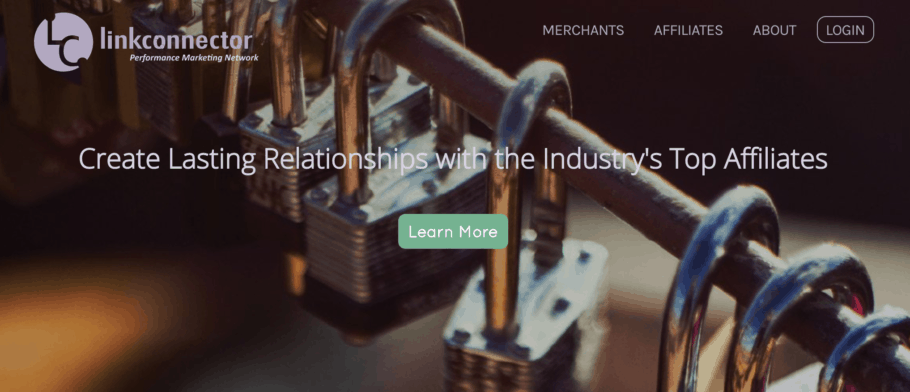 LinkConnector is also a pay-per-action affiliate marketing program to help you make some money online. It also has a pay-per-call. They also use a technology that allows direct links to websites.
LinkConnector Affiliate Network PROs:
The merchant list includes huge names like Disney Store and Writer's Digest across many categories.
Individual attribution for coupons to prevent coupon hijacking
Exclusive Naked Link technology so affiliates benefit through better SEO results and higher payouts.
LinkConnector Affiliate Network CONs:
60% of the applicants are rejected as LinkConnector boasts a meticulous screening process for affiliates.
Merchants can control which websites and landing pages their brand is displayed on.
The platform is more focused on making merchants happy than affiliates.
Join Link Connector
17. Tradedoubler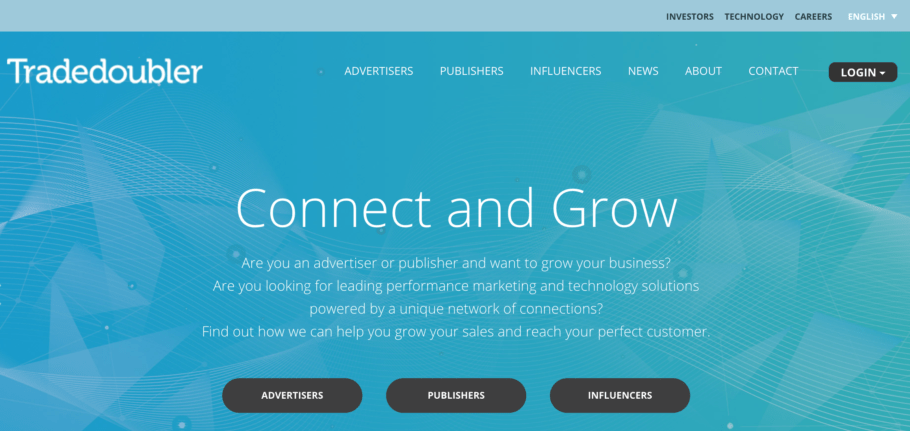 This is another excellent marketing company, and signing up with them means success for your business. Their technology usually delivers quality results by bringing in quality traffic, which their marketing experts also facilitate. They also help their clients maximize their investments and monetize their traffic.
Tradedoubler says they have more than 2,000 advertisers and over 180,000+ active publishers that generated over 1,6b euros in revenue for clients.
Their brands' portfolio includes ING, Groupon, Microsoft, HP, Orange, and more.
Tradedoubler Affiliate Network PROs:
Many big-name brands like Philips, HP, The Body Shop, and more.
They developed a technology to track affiliate sales even when the browser turned off cookies.
Payments made monthly when you have accrued 30 GBP (40 USD)
The ability to add more than one website per account so you can manage multiple affiliate websites.
Tradedoubler Affiliate Network CONs:
Must have a large amount of traffic to apply to the network.
Pan-European based only
Somewhat confusing (outdated) terms and conditions.
Join TradeDoubler
18. AvantLink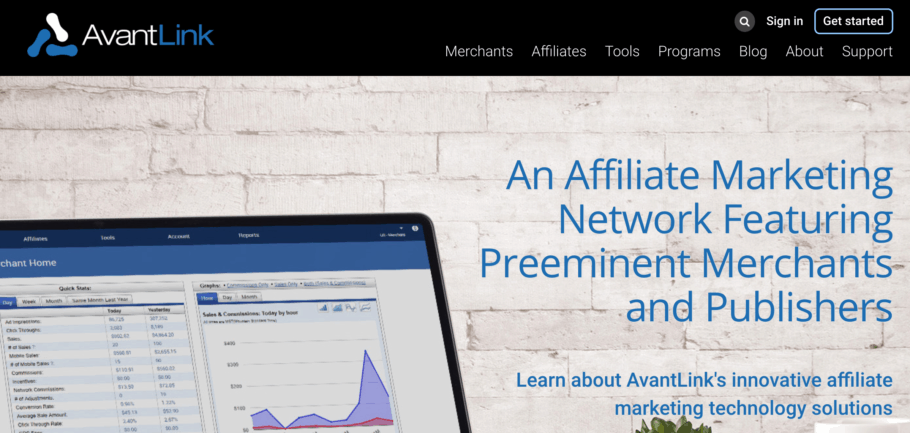 This is the industry-leading technology platform when it comes to affiliate referrals. This affiliate marketing program works hard to remain on top with constant updates and upgrades to its platform. They also emphasize quality than quantity and consistently implement new tools and technology.
AvantLink Affiliate Network PROs:
Lots and Lots of Merchants Available
Wide Range of Product categories
Robust Set of Features like access to a data feed manager, custom link builder, API, product ad widget, etc.
Detailed Merchant Overviews
AvantLink Affiliate Network CONs:
Poor customer support.
Lack of reports clarity.
Join AvantLink
19. AffiliateFuture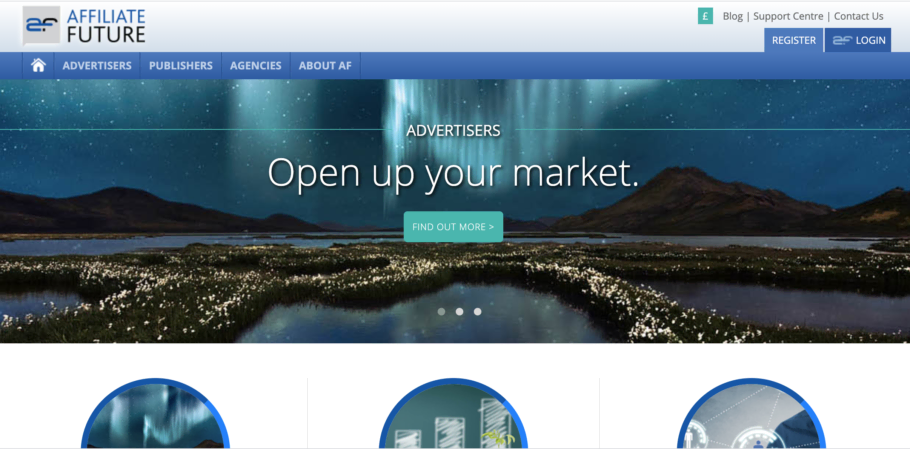 Having a database of more than 600 advertisers and 300,000 publishers, Affiliatefuture is just one of the best marketing networks one can get. They usually offer personalized services and have highly trained managers to help you with your marketing problems.
Affiliate Future Network PROs:
Provides a lot of support for affiliates and merchants.
Huge range of merchants
Regular free events for merchants and affiliates.
Provides training for their affiliates.
Affiliate Future Network CONs:
Outdated user interface.
Not lots of promotional tools available for affiliates.
PayPal payment method not supported
Join Affiliate Future
20. Commission Factory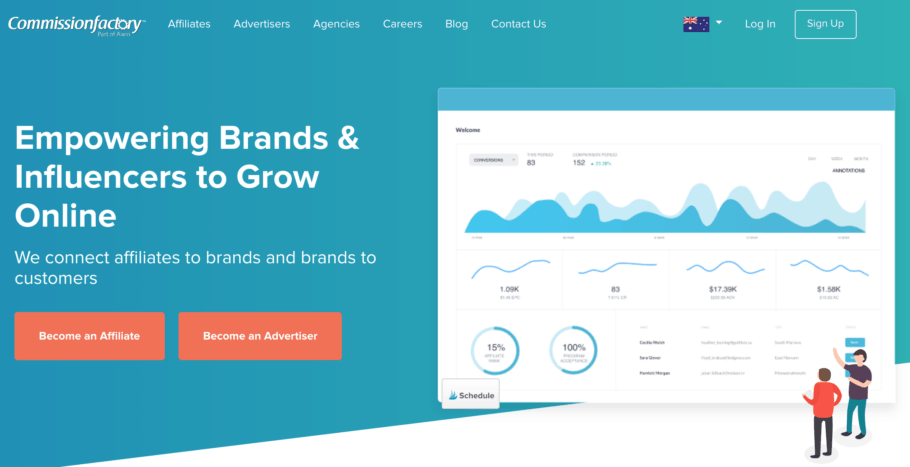 Commission Factory makes performance-based marketing available to everyone without requiring a steep learning curve to get involved and be successful.
The platform has been designed to foster a spirit of collaboration between Merchants, Affiliates, and Agencies to grow mutually beneficial and prosperous relationships. Because they have little to no entry barriers, Commission Factory has an enormously fast-growing user base that enables companies of all sizes to discover the power of performance marketing.
Commission Factory Network PROs:
Provides a lot of support for affiliates and merchants.
Huge range of merchants
Regular free events for merchants and affiliates.
Provides training for their affiliates.
Commission Factory Network CONs:
Outdated user interface.
Not lots of promotional tools available for affiliates.
PayPal payment method not supported
Join Commission Factory
21. WebGains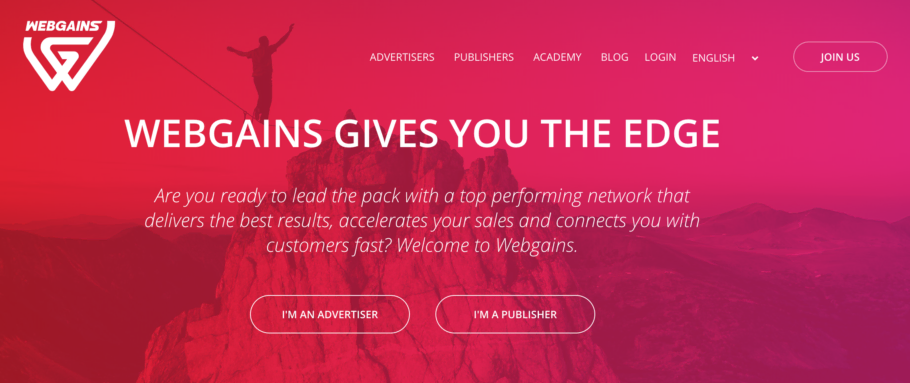 WebGains Review
Webgains is also a good affiliate marketing network that incorporates different people, technology, partnerships, creativity, and not forgetting delivery.
They claim to have over 1800 advertisers, around 250,000 publishers, and it's available to publishers in 230 countries. The niches they focus on are sports, lifestyle, travel, gadgets, and fintech.
Webgains usually provide various services with their experts, more than ready to help you in your business. Sign up with webgains today and start enjoying some of these priceless benefits.
WebGains Affiliate Network PROs:
Rapid growth affiliate marketing network.
Cutting edge technology.
WebGains Affiliate Network CONs:
Customer support issues
Not so many affiliate programs available anymore
Join Web Gains
Affiliate Marketing Networks FAQs
What are affiliate networks?
An affiliate network or platform is a virtual marketplace that connects sellers and affiliates. It helps simplify the affiliate marketing workflow and makes it more cost-effective.
Affiliate networks have multiple benefits for sellers and publishers (affiliates). For sellers, they don't have to spend time and money developing and installing an affiliate platform, taking care of member verification and fraud, or actively hunting for affiliates.
For publishers, there are also benefits. The most important one is managing multiple affiliate programs on the same platform, including the payments. Also, they trust they will get paid and will not get their commissions voided.
If you're not ready to sign up for an affiliate marketing network, you can start with individual affiliate programs. Here is a 65+ list of high-paying affiliate programs to start with.
Which affiliate network should I use?
Well, that's a question that doesn't have a straight answer. That's because
each affiliate network has its particularities
in terms of products, geographic area availability, payment threshold. Also, you saw its PROs and CONs.
Here are some pointers that will help you choose the best affiliate marketing network for you:
Availability of products in your niche – Most affiliate marketing networks focus on several niches at the most. Some on gambling and casinos, others on digital products, other on physical products, etc.
Convenience – You probably don't want to have to log in to 11 different dashboards regularly.
Minimum payouts – If you spread your traffic too thin, it might be hard to hit each platform's minimum payout regularly.
The platform's technical aspects – You would want to choose an affiliate network that works well, comes with multiple promotional methods, and extensive reports to analyze your success.
Here's the great thing about affiliate platforms and networks – you don't have to choose just one! Rather than choosing a single network, sign up for all the ones that interest you so that you can find the best advertisers and payouts.
How To Get Approval in these Best Affiliate Networks?
Most of the newbies face this first problem with getting approval in top affiliate marketing networks.
So, here is my recommendation for this problem;
If you are a newbie in the world of affiliate marketing, don't apply for the world's top leading affiliate marketing networks because these networks will approve your account after extensive application checks. Besides, these networks require your previous experience and have solid traffic sources and previous sales.
Start an authority affiliate marketing blog that focuses on the niche you are targeting. Here is our complete guide on starting an authority website that makes $100K through affiliate marketing. When you get at least 500 daily visitors, you can apply to almost any affiliate program and get accepted without any issue.
Top 3 tricks To Get Approved in Affiliate Marketing Networks
Don't lie in the application form – The biggest problem of affiliate marketers is fraud, so they do extensive checks on application forms to check the publisher (payment details, address, website, traffic sources). They do this to keep the fraud low from the beginning.
Apply using a quality website – The website is where most of the promotion happens. So the affiliate managers want to make sure they don't put the advertiser's brand in shady places. Ensure you have all the necessary pages, the content is high quality, and the website's design is appealing.
Be open with your promotion methods – You can promote the products by writing reviews, offering coupons, sending emails to your list, etc. The affiliate managers may ask you for these methods, so tell them more details of how you intend to promote the products.
Here are some newbie-friendly and reliable affiliate marketing networks to get instant approval: ShareASale, Amazon Associates, JVZoo.
Get your account approved to at least three affiliate marketing networks so that you can compare the quality of products, conversion rate, etc. This will help you in the long run.
How much money can I make with affiliate marketing?
It depends on your traffic, skill, and experience in product promotion. Some expert affiliate marketers make $10,000+ per day with any of these best affiliate marketing networks.
Pat Flynn of Smart Passive Income earned over $2 million through affiliate marketing in 2017. John Lee Dumas of Entrepreneurs on Fire earned $25,865 — in June 2020 alone.
You shouldn't be disappointed if you don't make too much and stay consistent with your work.
How To Get Payments From Affiliate Networks?
Conclusion
So here you have it. A complete guide on the best affiliate marketing networks for beginners.  You can fully use these affiliate marketing programs and make money online without sweat. Try it today and see how much you can earn from this.
Consider you need help choosing the most suitable affiliate marketing network for you? Then check our affiliate marketing consulting service, and I will happily guide you in your affiliate marketing journey.
Now it's time to set your goal and start working.
If you are still confused with any above topics, please do not hesitate to ask a question via the comment section. I will try my best to answer and guide your affiliate marketing journey.