In the following complete SEO for eCommerce product pages, you will find out everything you need to do perfect SEO for the product pages of your shop.
Before reading this guide on complete SEO for product pages, I suggest you read the Advanced SEO Guide For E-commerce Websites [7 Best Practices in 2021] and maybe the SEO for eCommerce Checklist [45+ Actionable Steps].
Most probably, you are in the following situation:
You've set up the online store for your business and need to start driving traffic to it. Social media sharing of products is not enough, and you are pressed for time to write blogs or create tons of extra content.
You need traffic and sales, like, yesterday.
The good news is, as an online shop, you can also rank high on search engines by implementing some specific SEO strategies.
A study by Optify states that websites ranked number one on Google received an average click-through rate (CTR) of 36.4%; number two had a CTR of 12.5%, and number three had a CTR of 9.5%.
Rank 1 in Google gets you as much organic traffic as ranks 2 to 5 combined!
This post will provide 21 tips on how to optimize your product pages for SEO.
We can divide these tips into six sections based on the 6 SEO elements: Keyword Research, Technical SEO, On-page SEO, Content SEO, Local SEO, Off-page SEO.
The Essentials of eCommerce SEO
As eCommerce becomes more competitive, it gets tougher to rank higher.
With so many eCommerce platforms out there (Shopify, Woocommerce, Magento, PrestaShop, Bigcommerce, You name it), it's easy for someone to start a copy-cat store and try to rank above you.
Sure, it takes time to get to the front page of Google, and advertisements are the best way to get you that initial traction.
But your competition is buying traffic too, and that's driving up the cost. Sooner or later, it will become a losing strategy.
If you're in the business for the long run at the end of the day, then there's only one way to get ahead of all your competition, and that's SEO (Search Engine Optimization).
To make it easier for you, we've created a downloadable checklist that you can refer to when creating a new product page or audit your existing ones.
SEO for eCommerce Product Page Checklist
Understand the search intent behind keywords
Choose a specific focus keyword for every product page
Target long-tail keywords
Make a list of related and semantic keywords
Make sure Google can find all your pages
Provide a fantastic user experience to your shoppers
Make sure your shop is mobile-friendly
Make sure your website is using SSL
Optimize your site and page speed
Create a smooth and easy navigation structure
Write compelling TITLE tags and META descriptions
Include your focus keyword in key places on your page
Keep your URLs structured, static, and clean
Make sure you configured the Breadcrumbs
Use H2, H3, H4 tags for different sections of your page
Include internal links between pages
Add alt text to all product images
Add structured data markup to each product page
Write in-depth product descriptions
Are you using product videos?
Use semantic keywords
Make each product page description unique
Make your product page easy to skim and read
Do the same process for your category keywords
Add user-generated content
Add FAQ Content
Get links to your product pages
Add your products to price comparison shopping websites
Add your products on Google My Business
Keyword Research
The most prevalent misconception is that the only keywords you should optimize for are the product and brand terms. That's not true. Google has a technology called Latent Semantic Indexing (LSI), which can extract the meaning from different keywords.
So if you use related keywords, like pants instead of trousers, Google knows you mean the same thing and won't treat them as different keywords.
That brings us to the second misconception that is the more keywords, the better.
Google looks at the keyword density, and a high density of one keyword might indicate keyword spamming. That's why you should mix it up with your related keywords and even try to add in a bunch of other keywords.
Let's get deeper into keyword research by first understanding the search intent behind a search query.
1. Understand the search intent behind keywords
If you've thought about SEO, you have probably worked out a list of initial keywords to target for your site. Or you can start the process from scratch.
The next step is to understand the difference between all these keywords and choose the commercially friendly ones.
There are four different kinds of search intent, i.e., the user's search query's objective.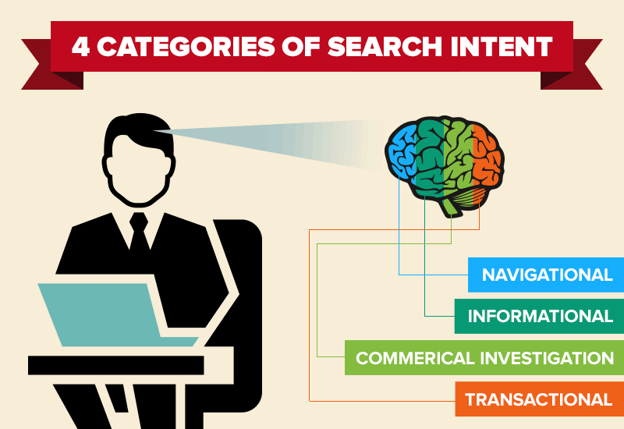 Informational: To learn.
The user is looking for a solution to a problem or learning something new. Most 'how-to' blog posts would meet this kind of search intent.
Commercial Investigative: To make a purchase decision.
The user is searching for specific products/ services or wants to compare products. Example keywords could be Samsung 10 vs. Apple 10' or 'plastic-free baby wipes.'
Transactional: To buy a product or service.
The user has chosen the product/ service and is looking for offers or the right place to buy it from. E.g. 'asus zenbook sale'
Navigational: To find an URL.
The user is trying to find the website of a brand or one visited before. E.g., 'timberland website.'
If you are a relatively new store, people don't know about you, so the chances are that your audience is not directly searching for your brand. If you are an established brand, you should consider creating more content and optimizing your site for branded keywords.
Informational content is also best targeted with a blog.
If your objective is to improve product SEO, you should target only transactional and commercial keywords.
2. Choose a specific focus keyword for every product page
Once you have your list of primary keywords, assign a different one to your product pages. Make the best match possible between the keyword and your product.
I see many small businesses thinking the same keyword can apply to 2 products. If you use that principle, you run a chance to duplicate content and URLs, which's not good for SEO.
3. Target long-tail keywords
Choose keywords with at least three words, ideally more if possible, as your focus keyword for each page.
Here's why:
A long-tail keyword means someone is looking for something concrete and is ready to buy. E.g., 'infusible ink pen.'
If your product matches these specifications, then you can meet your niche audience's exact needs. It's a direct match, and you are more likely to rank high.
You also have less competition because generally, the shorter the keyword, the more the volume.
More prominent brands with huge sites are more likely to rank highest. Long-tail keywords have less volume and are easier to rank for.
See the volume below for 'ink pen' and then for 'infusible ink pen.'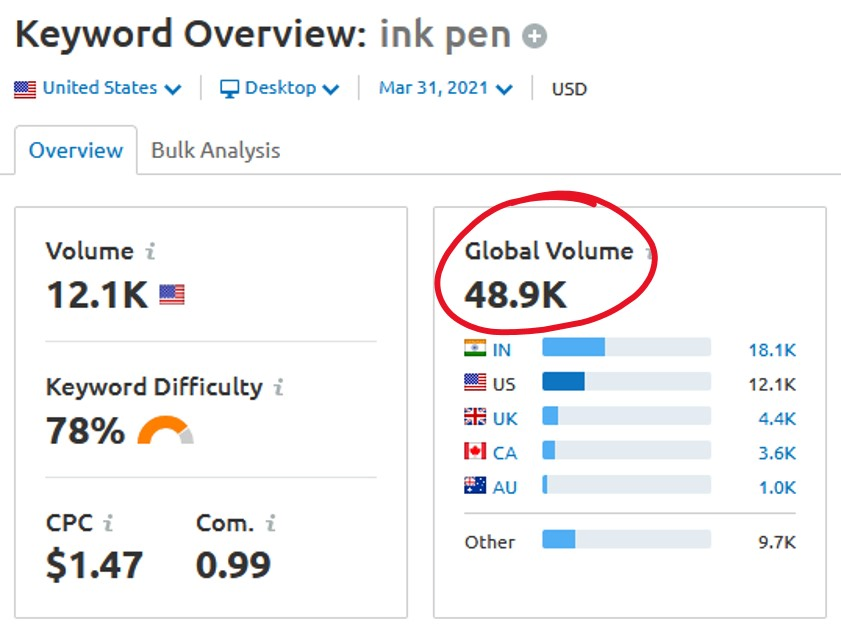 Data source: SEMRush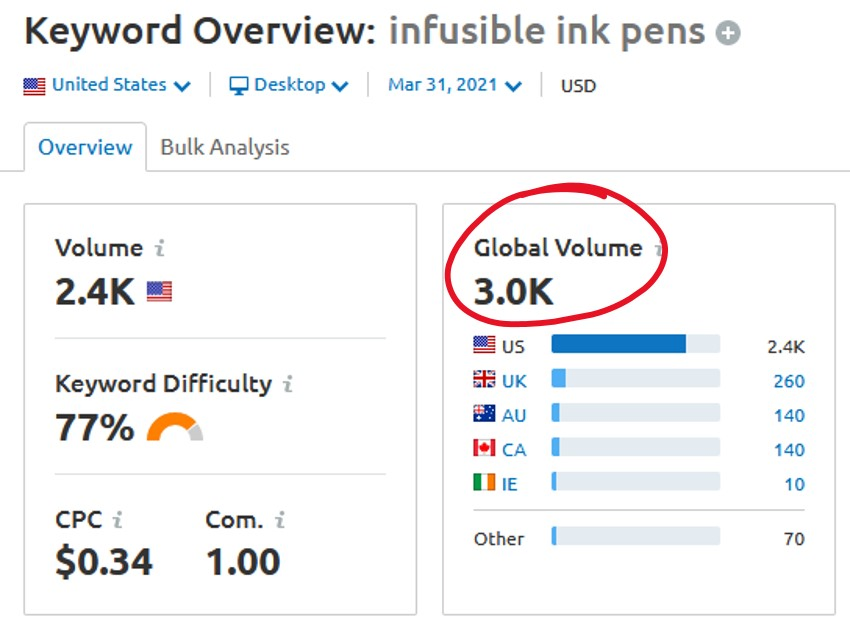 That's about 94% fewer searches! The CPC is also lower. A much better keyword to target for a new online pen store.
4. Make a list of related and semantic keywords
You will need this when writing the product description on every product page.
Earlier you could rank high on Google by using the same keyword multiple times on your page. Now Google is smarter. It can understand page content with keywords related to your primary keyword and prefers it that way.
Example: If your primary keyword is 'coffee beans,' then semantic keywords could be 'coffee grinder,' 'ground coffee,' 'roasted coffee beans,' 'espresso,' etc.
Complete guides on Keyword research
Keyword Research: The Definitive Guide by Backlinko
Technical SEO
5. Make sure Google can find all your pages
Go to your Google Search Console -> Coverage. Ensure that all pages are marked 'valid and indexed.'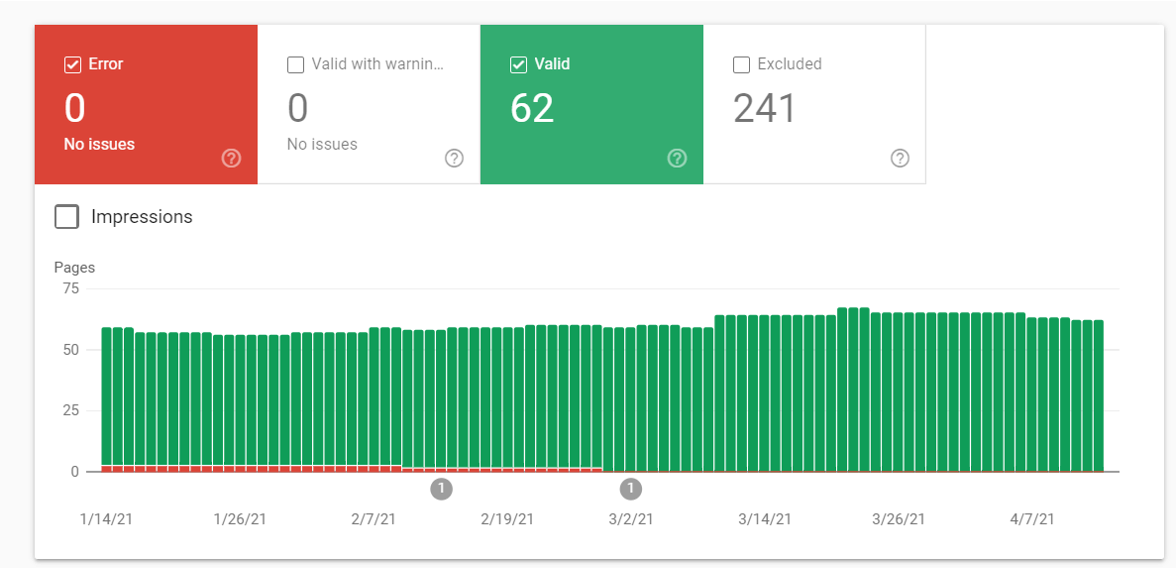 If you see any pages in the Excluded section, click on them and ensure they are not your key product pages. Excluded pages should only be the redirects and the ones you have marked as non-indexable. If you see any product pages that are excluded, try submitting your sitemap again, or click on 'Request Indexing.'
6. Provide a fantastic user experience to your shoppers
Imagine you are in a crowded, unorganized store. There is not enough space to move around, you can't look at each product in detail, and you can't wait to get out there. It's the same for online shops.
If you want your visitor to hang around and browse different products, you have to provide a pleasing experience. Besides, if users spend a lot of time on your e-store, it signals to search engines that your site is of high quality.
Here are three tips to ensure your audience has a good user experience on your online store:
Use a high-quality and easy to browse website theme – If you use WordPress, some good themes for e-shops are Astra, Divi, Shopaholic.
Ensure your website layout is responsive.  Mobile accounts for 65% of all eCommerce traffic.  So ensure that your product pages are very mobile-friendly and easy to browse around.
Use ample high-quality visuals. For a product store, images are essential. However, pixelated, blurry images can have the opposite effect and make your audience close the browser window. Use at least 3-4 high-resolution, sharp, and clear visuals for each product. You can also include a video.
7. Make sure your shop is mobile-friendly
Yeah, a responsive site is not just friendly to have anymore. If your site isn't mobile-friendly, then Google will knock you down into oblivion, and your mobile-friendly competitors will leapfrog you.
If you're unsure whether your store and product pages pass their mobile-friendly criteria, then test it out with their Mobile-Friendly Test tool. They also have a mobile usability report for your entire site.
If you find that your site isn't mobile-friendly, you'll start seeing a massive drop in traffic from mobile devices after the update.
If you think this isn't a big deal because you don't see too many people buying your products from their phones, then consider these statistics:
63% of people expect to do more shopping on mobile devices over the next couple of years (source: Latitude)
58% of consumers who own smartphones have used them for shopping (source: Deloitte)
57% of users say they won't recommend a business with a poorly designed mobile site (source: Google)
41% have turned to a competitor's site after a bad mobile experience (source: Google)
Just because shoppers aren't buying your products from their mobile phones doesn't mean they don't want to.
It's possible they may be browsing your store on their mobile and got turned off by the poor experience. Not only are you losing potential sales, but you're also driving them to your competitors!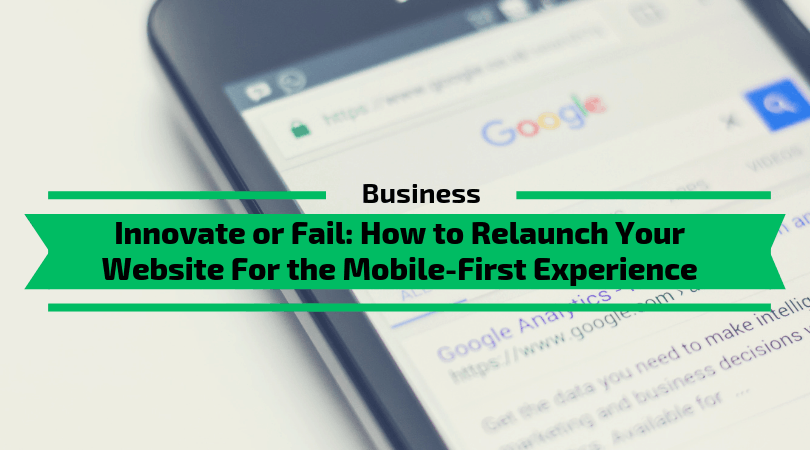 So start focusing on your eCommerce site's mobile users. Make them your priority for the year ahead, rather than thinking of desktop as the primary platform.
More traffic is coming from mobile devices, and if your site can't match mobile users' needs, you'll lose the sale. Optimize now for mobile-first indexing, and you'll see your overall site traffic and sales increase as a result.
8. Make sure your website is using SSL
SSL, or Secure Sockets Layer, is a security technology for creating an encrypted link, and it's used when sensitive data is transferred over the internet, like on your checkout pages. It's what puts the 's' in your 'HTTPS' and reassures customers that your store is secure when they enter their credit card details.
Sometime last year, Google announced that they'd be giving a little extra love to sites with HTTPS.
Right now, it's a pretty weak factor and affects less than 1% of search queries, but they only did that to give everyone enough time to upgrade to HTTPS from plain old HTTP.
Knowing Google, they'll probably turn the heat up on this in the future just like they did with mobile-friendliness.
So get your house in order before it's too late.
Make sure your entire store has HTTPS, not just your checkout. If you're on a custom platform, figure it out with your SSL certificate vendor.
9. Optimize your site and page speed 
Page speed has been a critical factor in ranking for over ten years. No one wants to hang around for a few minutes for a page to load. Neither does Google.
Just one second in delay results in a 7% drop in conversions. If that seems minor to you, think of it this way. If your store made $100,000 a day, then you'd lose $2.5 million every year!
Yeah, so take it seriously. If you don't know how fast your product pages load, test it using Google's PageSpeed Insights. Enter your product page URL, and Google will let you know how fast it loads and what you can do to fix it.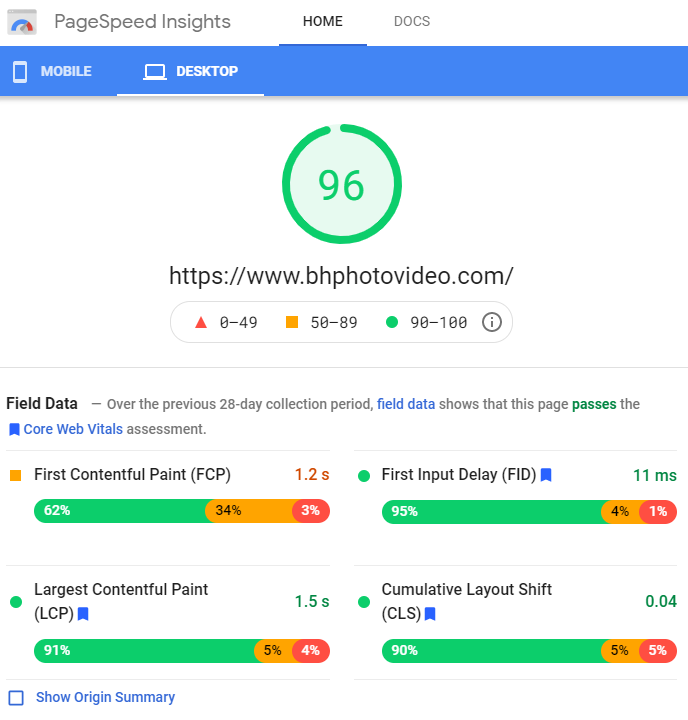 Even if your product page has lots of images, try to compress them and reduce the page loading time. After optimizing your images, one of the quickest ways to bump up your page speed is to get a CDN. If you're on a custom platform, you can purchase a CDN subscription-like KeyCDN or CloudFront.
Standards here are high, and the correlation between top sales and top-loading speeds is impactful. Ensure that your site is up to these standards, and look for ways to improve site speed if it isn't.
However, there are still some things to look out for to speed it up.
Complete guides on Technical SEO for eCommerce:
On-page SEO
10. Create a smooth and easy navigation structure
Like in retail stores, you want your audience to easily navigate between different sections and products of your online shop. Create an easy flow like that with categories, sub-categories if needed, and products below that.
Make sure your products are reachable by at most three clicks from the homepage.
E.g. Home -> Category (1st click) -> Product (2nd click).
OR, Home -> Category (1st click) -> Sub-category (2nd click) -> Product (3rd click)
If your header menu has a hover possibility, that's even better. I love hover menus!
See this example of a pet food store: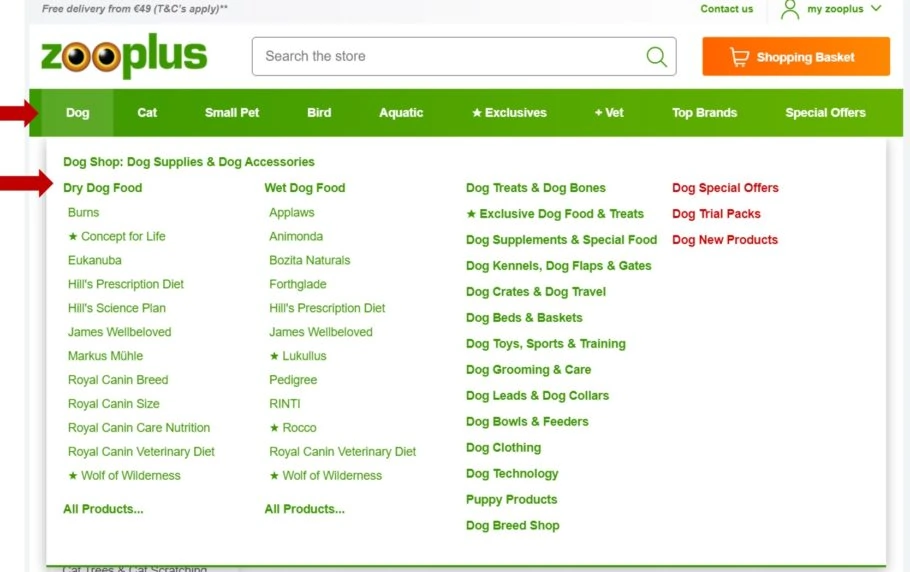 From the homepage directly, you can choose the first category: the pet you have, and then between dry dog food, wet dog food, dog treats, etc. You can directly jump to the section you want.
11. Write compelling TITLE tags and META descriptions
Let's say you search for something on Google. In the results that show up, there is a clickable title in blue. This is the title tag of the page.
A few lines in black come right under it, and that's called the meta description.


These are essentially a sneak peek of your product, like a movie trailer. Based on these, the user decides whether to click on the blue result or not.
Write persuasive TITLE tags and METAs that urge your audience to click on the result.
Write about the key points they may be looking for based on the search intent.
Before you write anything, know your audience and create a buyer persona.
Know the challenges and desires of your audience.
Your title tag should be less than 60 characters, and your meta description less than 160. Use this limited space to highlight the most crucial point about the audience's need and the product feature.
Use your product page focus keyword in both the title and meta description.
Google will know the contents of your page from these tags and show them to your audience. If you have chosen your keywords right and your METAs match their needs, you will get a click and visit your page.
In the above headphone example, the title is the name of the product. The meta includes a feature (wireless headphones muffle ambient noise) and a benefit (you can listen to your favorite music without disturbances anywhere).
12. Include your focus keyword in key places on your page
In the page URL
You may have created a site architecture with multiple categories and sub-categories. But all of these don't need to be in the URL of your product page.
What is more important is to include the primary keyword, so both the user and Google know exactly what this page is about.
In the title (H1 tag)
Every page should have only one H1 tag. That's the main heading and indicates to Google what the page is about. This H1 tag should contain your focus keyword.
See this example from Zalando. The title is the H1 tag. The exact keyword is used in the URL as well. Each page should have only one H1 tag.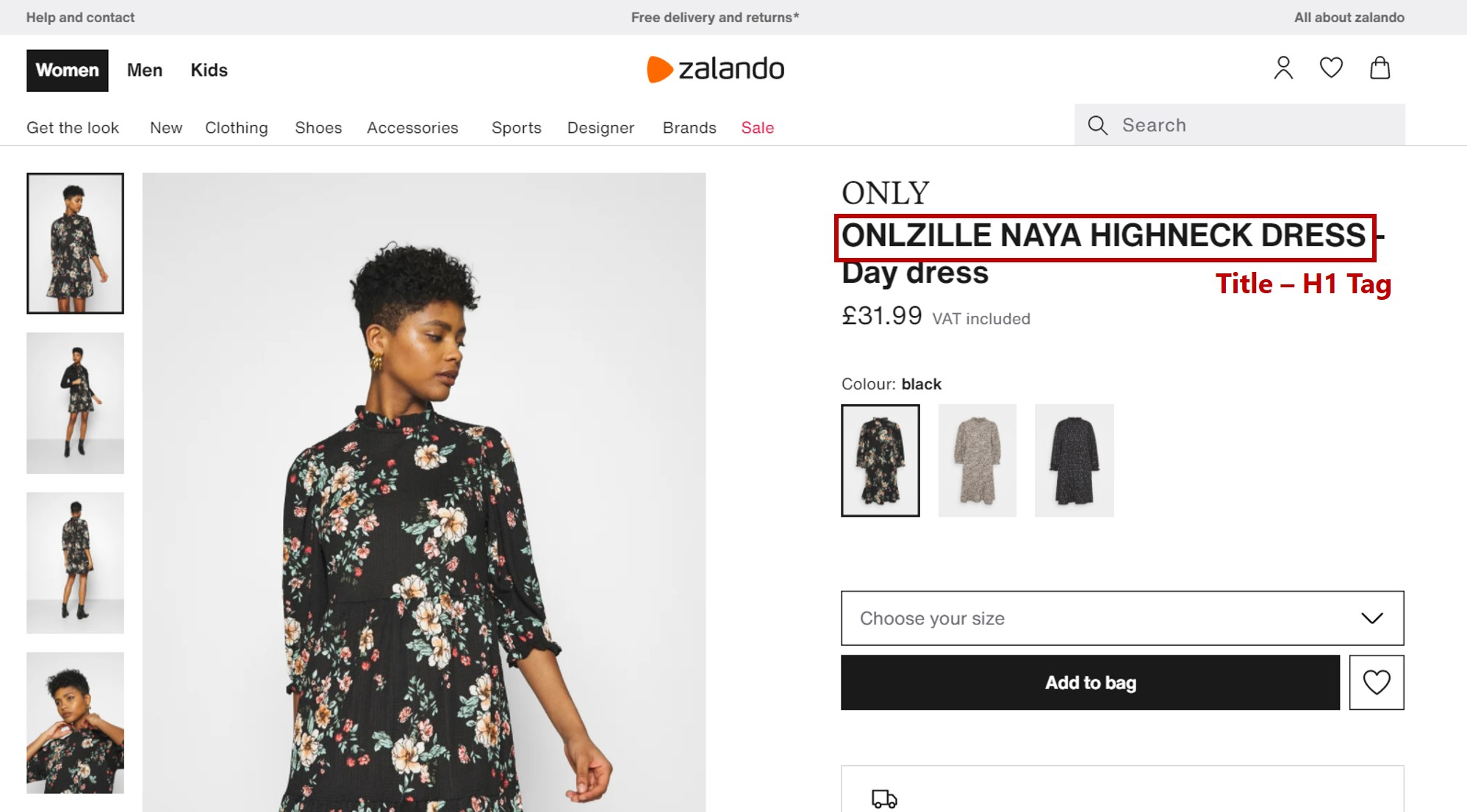 In the product description itself
Don't stuff your keyword in the body copy, but you should try to use it 2-3 times. You can blend it in nicely in a product description of a few hundred words.
13. Keep your URLs structured, static, and clean
Too often will you see URL structures like this – www.somesite.com/womens/collections/product/index.jsp?productId=34353316.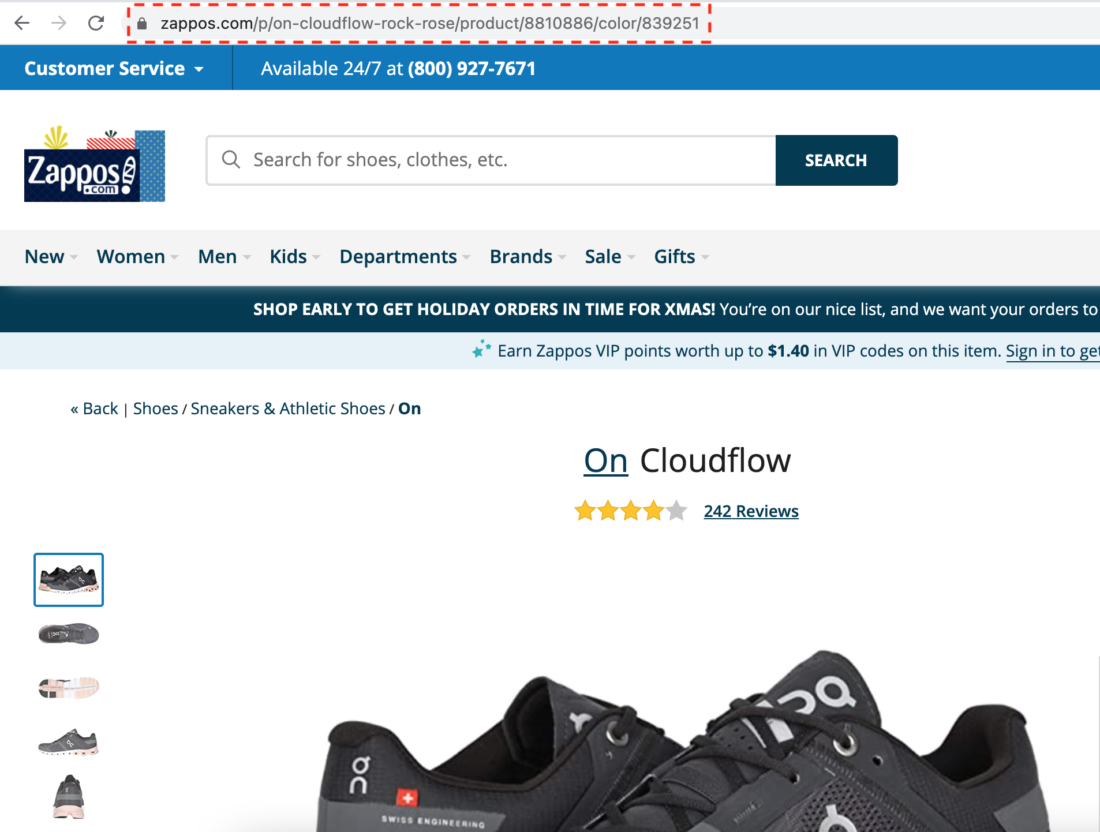 You do not want to do this. By the way, this is a real URL for a low-rise skinny jeans product. I've just replaced the actual site name with 'some site.'
There are many things wrong with this URL structure. First of all, you have no idea what product this is just by looking at the URL. Not only is this confusing for humans, but it also contains no relevant keywords for search engines. "Search for Product Id 34353316," said no one ever.
URLs like this are typically generated by the software or platform you use to build your store. The random number at the end is a dynamic parameter.
Now, some platforms do create more readable, static URLs, but they still end up like this: www.somesite.com/womens/collections/product/blue-lowrise-skinny-jean.
The problem here is that the keywords you want search engines to pick up on, like lowrise ankle or skinny jeans, are at the back. You are telling search engines that the most critical elements of your URL are women and collections instead of your actual product.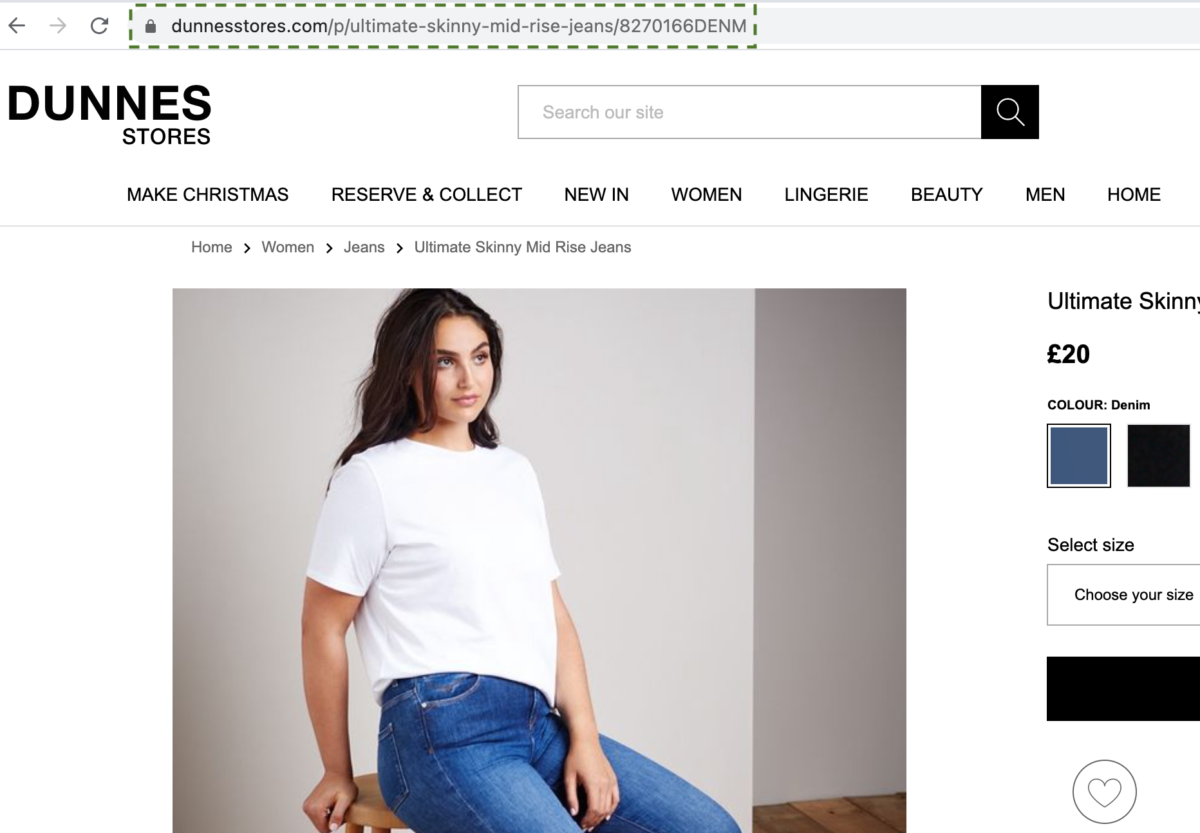 An optimized product page URL should look like this www.somesite.com/blue-lowrise-skinny-jean. Your keywords come right after your domain, so search engines understand what the page is about.
They are also understandable by humans. When your product shows up on search results, Google will bold the keywords in the URL, so searchers know what to expect when they click on your link. 
Follow a standardized structure for all URLs, and keep them simple for the user and Google to know immediately what the page is about.
How a perfect product URL should be:
Short and descriptive without unnecessary characters
Use "-" to separate the different parts of the URL
Use only lowercase characters
Avoid using stop words like "a," "an," and "the." in the URL.
Include attributes and product characteristics like the brand name or color.
If you have to include extra characters that your CMS needs, try to have those at the end.
14. Make sure you configured the Breadcrumbs
If you're suffering from withdrawal symptoms after removing all those categories and collections from your URL structure, worry not! Breadcrumbs are the perfect place for them.
Breadcrumbs are the navigational links you see near the top of a page.
Here's what a typical breadcrumb looks like: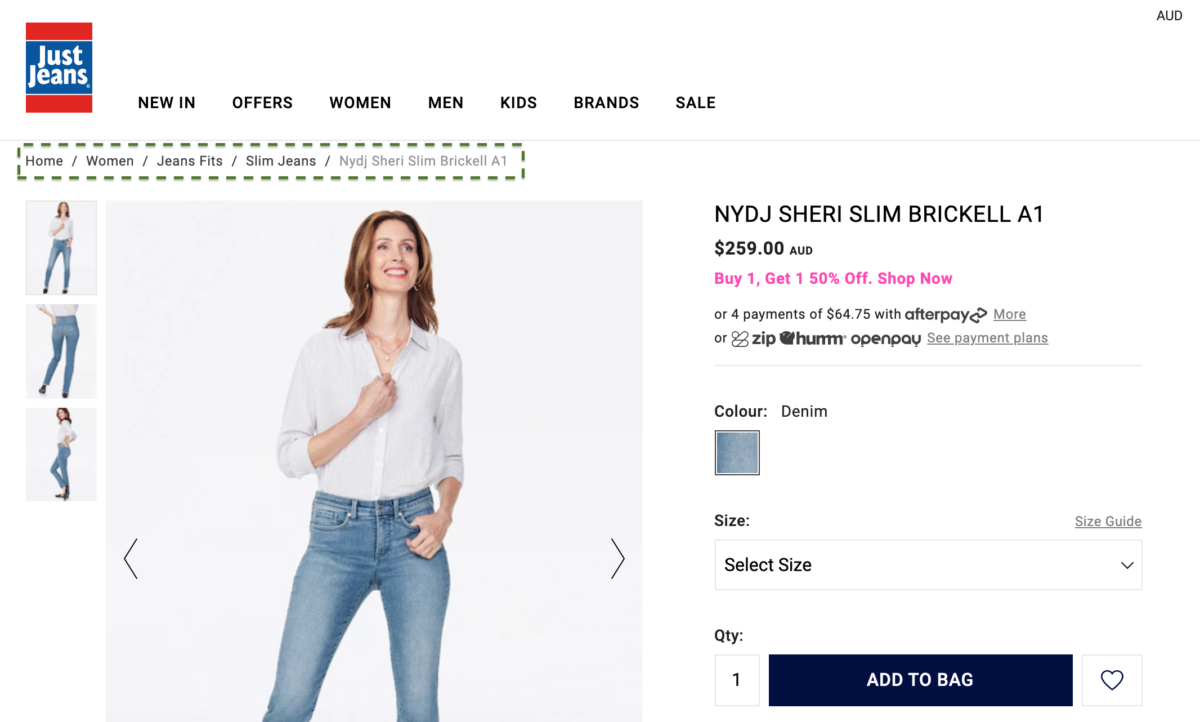 Not only do they help customers figure out where they are in your store, but enabling them is also good SEO practice. They build internal links to other pages on your site and help define your link architecture.
15. Use H2, H3, H4 tags for different sections of your page
Header tags (H1-H6) help search engines determine the structure of your page. So if H2 is a subheading, then an H3 tag should be used for sections under that as a sub-sub-heading.
In the above example of Zalando, see their header tags below.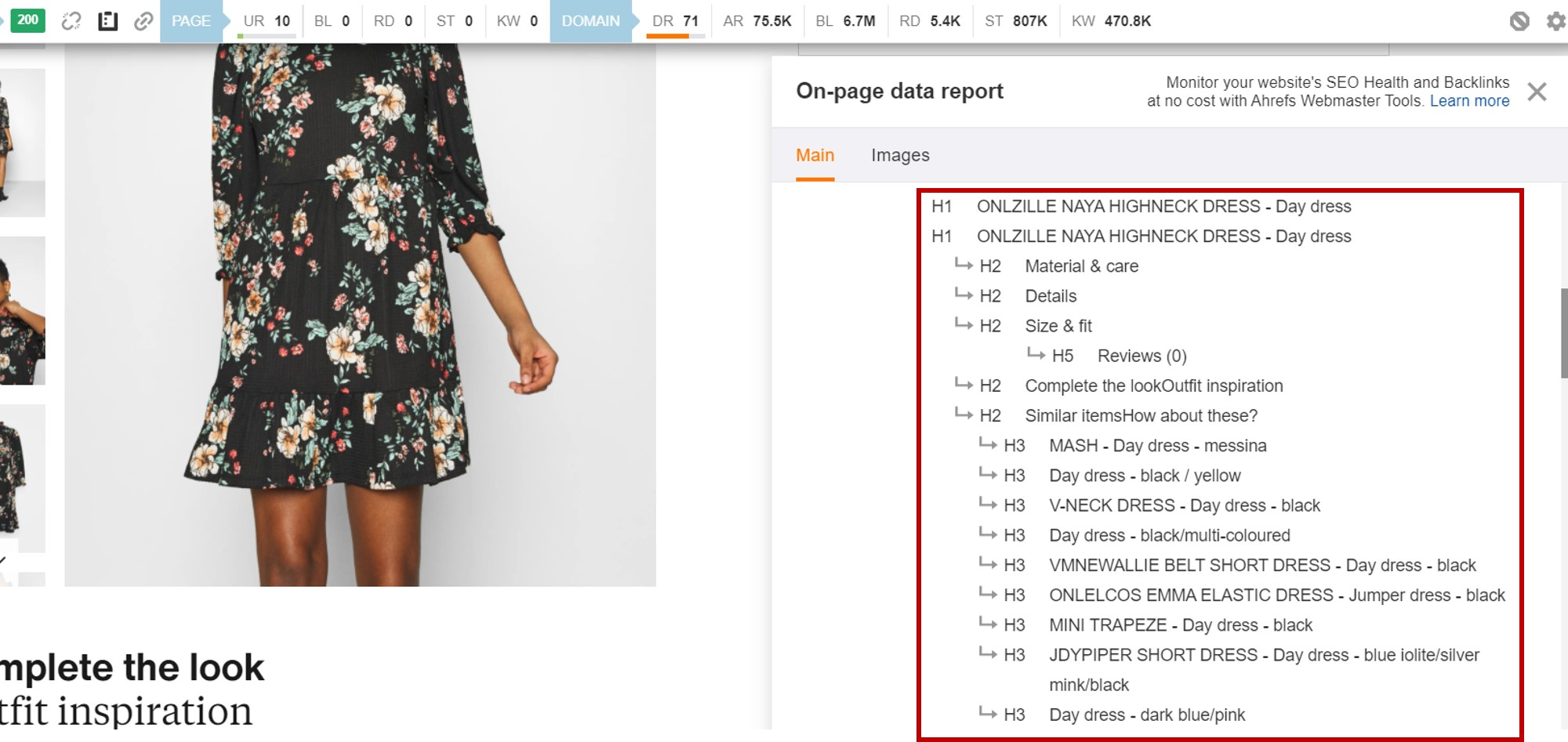 Details, Size & Fit, and Similar Items are H2 tags. H3 are the ones with more details below H2.
P.S. I get this data from the Ahrefs SEO Toolbar installed on my Chrome, which has a neat little feature called On-Page SEO Data.
16. Include internal links between pages
Internal links are essential to help search engines understand your site better and thus can boost SEO. Ideally, links between blog posts and products are excellent.
If you don't have a blog in your online store, you can also link categories and products.
Two elementary sections to include are:
Related products
You may also like
These generally come below the product description, and the easiest for user experience is to put them in a grid.

It also makes the browsing experience better for the customer and can even lead to more sales.
Crate & Barrel does this very nicely by mentioning other products as part of a collection:

17. Add alt text to all product images
Image SEO can also play a massive role in boosting your page rank. Especially product pages, this is key as you would have many images on the page anyway.
Please make the most of them and add alt text to each image you have on your site/ product pages.
Your product's primary (featured) image should contain your focus keyword in the alt text.
The alt text of other images can contain semantic keywords.
18. Add structured data markup to each product page
Structured data markup is a set of coding parameters that you can add to your product pages.
This helps search engines to read the page content better and rank it in search results accordingly. It shows up as what is called in SEO a rich snippet result.

To add structured data, go to Google's Structured Data Markup Helper, choose 'Products,' and enter your product page URL.
Now you can highlight each of the sections on your product page and classify them as different items:
Name
Image
Description
URL
Brand
Offer
Rating
Review
Complete guides about OnPage SEO for eCommerce:
Content SEO
19. Write in-depth product descriptions
Search engines understand pages better when there is enough content to explain what the page is all about. If your product descriptions are two lines long, it is not enough for the engine algorithms to understand and trust them.
Plus, with detailed descriptions, the user understands the product, increasing the chance of a sale. Think of your descriptions as sales pages.
Besides the details of the products, think about why your visitor wants to buy this product and how to appeal to both their logic and emotion. Here are some tips for doing that.
Make your product descriptions speak to the user.
Eventually, your purchase would be made by a human. You've done your research, and you have your buyer persona. After reading your product description, your audience should go, 'Yes! This is what I was looking for.'
Address all the essential desires they may have. Use words that appeal to their needs and emotions. E.g., for a black evening dress, your female audience may want to be feeling 'classy,' 'elegant,' or 'sexy.' For a summer day dress, she might want something 'light,' 'easy-to-maintain, and 'free.'
Focus on the benefits (which are possible because of the features)
As we saw in the headphones example above, the benefit was mentioned: disturbance-free enjoyment of music. Likely because of the noise-canceling technology in the headphone.
Wondering how and what to write so much about your product?
Here is an example:


Of course, you don't have to write so many details about every product. It depends on the category and specific product, but try to write at least a few hundred words for each.
20. Are you using product videos?
A video increases consumers' understanding of your product offering by 74%. That's impressive but, even better, these videos drive 12% of the viewers to buy the product!
Product videos aren't just great for conversion rates. They also allow you to differentiate yourself in search results. Do you know that vast video-sharing site, Youtube? Yeah, Google owns that site.
When uploading product videos to Youtube, ensure that the titles, tags, and descriptions are optimized for your keywords. This makes it searchable on Youtube, and the video might even show up on a Google search if optimized well.
After it's up on Youtube, make sure you embed it on your site and allow others to embed it too. As more people embed your video, it will get ranked higher in Google.
21. Use semantic keywords
Earlier, we mentioned related and semantic keywords. Make your product copy easy to read and descriptive by using these keywords.
But don't focus only on keywords. Ensure your tone of voice is human and relatable and that the descriptions are written for a human.
22. Make each product page description unique
Even though two products you have may seem very similar to you, try to distinguish between them and write your product descriptions accordingly. Some customers may be okay to buy either product, but some may prefer one over the other.
So think of the specific buyer persona for a product while writing the description for that product.
You may have unique content on your product page, but your store may automatically generate duplicate versions of these pages.
How does this happen? With some eCommerce platforms, depending on how you organize your products into categories and collections, you might see multiple URLs automatically generated based on the path a user can take.
For example, if your 'Blue Low-Rise Skinny Jeans' product is featured under the 'Frontpage' collection, while also under 'Women's Clothing,' your platform might generate three URLs pointing to the same product:
www.somesite.com/products/blue-lowrise-skinny-jeans
www.somesite.com/collections/frontpage/blue-lowrise-skinny-jeans
www.somesite.com/clothing/womens/blue-lowrise-skinny-jeans
Three different URLs, but all are pointing to the same product. To customers, there's no difference, but in Google's eyes, it's like having three different pages with the same content. To solve this, you'll need to use the rel=canonical tag to tell Google that it's not duplicate content.
23. Make your product page easy to skim and read
Like any blog post, any page that has lots of text should be easy to read. The same applies to your product pages:
Use short sentences
Add product features in table formats or bullet points
Use lots of white space
Put your text on a clear solid background, ideally white.
24. Do the same process for your category keywords
Apply the same on-page and content SEO techniques that you did for your product pages to your category pages as well. Most category pages tend to showcase the products in that category.
But if all your web content is focused only on your products (besides the About & Contact pages), you have to optimize all the pages you have currently to the maximum. So work on the on-page and content SEO techniques for your category descriptions as well.
25. Add user-generated content 
According to eMarketer, almost 70% of people look at online reviews before making a purchase. If your eCommerce store does not have product reviews, you are missing out on an ample opportunity. Not only do people love, and look for, product reviews, but search engines love product reviews too.
Social proof sells. It's not just about how great you as a brand or manufacturer say your products are. If you have real customers recommending you and showing they have used the product themselves, that has a much higher impact.
Some examples of user-generated content are:
Product Reviews
Product usage photos by actual customers
These are great because your store is consistently being updated with fresh and unique content.
The best part is it's all free user-generated content, making it a very scalable and cost-effective way of adding new content to all your product pages.
They also help optimize your product page for long-tail keywords that you've missed out on. When your customers leave reviews, they might use the exact keywords that consumers are searching for.
Here are some ways to get more reviews and ratings.
26. Add FAQ Content
Having high-quality content that meets the needs of users is vital for ranking high in SERPs. If users do not find your helpful content, your bounce rates will be high, and customers may not buy from you.
Most category and product pages are light on optimized content and do not have an FAQ section marked with FAQ structured data.
Instead, they tend to rely on user-generated content (UGC), which is a mistake.
Suppose I have a question about a product and do not want to talk to a chatbot or call customer service.
If the brand in question has built an FAQ section with answers to questions users commonly ask, I – and customers like me – can easily find the information we're looking for.
That, in turn, helps the brand sell more products.
Complete guides about Content SEO for eCommerce:
Off-page SEO
27. Get links to your product pages
Links, whether do-follow or no-follow, can drive traffic to your store. So, in the beginning, don't focus only on do-follow links. Just try to get links from related, preferably high-quality domains, for your product pages.
The first few could be social media, directory listings, vendor and supplier sites, and review sites.
28. Add your products to price comparison shopping websites
Have you added your products to price comparison shopping websites? This will bring you backlinks and traffic, especially if you have reasonable prices.
Check this guide of  17 Price Comparison shopping websites to start with.
Complete guides about Off-site SEO for eCommerce:
Local SEO
29. Add your products on Google My Business
Google My Business offers an option for you to showcase your products. It's a way for your audience to find you directly through Google. And in local businesses, this can be very helpful. See the example below: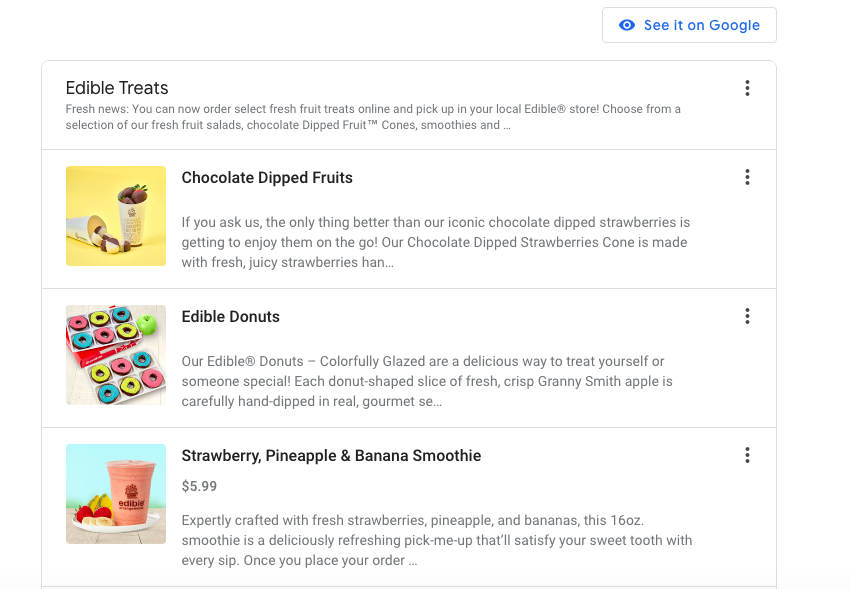 Imagine someone is in a specific city, maybe looking for 'wooden furniture.' If you are a wooden furniture seller in that city and have your product on Google My Business, you will likely show up very high in that search result.
The user is also more likely to click on that product option because it saves time scrolling through all the blue links that may not be in the area.
Check out this video on how an automobile business adds its products to GMB.
Complete guides about Local SEO for eCommerce:
Conclusion on SEO for eCommerce Product Page
Phew! That was a lot to take in. Now, it's just a matter of putting your head down and optimizing your product pages. It's time-consuming and repetitive, but we've created a checklist that will help you speed things up.
If you don't have too many products, it's best to go through all of them in one sitting and optimize them for search engines. If you can't finish in one sitting, break it up over a few days.
As you look through each product page, go over the checklist and optimize each point. In the future, when you add more products, you can use the SEO eCommerce checklist to optimize the pages as you create them.
Remember, you won't immediately start ranking on the front page of Google.
This takes time, but eventually, your store will start to surface for specific keywords, and you'll slowly beat out your copy-cat competitors.
However, like every eCommerce store, your small business online store will always do better with blogs or other forms of engaging content.
Start work on them as soon as you can. It will give an additional lift to your overall site SEO.
What are your best product page SEO tips?
Let us know in the comments!