Today, I will review one of the most straightforward but powerful speed optimization plugins for WordPress for you. In this WP Rocket review, you will find what WPRocket does, its best features, how to configure it for maximum results, and how to make money by recommending WP Rocket to your peers.
Are you in a hurry? Well, here is the summary:
WP Rocket Review Summary:
Few WordPress caching plugins can beat WP Rocket in performance, ease of use, support and regular updates, and extra features. I recommend purchasing WP Rocket if you don't have it already and start enjoying speed benefits. The only downside is that it's more expensive than its counterparts, but it's a pretty good deal for the features and perks you get.

1. Why is website speed crucial in 2022?
Because performance is so important – affecting everything from user experience to Google rankings and conversion rates – everyone who wants their site to be successful needs to make sure it loads quickly.
53% of people who visit a website will leave it if it takes more than 3s to load, according to Google research. That's why every website should be optimized for speed and have a powerful caching system at its core.
In 2020, Google announced an update around May 2021, which will focus on Core Web Vitals. This means that how fast your website loads will highly impact your rankings. And we know that keyword drops can mean up to 80% of traffic loss. You simply can't afford this.
So having a fast website means more visitors, more conversions, and more conversions.
How fast is your website? Test it on Web.dev, which Google created, and focus on your website's most important speed factors. Below there is a report of a website I optimized several days ago for a customer: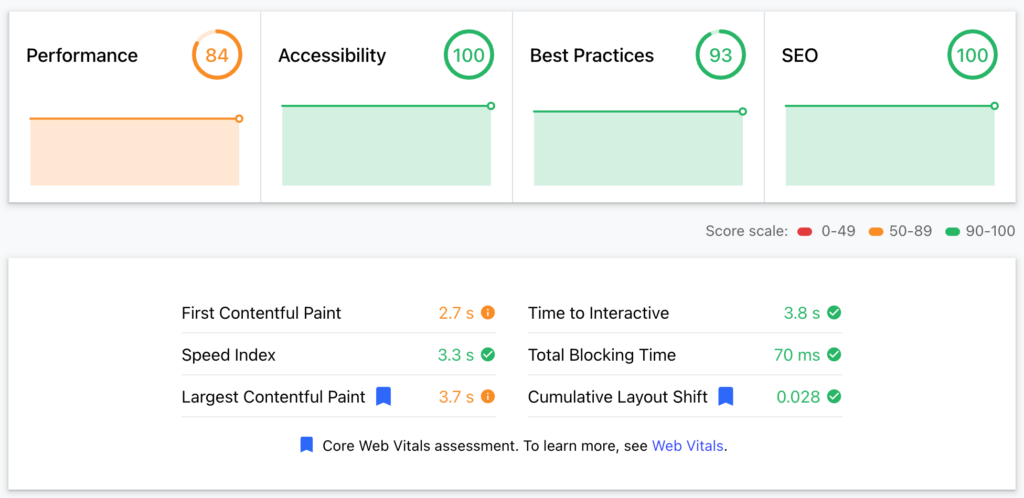 Unfortunately, hosting is a shared one; otherwise, we could aim for at least 95%. Yet an 84% score is good enough, and I've obtained it by installing and configuring WP Rocket.
Have I convinced you to pay attention and read further?
2. What is WP Rocket?
In a nutshell, WPRocket is an easy-to-use WordPress plugin that speeds up your website by optimizing your page cache, image delivery, and many other technical aspects regarding scripts, page loading, etc.  WP Rocket is recognized as the most powerful caching plugin by WordPress experts.
The plugin is speeding up almost 1 million 500 websites, making it the most popular WordPress speed improvement plugin.
In addition to the plug-and-play factor, WP Rocket also comes with lots of helpful documentation, including video guides, to further improve your website's loading times.
3. WP Rocket Before & After
To make it easier to see the differences, here's a table summarizing the change before and after optimizing a website with WP Rocket:
4. WP Rocket Overview
We will go through all the tools and settings of WP Rocket to easily understand what you can do and optimize your website for speed easily and safely.
4.1 Dashboard
The Dashboard tab gives you information about your license and lets you perform important actions. Specifically, you can purge your entire cache and/or start cache preloading.
For example, if you recently made a big change to your site, you might want to purge the entire cache so that your visitors see that change right away. After purging the cache, you could start cache preloading to get those pages back into the cache.
4.2 Cache
That's an essential function of the plugin, which powers the caching of your website. In a nutshell, the cache function creates a static page for your content that will be served to all visitors.
This way, the pages will not be dynamically generated every time visitors jump on your website. This saves a lot of time and improves the loading speed thunderously.
4.2.1 Mobile Cache
I've enabled the Mobile cache. You don't have to create separate cache files for mobile devices as my WP theme is responsive, so quickly redesigns itself for mobile devices.
4.2.2 User Cache
WP Rocket will create a separate cache for logged-in users, which is excellent if you have restricted content that users need to be logged in to see. If you don't have registered users at your site, I'd recommend leaving this off.
4.2.3 Cache Lifespan
How much time should the cache files be available till they are deleted and rebuilt automatically? You have to experiment with the best option for you. I set it to 0 for unlimited time because I actively deleted the cache manually on the website.
4.3 File Optimization
Another necessary settings tab is the one related to file optimization. That's because files (HTML, CSS, and JS) heavily impact your loading speed.
It's crucial to test these settings and see which one works for you and which one doesn't. Don't forget to try contact forms, loading pages, etc.
There are thousands of themes and plugins; some are old and not updated, while others are coded poorly. Therefore WP Rocket tries its best to optimize them, but sometimes it can break things. So, test and see what works for you.
4.3.1 CSS Files
Enable the minification of CSS files and then the option to combine them. After this, hit Save, reload cache and test heavily how your website looks both on desktop and mobile.
If some CSS files bring visual errors, you should exclude them from minification and concatenation in excluding the CSS files box.
Optimize CSS delivery eliminates render-blocking CSS on your website for faster-perceived load time. Enable it and test again how your website looks. If everything looks good, let's move further.
4.3.2 JavaScript Files
Enable the minification of JavaScript files and then the option to combine them. If any JS inline patterns bring errors, you should exclude them from minification and concatenation in excluding the CSS files box. The same for javascript files.
Load JavaScript deferred eliminates render-blocking JS on your site and can improve load time. Enable it and test your website again. Delaying JavaScript execution gives you excellent results, enabling it and adding the scripts that you can delay.
4.4 Media
The 3rd most crucial tab is about media files (images and videos).
4.4.1 Lazy Load
Lazy Load improves actual and perceived loading time as images, iframes, and videos will be loaded only as they enter the viewport and reduce the number of HTTP requests.
Enable it for images, iframes, and videos and see if this function works on your website. If it does, keeping it is important.
4.4.2 Image Dimensions
This feature adds missing width and height attributes to images. This way, it helps prevent layout shifts and improve the reading experience for your visitors.
4.4.3 Embeds
It prevents others from embedding content from your site, prevents you from embedding content from other (non-allowed) sites, and removes. JavaScript requests related to WordPress embeds.
I have mixed opinions on this. You can enable it for a little more speed, but on the other hand, if people embed your images, infographics, or content from your website will not be able to do it.
4.4.4 WebP compatibility
Enable this option if you would like WP Rocket to serve WebP images to compatible browsers. Please note that WP Rocket cannot create WebP images for you. You can use their service, Imagify or ShortPixel. I use the second.
4.5 Preload
WP Rocket will generate the cache when you enable preloading, starting with the links on your homepage, followed by the sitemaps you specify. Preloading is automatically triggered when you add or update content and can also be manually triggered.
4.5.1 Preload Cache
I activated cache preloading, and the plugin identified that I use Yoast SEO XML sitemap as a source of pages. If you use another plugin for sitemaps, you can add the sitemaps in a text box.
4.5.1 Preload Links
Link preloading improves the perceived load time by downloading a page when a user hovers over the link. Enable it.
4.5.2 Prefetch DNS Requests
DNS prefetching can make external files load faster, especially on mobile networks. See what external resources your website loads and add the domains in the prefetch DNS requests box.
4.5.3 Preload Fonts
Improves performance by helping browsers discover fonts in CSS files. Remember that you should specify URLs of the font files to be preloaded (one per line). Fonts must be hosted on your own domain or the domain you have specified on the CDN tab.

4.6 Advanced Rules
On this tab, you will be able to write advanced rules for caching. Basically, you can exclude from caching some pages, some user agents, or browsers with the cookies you set.
4.6.1 Never Cache URLs
Here you should add any URLs that you don't want to be cached. I've added the links containing contact forms with Recaptcha as it conflicted with WPRocket.
4.6.2 Never Cache Cookies
Here you can specify full or partial IDs of cookies that should prevent a page from getting cached when set in the visitor's browser (one per line). 99% of the time, you don't have to use that.
4.6.3 Never Cache User Agent(s)
If you get an error on a specific browser, you can specify the user agent strings that never see cached pages (one per line). Once again, I wouldn't use it and try to solve the browser that is causing it.
4.6.3 Always Purge URL(s)
You may specify URLs you always want to be purged from the cache whenever you update any post or page (one per line). I don't use this.
4.6.4 Cache Query String(s)

Cache for query strings enables you to force caching for specific GET parameters.
4.7 Database
On this tab, you will be able to do database cleanup. On some active blogs for a couple of years or have heavy traffic and content, you should get rid of a lot of garbage.
4.7.1 Post Cleanup
Post revisions and drafts will be permanently deleted. Do not use this option if you need to retain revisions or drafts.
4.7.2 Comments Cleanup
Spam and trashed comments will be permanently deleted. I enable both of these options.
4.7.3 Transients Cleanup
Transients are temporary options; they are safe to remove. They will be automatically regenerated as your plugins require them.
4.7.4 Database Cleanup
Reduces overhead of database tables, so enable the optimize tables option.
4.7.5 Automatic Cleanup
You can schedule automatic cleanups of your database. I recommend doing a backup before playing with these settings.
4.8 CDN
A CDN (Content Delivery Network) will help you deliver the images and other media files faster from your website. That's because they are hosted on different servers around the world, so people from Europe will get images from a European server, the ones from the US from a server in the US, etc.
What's nice is that you can create separate rules for:
All files
Images
CSS and JavaScript
Just CSS
Just JavaScript
WP-Rocket recommends getting their CDN service called RocketCDN. If you have another service, you can enable it in this tab. I personally use KEYCDN at the moment.
4.9 Heartbeat
Reducing or disabling the Heartbeat API's activity can help save some of your server's resources.
You can enable this option if you are on a small server or shared account and your website receive a lot of traffic.
4.10 Addons
WPRocket addons are features extending available options.
4.10.1 Google Tracking
If enabled, WP Rocket will host these Google scripts locally on your server to help satisfy the PageSpeed recommendation for Leverage browser caching.
4.10.2 Facebook Pixel
If you use Facebook Pixel to enable this option, WP Rocket will host these Facebook Pixels locally on your server to help satisfy the PageSpeed recommendation for Leverage browser caching.
4.10.3 Varnish
If the Varnish Caching system runs on your server, you must activate this add-on.
4.10.3 Cloudflare
If you are using Cloudflare, you should add the API Key and enable this addon so WP Rocket can control the settings and use the optimal ones. Also, it clears the cache in Cloudflare, so will not be any latencies.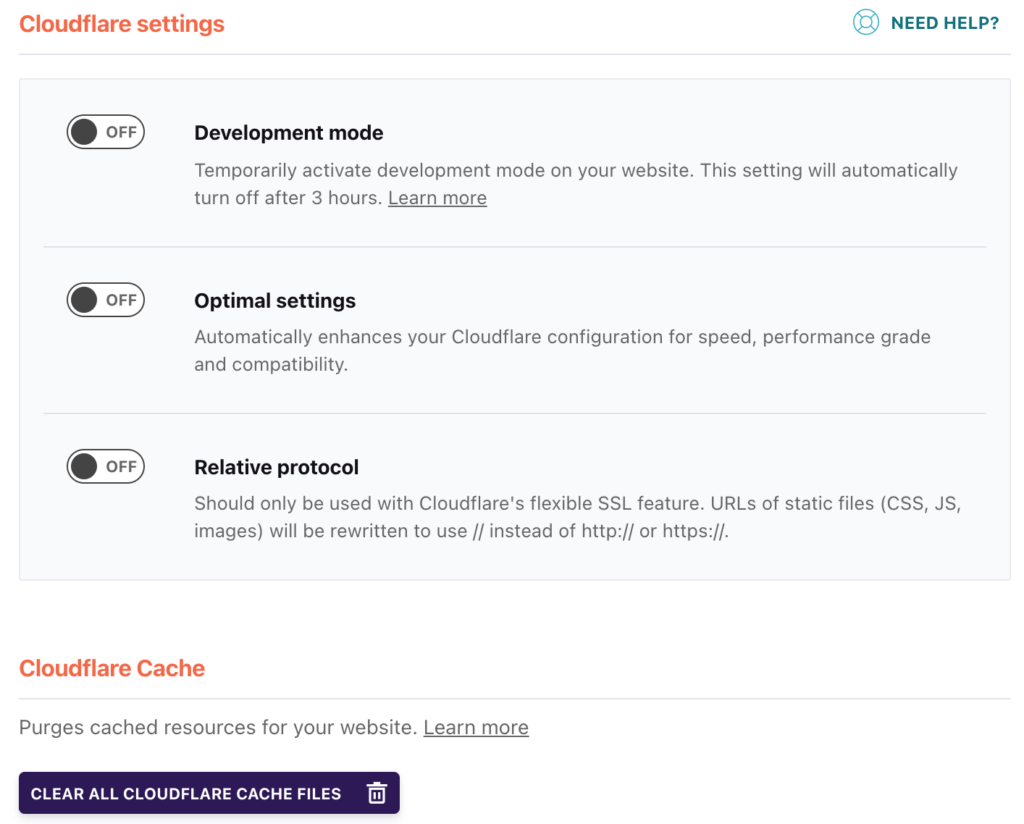 4.10.4 Sucuri
You can synchronize the Sucuri cache with this add-on.
4.11 Image optimization
As I've previously said, image optimization offers a huge impact on your website's loading speed. WP Rocket recommends using its own service called Imagify.
Using Imagify, you can compress the images to make your website faster while maintaining image quality.
4.12 Tools
In the Tools tab, you can easily export and import settings. This is helpful if you have multiple websites and would like to use the same configuration or simply want to test things.
If something breaks, you can load a previously saved configuration, and you know it works for you.
If the latest version of WP Rocket has any bugs, you can easily roll back to the previous version.
4.13 Installations management
In your WP Rocket members area, you will be able to see all the sites where you installed WP Rocket, the version for each site, and the status. Also, you can easily stop a website from using your WP Rocket license.
This is helpful for agencies that create licenses for clients, and they have to share the licenses. If a customer is no longer paying for maintenance, you can stop WP Rocket and revoke the license so they will have to purchase their own.
5. WP Rocket PROs and CONs
Now that you know the features and benefits of the WP Rocket speed optimization plugin, let's talk about its PROs and CONs.
WP Rocket PROs
One-click optimization process.
The plugin is beginner-friendly.
The market-leading WordPress caching plugin.
Many self-checking procedures do not break your website.
Great support from developers (docs, videos, tickets).
Often updates with fixes and new features.
You don't have to use lots of separate plugins. Everything is in one place.
It's compatible with most plugins like Yoast, SeoPress, WPML, etc.
WP Rocket is compatible with most web hosts on the market
WP Rocket CONs
I would love to have an option to tweak expert settings for advanced users.
Most of the features are available if you install multiple free plugins.
The price could be lower.
6. WP Rocket Pricing Plans
Let's talk a little bit about WP-Rocket pricing plans.
WP Rocket comes with three pricing plans:
Single: $49 for one year of support and updates covering use on one website.
Plus: $99 for one year of support and updates covering use on three websites.
Infinite: $249 for one year of support and updates covering use on an unlimited number of websites.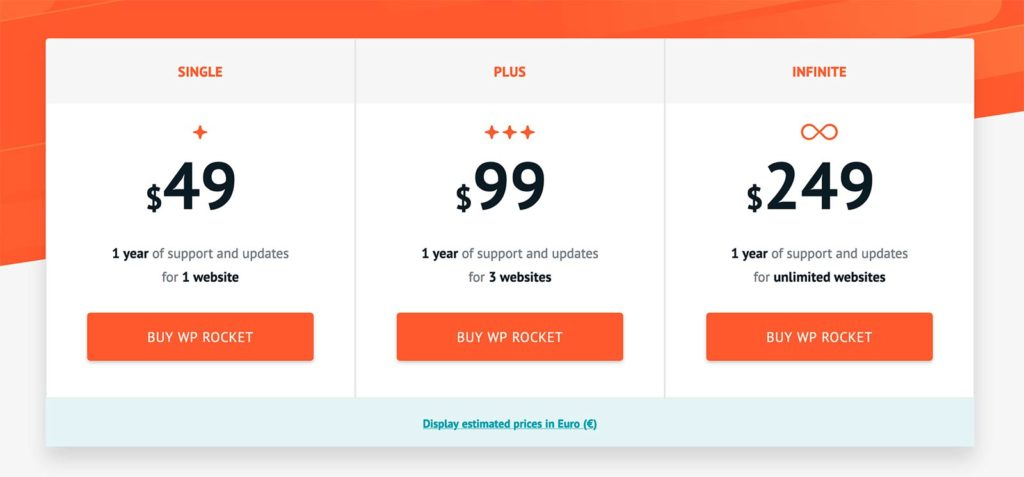 There is also a 14 days money-back guarantee. So if you are not happy with the purchase, you can ask for a refund in a max of 14 days since you purchased WP Rocket. The team will process it for you, no questions asked.
So thanks to the 14-day money-back guarantee, you can see what impact this plugin has on your site, risk-free.
7. WP Rocket Case Study
But let's see how WP Rocket performs in a live environment. For this, I used one of our websites by measuring the Web Core Vitals before and after installing and configuring WP Rocket. Please note that no other plugins or teaks have been done.
Speed metrics before installing WP Rocket
Performance: 60/100
First Contentful Paint: 3.5s
Speed index: 5.5s
Largest Contentful Paint: 5.9s
Time to Interactive: 5.9s
Click on the picture below to see the full metrics of the website before installing the WP Rocket plugin.
Speed metrics after installing WP Rocket
Performance: 93/100
First Contentful Paint: 1.7s
Speed index: 1.9s
Largest Contentful Paint: 3.1s
Time to Interactive: 2.7s
Click on the picture below to see the full metrics of the website after installing the WP Rocket plugin.
As you can see, the metrics speak for themselves and installing a speed improvement plugin like WP Rocket can drastically increase your website's user experience and SEO metrics.

8. WP Rocket Referral Program
Now you can invite your friends to buy WP Rocket. Every time one of them becomes a WP Rocket customer, you get two extra months for free. Besides that, through your referral link, they will be able to get WP Rocket at a discounted price:
WP Rocket Discounts through the referral program:
10% OFF on 

Single WP Rocket license 

15% OFF on 

Plus WP Rocket license

20% OFF on 

Infinite WP Rocket license
As you can see from the picture below, the WP Rocket referral program works great for me. The last time I paid for a WP Rocket license was on November 29, 2019, which expired on November 28, 2020, but as I referred people to WP Rocket and got two months for each of them, my license will expire on May 28, 2022.
The referral program is available for you in your WP Rocket members area right after purchasing your license.

9. WP Rocket Affiliate Program
If you want to make money instead of getting your license extended, you should join the WP Rocket Affiliate program. To do this, you should have an account on the ShareASale affiliate network.
Once the affiliate manager of WP Rocket confirms your application, you can start promoting WP Rocket using your referral link.
When your users click on your affiliate links, they will be redirected to WP Rocket's website.  If they buy WP Rocket, you earn a 20% commission per sale.
Have a blog? Install an affiliate marketing theme for WordPress, use WPRocket to improve its speed and write your experience using it with your affiliate link attached.
Below is the WP Rocket Affiliate Program Commission structure:
Single License sells for 

$49: you earn $9.80 in affiliate commissions.

Plus License sells for 

$99: you earn $19.80 in affiliate commissions.

Infinite License sells for 

$249: you earn $49.80 in affiliate commissions.
10. WP Rocket Support
The WP Rocket support is very active, and you will get an answer to any problem you may encounter. So if you get into trouble, they have you covered.
First, you have the documentation, which impressed me. At the moment of writing, there are 263 tutorials in 25 categories. That's because they documented every step and feature of the plugin, so when you are stuck can get an answer fast.
Next, there is the WP Rocket Private group on Facebook with over 10,000 members. There you can connect with other WP Rocket users around the world. You can share your experience with WP Rocket and learn new tricks to improve your site's speed.
If you have any issue, you can post it in the group, and in a matter of minutes, someone will look into the issue and point you in the right direction.
If you like watching videos, then you're covered as well. There is also a Youtube channel with video tutorials for the most important features and tweaks of WP Rocket. Not as updated as I would like but still plenty of information.
The videos are also linked in your WP Rocket interface, so you don't have to browse through them but go directly to the one that explains your situation.
Do you have your WPRocket plugin installed, and it works like a charm? You should then check their blog for tips to improve your website's speed even more or stay up to date with the last trends in the speed optimization world.
Finally, there is a help centre where you can contact a WP representative to look into your issues and help you solve them.
As you can see, there are plenty of support options, so the WPRocket plugin can't get less than 5/5 here.
11. WP Rocket Perks
I also like WP Rocket because they negotiated some nice discounts with hosting and plugin developers. 31 unique discounts range from 15% to 30% to WordPress plugins like SEOPress, Wincher SEO Rank Tracker, WordPress themes like ElegantThemes, and WordPress hosting companies.
12. WP Rocket Alternatives
WP Rocket has several alternatives: W3 Total Cache, WP Super Cache, WP Fastest Cache, and the newest plugin from Cloudflare: WP Cloudflare Super Page Cache.
The main difference between WP Rocket and other cache plugins is the extra performance you get with their preload bot, lazy loading of videos/iframes, and database cleanup (most cache plugins don't have all these features).
With WP Rocket, you can simultaneously use Cloudflare and other CDNs, while most cache plugins only have one option.
13. WP Rocket FAQ
Is there a free version of WP Rocket?
WP Rocket is a premium cache plugin, and they don't offer any free version. However, they offer 14 days money-back guarantee, and in case if you are not happy with the plugin, you can get a refund.
How to update WP Rocket?
Whenever a new version is released, you will get an option inside the WordPress dashboard to update the WP rocket plugin.
14. WP Rocket Review Conclusion
After three years of running WP Rocket, I can't recommend it enough. It is such a simple plugin to configure and use, and yet it is mighty! I use it here on Monetize.info and all other websites.
I like it the most because it comes with many settings already done for you, and it's easy to tweak things, making it friendly for both techies and non-techies.
14. My Special WP Rocket Offer
If you purchase WP Rocket through the link on this website, I will give you free access to my WordPress Speed Optimization training program which normally sells for $99.

WP-Rocket works well with other plugins from our performing optimization suite: Perfmatters and ShortPixel. If you need help configuring it, I recommend taking a WordPress maintenance service that will do it for you.
P.S. WP Rocket is listed in our Top 21 Best WordPress Plugins for Affiliate Marketing websites.