Wincher SEO Rank Tracker is an extremely flexible and powerful keyword rank tracker tool that helps you follow your progress and SEO efforts. With our exclusive Wincher discount, you will be able to save 30 euros on your 1st order.
Winchermakes SEO easier for you and helps to increase your rankings. With its easy-to-read dashboards and powerful insights, Wincher Rank Tracker is one of the most cost-effective tools and a must-have for any online business or online marketer.
Wincher SEO Rank Tracker PROs and CONs
Wincher SEO Rank Tracker PROs
Simple and focused
Grouping of keywords
Automated alerts when rankings change
Competitors feature to spy on your
Daily ranking updates (better than Ahrefs)
Good support team
Wincher SEO Rank Tracker CONs
The WordPress plugin is limited in functionality
Estimated search volumes don't always match other platforms
Can't assign an ideal URL for each keyword

Wincher Yoast Integration
On January 12, 2022, Wincher announced its integration with the popular SEO plugin for WordPress, Yoast. Now you can track the performance of your keywords for each article or page right inside your WordPress admin panel. All you have to do is connect your Wincher account with your Yoast installation and then set up the keywords you want to track for each article in Yoast.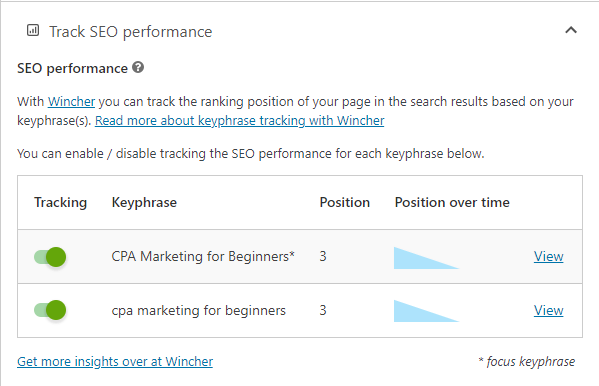 In the picture above you can see how I track the keyword "CPA marketing for beginners" in Yoast right in the article panel. You will be able to track up to 5 keywords with a free Wincher account.

Wincher Rank Tracker Pricing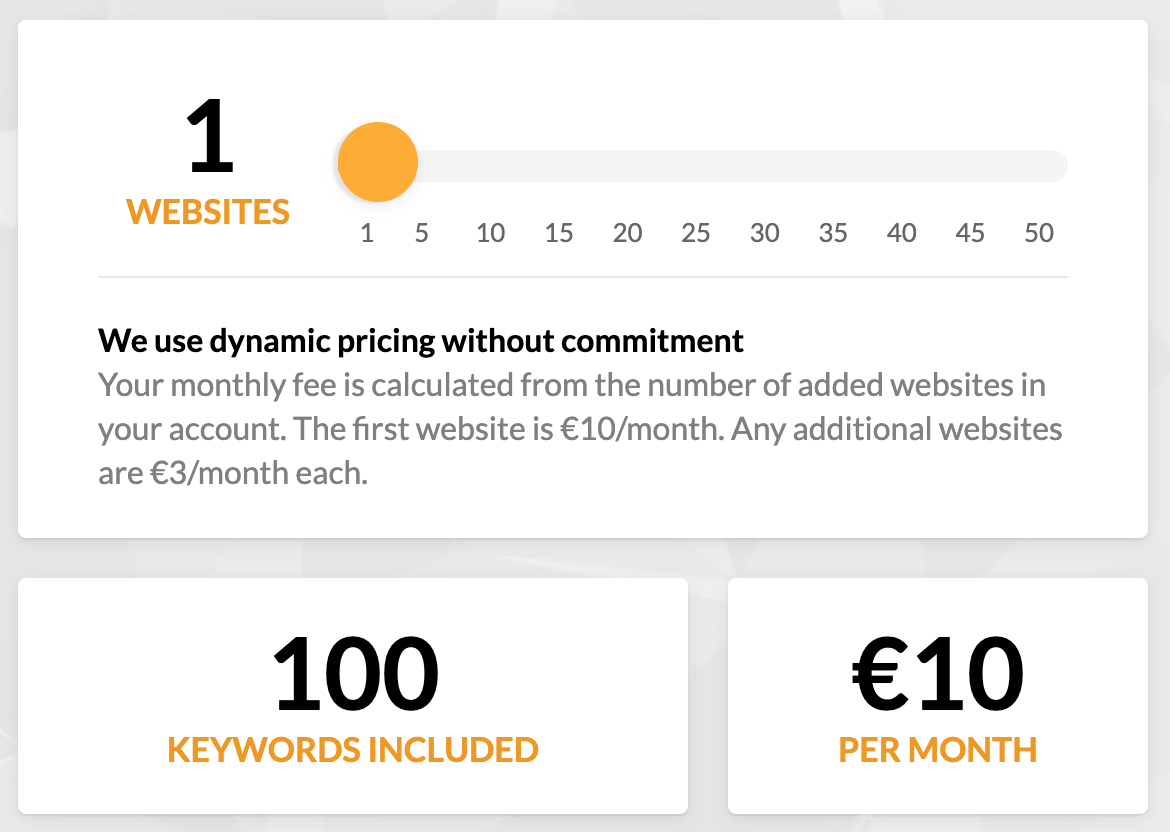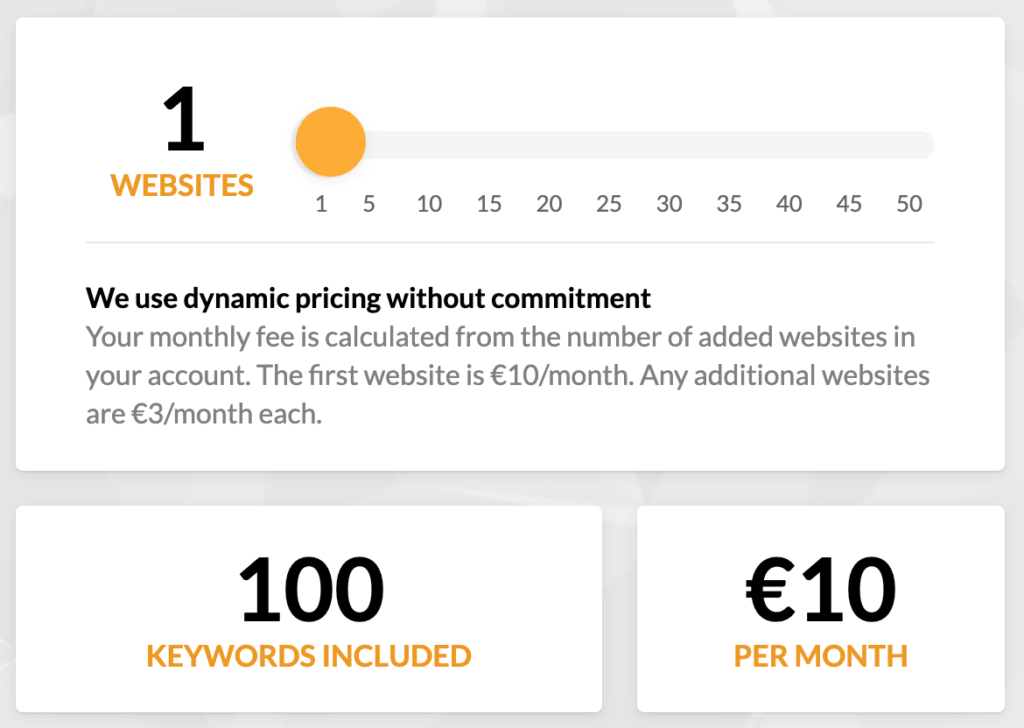 The Wincher Rank Tracker pricing is calculated from the number of websites in your account. The first website is only 10 euros, and any additional websites are 3 euros per month, etc.
You can try the Wincher Rank Tracker tool for Free for 14 days. Evaluate and let them know if you have any questions or feedback. You can close or upgrade your account at any time.
What Are Others Saying About Wincher?
"I like Wincher because it is fast, easy to manage, and has a very competitive pricing structure. Additionally, It can save a lot of money. It's not another keyword tracker because of the reporting module, scheduled reports, and keyword suggestions. You may discover much more using Wincher daily."
– Lukasz Zelezny, SEO Keynote Speaker and Social Media Consultant, founder of SEO London.
"Wincher is one of the most user-friendly rank trackers on the market. It's incredibly easy to use while providing enough functionality to meet all your keyword tracking needs."
– Bojan Maric, Director of SEO at Content Distribution

Wincher Rank Tracker FAQ
What is Wincher?
Wincher is a feature-packed SEO tool that helps you track your keyword rankings daily. It provides you with the tools you need to assess the impact of your SEO efforts and gives you the ability to compare your performance against that of your competitors. Wincher also offers a keyword research tool.
What are SEO ranking tools?
SEO ranking tools are tools that can help you figure out where you stand when it comes to your search engine rankings. They can help you track your rankings for each keyword that you target. Additionally, you can see how well your pages rank, on average, for all the keywords that they rank for.
How do I check the traffic for keywords?
Rank trackers SEO tools like Wincher can make this process extremely easy. All you have to do is search for the keyword, and the tool will show you the traffic that the keyword is currently driving to your website.
Which are the best SEO tools for a beginner?
Here are the best SEO tools that beginners can use: Wincher, Semrush [
Semrush review
][
Semrush discount
], Google Search Console, Google Analytics, PageSpeed Insights, UbberSugest, and Ahrefs.
Wincher SEO Rank Tracker Conclusion
The bottom line is, based on the cost of this tool and how I feel about it, it's a total bargain. Wincher is specially built for rank tracking and provides highly accurate and updated data on your keywords. You can also get a snapshot of the traffic they're driving to your website.
The Wincher Discount
Using the Wincher discount code, we advertise that you will save 30eur from your invoice. If you order the 1st plan, you will get one month free on top of those 14 days in the trial. The discount is valid for all the plans.