Today I'm going to share one of my best-kept secrets with you.  I'm going to reveal one of the best domain registrars and hosting companies with friendly prices and awesome services. Drum roll, please! I'm talking about Porkbun.com. In the review today you will find out what Porkbun is, what services they are offering, why I consider them among the best, what are their PROs and CONs, and the alternatives. In closing, my conclusion of the service.
TLDR
Porkbun is a unique domain registrar and hosting service with a straightforward interface. Here you can register and renew domains on literally hundreds of TLDs at way better prices than the big guys in the industry.
You will get a lot of addons like SSL certificates, WHOIS protection, email, URL forwarding, and ad-supported WordPress hosting for free while on their competitors you will have to pay.
Porkbun supports new technologies like blockchain domains. Also takes payments through a variety of methods including cryptocurrencies, credit cards, bank transfers, PayPal, and Alipay.
The support is available through phone, email, live chat, and a knowledge base. It is top-notch but is available only 9 am-5 pm Pacific time.
Visit Porkbun.com to get set up & start out with one of their free hosting trials or register a new domain.
So now that you found out the goodies let's better get into detail and see what exactly Porkbun has to offer and how it performs.
What exactly is Porkbun?
Porkbun is a domain registrar that offers everything you need to set up your website: domains, hosting, email, and security in one convenient place. The company was founded in 2015 by Ray King and Peter Brual and their office is situated in Sherwood, Oregon, USA.
So besides registering and transferring domain names on Porkbun, you can also purchase several other services like affordable web hosting (cPanel, WordPress, Static, EasyPHP, and more) and email hosting. You also get free SSL certificates, WHOIS privacy, URL forwarding, email forwarding, and trials for hosting products with every domain.
Besides their great prices and awesome support, they accept payments in cryptocurrencies and you can register new blockchain domains.
Products offered by Porkbun
Now that you know what Porkbun is let's dive into and see the products and services they are offering.
No surprise here as you will see domain registering and transfer, hosting blockchain domains, and a couple of addons like free SSL and WHOIS which on other registrars you will have to pay good money to get them.
Porkbun domain name registration
Porkbun offers hundreds of TLD and domain extension options that go beyond generic domains like .com, .net, and .info, from country-specific and location-specific domains for international use to category-specific, like those for apps, etc.
The ordering process is straightforward. After you add the domains to the cart you can easily select the registration period (which is up to 10 years for most domains), add web hosting or email hosting, and a coupon code.
Each domain comes with an SSL certificate, WHOIS privacy, and a bunch of trials for their other services like Site Builder, Web and Email Hosting, etc.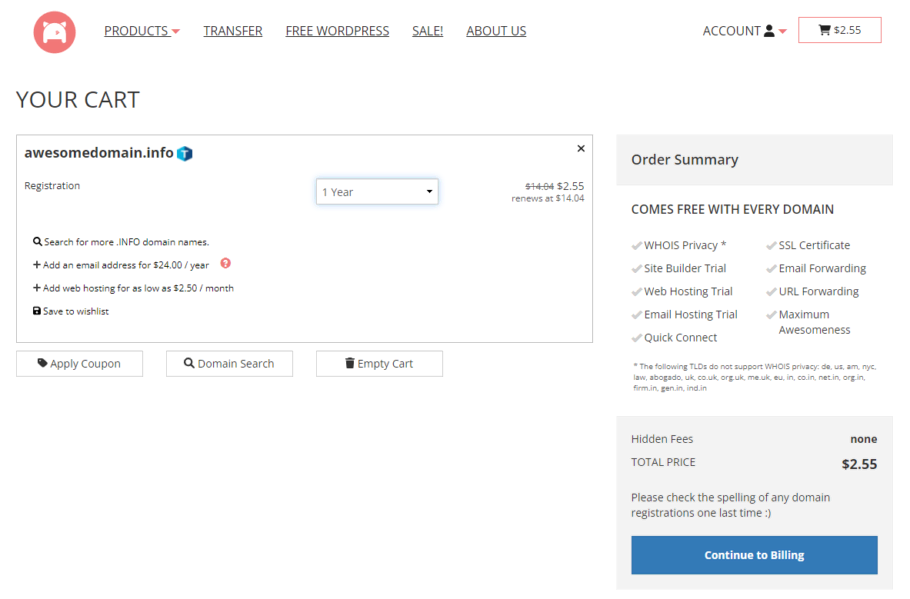 The next step is to continue billing and process your payment. You can pay with your credit card, PayPal, AliPay, bank transfers, and cryptocurrencies like Bitcoin, Bitcoin Cash, Ethereum, Litecoin, and USDC.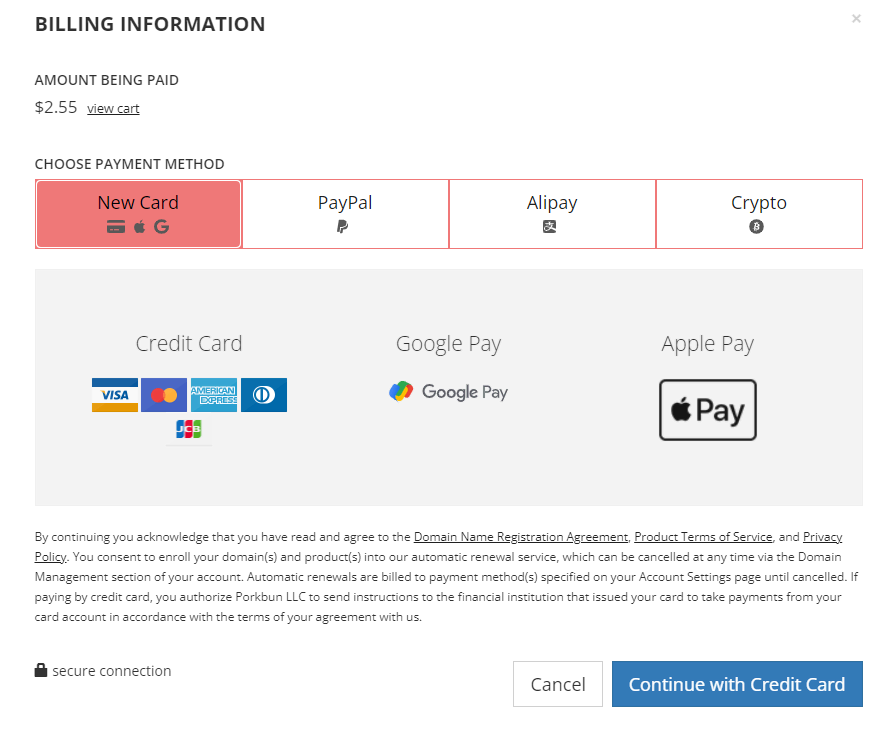 After the payment is processed, the domain is automatically registered by Porkbun. Then you can easily administrate it in your domain management panel. From here, you can renew your domain, easily add more services, connect it with a hosting account, add email plans, etc.
The interface is very intuitive so you have a complete overview of your domain features in a nutshell as you can see in the picture below: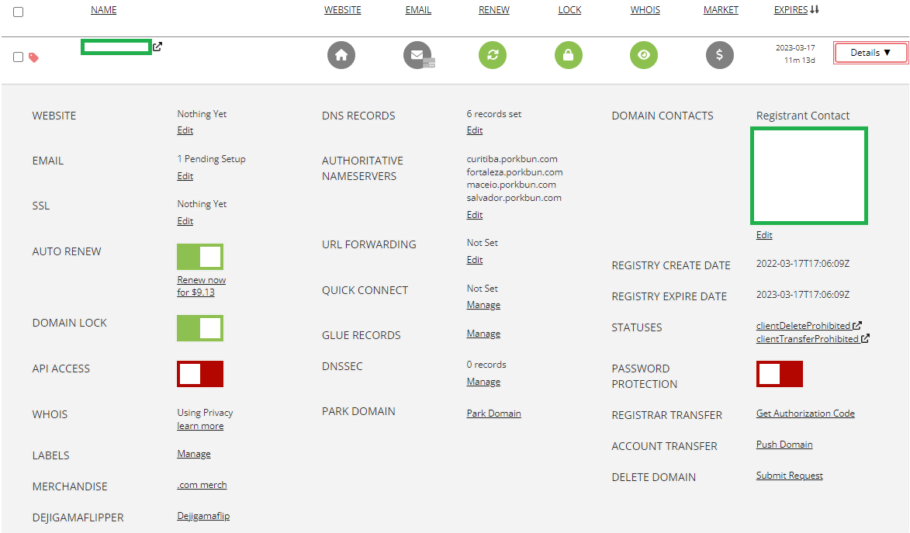 With every domain, you will get for free the following: SSL certificate, WHOIS privacy, URL forwarding, Email forwarding, Email hosting trial, and Web hosting trials on WordPress, Static, cPanel, PHP, and Weebly Site Builder. We will go into detail about these features later in this review.
Domain Transfer
Using the transfer feature you can easily transfer your domains from another registrar to Porkbun and enjoy the benefits offered by them. With all the tools provided and you'll get your site up and running again within minutes of transfer. This is absolutely an excellent feature that other domain providers did not accomplish.
To be able to transfer your domain you should ensure the domain is not using WHOIS privacy protection. If the service does not forward emails you will not be able to receive the transfer code. Also, the domain should be registered for at least 60 days with your current registrar and should be unlocked and not on hold.
All transfers of gTLD domain names include a one-year renewal of the domain unless the domain is inside the auto-renew grace period. The following country-code TLDs do not offer a free renewal as part of a transfer: ai, off.ai, com.ai, net.ai, org.ai, uk, co.uk, org.uk, me.uk, de, la, cx.
Porkbun Web hosting (WordPress, PHP, Static, Social, cPanel & Weebly)
Porkbun is offering a couple of hosting options for your domain names that starts at only $2.5/month. Here are all the web hosting plans Porkbun offer to their clients:
Porkbun Hosting Plan Rundown
Easy WordPress Hosting – All paid plans come with unmetered bandwidth, WordPress performance enhancements, automatic updates, extra security, and a free SSL certificate. There is also an ad-supported plan that comes only with 5GB of disk space, one PHP process, and a max memory limit of 64Mb.
PHP Hosting – All paid plans of PHP hosting come with PHP versions 7.4 and 8, unmetered bandwidth, free SSL certificate, SFTP access, SSH access, extra security and easily switch between plans. For only $12/month you will get 10 GB of disk space, 10 subdomains, 5 dedicated PHP processes, and a max memory limit of 128Mb.
Static Hosting – All paid plans of the static hosting plans come with unmetered bandwidth, FTP access, static hosting performance enhancements, file browser, GitHub connect, etc.
L.INK Social Media Bio – This is the perfect tool to create social media links. Each plan comes with the option to create tons of links, unmetered bandwidth, a free SSL certificate, custom themes and colors, your domain, custom L.INK URL, and analytics integration.
cPanel Shared Hosting – If you're looking for a shared hosting environment with cPanel then this plan is right for you. For only $12/month or $120/year, you get unmetered disk space and bandwidth, FTP access, PHP, MySQL, a free SSL certificate, and Softaculous.
Weebly SiteBuilder – Porkbun partnered with Weebly to offer its users a powerful website builder for any domain purchase. The site builder plans start at only $3/mo.
If you are a Monetize.info reader for some time you know that we recommend using WordPress if you start a blog or a website. That's because it's versatile, easy to maintain, and easy to extend.
By purchasing a WordPress hosting plan on Porkbun you will enjoy plenty of plugins. Also, you will get additional customizability along with speed and security as their hosting infrastructure is powered by AWS which offers fast loading times, privacy, and security.
For the WordPress hosting plans you get 3 months trial and you can upgrade or change plans with ease making them valuable and risk-free for you. All the things you expect from your web host; fast & secure.
Porkbun Email Hosting
After you register a new domain you can use this custom address to give your online presence a professional feel. The email hosting plan comes with 10GB of storage, secure IMAP and POP, webmail, and email forwarding. It is free for the first 3 months of domain registration and after this period is only $24/year.
In the video below, released by the company you can understand easily what's the difference between email hosting and email forwarding.
Free SSL Certificate (
Free

)

For each domain registration, you do on Porkbun and keep default name servers you will receive a free SSL certificate issued by Let's Encrypt. This certificate is supported by all major browsers, has a 90 days duration, and then gets automatically validated, and created.
DNS Management (
Free

)

In the DNS management console, you will be able to host domains using their nameservers or create custom DNS records for your domain. Here are the supported DNS record types: A, MX, CNAME, ALIAS, TXT, NS, AAAA, SRV, TLSA, and CAA.
URL and Email Forwarding (
Free

)

With URL forwarding you can redirect your newly registered domain to an existing website. The URL forwarding service of Porkbun supports SSL and allows both temporary (302 / 307) and permanent (301) redirects. This service is offered for free.

You can forward for free up to 20 email addresses for your new domain to already existing email addresses that you own. For example, if you currently use [email protected] you can forward [email protected] to it.
Free WHOIS Protection (
Free

)

If you want to keep your registration details private, away from hackers and spammers you should enable Porkbun's whois privacy service. You can use it with most of the domains. Did I mention that the WHOIS protection service is also free?

Don't know what WHOIS protection is and how it can help you? Check the video below:
Ethereum Name Service (
Free

)

Certain TLDs support the Ethereum Name Service (ENS). Currently, .luxe is the only TLD with support. This service is free of charge and included in the registration price. Using this service you can connect your domain to the blockchain.
Handshake domains
According to Porkbun, Handshake is an experimental and permissionless naming protocol that uses blockchain technology to create a decentralized root zone. You can use a browser optimized for Handshake domains like Brave or Opera, or you can use an extension or plugin on Chrome or Safari to visit these domains.
Porkbun Support
If you have questions or you need help you may reach Porkbun via phone, email, and live chat during working hours, 9 AM – 5 PM, Pacific Time, 7 days a week including all holidays. Besides that, there is also a knowledge base where you can find dozens of tutorials about accounts, registering and transferring domains, DNS, hosting, etc.
Would be great if they would consider adding 24/7 support as some urgent matters may arise during non-working hours and the fact they are an international company dealing with customers all over the world.
PorkBun Alternatives
Are you looking for alternatives or competitors to Porkbun services? Well, several important factors that matter when you consider researching an alternative to PorkBun include costs, support, and services.
Below you will see how Porkbun performs amongst some of its biggest competitors which are GoDaddy and Namecheap. Just as I told you before, the first thing that speaks for itself is the pricing. For a .com standard domain, you will pay $8.13 in the first year and $9.13 while on other domain registrars the price goes up.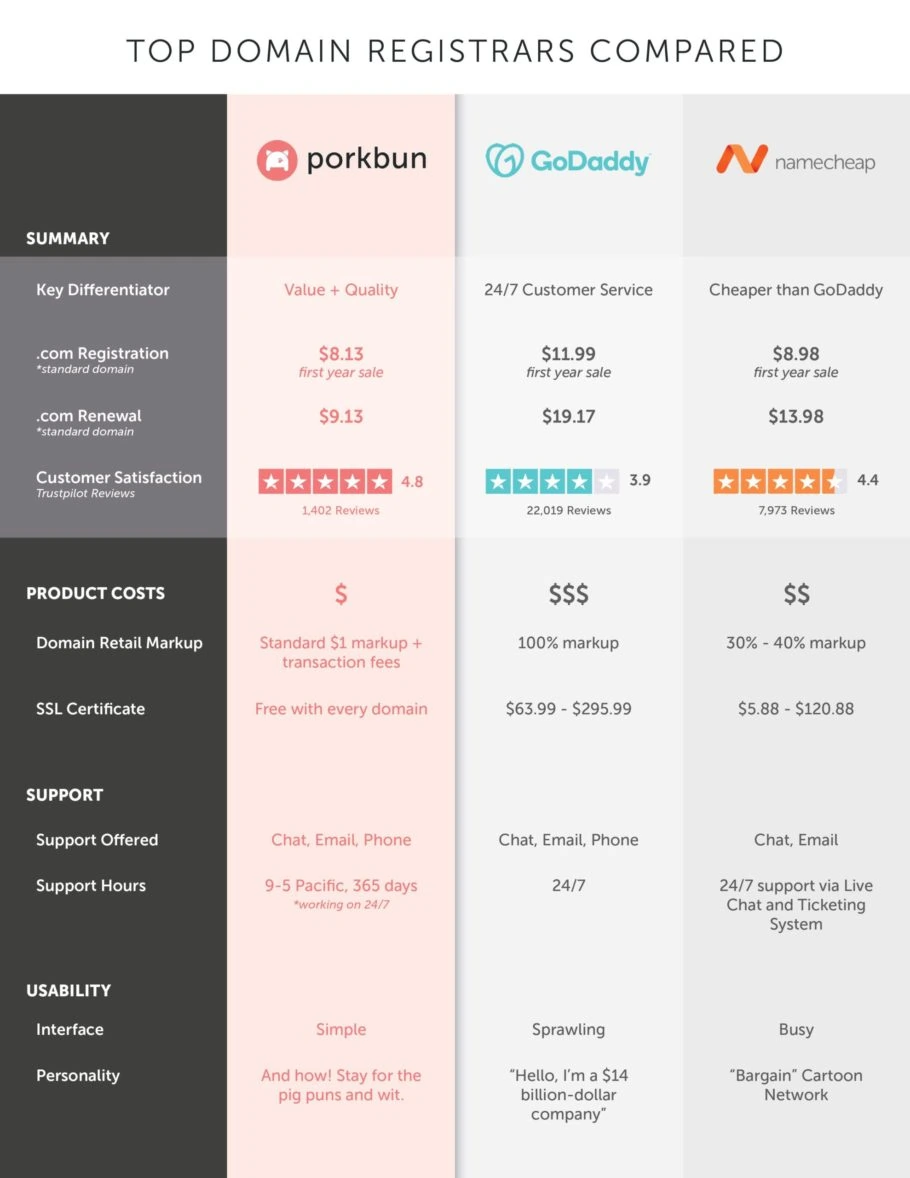 Now that you know the main products you can order from Porkbun and their main features let's continue with the PROs and CONs of the service.
PROs and CONs of PorkBun
In this section, I'm going to briefly tell you what are the PROs and CONs of Porkbun so you can judge for yourself if the company is a good fit for you or maybe not.
Porkbun PROs
Transparent pricing – Porkbun has better pricing options than their competitors both on domain registration and renewal. On top of that, they have good deals and discounts every time. You will see exactly how much you will pay upfront and for renewal without any hidden costs or added services.
Variety of Top Level Domains – You can choose from literally hundreds of domain extensions so you can rest assured you will get the perfect domain that will match your business.
Addon Features offered for Free – Unlike other domain registrars that charge you for everything, Porkbun has a different approach and offers you for free an SSL certificate, WHOIS protection, DNS management, URL & Email Forwarding, redirects, and even free hosting which is ad-supported.
Straightforward interface and ordering process – It's very easy to order new services or manage your existing ones in your user panel. The website is using an easy-to-read font and a nice color scheme without many effects, pop-ups, or other distracting elements.
You can pay with cryptocurrencies – Porkbun is a crypto-friendly domain registrar where you can order blockchain domains and pay with cryptocurrencies. This makes them early adopters of future technologies. Besides that, you can also pay with traditional methods like credit cards, PayPal, bank wire, etc.
Friendly approach -Porkbun was growing well in the last couple of years. Yet they maintain that friendly SMB approach in all the communications including the website, emails, and support chat.
They take security seriously – After you log in to your account you will notice there are many security functions that you can enable to protect your digital assets. Just to name a few: 2FA, Web Authentication, IP restrictions, one-time 2FA codes, recent logins, and a bounty program for ethical hackers.
Porkbun CONs
No 24/7 customer support – The phone and live customer support is available only from 9 AM – 5 PM Pacific Time so if you're living in a country that's on a different timezone you may have to wait till the support becomes available. I would recommend them to cover all time zones.
Fewer Add-ons Features – I would like to see more products added to the Porkbun environment. Some of the products that I miss: virtual servers, Google Apps for Business, Office 365, and even maybe a VPN service would be awesome. I know they are focusing on providing an awesome domain management experience along with decent hosting but some customers like me would love to purchase more from them 🙂
No affiliate program – Obviously this is a subjective matter but as we are a community of like-minded people that earn a living online would be nice for Porkbun to reinstate the affiliate program so we can promote the business to our friends.
What others say about Porkbun
Porkbun has an excellent score of 4.8 out of 5 possible on TrustPilot and 1553 reviews. For this review, I've especially checked the bad and poor reviews. I can tell you that most of them are related to issues involving payments from users, people forgetting to renew their domains, or folks that didn't get immediate support. So I can fairly say that if you have your payment methods in order and you're not highly impatient you will not have any issues.

One thing that I like is that a Porkbun representative is answering all negative reviews trying to explain what happened and offers a solution to the client. I told you, in the beginning, they're friendly and I appreciate that.
Below you can watch a review done by David Utke, a quite popular digital marketing Youtuber:
Porkbun FAQ
What is Porkbun?
Porkbun is an ICANN-accredited domain registrar from Oregon, United States. Porkbun sells domain names, hosting plans complementary products like SSL certificates, email hosting, domain, and email forwarding.
Is Porkbun com legit?
Yes, Porkbun is legit. They have an open and honest price policy. On Trustpilot, Porkbun has a score of 4.8 out of 5 based on 1402 reviews which is way better than their closest competitors like GoDaddy and Namecheap.
Is there any working Porkbun com coupon code?
From time to time, the Porkbun team puts together great promotions including domain registration deals and coupons codes that will give you even better deals.
Does Porkbun provide a free SSL Certificate?
Yes, Porkbun provides a free SSL certificate for each domain you register through them. That's because they believe in a more secure web. Keep in mind that you should use their default name servers to receive a free SSL certificate issued by
Let's Encrypt
.
Does Porkbun provide free WHOIS protection?
Yes, Porkbun also provides free WHOIS protection for most of the domains you register through them so all your personal information will remain private but you will still receive important communication! WHOIS Privacy is automatically applied to every domain that supports it.
Does Porkbun provide free WordPress hosting?
For each domain you register on Porkbun you may get an ad-supported free WordPress hosting plan. This plan comes with 5GB of disk space, 1 dedicated PHP process, a max memory limit of 64Mb, and DirectAdmin as a control panel. If you plan to
start a blog
this will be enough for the first year or even more.
Here
you can get more details about the ad-supported WordPress hosting plan.
Conclusion of the Porkbun Review
Hope you have enjoyed reading my Porkbun review as much as I enjoyed writing it, knowing that I recommend a great domain registering and hosting service that I use to the Monetize.info community.

If you haven't tried it before I recommend doing it if you're looking to register or renew domains at better prices. They have a variety of supported TLDs including blockchain domains. Their free domain addons like SSL, Whois, email and URL forwarding, and even ad-supported WordPress hosting are neat and come in handy.
If you are looking to host your WordPress website, Porkbun also has its WordPress hosting package, which is very popular among website designers and developers.
Visit Porkbun.com to get set up & Start out with one of their free hosting trials or register a new domain.
The floor is now yours. What's your experience with Porkbun? Have you registered a domain through them? Let us know in the comments.