Netpeak Spider is a desktop SEO crawler to generate complex and complete SEO technical audits. Using our Netpeak Spider discount code, you can purchase it with a 10% lifetime discount.
Before anything else, I want to tell you that this is a compelling ScreamingFrog alternative. The main difference is that Netpeak Spider runs as a native app on Windows instead of a Java app like Screaming Frog. This makes it way faster and more reliable for complex websites.
Netpeak Software Tools
Glad you asked. Two tools from the Netpeak Software suite:
Netpeak Spider
The first one is Netpeak Spider which is a complete on-site SEO tool. If you are familiar with ScreamingFrog, you know what I'm talking about. However, it's more stable, faster, and has more features.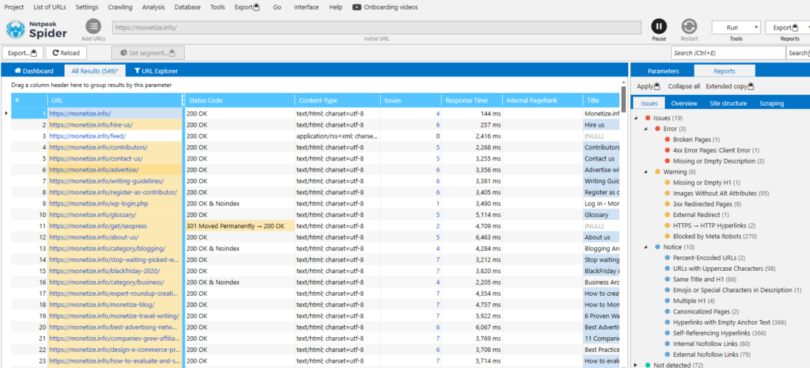 Using Netpeak Spider, you will be able to spot 100+ issues of website optimization: duplicate content, page speed, meta description errors, etc. Remember that the next Google update will target user experience on your site, so make sure you are ready to deliver exceptional, not to lose your ranks.
It has many integrations that will help you pull data and easily correlate them with your pages. To name a few of the integrations: Google Search Console, Google Analytics, and Yandex. Metrica. I couldn't see one for Google Page Speed Insights yet.
One powerful feature of Netpeak Spider is reporting. You can generate detailed SEO audit reports in just a few clicks, and all look awesome. Of course, it comes with white labeling, so you can easily brand and send them to your clients.
Another excellent feature is the custom extractor. In Netpeak Spider's built-in website scraper, you can use up to 100 conditions and four types of search (contains, Regexp, XPath, CSS). Try scraping markup, as well as emails, phone numbers, etc.
Netpeak Checker
The second tool is Netpeak Checker. Their built-in SERP checker tool allows getting search results for any queries, using custom geolocation, country, and language settings, search operators, and prefixes, and even limiting the scraping to a particular snippet type (video, image, news, site link).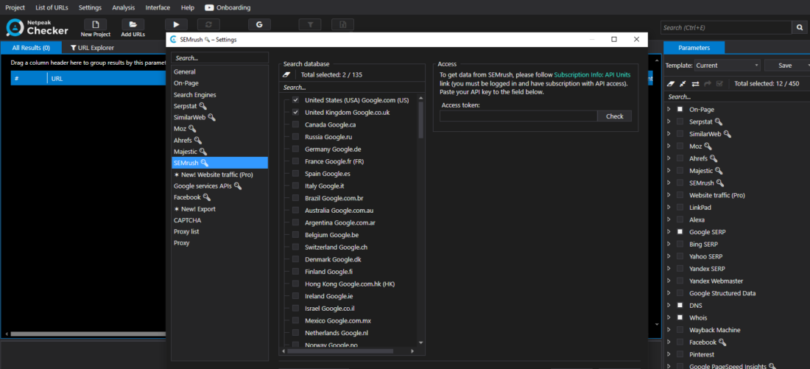 But the true power of this tool comes from all the integrations it supports. For each URL, you can grab data from Serpstat, Moz, ahrefs, Majestic, SEMrush, SimilarWeb, Alexa, Google, Bing, Yahoo, Yandex, Whois, Facebook, Pinterest, and Wayback Machine.
Pricing Plans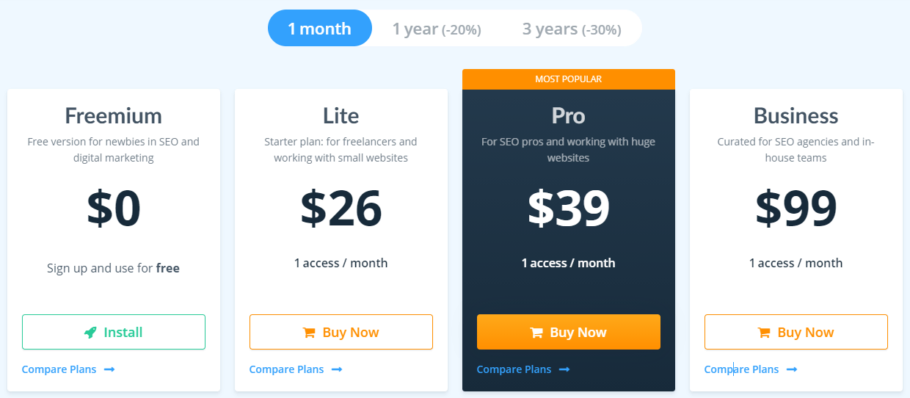 Netspeak Spider & Checker has 4 plans, so you can easily choose the one that fits your business best. The first one, called Freemium, is well-free but has limited functionality.
The next plan is the Light one. It costs $26/m ($18.2 with a discount), and it's perfect for freelancers and SEO experts who work with small sites.
The PRO plan is the one I recommend as it has all the functionalities, including reports Whitelabel and costs $39/m ($27.3 with our discount). The last plan is the Business one which costs $99/m ($69.3 with the discount) and comes with perks like a dedicated manager, easy access to functionalities, etc.
If you pay for one year in advance, you will land another 20% discount, and if you pay for 3 years, you will get a 30% discount.
MoneyBack Guarantee
I almost forgot that purchasing a Netpeak Spider license comes with a 14-day unconditional money-back guarantee. So you can basically purchase the tool and use it for 14 days, and if you're not happy with the purchase, you can contact them, and you'll get your money back.
Netpeak Spider Alternatives
There are several alternatives to Netpeak Spider. The closest one I can think of is Screaming Frog. Others are SEOPower Suite – Web Auditor and Semrush.
Netpeak Spider Support

I appreciate the folks at Netpeak because they invested a lot in training materials and content that will help you get better at SEO and use Netpeak Spider at full capacity. You can check their blog, the SEO academy, and the onboarding videos to learn everything you need.
You can also contact the support team through Live Chat and the support desk.
Netpeak Spider Discount
Using our Netpeak Spider discount code: stripo-email-ns, you will instantly get a 10% discount on the purchase price that will remain active for as much as you keep the subscription active.
So if you've been thinking about purchasing a paid subscription for a long time, or have already decided to do it after testing the product, then now is the time!
The discount code works on all Netpeak Spider and Checker plans Lite, Pro, Business, and for all plans: 1 month, 1 year, and 3 years.
Netpeak Spider & Checker BlackFriday Lifetime Deal
Netpeak Software develops two great apps that should be in the arsenal of every SEO specialist or affiliate marketer. This Black Friday, they've put together two exclusive plans to let you enjoy lifetime access to Netpeak Spider and Netpeak Checker at the lowest price ever.
💥 Netpeak Max Bundle (Netpeak Spider Pro + Netpeak Checker Pro) — $499 (lifetime subscription).
💥 Netpeak Pro Bundle (Netpeak Spider Pro + Netpeak Checker Basic) — $399 (lifetime subscription).
Please note that these offers are available until Dec 3, 2022