Running and maintaining a WordPress website is crucial for all business owners, especially for e-commerce site owners and affiliate marketers. That's because you lose money and credibility every hour your website is not working as it should. Plain and simple, you need one of the best WordPress maintenance services for your online business.
In a nutshell, the companies offering website maintenance services manage your WordPress site for you. The main tasks include taking care of backups, updates, security, optimization, and small website edits.
This article will share some of the best website maintenance services you can use for your WordPress site.
We rank these companies based on my personal experience and by analyzing hundreds of reviews online. There isn't an absolute best or worst, as each is tailored to meet specific needs.
So read our in-depth reviews and choose the best one for you. And don't forget to vote for your favorite and share your experience to help the community.
WPRiders
Marius Vetrici, a seasoned entrepreneur and developer from Romania, founded WPRiders in 2014 with an academic, efficient, and result-oriented approach. Marius has over 14 years of experience with WordPress and custom website development.
WPRiders, the WordPress development agency, employs a team of very talented programmers, developers, business analysts, customer success managers, and testers.
I've employed the WPRiders agency to help me with several advanced customization projects here at Monetize.info, and they didn't let me down.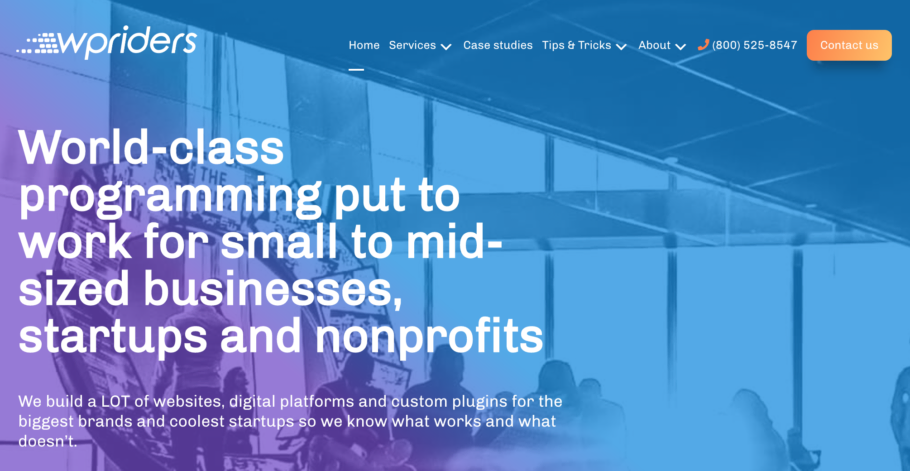 Check WPRiders Maintenance Plan
WPRiders offer WordPress support plans starting at only $400/mo for development and support to help websites work flawlessly. The team will fix bugs, add complex functionalities, update the WordPress core, themes, and plugins, review or replace WP plugins, security and backups, and ongoing website development.
As they completed over 500 development projects, WPRiders is recognized as a serious company that can handle complex projects for medium and big companies. Some customers are Bitdefender, the reputable cybersecurity company, Versace, or Cloudways.
WPRiders PROs
They offer maintenance and custom development for complex WordPress plugins (Woocommerce, LMS, GravityForms, etc.).
You get access to a dedicated team of at least three people: 1 project manager, 1 developer, and 1 QA specialist. The project manager is your main point of contact, able to advise on the right way to approach your project and translate your website objectives into technical tasks for our team.
Their engineers can be an extension of your team.
You will get security scans & cleanup, daily backups, and website uptime monitoring.
The company has excellent reviews on major websites like Codeable.
There is no minimum contract, so you can cancel it any time with a 30-day notice.
WPRiders CONs
They don't offer live chat capabilities, so you must schedule all the tasks through email.
Their service is for established businesses with mission-critical websites, so newbies may find the price slightly expensive.
WPRiders Pricing
The company offers only one support plan that starts at $520/mo and includes support, backups, site monitoring, and 1-2 small tasks that can be resolved in less than 4 hours.
The WPRiders staff can install, change, or configure themes like the ones we listed on our Top 50 Affiliate Marketing themes list. Overages will be billed at $130/h, and you can purchase them in packs of 10.
If you need multiple hours for advanced development work, check the WordPress development plans that may suit your needs.
WPRiders Review
There are various reviews of WPRiders on YouTube. I've selected one that covers well their WordPress maintenance capabilities.
Unlike other maintenance and WordPress support companies that take care of security and minor maintenance tasks, WPRiders goes one step further and offers development and advanced integration tasks.
Their plans are perfect for established online businesses that must maintain their websites in good shape, add new functionality, or regularly fix bugs.
Check WPRiders maintenance plan
WPRiders is also one of the best WordPress development companies we recommend.
WP Buffs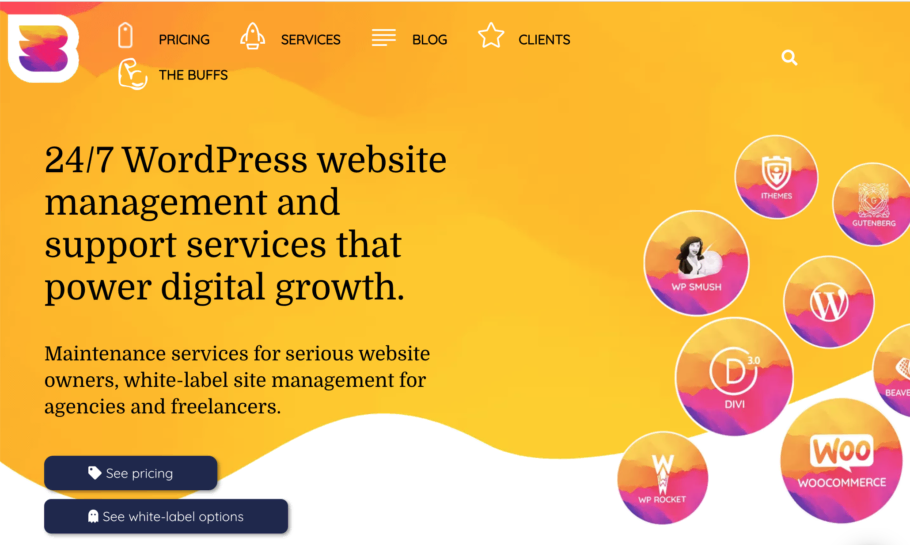 WP Buffs is a well-known WordPress website maintenance service that provides cloud backups, emergency support, weekly website updates, speed optimization, unlimited website edits, and more.
They have plans suitable for the average website owner and performance plans for eCommerce stores, membership sites, and more complex websites.
WPBuffs PROs
WP Buffs has a dedicated remote team available 24/7 to help and assist you.
They check your website 1440 times daily and take action in 60 seconds if it is down.
You'll get a nicely formatted report each week to know exactly what they've been doing on your site.
They also offer a white-label service. This is useful if you host WordPress websites for clients.
WPBuffs CONs
The minimal plan offers only weekly updates, emergency support, uptime monitoring, daily backup, and reporting.
Speed optimization and malware removal options are included only on $200+ pricing plans.
They are not offering phone support.
WPBuffs Pricing
Their lowest plan is "Maintain," starting at $79/month. It's suitable for standard WP site maintenance and covers only the basic stuff. The next plan is "Protect" and is priced at $159/month. It comes with 24/7 basic website edits and security optimization.
The performance plan is priced at $219 /month, contains all the previous plan's functionality, and prioritizes speed optimization and complete malware removal. This plan comes with a license of WP Rocket for your website.
For $347/month, you can purchase the Custom plan, which comes on top with safe updates on custom websites, custom functionality testing, and custom code monitoring.
The Custom Pro plan is $447/mo, and you need it if you use WordPress Multisite, need advanced support, your website is hosted on Amazon, or need Git management.
There is a discount if you choose to pay annually.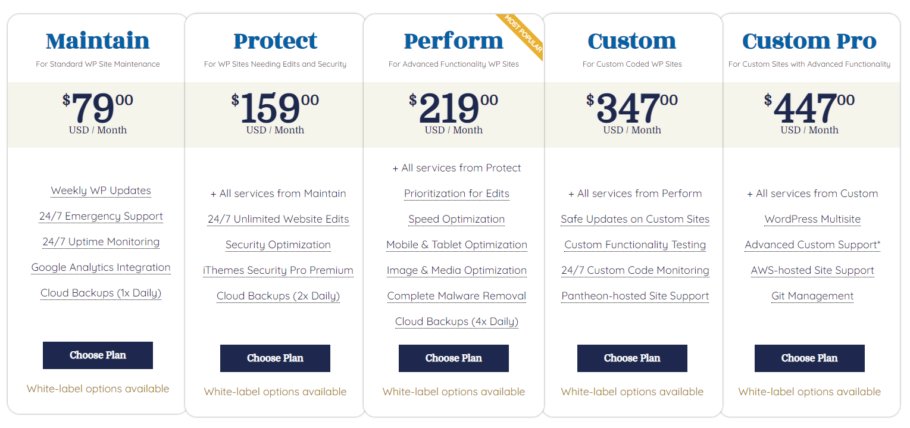 WPBuffs Review
The company tailors its pricing plans for most needs of website owners. However, suppose you are serious about your website. In that case, you need to purchase at least the Perform plan, as speed optimization, niche edits, and security are mandatory, in my view.
WPBuffs has a solid reputation in the WordPress community, as many large agencies and companies trust their websites.
Check WPBuffs maintenance plans
SiteCare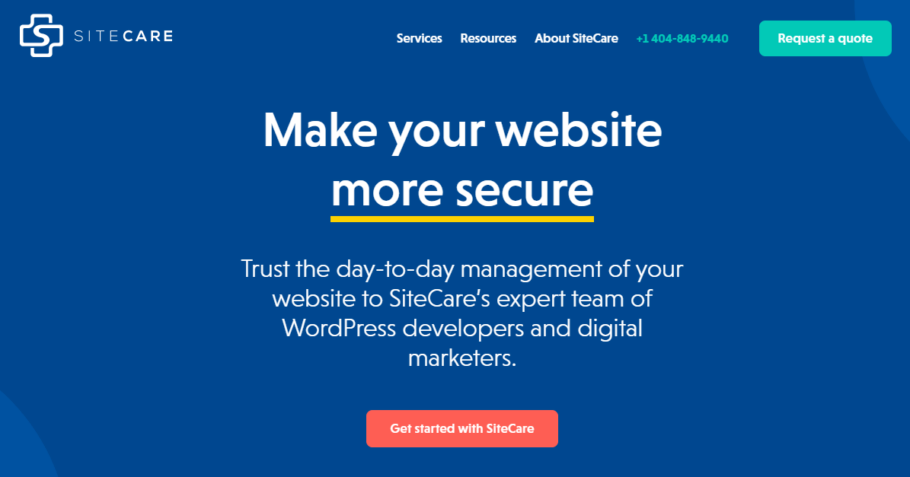 The company has been offering WordPress support since 2012. Previously known as WP Site Care and now rebranded to Site Care, this support company takes a hands-on approach to fixing the problems of WordPress users. Besides WordPress maintenance, they offer digital marketing, inbound marketing services, and site coaching.
Their top-notch service is speed optimizationtionteCare gets to work by first looking at aspects of a site that could be causing it to slow down. Once that's done, the service implements a series of best practices, removing the website's weaknesses step by step until it's responsive and efficient.
SiteCare PROs
With 24/7 security monitoring, WP Site Care keeps your website safe from hackers.
Site Care optimizes the website's performance and makes it load faster for a better experience for your website users.
Malware removal and immediate problem-solving are included in their lowest plan (which is billed annually)
SiteCare CONs
Speed optimization is included only on $200+ pricing plans.
No 24/7 support.
SiteCare Pricing
In terms of pricing, things are clear and straightforward as SiteCare offers four essential plans:
Standard (annual plan only) is priced at $82.50 per month and includes essentials such as daily backups, malware cleanup, and access to support.
SiteCare Plus is priced at $299 per month, and it's perfect for eCommerce businesses, high-traffic blogs, and big websites.
SiteCare Pro is priced at $499 per month, includes custom development, and is tailored for organizations with steady website development needs.
The final plan is SiteCare Premier, priced at $1299 per month and, besides the previous plan, offers one-to-one coaching sessions, website improvements, and progress tracking.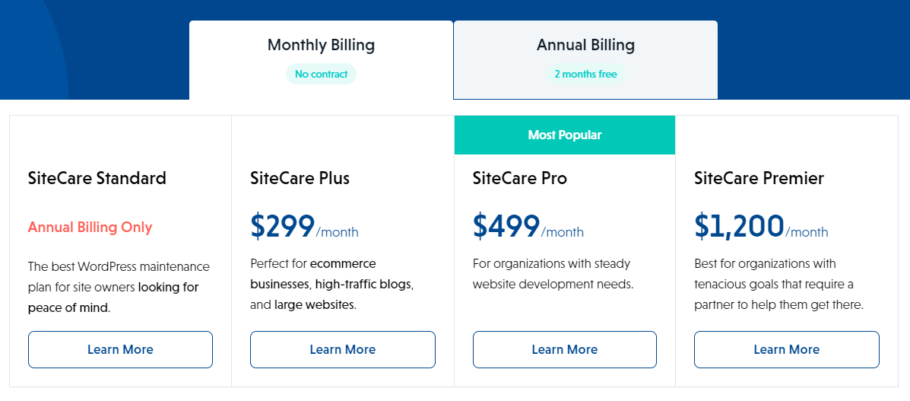 SiteCare Review
The company's uptime has been 99.99%, and ticket responses are given in less than 15 minutes. The SiteCare team provides excellent customer support and manages projects well. They're goal-oriented and provide valuable inputs that the client appreciates. Overall, the engagement has been highly successful.
Check SiteCare maintenance Plans
DevriX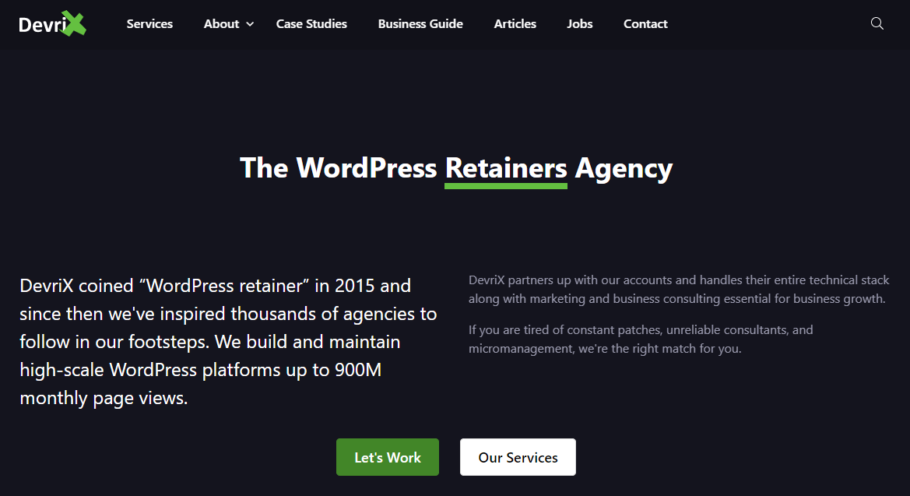 DevriX invented the term "WordPress retainer." The company was founded in 2010 in Bulgaria, and since then, they have grown into a full-service WordPress development company with a worldwide staff.
This developing company has specialization in developing SaaS platforms, enterprise development, and building scalable WordPress multisite operations.
The DevriX team will take care of your WordPress maintenance, content updates, various customizations on the look and feel of your site and content, and the stability of your WordPress solution over time.
DevriX PROs
It is perfect for companies that run established businesses like high-traffic blogs, SaaSes, or eCommerce.
Their engineers can be an extension of your team.
The company has excellent reviews on major websites like TrustPilot.
DevriX CONs
With pricing starting at $140/h, their services are pretty prohibitive for small businesses.
No 24/7 support.
DevriX Pricing
In terms of pricing, things are clear and straightforward as DevriX offers four essential plans:
The backup plan, which takes three hours per month, focuses on upgrading the WP stack, server and uptime monitoring, log monitoring, and access to the ticket system, which is pretty basic.
The up and Running plan is the next on the list and takes five hours a month, including content updates.
The next plan is the Ongoing updates, which take ten hours per month, and on top of the previous plan, including ongoing development, further development, conversion optimization, and staging development.
State of the Art plan is the last of their plans, takes 20h/month, and includes security reviews, performance optimization, and automated functional tests.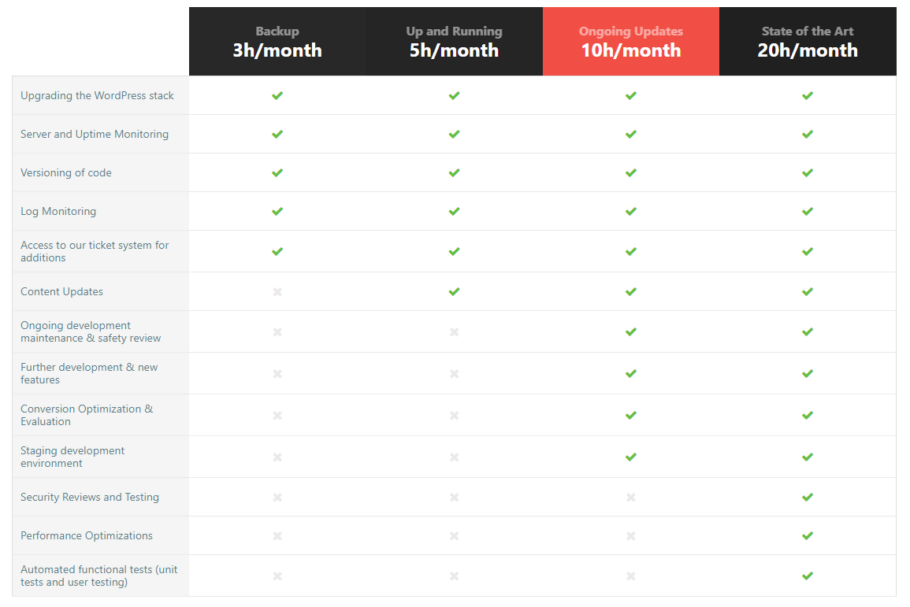 DevriX Review
The DevriX company is reputable in the WordPress community, so it will be in good hands if you hand them your website. However, this comes with a downside which is the high pricing tag. I recommend you use DevriX if you run advanced WordPress websites that need advanced tasks regularly and do not have cash flow issues.
Check DevriX maintenance plans
GoWP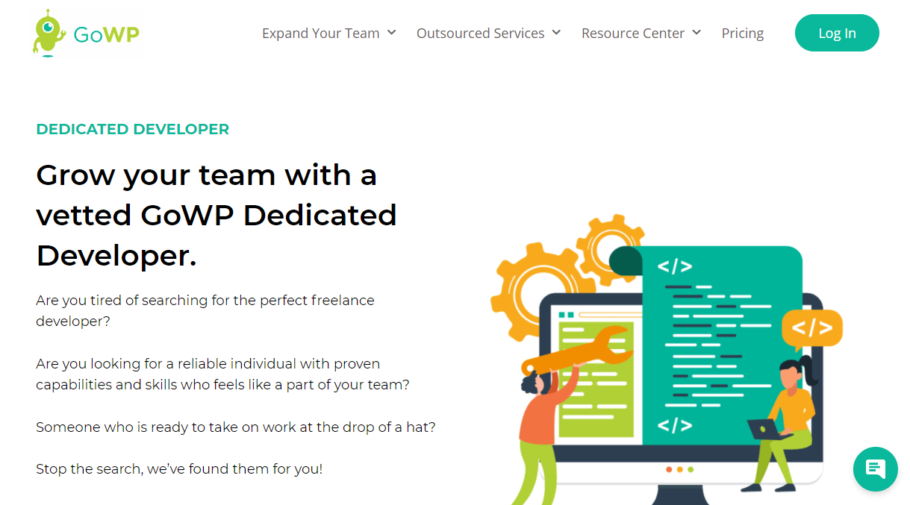 GoWP mainly targets development agencies and freelancers who provide WordPress services for their clients. Like WPRiders, you can hire developers that can work for you. But you can't hire them for less than a whole month.
Besides that, GoWP offers maintenance and custom edits services by their in-house WordPress specialists.
They offer white-label support. This means that you can use your branding with their team doing the maintenance work.
GoWP Pros
The basic maintenance plan is $29/month per site. This includes backups and updates, as you'd expect, but also malware cleanup.
The" "maintenance + unlimited content edits plan is $79/month. This covers 24/7 support plus all sorts of small tasks (up to 30 minutes each) like tweaking CSS, installing new plugins, and more.
GoWP team is available around the clock and aims to get all tasks done within 8 hours.
The white label option is neat for agencies and freelancers.
GoWP Cons
You'll need to pay separately if the tasks take more than 30 minutes.
No speed optimization service.
This company is aimed at WordPress freelancers and agencies rather than web admins.
GoWP Pricing Plans
GoWP costs $29/month for the basic maintenance plan or $79/month for maintenance plus unlimited edits to content, CSS, etc.
If you have complex tasks that will take more than 30 minutes each, you'll need to pay for one-off tasks to cover these.
They also offer the ability to get a dedicated developer for your team at $1799 per month.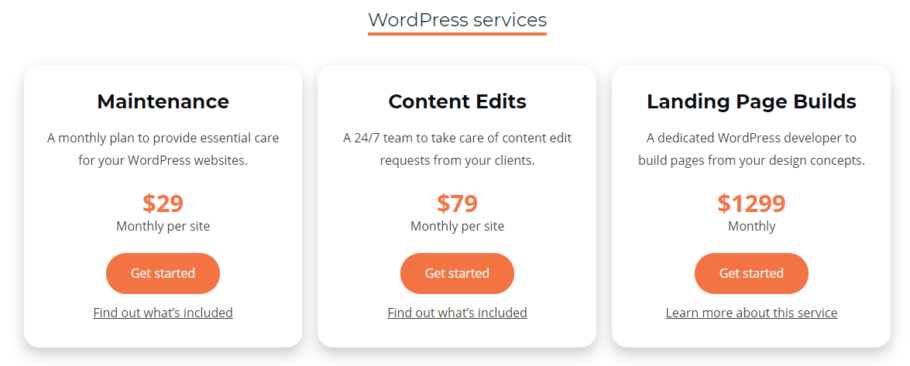 GoWP Review
As I've said, GoWP mainly targets digital agencies and freelancers who care for customers' websites. So their plans are tailored to be included in the agencies' offers. It may be challenging to adapt to their process as a website owner.
Check GoWP maintenance plans
FixRunner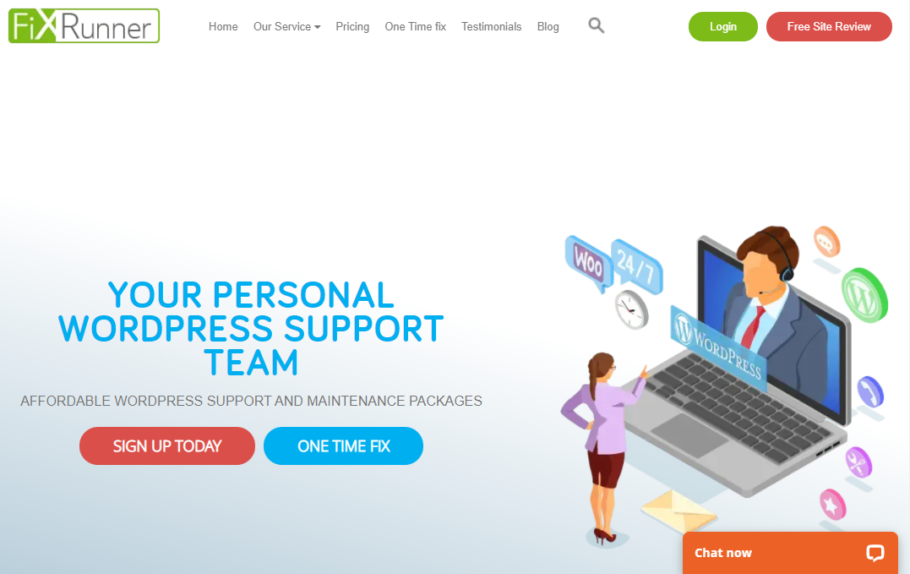 FixRunner offers monthly support time from two to four hours, depending on the plan you opt for, and additional help is available if you need it. You'll be able to use this support time to make all sorts of tweaks to a site, including full debugs, performance improvements, and more.
A particularity of the FixRunner service is that they offer a 30-day satisfaction guarantee, which provides a full refund. No questions if you are unhappy with the service.
FixRunner additionally offers Speed OptimizationtionrdPress core updates, Plug-in and theme updates, Uptime monitoring, and security scans.
FixRunner Pros
They are offering one-time fix plans (no recurring) at $49.
They are offering a 30-day questions-asked money-back guarantee.
Have great reviews on major websites like Trustpilot.
The white-label option is neat for agencies and freelancers.
FixRunner Cons
Phone support is available for the $149/mo plan but is not 24/7.
Malware removal and speed optimization are not included but are available as one-time purchases.
FixRunner Pricing Plans
The service provides plans for both small websites and bigger, enterprise-level ones. There are three core plans available for smaller websites:
Premium / Monthly, quarterly, or yearly / $69 monthly
Rocket / Monthly, quarterly, or yearly / $99 monthly
Advance / Monthly, quarterly, or yearly / $179 monthly
For bigger websites or Enterprise-level businesses, we have the following:
Advance + / Monthly or quarterly / $300 monthly
Advance ++ / Monthly or quarterly / $500 monthly
Custom / Monthly or quarterly / Call for price
FixRunner Review
If you own a smaller website, I think the Rocket package is a good starting point–it includes support for online shops, on-page SEO optimization and a faster response time for sites, making it a unique offering.
Check FixRunner plans
Maintainn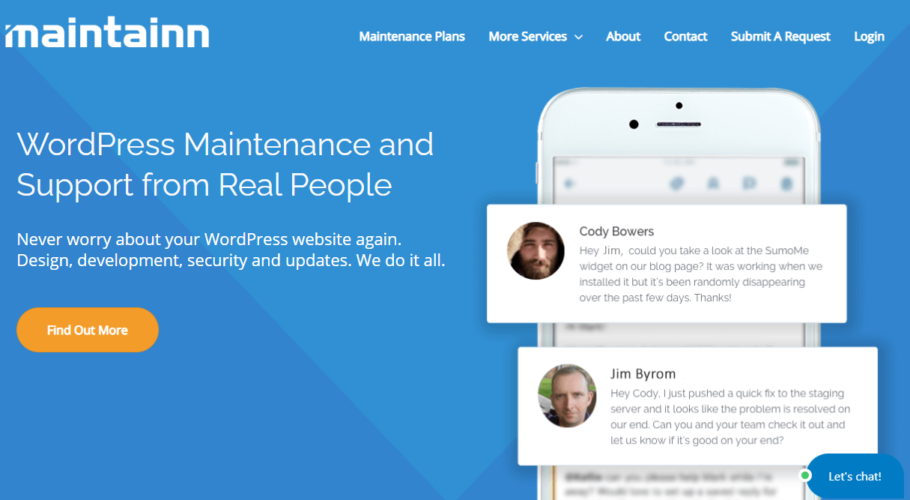 WebDevStudios funded Maintain in 2012, and since then, they have offered various plans for keeping your WordPress site secure and up to date. All plans include the weekly plugin, theme, and WordPress updates. There's also 24/7 security monitoring. You'll get an alert if your site is hacked.
Maintain provides services like uptime monitoring and eCommerce support at professional or higher price plan levels.
Maintainn PROs
There's live chat support available for all plans, as well as email support.
You'll get a weekly report.
Maintainn also has options for design and development services and website hosting.
Maintainn CONs
Live chat is only available Monday to Friday, from 9 am to 8 pm EST. Also, there's no phone support.
If you go with the smallest plan, malware removal is invoiced separately at $99 per incident. You'll need the Professional plan or higher if you want malware removal to be included for free.
Maintainn Pricing
The Standard plan of Maintainn is $59/month. If you've got an eCommerce site, you'll need to opt for at least their "Professional" plan, at $179/month.
Their most expensive regular plan is Enterprise, at $299/month. This adds in things like version control and a staging site, making it ideal for larger websites with several people working on them.
Maintainn Review
In my opinion, this company has decent pricing for what they are doing, and their pricing plans are tailored around the maintenance needs of a website.
Check Maintainn plans
WPSitePlan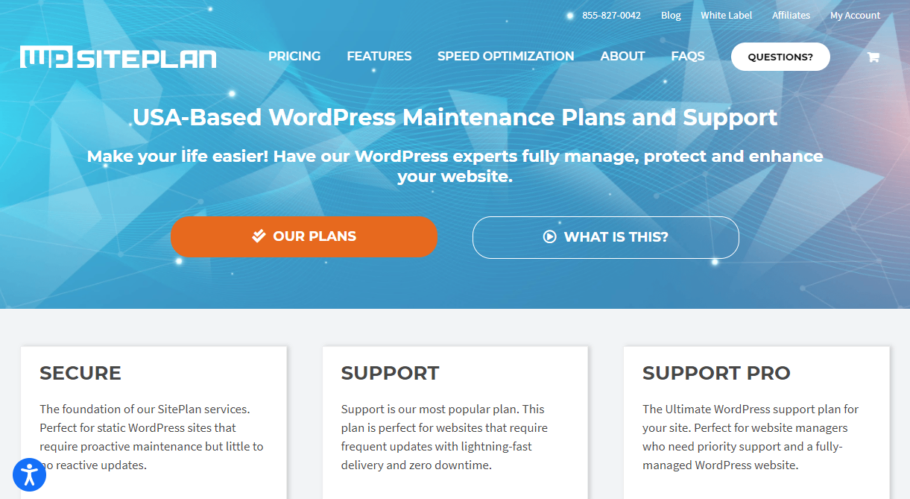 WPSitePlan is an excellent service available. The WPSitePlan comprises WordPress experts to provide complete services like managing, speeding up, or even protecting your website.
WP Site Plan PROs
Their lowest plan ($29) includes backups, monitoring, updates, and malware scanning.
They claim that their USA-based support team has your website covered!
No contract and you can cancel anytime you want.
WP Site Plan offers white-label services for agencies and freelancers.
WP Site Plan CONs
Phone support is available only for sales but not for support.
Speed optimization is not included and is billed at $50/one-time.
Complete malware removal is included only on the $199/mo plan.
WP Site Plan Pricing
The lowest plan is only $29, and it is called Secure. As you may guess, this plan takes care of your WordPress website security. It includes daily offsite backups, real-time uptime monitoring, database optimization, security scans for malware, updates, and monthly reporting.
SitePlan Support costs $89/mo and provides the essential maintenance and security measures combined with Help Desk Support.
SitePlan Support PRO costs $199/mo and provides complete WordPress website management and security measures. From daily uptime monitoring to unlimited Help Desk Support, the Support Pro plan allows you to free up time to focus on your business.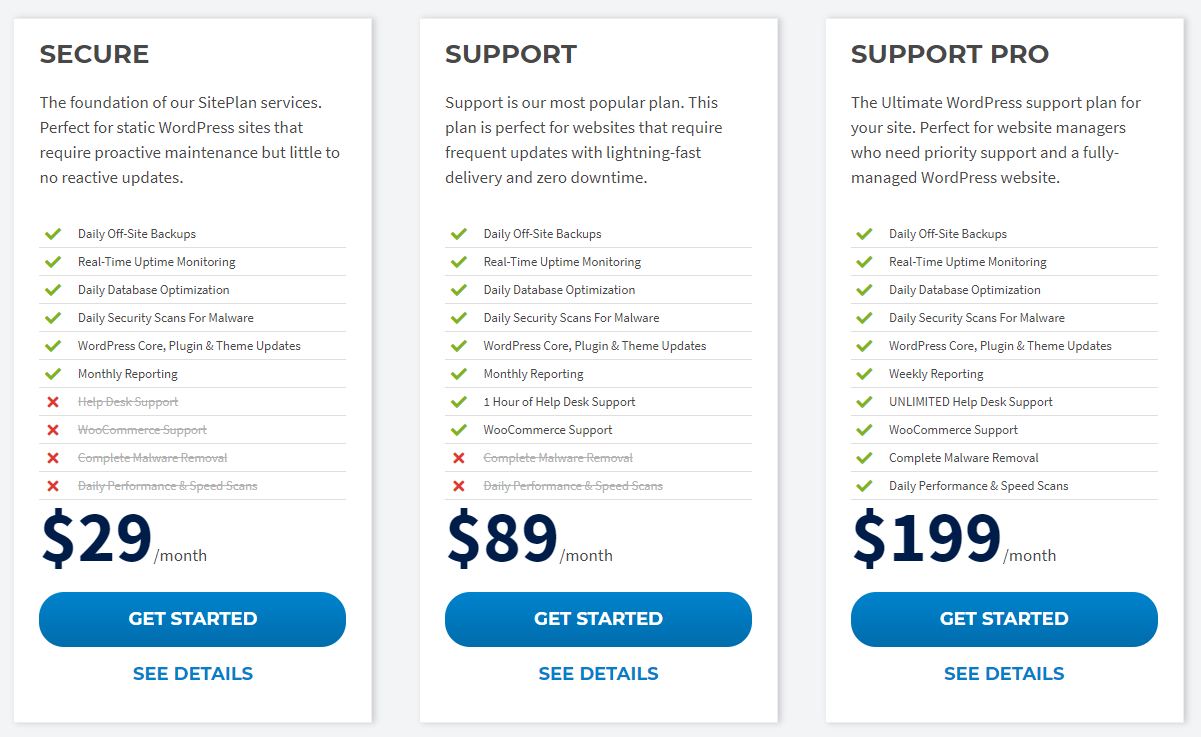 WP Site Plan Review
If your finances are tight, the Secure Plan of the WP Site Plan maintenance service may still be within reach. Also, as their support team is US-based, you will get pretty fast support in US time zones.
Check WP Site plans
WP Tech Support
WP Tech Support offers emergency and ongoing WordPress maintenance services to over 1000 site owners.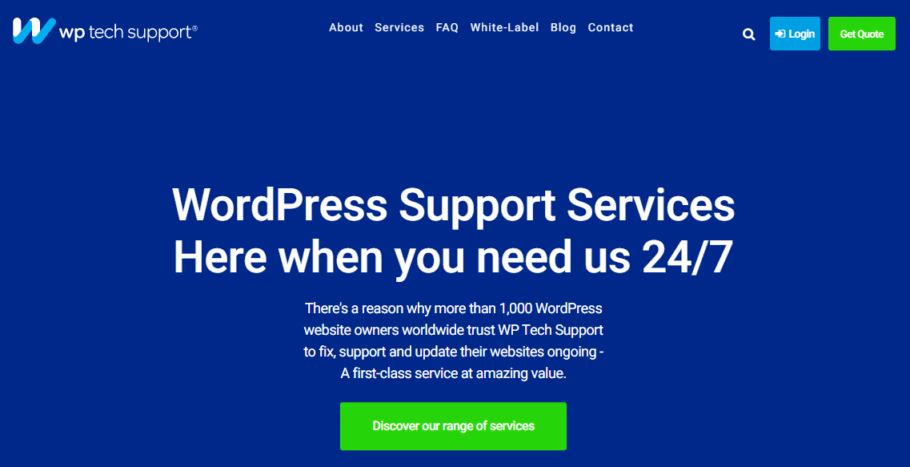 You can find almost everything in the basic plan. Moreover, it offers security for your website. Also, there are options for emergency fixes and speed optimization. The drawbacks of WP TechSupport are the invariably low prices and no support on phone calls. Also, the number of plans is overwhelming for a beginner.
WP Tech Support PROs
Their lowest plan ($29) includes backups, monitoring, updates, and malware scanning.
They claim that their USA-based support team has your website covered!
No contract and you can cancel anytime you want.
WP Site Plan offers white-label services for agencies and freelancers.
WP Tech Support CONs
Phone support is not available.
WP Tech Support Pricing Plans
WP Tech Support offers four support plans:
The Standard plan costs $55/month and has all its core features like proactive, ongoing maintenance, security, backups, etc.
The next plan is the Pro one, which costs $75/mo. On top of the standard plan features, it comes with unlimited bug fixes.
If you purchase the Business plan at $99/mo, you will get performance optimization on top of the features of the previous plans.
The final plan is Advanced, and for $175 per month, you receive extensive support for eCommerce sites, membership, LMS, and other advanced functionalities.

WP Tech Support Review
Suppose clients need ongoing website updates, performance enhancements, additional security measures, or regular WordPress website maintenance. In that case, you can do all that using your name and brand while WP Tech Support does all the work.
Check WP Tech Support plans
Godaddy WP Support
A few years ago, the popular domain and hosting company GoDaddy acquired WP Curve and started offering its customers 24/7 customer support services for WordPress websites.
The best thing about the company is that if you choose their monthly plan, they will resolve unlimited small jobs of your WordPress website, including maintenance, security, plugin/theme quick fixes, conversion optimization and speed optimization.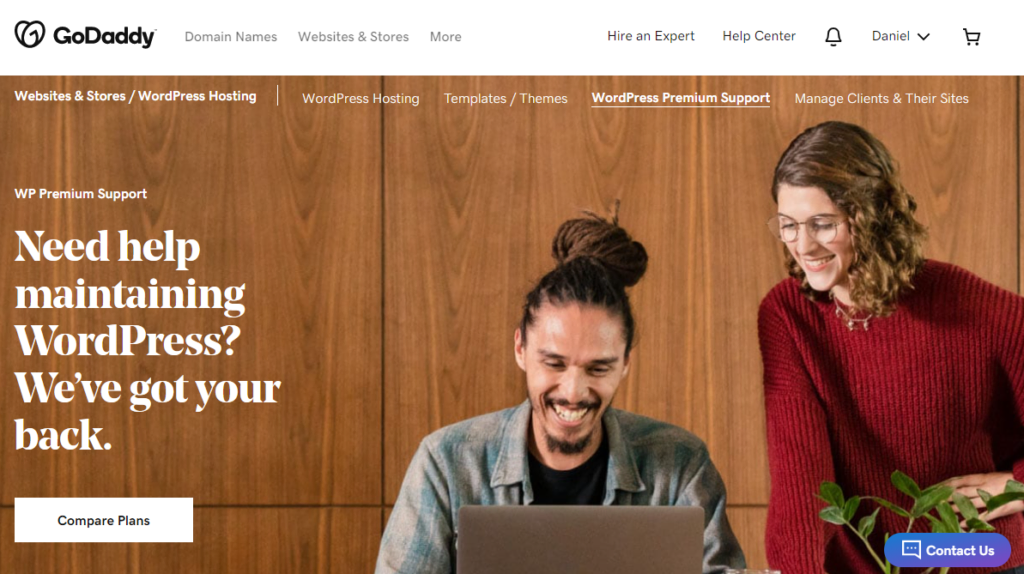 Their turnaround time is 8 hours maximum & you can always contact them via live chat.
GoDaddy WordPress Support also offers you a monthly subscription of a professional level that includes proactive core, plugin updates, offsite backups, offsite scans (monthly), and much more for just $99 per month.
GoDaddy WordPress Support PROs
It can help you with basic WP support tasks. View their list here.
GoDaddy is a reputable company, so your website is in good hands.
The subscription-based service is available 24/7/365.
GoDaddy WordPress Support CONs
Many of the standard features of other maintenance services (adding plugins, edits, malware removal) are not included. Check the list here.
It may be challenging to separate included and not included tasks, so you may need another company to help get things done.
GoDaddy WordPress Support Pricing
One particularity of the Godaddy WP Support pricing plans is that they are working on credits. One credit means one intervention on your website. The remaining unused credits do not roll in the following month and expire.
One credit is $49.99/mo, while ten monthly credits cost $149.99/mo.

GoDaddy WP Support Review
GoDaddy WordPress Support is a reputable company with a long history in the domain and hosting space and now website development and maintenance services. However, their support plans are created to cover only the basic needs to keep your website working. They don't support advanced malware removal, basic SEO tasks, or speed optimization.
I recommend them only for new webmasters or website owners who make few changes yearly.
Check GoDaddy Support plans
WP Tangerine
WP Tangerine is a maintenance service known for offering unparalleled support. In addition to regular maintenance, you can submit requests for help with various tasks, such as researching or installing new features.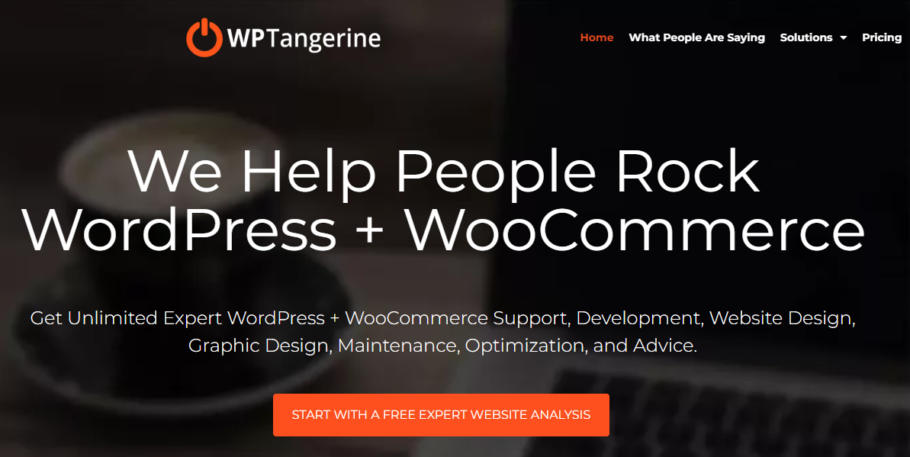 The company claim to have 56 full-time employees, has helped 3000+ WordPress website owners, and offers a 30-day money-back guarantee.
WP Tangerine PROs
The support plans include multiple websites, so it's great for agencies.
You can get your website hosted by one of their partners (WPEngine)
You can use a project management tool (Asana, Trello) for tasks.
WP Tangerine CONs
Live chat and phone support are available only on higher tiers.
Work is done only during US business hours.
WP Tangerine Pricing
Pricing starts at $97 a month. Features include WordPress tasks such as correcting site page errors, SEO optimization improving page load times, and site transitions. This service is ideal for anyone who needs website help beyond essential maintenance but can't hire dedicated staff.
With all that said, it's important to note that your WordPress tasks, such as research, adding new features, or overhauling your web design, are tackled an hour at a time. This means it could take quite a while to complete lengthier tasks.
A 30-day money-back guarantee covers all their plans. So if you're unhappy with their service, you can ask for a full refund, and they will grant it.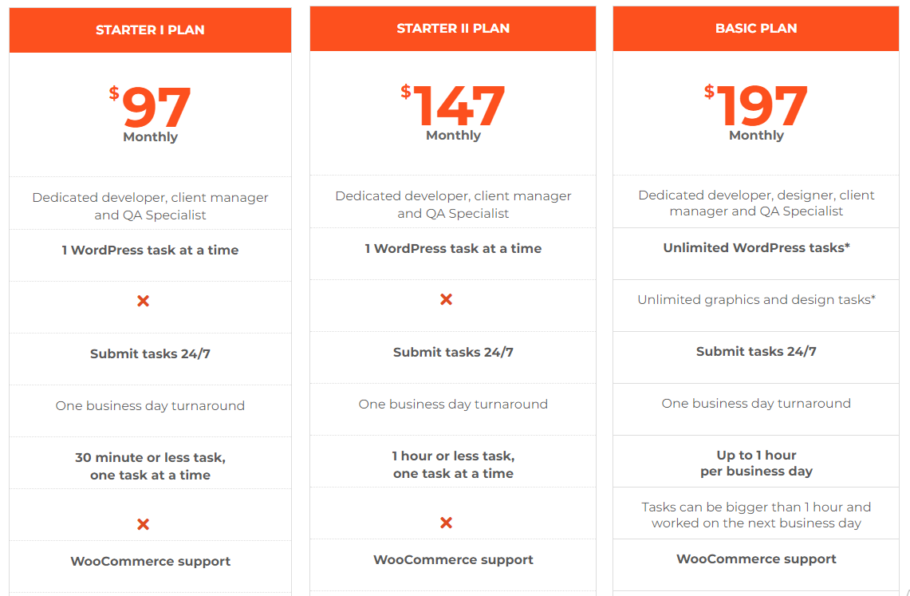 WP Tangerine Review
The company offers standard maintenance features, website edits, and custom changes, making them perfect for web admins that need work done monthly to their websites.
Check WP Tangerine support plans
WP FIX IT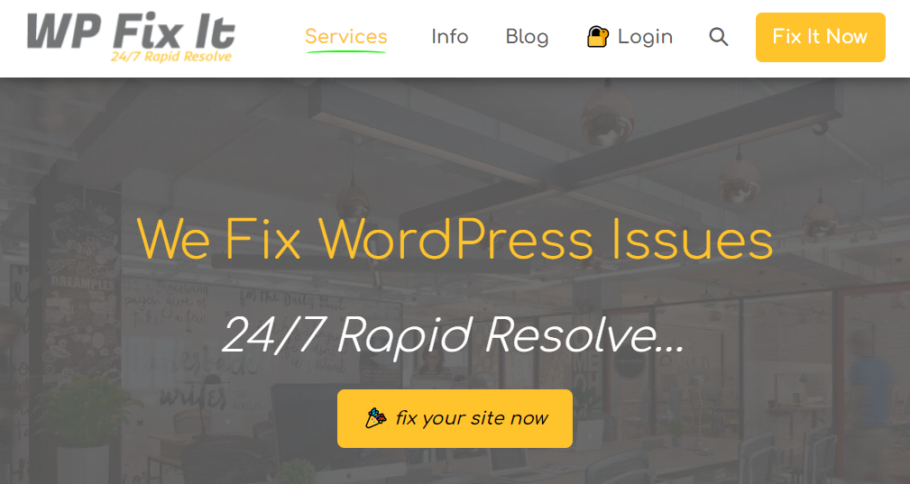 WP Fix It claims to be the world's fastest WordPress support company. The company's head office is in Irvine, California, headed by founder Jarett Gucci. It opened its doors in 2009, with eight agents working remotely and staggering their shifts to cover various time zones.
They offer 24/7 support and currently have over 15,000 active customers. Instead of providing a single WordPress maintenance service, WP Fix has various services you can purchase.
WP Fix It PROs
The smallest maintenance plan is only $12/mo and keeps your website running.
You can purchase services (speed, malware removal) as one-time fees instead of recurring.
WP Fix It CONs
It may not be newbie-friendly as you have to order services separately.
WP Fix It Pricing
There is a flat fee of $39 to fix any one-off issue. If the problem is not resolved, you get your money back.
WP Fix It Review
WP Fix It has some excellent WordPress maintenance services you can use to keep your site secure and optimized at affordable prices. However, this setup may not be newbie-friendly as you must order the services separately based on your needs.
They also do site speed-up services for $97 and virus and malware removal for $87.
One potential downside is the lack of an "unlimited" plan if you want to tweak many things on your site. Of course, on the flip side, you don't have any recurring expenses once your issue is resolved.
Check WP Fix It support plans
Vote for your favorite service
Now you can vote for your favorite WordPress maintenance service. If your preferred support company is not on our list, please add it in the comments below and tell us why you like it. No self-promotion, please.
[Article] Best WordPress Maintenance Service
WP Maintenance Services FAQ
Why Do You Need a WordPress Maintenance Service?
WordPress is one of the most user-friendly publishing platforms available today. However, problems arise as hundreds of thousands of plugins and themes are developed. Also, there are multiple hosting configurations. On top of that, being the most popular CMS globally makes it a target for hackers.
So you have all the ingredients that can transform your WordPress experience into a horrible one if you don't have a WordPress maintenance service plan to take care of the issues while focusing on growing your business.
What a WordPress maintenance service should cover?
WordPress maintenance and support services come in different configurations. Some focus only on updates and security, while others cover malware removal, website changes, WordPress theme installation and website optimization. The best maintenance service for you should take care of daily backups, security, minor website edits, speed optimization, security, and website consultancy.
What is the best WordPress maintenance service?
This depends entirely on several factors like your needs, your budget, and your goals. If you are looking for a service that takes care of your website and adds new functionalities or fixes bugs, I recommend WPRiders, while if you are looking for a smaller pack that will only keep your website in good share, you can try WP Buffs.
How we score and evaluate WordPress maintenance services?
To help users pick and choose what maintenance service for WordPress they should go with, we look at what each service has to offer. We evaluate everything from features, reviews, team experience, pricing, and availability.
We start with the features like website changes, backups, monitoring, page speed optimization and all other features the companies include in their maintenance plans.
Then we thoroughly analyzed services' reviews and tested how each maintenance service covers webmaster needs.
We also analyzed customer support experience and features to know what to expect. Lastly, we give a detailed evaluation of their prices to determine if the service is worth paying what they ask for.
Conclusion
First, I would like to congratulate you for making it to the end of the article. Now you know 12 of the best WordPress maintenance services people recommend.
You could see some good fits for small sites while others are better for established ones. While some focus on backups and security, others add speed optimization to website edits. So it's your job to select the one that fits your needs better.
Have you worked with any of them? Please leave a review below to help others with their decisions.
Do you know a company that does an excellent job but we haven't listed it here? Contact us with the details.
Affiliate disclosure
Some of the links in the post above are "affiliate links." I will receive an affiliate commission if you click the link and purchase the item. You will still pay the same amount, so there is no extra cost. I am disclosing this under the Federal Trade Commission's 16 CFR, Part 255: "Guides Concerning the Use of Endorsements and Testimonials in Advertising."