So you've checked several themes for your blog, but you're wondering what's the best WordPress theme you can use for your next project. Plain and simple, the WordPress theme you will use is crucial to your blog or website's success or…failure.
Now, when visitors' attention span is smaller than ever, the WordPress theme you use means success or failure. 
Your visitors may leave your site and never return if your theme is slowly loading, the content is not easily accessible, or it is hard to read.
That's why you have to choose the best WordPress theme that has an eye-friendly layout, multiple customization options, is secure, and has some other characteristics that you will find in this article.
Here are the top 10 questions you should ask yourself before deciding which WordPress theme you should use:
1. Does the theme fit your niche?
There are themes designed especially for specific niches like web agencies, news sites, magazines, recipe websites, fitness clubs, etc. That's mainly because each niche has particularities, like focusing on pictures versus text, fonts, icons, etc.
Also, there are specific functions like a portfolio list for web agencies or booking scripts for clubs and hotels.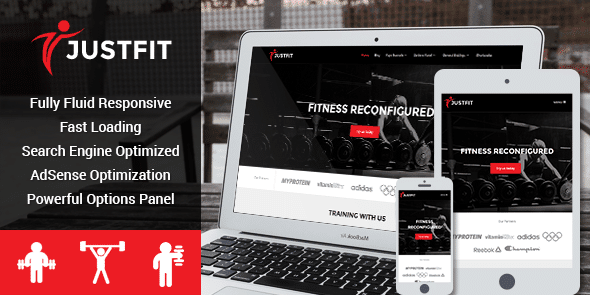 JustFit theme from MyThemeShop.com – Theme created for fitness clubs.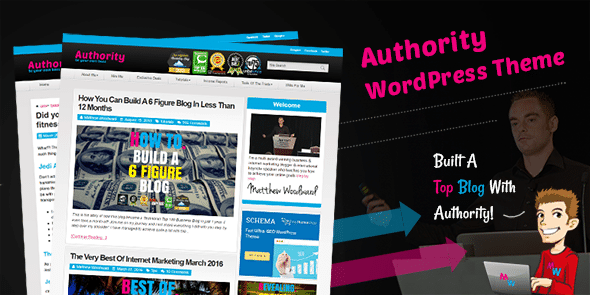 Authority theme from MyThemeShop.com – Theme created for authority bloggers.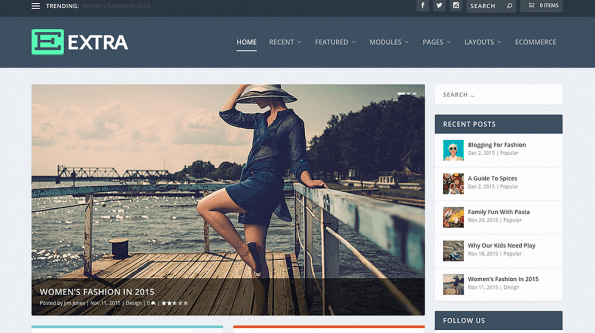 Extra theme from ElegantThemes.com
Choosing a theme created especially for your niche will save you many hours of configuration, tweaking settings, and looking for plugins for missing functionalities.
2. Does it load fast?
Google now confirms website speed for being a ranking factor. According to a Kissmetrics study about website loading speed, a 1-second delay in page response can result in a 7% reduction in conversions. Also, visitors tend to leave websites that don't load in a reasonable timeframe.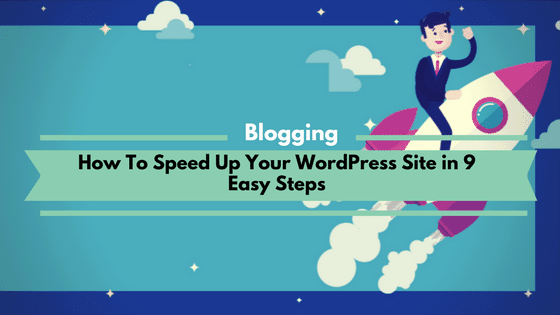 So when you choose a WordPress theme for your website, use the following tools to see if it is optimized to load fast. Some of them are the hosting company, the number of plugins, the quantity, and the sizes of images, but the creators' demos should be enough to get an idea.
Google Page Speed – This tool checks how well the theme is optimized to meet the Google Standards of Website speed and what you can improve. Some things you can fix by installing different plugins, but others can not. You should aim for at least an 85 score on desktop and 70 on mobile.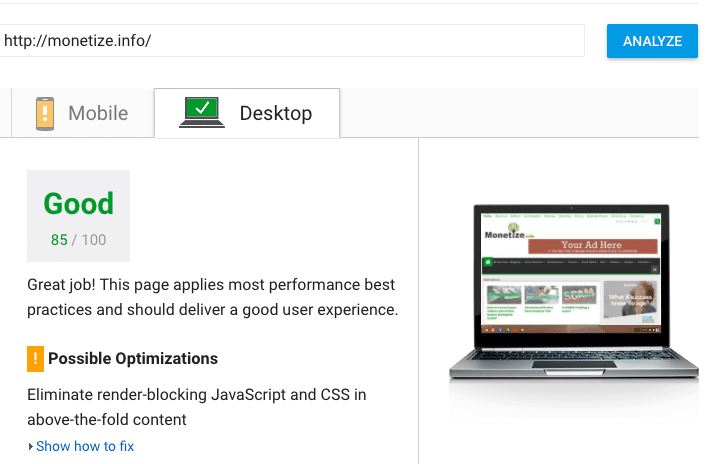 GTMetrix.com is another tool you should use to test the theme and see if it follows the best fast-loading practices.
Before launching the blog, you should use these two tools and ensure you fix as much as possible. Website loading speed is an essential factor in your blog's success.
When your website is ready, check our guide on how to speed up your WordPress website.
3. Is the theme responsive?
Most of the themes nowadays are responsive, but you should change yours immediately if it is not. People visit websites from mobile phones, web TVs, tablets, laptops, or even Playstations, so your website must look good on all these devices.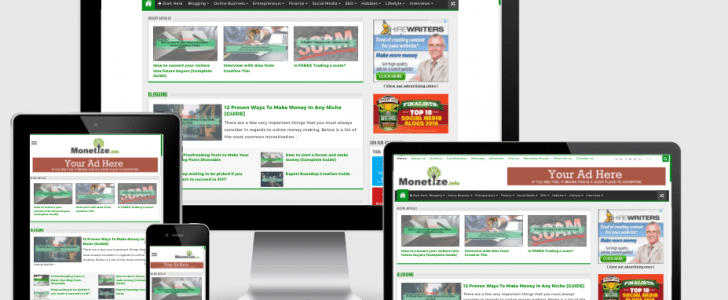 It would help to use several tools to ensure your theme is compatible.
AmI.responsive design. Service loads your website on four devices (tablet, mobile, desktop, and notebook) in real-time.
Google Mobile-Friendly Test is a pretty compressive tool that tests your theme for mobile devices.
4. Can you configure it easily?
The theme's admin panel is where you configure everything: logo, header, menu, typography, colors, etc. It would help to ensure your theme has an admin panel full of features so you can tweak the settings as you wish.
Otherwise, you will end up with a theme that looks exactly like the creators wanted – the demo- but changing anything will be a pain as you have to edit the code.
If you're not a developer, you need to make sure the theme has many options you can choose from.
5. Is the theme updated and maintained regularly?
WordPress is a successful CMS because it is easy to use and regularly updated and maintained. However, theme creators must keep up with all the changes, new features, and released plugins that add functionality.
If you choose a theme that is not updated often, you may have to wait way longer to benefit from all functionalities offered by new WordPress versions. Also, in a worst-case scenario, your website will no longer work because, after an update, the theme is no longer compatible.
That's why you have to ensure the theme creators are still maintaining the theme and keeping it up to date.
6. Does it follow the coding standards?
I can't stress enough how vital the coding standards are and why the developers should follow them. A theme that follows coding standards (HTML, CSS, WordPress) will get better SEO scores, load faster, and not break your website on updates or when installing a plugin.
If the theme you chose has a free version or you already bought it, install the Theme Check plugin and see the report. If there are errors, you should inform the developer to make the necessary changes and make the theme compatible.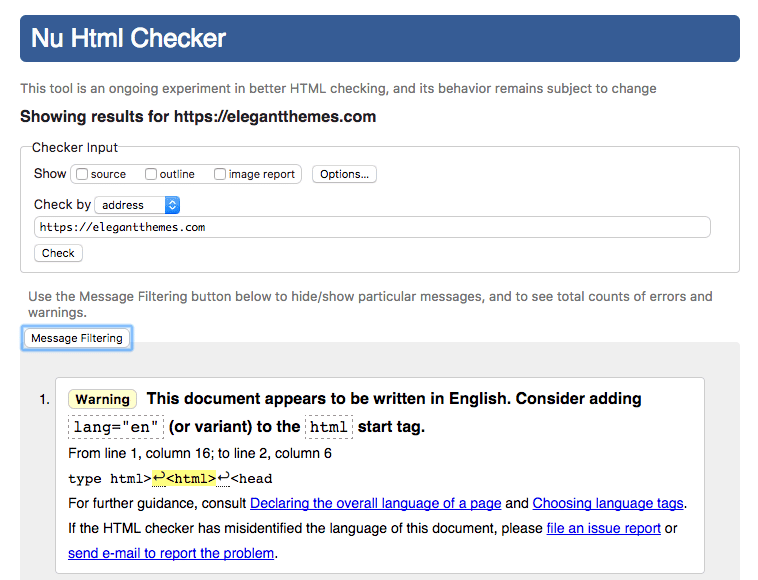 W3 Validator will inspect the website against HTML standards. Add the theme demo and see if it is compatible. If there are many errors, I would avoid using the theme or send the report to the developer and see if he's willing to make the necessary changes.
7. Does it follow security standards and good practices?
Getting hacked is a painful experience for every blogger. You can lose all your files and the database, have your website dropped from Google, or be labelled as spreading malware. Also, your hosting account may end if the hacker sends SPAM using your website.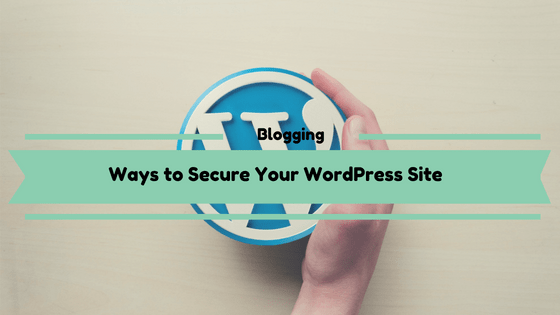 Regarding the WordPress theme you will use, you should ensure it is coded correctly. It doesn't have backdoors or open holes that can be exploited As it is so widespread, WordPress is a target for hackers, so you follow several good practices to keep your website secure.
Below are three tools you should use to make sure your theme is secure:
Theme Authenticity Checker is a free plugin that scans all of your WordPress theme files for potentially malicious or unwanted code.
Exploit Scanner is another free WordPress plugin that is much more robust than the Theme Authenticity Checker because it searches all files and databases of your WordPress install. It checks for signs that may indicate if your installation has fallen victim to malicious hackers.
WordFence is a plugin that checks your website deeply (database, all folders, etc.) for backdoors, exploits, or settings that affect your blog's security.
If the theme supports auto-update, you should enable it and always have the most recent version. You should regularly check the developer's website for updates and install them if it doesn't.
8. Does your theme come with documentation?
It doesn't matter if you're an experienced WordPress developer or if this is the first theme you need documentation and tutorials. Otherwise, you will lose many hours trying to figure out how to configure the theme, replicate the demo or add content.

Check the developer's website for the documentation and YouTube for tutorials on configuring and using the theme you want. If you can't find much, my advice is to skip it.
9. Is the developer answering fast to requests?
The support is crucial for the WordPress theme, and trust me, at some point, you will need support from the developer. Some functions do not work as expected, some conflict with the plugin you are using, or some need changes.
That's why I suggest you go with a theme developer who supports the theme and is willing to listen to the customers for improvements.
10. Is your theme popular?
It may sound a bit odd at first because, for branding reasons, you may think choosing an underused theme should be best.

However, a popular theme comes with some significant advantages, especially when you start a blog:
Many bloggers use a popular theme, so bugs are faster reported to creators and fixed.
A popular theme means that bloggers and visitors enjoy that theme (layout, colors, typography, etc.)
Popular themes, especially paid ones, encourage creators to maintain and add new features faster than other themes.
The Support is faster and better.
If you answered yes to all these ten checklists, congrats, you have found a great theme. Otherwise, you should check the providers below that I can vouch for.
Recommended themes
Here are several developers of themes that I used to develop websites for my customers and me and have had good experiences:
WPAstra (10% discount here) theme took the industry by storm as it has light loading speed and many options, and the pro version comes with more than 50 starter sites you can easily import and start building a website, blog, or shop. It's compatible with all major website builders, including Elementor.
OceanWP is a free multi-purpose plugin that can create a beautiful website within a few minutes. It is one of the fastest-growing themes for WordPress. Individuals can build websites quickly.
ElegantThemes – Considering the excellent quality of most themes as well as their unbeatable price, the overall rating for this premium WordPress theme provider is fantastic and highly recommended for both personal and business sites.
MyThemeShop – Their theme gallery is full of stunning-looking WordPress themes, giving your blog a modern look. As a premium theme club starting from $35, Mythemeshop is an excellent choice for your WordPress blog. If you are not ready to spend money right now, you can always choose from their free theme options here.
Besides those, I recommend you check our Best 50 WordPress themes for affiliate marketing to see other themes you can use.
Keep in mind that all these themes come with many features already packed. If you need help installing, customizing, changing, or updating your WordPress theme, pick one of the recommended WordPress maintenance services listed here.
What other themes follow all these practices, and do you recommend them? 
What is the best WordPress theme in your option?
I'm eager to find out, so I await your comments.