One of the best ways to build a sustainable business online is to create a paid membership program — and, if you're a WordPress user, you can do this easily by using a membership plugin.  The best plugin for this job is, in my opinion, MemberPress, and we are using it on 2 of our websites.
Here is a video review of MemberPress if you are not into reading text 🙂
MemberPress is, for the most part, a real pleasure to use. The interface operates smoothly as part of the WordPress admin panel, and even the most advanced features are easy to work with.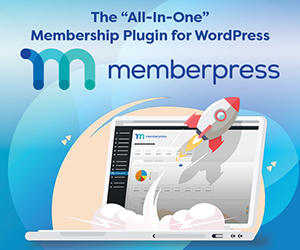 I did, however, find myself disappointed with some of the things not included in this plugin. Several of the add-ons provided capabilities that felt like they should have been built into the plugin, such as the ability to add a Captcha to the signup process.
Another thing I found lacking was the form-building capacity. There's no ability to choose custom fields for the user login, registration or account forms. It's also impossible to customize the appearance of these forms.
MemberPress PROs and CONs
MemberPress PROs
Easy setup.
Highly customizable membership levels.
Ability to create as many membership levels as you want.
Customizable content dripping.
Customizable content expiration.
Integration with numerous email marketing services and other tools.
Highly customizable coupons.
Ability to segment membership levels with Groups.
Comprehensive reporting.
MemberPress CONs
Lack of customization for registration and login forms.
No lifetime purchase option, making the plugin quite expensive over time.
Features that should be built-in are sometimes billed as add-ons.
Lack of built-in forum technology.
MemberPress Pricing
MemberPress offers three pricing plans:
Basic MemberPress plan is available for $249 a year. At this level, MemberPress costs roughly the same as other top membership plugins, such as WP Courseware.
MemberPress Plus: Available for $399 a year, this plan offers all of the features of the Basic plan on up to two sites. It also allows you to accept payments through Authorize.net, sell corporate memberships and access more integrations.
Pro: Available for $549 a year, this plan offers all of the features of the Plus plan on up to five sites, as well as exclusive add-ons. Last but certainly not least, choosing the Pro plan also gives you access to Affiliate Royale, a plugin that allows you to create an affiliate program.
Conclusion
MemberPress is a simple, effective plugin for creating a membership site. It's great if you want to build a simple membership site with walled content, run online courses or offer subscriptions to your content.