Before anything else, I need to tell you that content-generating software will not produce articles that you can publish in Search Engine Journal or Forbes with a click of a button. Those articles need extensive research and need to be written in perfect English.
But if you want to research writing content on your main sites or need content for your tier 2 blogs, a content generator like SEO Content Machine does the job pretty well.
What is Seo Content Machine
As I've already spoiled the surprise in the introduction, SEO Content Machine is basically a content generator with more other features. In fact, SEO Content Machine is a multi-function tool that includes auto content creator, keyword suggestion, Blog posting, and more.
This will change the way of content marketing strategy. Allow you to manage your PBN network and schedule your content posting. Best and fully safe tier 1 content building feature.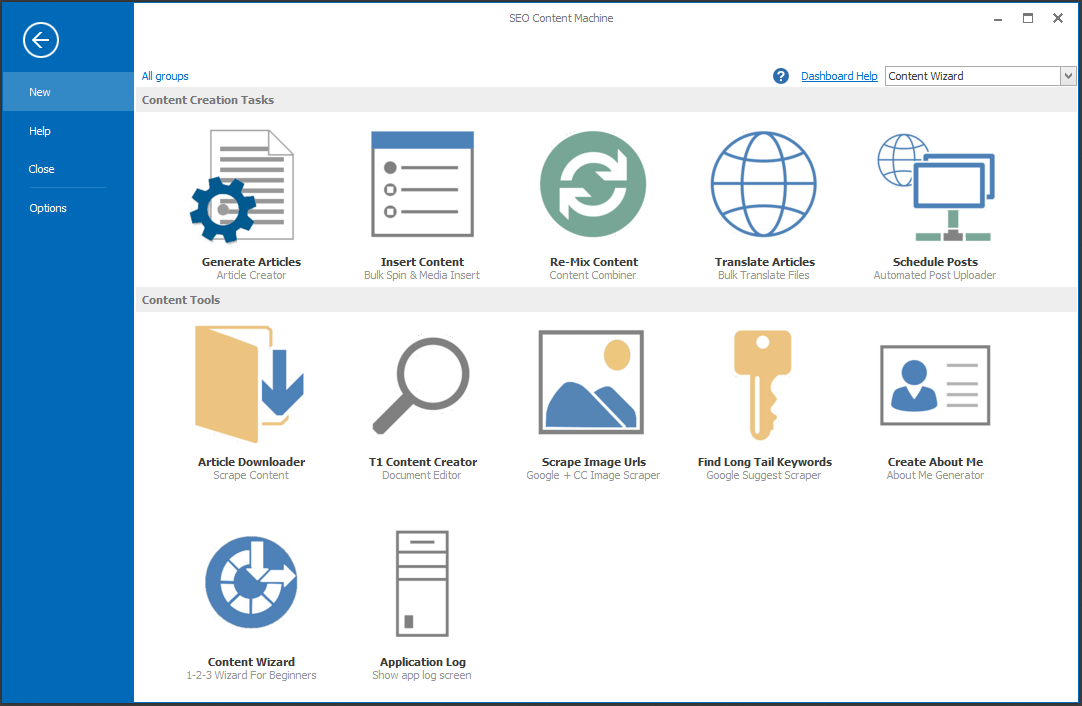 SEO Content Machine Features
Generate articles
That's the most important feature of SEO Content Machine as it will generate unique, readable articles on the fly.
One thing that I like is the option to configure almost everything about article generation. You can select how many paragraphs, the quality, min words, content sources, if you want or no to add links, images or videos, etc.
It may sound difficult, but once you tweak the settings, you will end up with pretty unique articles that are perfect for your needs, so you don't have to worry that everyone will generate the same articles as you do.
My advice: Spend as much as it takes to find your right settings and the right content sources for your niche to generate the articles you need.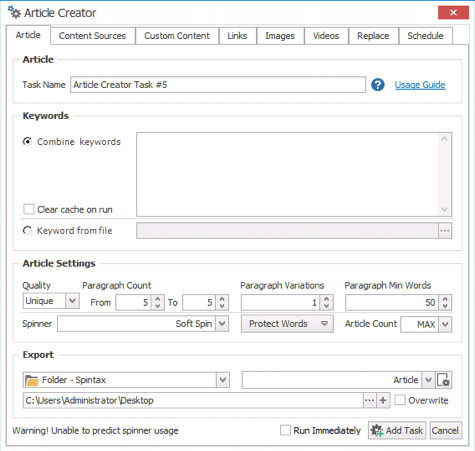 The content wizard comes with article templates; you can easily import your articles where you need them.
Here are some of the templates you can use:
Article
Autofill Magic
Bookmarks
Content
HTML Article
Sick Submitter
TurboWeb20 Submitter
Ultimate Demon
Blogs Manager
With Blog manager, you can manage all your WordPress blogs and easily post content. You may also configure RSS feeds that SEO Content Machine can extract full content, rewrite and post the content to your blogs.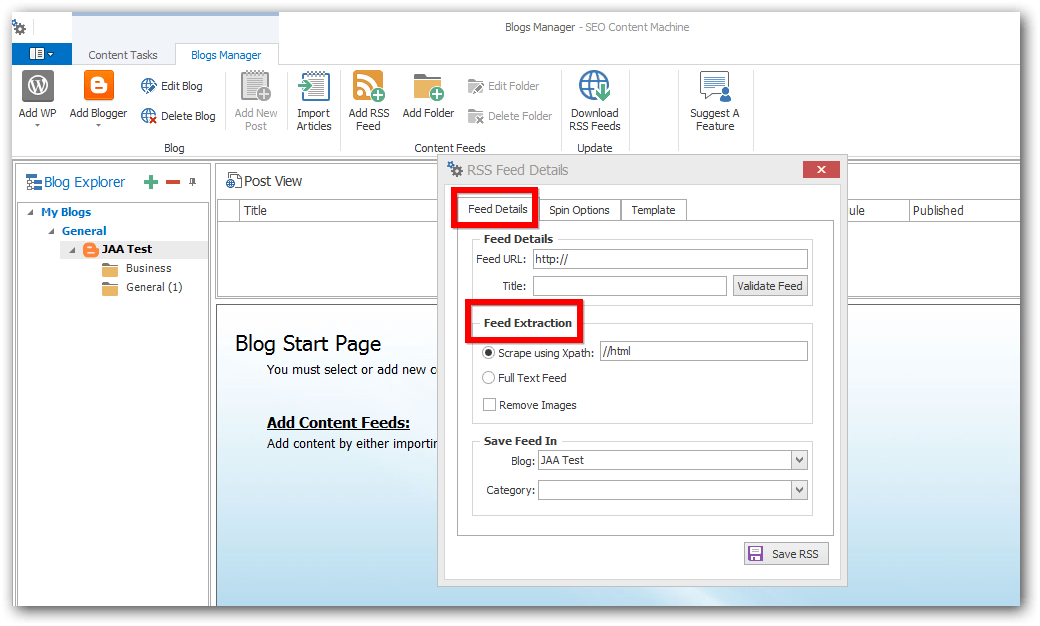 That's where the Schedule function comes into play. You may post as many blog posts as you want and drip-fed them like one or two every day.
Tier 1 Document Creator
This feature allows the user to scrape pieces of articles based on keywords. The user can then mix the blurbs to create very high-quality, original content. All you need to do is enter 1 or more keywords into the search area. SCM will scrape the web to find related articles.
You also have the option to import locally stored articles if you have a bunch of PLR content sitting around. If you are not happy with the default sources SCM comes with..guess what ?! You can add your own content sources. I tried to add medium.com, and it worked.
Even if you are against auto-generated content, you can use this powerful feature to get ideas for your original content. So if, for instance, you want to create an article for your main site or a guest post article, you should use this feature. Select quality content sources and press Search.
Translate articles
This comes pretty handily now that Google and Bing translators have become pretty good at translating content. It would help if you used this function to get unique articles by simply translating them from one language to another. So if you found a good article in your niche but is written in german, you can use this function to translate in English and use it for your needs.
Please keep in mind that there are copyright laws, so don't use the whole article and make sure you credit the author for their work.
SCM API
Another interesting and useful feature of SEO Content Machine is the API. You can install SCM on a VPS or your own computer and control it anywhere in the world, from your own created script or other tools. As a PHP programmer and I like to create tools, I find this feature very neat.
Find long-tail keywords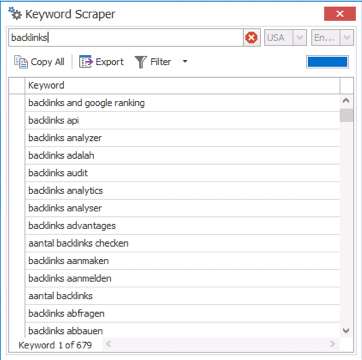 When you write an article, you should focus on ranking for long-tail keywords as the competition for these keywords is lower. This function on SCM is finding you these long-tail keywords from Google suggest and place them into a nice list you can later use to generate more articles.
SeoContentMachine comes with a little tool that finds for you these long-tail keywords from Google suggest and places them into a nice list you can later use to generate more articles.
If you write content by hand, make sure you check these keywords and add them to your articles.
About me generator
When you register an account on forums or you send guest posts, you need a bio description. Of course, you can write this by hand, or you can use SCM About me generator. You enter your desired keyword and an URL to link to, and you get spinnable about me paragraph.
Here are two examples:
28-year-old motorcycle mechanic Duane from Thorold likes to spend some time bodybuilding and building backlinks. Recently has visited the historic city of Ayutthaya
27-year-old Judge Spivery from Dauphin usually spends time with hobbies and interests like computers, building backlinks, and cigar smoking.
You may notice the keyword used is building backlinks 🙂
Proxies
Like most of the tools that do content scrapping, SCM supports proxies. That's a must-have feature as search engines will block you in no time if you do heavily scrapping. My favorite proxy providers are Proxy-Hub and BuyProxies.org.
Content spinners
When you want to generate unique articles, one crucial feature is to use a good content spinner. SEO Content Machines comes with an inbuilt spinner that also supports:
ESpinner
SpinRewritter
X-Spinner
SpinnerBR
SistemmaSpinner.br
ArticleSpinner.fr
I'd recommend SpinRewriter to anybody looking for a spinner. It's the best spinner I've ever used, and that includes the likes of Word AI Turing spinner.
Seo Content Machine User Experience
Seo Content machine is a windows software, so you obviously need a computer or a VPS running windows operating system. If you are on a mac, you may install a virtualization platform like VMWare or run it on a VPS. I have a VPS where I keep all my SEO tools.
I don't know about you, but I'm not too fond of untested programs that generate errors or crash in the middle of work. Fortunately, this didn't happen in over 5 hours. I've used Seo Content Machine, which is a great thing and proves the tool is solid.
Seo Content Machine Prices
Seo Content Machine comes with 4 payment plans. I list them here so you can choose the one that fits your needs best: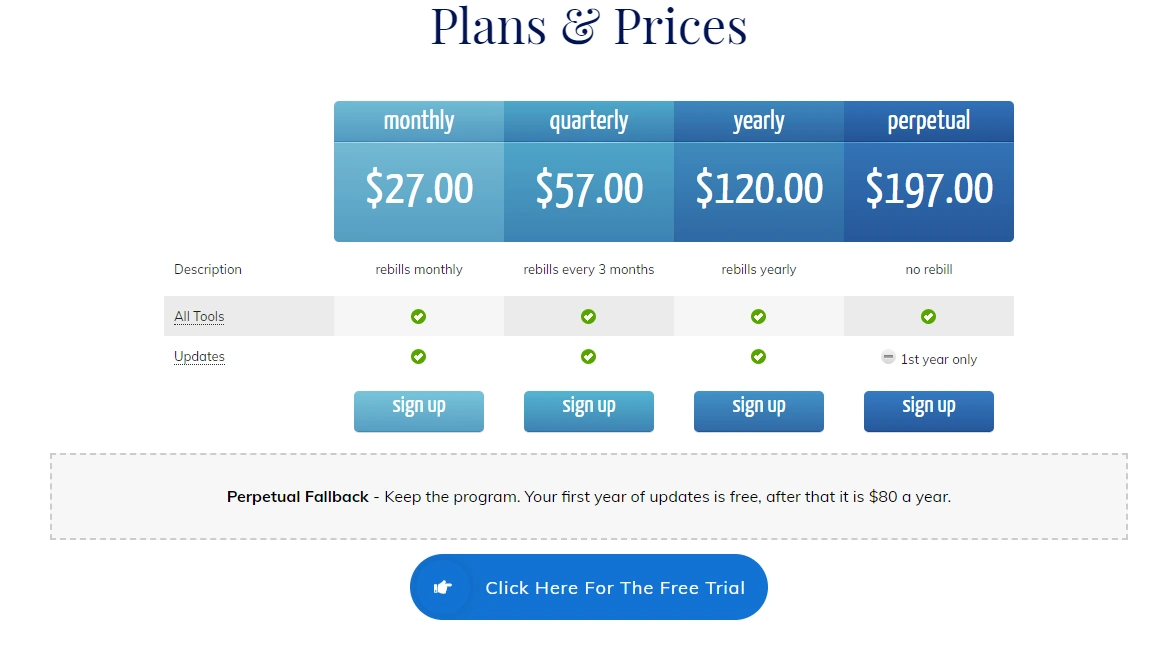 Free plan – This gives you 5 days to test the program without any limitation. Use this plan to see if SCM is for you. Use these 5 days to explore all the functions and tweak the settings till you get the desired content.
Monthly plan ($27) – If you are not in heavy need of content, you may pay for one month only when you need it.
Yearly ($118) – I can't say much about this plan as I think the next plan is better.
Perpetual ($147) –  Unlimited access to the last updated version of SCM. Paid updates are $80 a year. So if I'm not mistaken, you pay upfront $147 that gives you access to one year of SCM, and next year, you need to pay only $80, or you can use the latest version before the plan expired.
Seo Content Machine can break Google captchas automatically, but you have to pay $10 for 3500 captcha credits. You may purchase credits from your member panel.
Your purchase is backed by 30 days no-questions-asked money-back guarantee. So whatever paid plan you choose, if you're not satisfied with your purchase, you mail an email to them and ask for your money back.
My opinion: Get the 5 days trial to see if it works for you and then go with the monthly plan or the perpetual one.
Support
SEO content Machine gets updated pretty often, sometimes even two or three times per week. Check the changelog of SCM if you'd like to see how the program evolved and what features have been added.
It is not mistaken to say that the users are the ones that suggest how SCM will evolve as their creators implemented a system where users vote on what features should be added next or improved. You may expect in the next version Yandex translate integration and a video scraper addon as these features are marked as 'Under consideration' and have over 400 votes. There you can also report issues and ask for help from the admin or other users.
You may get in touch with SEO Content Machine admin using the contact form listed on their site.
Don't forget to check the SCM blog, as there are over 25 tutorials and other useful tips that will improve your success rate.
Seo Content Machine Affiliate program
Seo Content Machine affiliate program rewards the affiliates with 25% commissions for each purchase made by the people referred. This is pretty attractive. SCM uses aMember software for their membership and affiliate program, which is solid and accurate.
Insider affiliates area, you will find your affiliate link, 8 banners, and an email template you can use to generate sales. You don't need to have an active subscription to SCM to earn commissions.
What others are saying
Seo Content Machine is broadly used by internet marketers. Here are several reviews:
SEO Content Machine makes generating unique foreign language content a quick and painless click-by-click process. – Matthew Woodward
SEO Content Machine is my go-to article creator software. It has all the nuts and bolts you need to create quality content for your SEO campaign and your money site. – Jango
Conclusion
I hope you enjoyed this Seo Content Machine review. If you have the patience to configure the software and tweak the settings per your need, you will end up having a great content generator that will give you great articles with a click of a mouse button.