Today we are going to review the AdNow native ads advertising network. AdNow has been in operation since 2014, and according to their figures, they deal with 160,000 publishers, 1700 advertisers and serve 1 billion impressions every day.
In this review, you will learn what native ads are, AdNow native advertising network, their PROs, and CONs, how you can start, and how you can monetize your traffic better using this native advertising network.
What are Native Ads?
Due to ad blindness, the process of advertising has been changed over time. Thus, it would help if you were looking for what works now rather than doing what worked 2 or 3 years ago.
Banner advertising is dying day by day due to ad blindness, and on the other hand, PPC advertisement is getting more expensive. Thus, high-minded advertisers are moving toward Native Ads.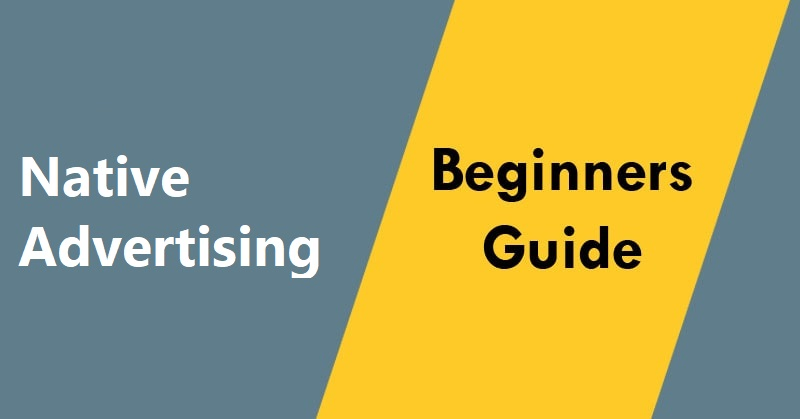 This is why Native ads are the next goldmine to make money over the internet.
If you have surfed several web pages in the past weeks, I am sure you have seen Native ads on various sites (maybe you didn't realize).
Check out some live examples of Native ads from the world's renowned sites like FoxNews: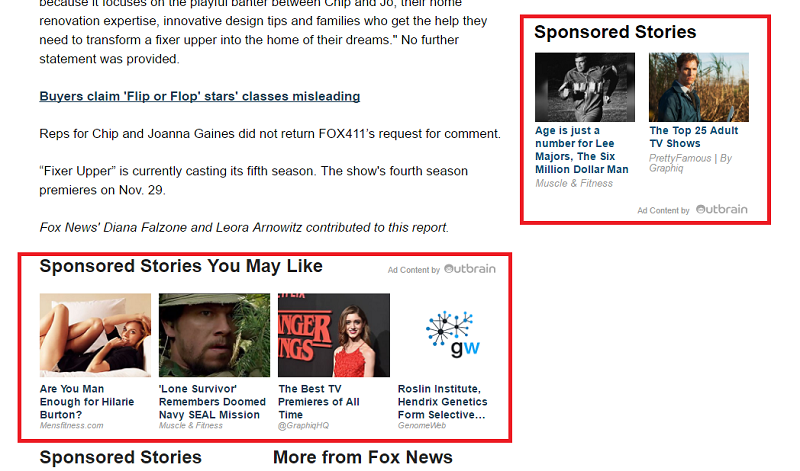 and some more from TheHuffingtonPost: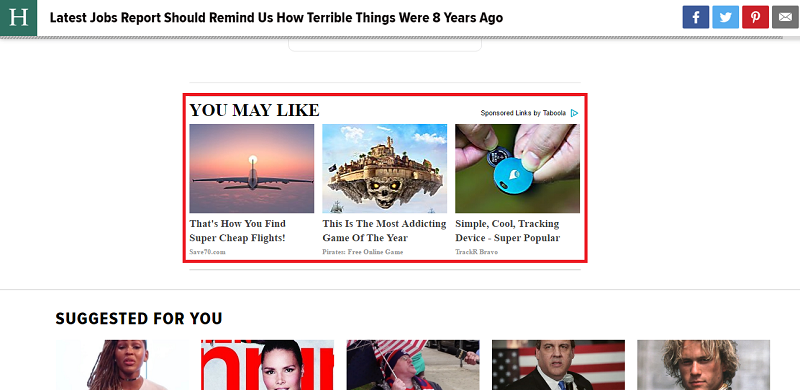 even CNN has them: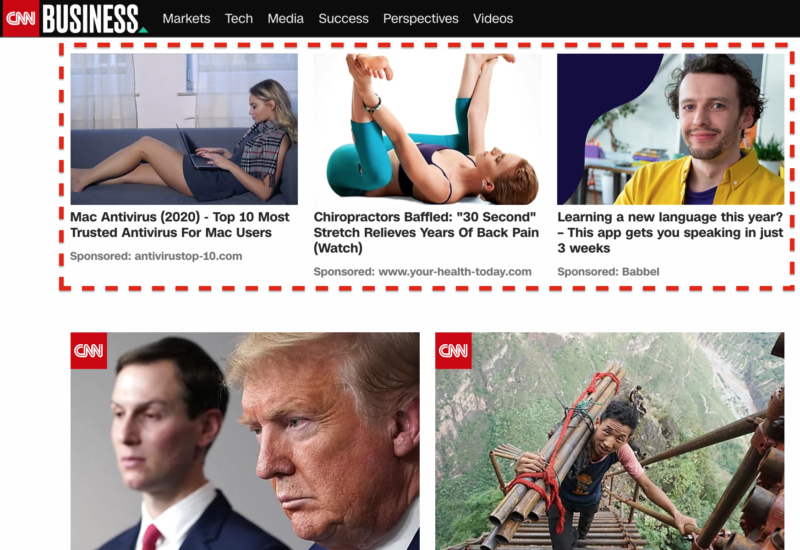 From the above screenshots, it's pretty clear that big brands are fans of Native ads due to their friendliness, high revenue, and supernatural appearance on the site.
Thus you can also use Native ads on your site/blog to reach your next income milestone. Users are more likely to click on native ads than traditional banners, and thus you can enjoy around 300% boosts up in revenue from the same traffic your site/blog has right now.
Alright, so far, you got the initial idea about Native ads and their benefits that you will enjoy as a publisher. Several Natives ad networks pay much better than the traditional banner ads, and AdNow is one of them.
What is AdNow Native Ads Network?
AdNow is known as one of the top-grossing Native ad networks, serving 4.2 billion+ ad impressions every month with the help of 190,000+ publishers worldwide.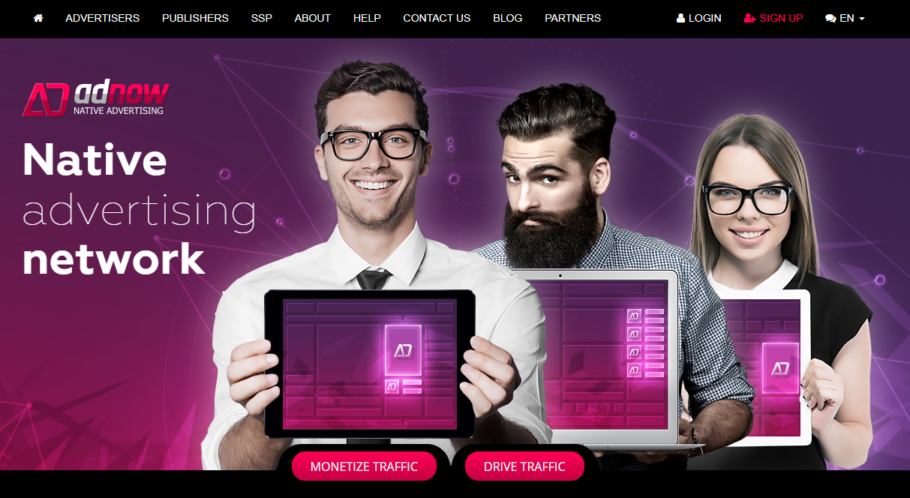 AdNow Company Stats
Website: http://adnow.com/
Network founded: 2014
Employee count: 51-200 employees as of September 2016
Tel: (For publishers) +44 20 380 714 60
Support email: 

[email protected]
The best part about this network is, it's super beginner-friendly, and you will get all the step-by-step instructions that you need to set up the ad on your blog.
Here are some key benefits that you will enjoy as the publisher of AdNow network:
Get your payment every week via PayPal, Wire, or Payoneer.
Check the preview of the ad and easily customize the ad appearance.
It supports non-English sites, and the dashboard can be customized for other languages.
Real-time CTR, Revenue, and overall performance monitoring capability.
Lifetime earning via a referral system.
AdNow PROs and CONs
For the sake of making this AdNow review totally unbiased and crystal clear, I wrote the Pros and Cons side by side so that you can compare the benefits and lacking AdNow network within a glimpse.
AdNow PROs
Friendly customization tool Weekly payments for publishers
Works through all the platforms
Fast and helpful support system
Approves non-English sites
The low minimum deposit for advertisers
Easy Approval as compared to other Native ad networks like Taboola, Outbrain, Revcontent Etc.
AdNow CONs
Less ability to filter ads
Slightly low CPC for non-English sites
AdNow FAQ's
Here are the most frequent  questions we get regarding AdNow:
What are the AdNow publisher requirements? 
AdNow does not have a traffic minimum. However, each publisher must be manually reviewed and accepted for content and quality according to their terms and conditions. They review publisher requests within a 24 hour time period.
How Much Does Adnow Pay Per Click
Many publishers have asked this question that wants to try to use Adnow to monetize their website. The amount you get per click depends on the advertiser's offers only serves searched targeted ads. The more attractive and valuable your website for the advertisers to compete for your ad space, the more you earn.
What is the AdNow Minimum payment threshold?
AdNow offers its publishers weekly payments with a minimum threshold of $20.
What are the AdNow payment methods? 
AdNow issues payments to its publishers by Paypal, Bank/Wire transfer, ePayments, or Webmoney.
Who is Adnow Best For?
Adnow is one of the decent ad networks that you can try, and it is best for:
Starting or small Website but still gets lots of traffics
The website that has lots of traffic but gets rejected by the Google Adsense program
The website that wants to increase ad revenue by combining Adnow with other ad networks
How to Get Started with AdNow?
To get started with AdNow Publisher, you can visit the site and Sign up with the necessary information. After successfully signing up, you need to log in to get access to your dashboard from where you will be managing your sites, creating ad widgets, and monitoring overall performance.
Here is the look of a clean and user-friendly dashboard that you will face just after logging in.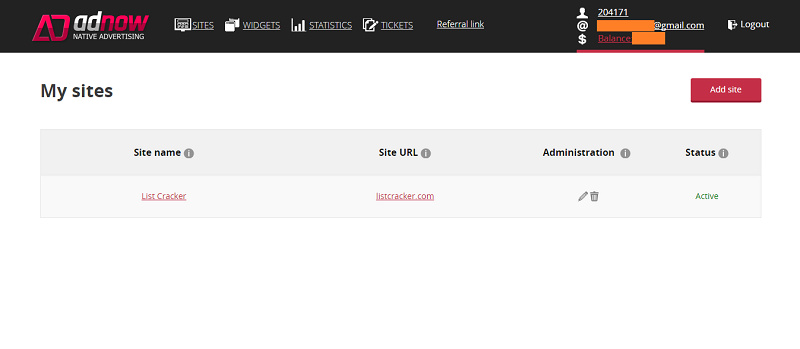 You can easily add your existing sites/blogs to the dashboard using the "Add site" button. After adding your site go to the WIDGETS tab to create a new widget for your site. You can change the appearance, background color, text color, etc., so that the widget suits your site/blog better.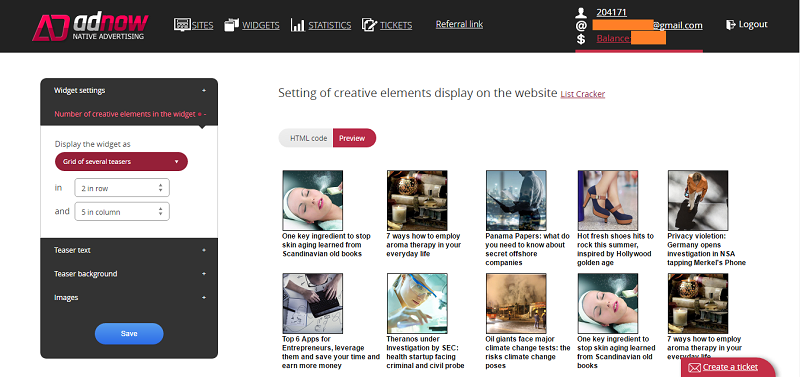 After creating your widget, copy the HTML code and paste it on your blog to show Native ads. It's that SIMPLE! Now, it's time to monitor the earning and performance, which can be done quickly from the STATISTICS tab.
If your blog is created on WordPress (as I've instructed you in our How to Start a Blog Complete Guide), instead of copy/paste the code, you can use the WordPress plugin developed by Adnow.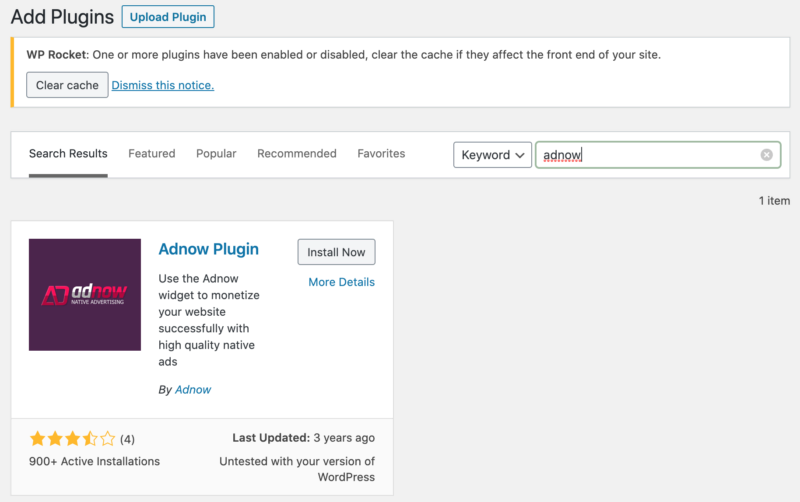 AdNow Referral Program
The AdNow referral program offers affiliates to earn 5% of the publisher's earnings for a lifetime from the date of signup. So, if you refer a publisher who is making $100 per day from Adnow, you will be receiving a commission of $5 per day.
This can be pretty lucrative if you can refer 2-3 such publishers every month.
However, the problem with Adnow is the low retention rate. This means publishers tend to go away from Adnow after a while, resulting in decreased referral commissions.
If you don't know yet much about affiliate marketing, you should check our affiliate marketing for beginners' complete guide. Also, here is a list of 65+ affiliate marketing high-paying programs that can inspire you. Now you should know enough about affiliate marketing, so check the best 21 affiliate marketing networks you can signup for.
AdNow Review Conclusion
To conclude this AdNow review, I must say, this is an ad network that every blogger must try who is interested in increasing their blog's revenue via Native ads.
It costs nothing rather than 5 minutes to get a publisher account on AdNow. So, I recommend you give it a try. Who knows, maybe this is your next goldmine.
If you have already tried this network, I appreciate your honest review in the comment section, as well as your questions and confusion (if you have any).
Further readings:
You can also directly join AdNow Official Digital Forum thread for more discussion by clicking here.