Want to find out how to monetize your crypto staying in your wallet? Please read the following YouHodler review, as we have one of the best solutions. YouHodler claims to help you unlock all benefits of crypto & fiat. Buy, exchange, stake, or trade your crypto at any time.
Ok. Let's find out more about YouHodler!
YouHodler review TLDR
I believe YouHodler is one of the best Crypto platforms that help you make money while keeping your crypto in a secure wallet.
You earn up to 10% APR on crypto and 8% on stablecoins on funds that are not locked as long as you have $100.
Take short-term loans using your crypto as collateral, so you are not forced to sell them at the market conditions if you need cash.
You can do up to 50X leveraged trading when you identify a market trend to gain more.
The only platform where you can trade forex pairs through stablecoins, with leverage up to 50X: EURS/USDT, TAD/USDT, TCHF/USDT, TGBP/USDT, PAXG/USDT.
It has Android and iPhone support, so you can take your cryptos on the go and do some trading while in the car, train, or commute.
Unlock the full potential of your crypto with YouHodler's Cloud Miner and earn rewards in BTC.
The affiliate program is very lucrative as you can earn 20% of the fees or $150 per signup paid in crypto or bank wire.
The two downsides I could identify are the unavailability of the US market and the lack of a clear explanation about the risk associated with leverage trading. Also, I would like to know more about the risk to members if an issue arises.

1. What is YouHodler?
YouHodler is a fully featured cryptocurrency platform that aims to help you make more money on your crypto. Why do I call it a fully featured platform? Because on YouHodler, you can buy, store, exchange, trade, lend, stake, and mine crypto.
This crypto platform is fully integrated with traditional payment systems like bank and card payments. This means you can quickly turn your fiat into crypto and vice-versa. Users' digital assets are safely guarded with Ledger Vault's advanced custody and Fireblocks security options.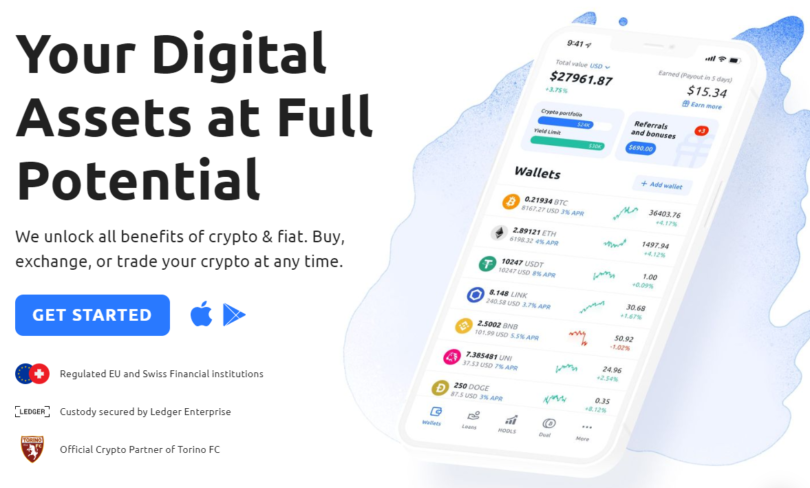 YouHodler is an E.U. and Swiss-based brand with regulated institutions in Switzerland, Italy, and other E.U. countries. Unfortunately, YoHodler is not yet available in the U.S. market, so you may have to skip it if you live there.
One thing that makes YouHodler step aside is that they don't go against the banks and regulations. Instead, cleverly cooperate with them, getting legitimacy and credibility.
The team behind YouHodler has strong and unique expertise in Commercial Finance, FX/CFD trading and Banking, and  Blockchain and Distributed Ledger Technology.
Continue reading our YouHodler review to find out the functionalities and how you can benefit from each of them.
2. Youhodler Features
Now that you know what it is, I will continue the Youhodler review with the features roundup. I will start with the most conservative ones and transition to the ones with higher rewards and risks.
Let's start with the wallets.
2.1 Wallets
The main functionality of YouHodler I consider to be the wallets. Using the wallet functionality, you can deposit, withdraw, convert, or open trading positions easily.
It's easy to open a wallet in Fiats (Swiss franc, Euro, British pound, and US dollar), Stablecoins (USDT, USDC, BUSD, DAI, TUSD, USDP, EURs, PAX, etc.), and of course, Cryptocurrencies. To name a few: BTC, ETH, BNB, SOL, XRP, DOT, LTC, EGLD, PAX Gold, etc., but there are many others.
Soon it will be possible to order a physical card with 5% cash back on purchases which will make the deposit and withdrawal of your funds even more accessible.
Now that I presume you have opened wallets in your favorite cryptos let's explore what other functionality you can use.
2.2 Exchange & Buy cryptocurrencies
You can exchange cryptocurrency, fiat, and stablecoins with real-time execution prices and low fees. Also, you can easily buy crypto with a credit card (Visa, Mastercard), ApplePay, your SEPA bank account, or your AdvCash account.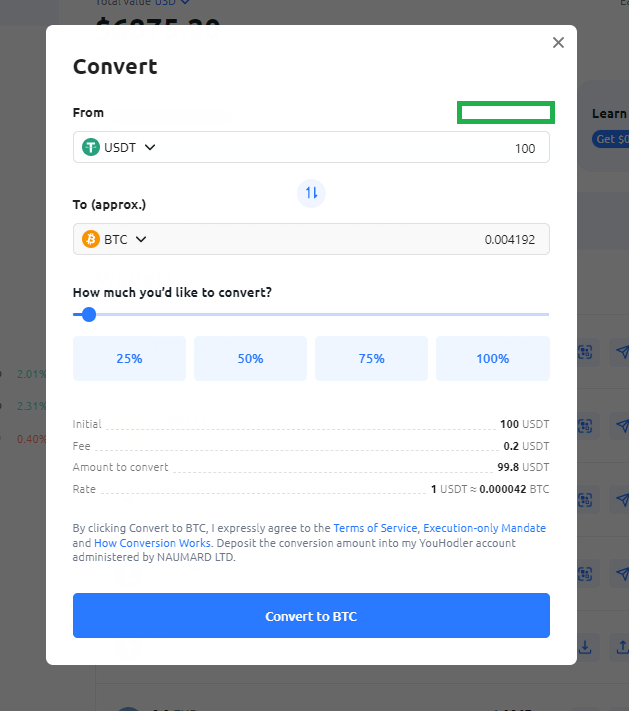 The picture above shows how easy it is to convert from one cryptocurrency to another and the small fees they are taking.
2.3 Earn Interest in Your Crypto on YouHodler 
YouHodler is one of the great ways for users to use their digital assets and fiat currency by earning interest from them. All you have to do is deposit funds in your wallet, and the interest will be automatically calculated and added to your balance weekly.
Remember that the interest is paid in the same currency, so you can't deposit ETH and earn interest in dollars.
The funds are not looked like in a staking account, and you can easily add more, withdraw or transfer when you want. Once you have at least $100 worth of crypto or stable coin in your wallet, the interest is transferred every week from the earnings account to your wallet, and you can easily use those funds as you wish.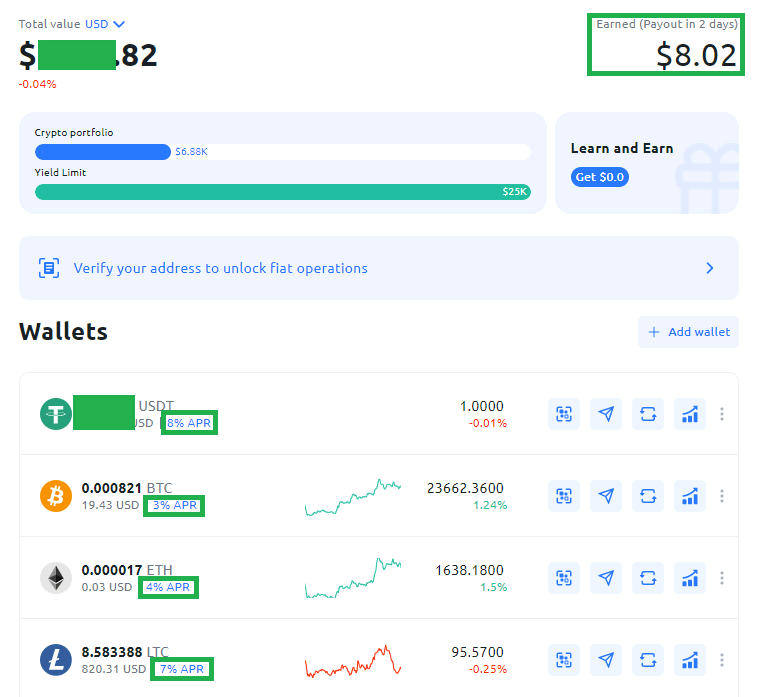 The interest rates are decent, in my opinion, as I always aim for high yet sustainable rates in the long run, and that's what YouHodler takes care of.  Right now, the highest one is 10% on Polkadot, 8% on USDT and most stablecoins, and 7% on LTC.

2.4 Cloud miner
Cloud Miner is a crypto mining simulator and reward system that rewards users for completing simple tasks. So while you do not want to mine bitcoins or other cryptocurrencies, you receive BTC for being active, resolving tasks, and opening trades.
I've made $18 worth of BTC for simple tasks. You can do much more if you're consistent with your engagement on the platform.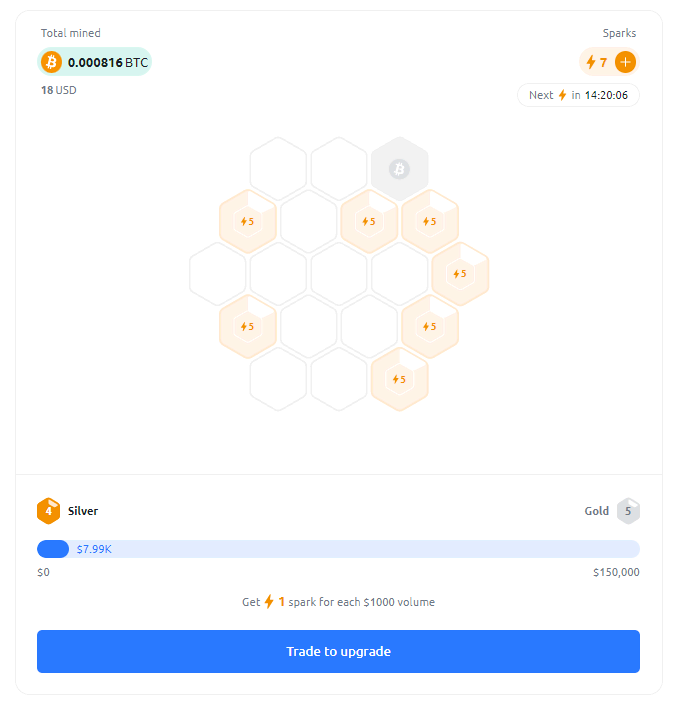 As shown in the picture above, eight mining blocks correspond to my account level. To start mining a block, click on it. Activation of the block is possible only with a sufficient number of sparks. The cost of activation is reflected on the block itself. Sparks are written off at the start of mining the block.
In my case, it costs five sparks to mine a block. If the block activation is successful, the mining time is displayed on the block. When the mining is completed, click on the corresponding block. After this action, your balance will be updated, and funds will be credited to your account.
Depending on your level, the conditions for using the Miner may vary. Detailed information about each level can be found by scrolling the Miner screen (or level tabs in the app).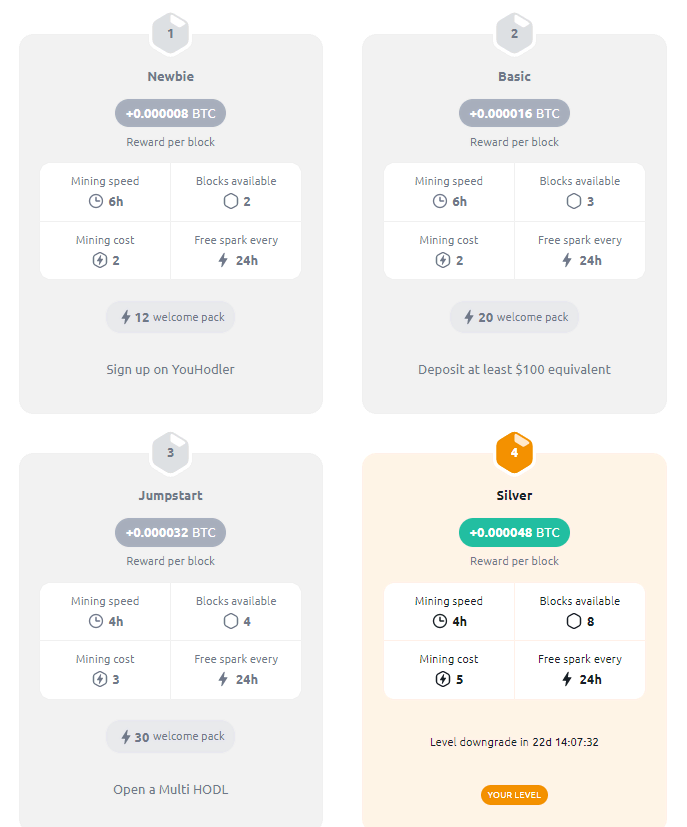 On the last available plan, VIP, you get 0.00012 BTC for each block. The mining speed is just 1H, and there are 19 mining blocks available. The mining cost is 25 sparks, and you get a free spark every 2 hours. However, there is a required monthly trading volume of $5M 🙂
2.5 Crypto loans
If you need quick cash but don't want to liquidate your valuable crypto assets, YouHodler is your solution. Their crypto loan feature stands out among its competitors, offering an easy borrowing process and minimum interest rates. I wish I had known about this about two years ago when I abruptly sold a large portion of crypto to pay my due taxes.
You can use more than 50 TOP coins as collateral for crypto loans with the highest loan-to-value ratio (90%). Get loans in EUR, USD, CHF, GBP, or even stablecoins or crypto and withdraw instantly to credit cards, banks, or exchanges. So you will not have to touch your crypto holdings, eliminating several risks associated with investment decision-making.
The loan-to-value ratio offered up to 90%. This means that if you have $1,000 worth of cryptocurrency and the LTV is 90%, you will be able to borrow up to $900. This is considered a competitive value making YouHodler one of your best options in cryptocurrency lending.
Before requesting a loan, check all the loan options available. Look for loan duration, extended loan duration, price down limit, and the loan-to-value ratio. After choosing the loan you desire, it usually gets approved in a few seconds.
You can get your initial collateral anytime when you repay their loan. Also, you can manage your loans through the in-built loan calculator.
2.6 Multi HODL
Multi HODL is the name of YouHodler's margin trading product. With Multi HODL, you can amplify your trading power by up to x50 or…..lose 100% of the crypto asset you used as leverage (the most you could lose on a non-margin trade as well).
Also, YouHodler is the only platform where you can trade forex pairs through stablecoins, such as EURS/USDT, TAD/USDT, TCHF/USDT, TGBP/USDT, PAXG/USDT, with leverage up to 50X.
While 100% is technically the maximum loss you can sustain,  Youhodler allows traders to set much more conservative "stop loss" levels. It also encourages Multi HODL users to set a "take profit" level for every trade.
MultiHODL Trading Example
Furthermore, I will explain how you can start a Multi HODL transaction. First, you should choose the pair you will place your trade on. In this case, it is BTC/USDT. Next, you should select the price direction you think it will go. I've chosen the first icon as I predict the price will decrease.
You can see the chart and select a different timeframe (1H, 24H, 7D, etc.) and a chart system between lines and candlesticks. After you've chosen all of these, things are getting dire, and I mean it. You should select the currency, the amount, and the leverage of your trade.
I've selected 1000 USDT and a leverage of 50X, which is the maximum. I never encourage you to do such a thing. A little shake in price can get all your money lost. Remember that in leveraged trades, when the amount lost meets your initial traded amount, the trade is automatically closed, and you lose the funds.
Leveraged Trading Example
To give you an example of having a better understanding of leveraged trading.
Let's say you start a 50X leveraged trading of $1000 USDT when BTC is $23688 aiming, and the price will go up. So you trade with $50,000 and purchase 2.11 BTC – virtually.
If the BTC price reaches $23788, you will make $50,211 – $49,000 borrowed = $1211 out of your initial $1000, so a $211 profit. But if there is a market correction and the price goes down to $23300, and you stop the transaction, you will lose  $50,000 – $49,163 = $837 out of your $1000.
I hope you understand why I consider 50X leverage in crypto very risky.
As for trading fees, MultiHodle is one of the most convenient options to trade crypto or stablecoins, with the lowest fees from the market, as there isn't any fee for opening & closing positions, and there is no commission for the 1st hour of your opened trades.
Don't forget to select and adjust your Take profit and Stop loss figures., After you have reviewed everything, click Start.
2.7 Dual Assets
Dual Asset combines the yield generation strategies from decentralized finance (DeFi) with the simplicity of traditional FinTech platforms. By doing this, they can offer you returns as high as 365% APR.
All major cryptos are available, including stablecoins. Depending on your strategy, you can choose a staking plan from one to five days.
Let's say you chose the 1-day BTC/USDT staking plan with a 365% APR. In the next 24 hours, you will get your BTC or USDT back, depending on the market price.
If the Bitcoin price is less than when you opened your position, you get your payout in BTC plus a 365% APR on your payment. But if the BTC price is the same or higher than when you opened your position, you get back your USDT plus the 365% calculated for one day.
Regardless of market volatility, you earn a payout in Tether or Bitcoin. The downside is that the staking can be done for short periods, so the overall return is not much, especially if there are market shakeups.
2.8 Turbocharge
With Turbocharge, you can use your crypto as collateral to get much more crypto and benefit in case of further price growth! Turbocharge is based on the cascade of loans principle.
When you predict a bull run, it is wise to accumulate more cryptos to gain maximum profits. With the Turbocharge feature, you can use your borrowed fiat money to repay your previous loan and purchase additional cryptos without commission. Also, you use your bought crypto and pledge them as collateral for other loans.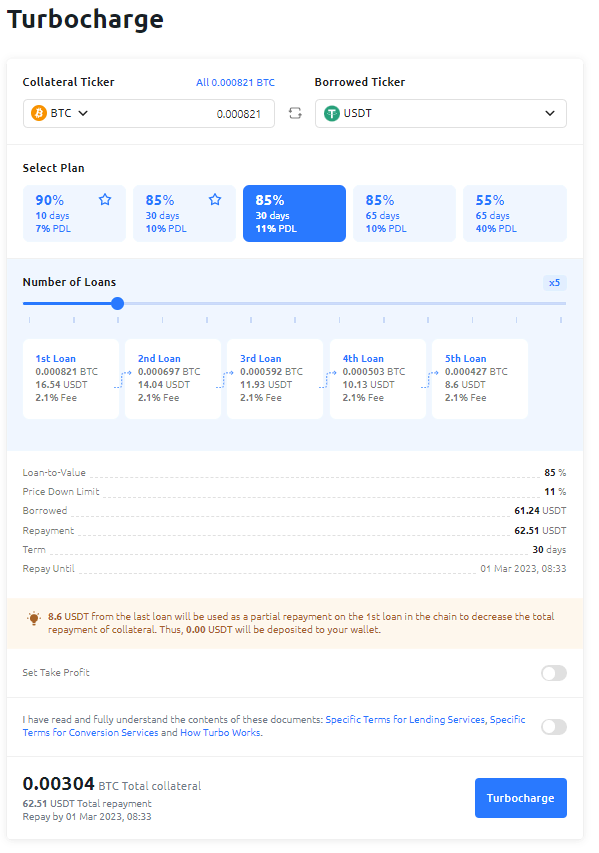 So, in a nutshell, instead of holding your crypto, you can use it in a complex system of loans as collateral to borrow and earn even more. But on the other hand, if the market is going in the other direction, you will have to pay more.
These are the main functionalities of YouHodler. Before going further, I'd like to remind you that cryptocurrencies are highly volatile, and adding loans and leverages can increase the risk of losing your money exponentially.

YouHodler offers a multitude of functions and tools that you can use to earn more with your crypto. While some of these methods, like the wallet, earning, and crypto mining, do not pose a considerable risk, the others are leveraged trading, turbocharger, or the loans system are for more advanced users and risk-taking individuals.
3. Fees of YouHodler Service
Now that you know the main features of YouHodler, I would like to discuss the fees involved. Below are the fees, commissions, and limits of the primary services YouHodler offers.
3.1 Deposit fees
Here is a roundup of the fees on deposits:
Bank wire fee per transfer – No Fees (except USD SWIFT – 25 USD per deposit; GBP – 20 GBP per deposit)
Min deposit amount by bank wire: 300 for GBP, 100 for USD/EUR/CHF
Bank card fee – 1%
AdvCash wallet payment – 1%
ApplePay – 1%
Bank card via AdvCash – 4.5%
Crypto & Stablecoins – No Fees
Min deposit with crypto – 5 USD in crypto equivalent
3.2 Withdraw fees
Bank wire fees per transfer: EUR (SEPA) – 5 EUR, USD (SWIFT) – 1.5% (min 70 USD), EUR (SWIFT) – 55 EUR, GBP/ CHF – 0.15% (55 GBP; 15 CHF min)
Min withdrawal amount by bank wire: 30 for EUR (SEPA), 100 for CHF, 300 for GBP, 500 for USD/EUR (SWIFT)
Bank wire processing time:
EUR (SEPA) – up to 2 business days, GPB, CHF – up to three business days, USD / EUR (SWIFT) – up to business five days
For Crypto, you can check the actual withdrawal fees in the withdrawal form of your wallet
Min withdrawal amount – 5-50 USD in crypto/Stablecoins equivalent, depending on the withdrawal currency
3.3 Loans fees
Min loan amount – 100 USD
Daily Fee – 0.0099% for 90% LTV, 0.032% for 70% LTV, 0.0548 for 50% LTV
Maximum loan duration – 364 Days
3.4 Trading fees
Low spreads
No fees for opening & closing positions
No rollover fee in the 1st hour since you started a transaction
I consider the fees affordable. Some of these fees are way better than the competitors, making YouHodler a recommended option for Crypto Trading, Crypto Backed Loans, For Crypto Savings & Staking
4. YouHodler Apps & Website
Before anything else, I would like to tell you that the YouHodler app is available in the Google Play and Apple apps store. So you are covered if you're using an Android phone or an iPhone. This makes it easier for users to manage their crypto portfolios on the go.
I use the iPhone app and the website. And one thing that I particularly like is that both the app and website are clean, and I can easily transition from one to another.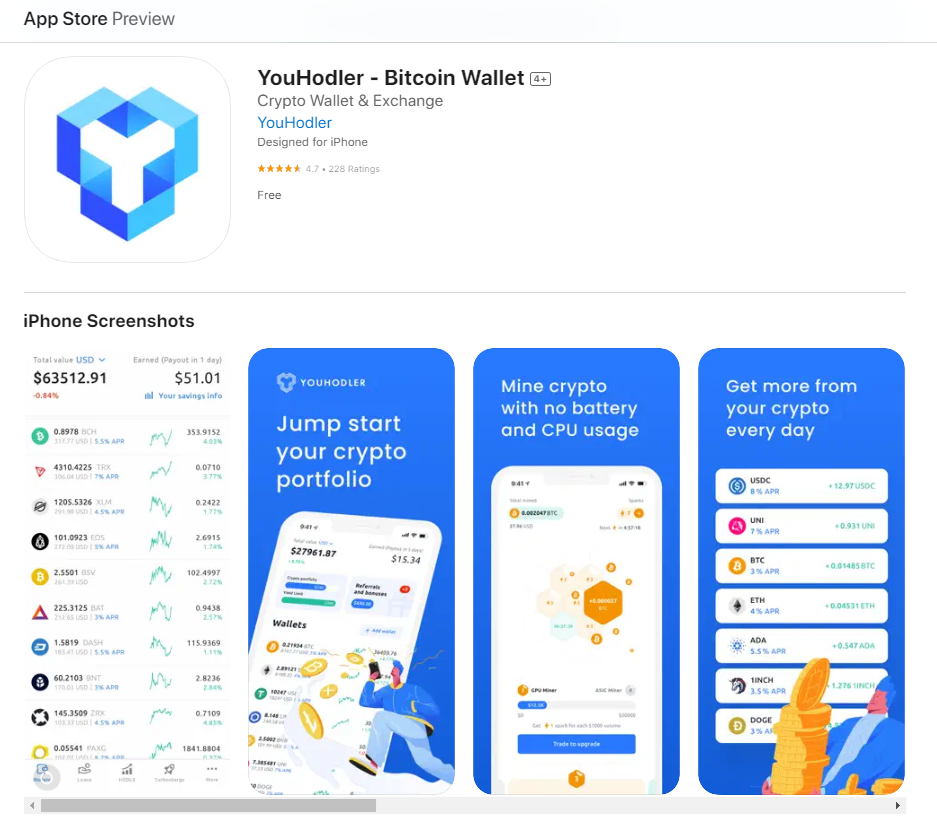 I checked both the app stores, and the reviews for the apps are positive, with a score in the app store of 4.7 out of 5 from 228 ratings. In Google Play, the app got a 4.3 rating out of 5 from 5400 reviews. Again, that's something you don't see every day. Hats off to the Youhodler devs and managers.
5. YouHodler Support
There are several ways to get support if you encounter issues with Youhodler or want to learn about new functionality. The first one I recommend checking is the Knowledgebase. You can read about the MultiHODL, DUAL, Loans, Savings, Wallets, personal accounts, and the affiliate program there.
If you can't find the answer, you can quickly contact a human representative through the live chat button in your members' area. Alternatively, you can email the staff at support@youhodler.com.
On top of that, you have social media accounts. You can interact with Youhodler staff and other users on Twitter, Telegram, Facebook, Youtube, Instagram, and Linkedin.
I find most reviews positive when I check the usual review websites like TrustPilot and Reddit. Of course, there are a couple of negative ones as well, mostly from people that couldn't verify their identity or the source of funds. So if you think at some point you will not be able to verify your ID or have some doggy funds, you may consider staying away from Youhodler.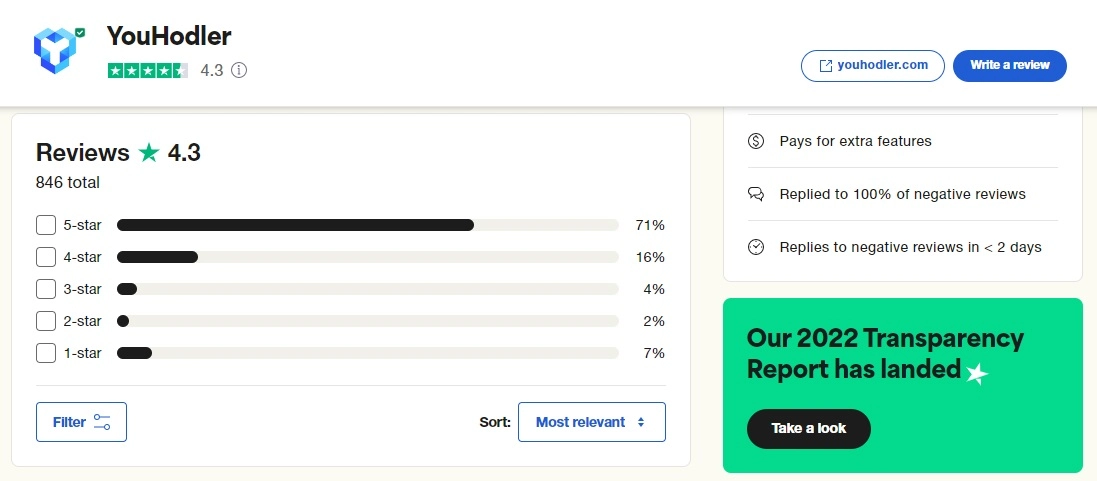 There is a plethora of support options, including live chat, email, helpdesk, and social media accounts, plus a telegram group where you can ask for help or guidance.
6. YouHodler Security
As with any other platform that deals with customers' funds, security is a fundamental matter that shouldn't be taken lightly. And we talk both about cybersecurity and funds security.
Youhodler secures their client funds in cold storage, which is safe and offline. Users' digital assets are safely guarded with Ledger Vault's advanced custody and Fireblocks security options which securely control their crypto assets with a multi-authorization self-custody management solution and $150 million pooled crime insurance.
Youhodler follows all the industry best practices for I.T. security checks, data protection, access rights, and data encryption. All credit card operations are under PCI Security Standards, and all crypto operations – are per Cryptocurrency Security Standard (CCSS). We run external security audits regularly.
They store fiat funds at reputable Bank accounts in Europe and Switzerland and partner with trusted fiat payment providers. Further, it legally binds the contract and follows E.U. guidelines and rules.
Another aspect of security I would like to touch on in this review is account security, as any cryptocurrency holder must make all they can to protect their funds. Youhodler supports 2FA, Anti-phishing code, trusted devices monitoring, and security activity logs.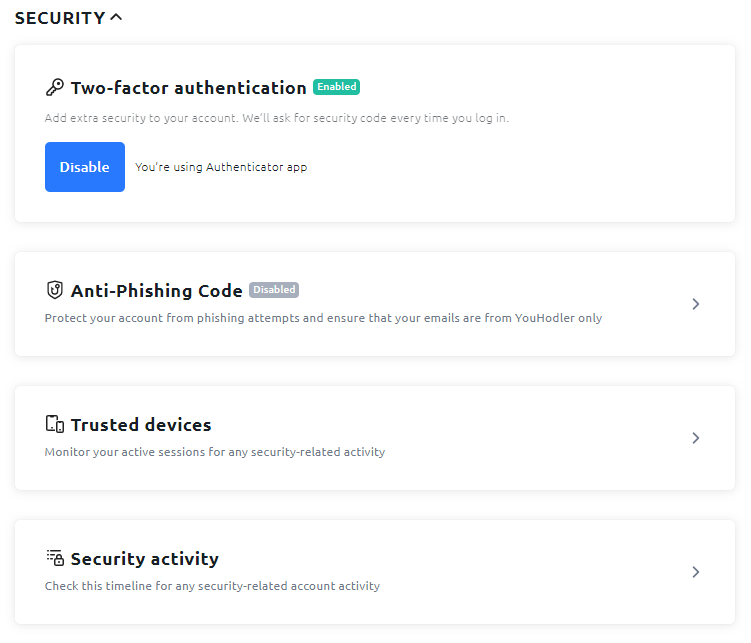 Use them to ensure you do your best to keep your Youhodler account secure.
Considering all the security measures Youhodler take,  it's safe to assume that all operations at Youhodler are secure, and they take cybersecurity very seriously, as any financial company should.
7. YouHodler Affiliate Program
YouHodler Affiliate Program TLDR
There are two commission plans of the YouHodler affiliate program: 20% rev-share and $150 CPA;
You can advertise up to 220 jurisdictions, but the U.S. is not yet available;
The website, landing pages, and creatives are translated into seven languages;
You can get paid in crypto, SEPA, or bank wire if you reach $200 in earnings.
With the YouHodler affiliate program, you can be part of this fast-growing company, get commissions for each client you bring, and become active. There are no restrictions on who can become a YouHodler affiliate as long as they follow the rules.
Here is a list of individuals and businesses that make money with the Youhodler affiliate program: Financial Blogs, Vlogs, Influencers, Introducing Brokers, Marketing Agencies, Crypto Investors, Crypto enthusiasts, etc.
You are welcome if you can drive high-quality traffic that converts and have a solid online presence, working with social media accounts, crypto educational platforms, channels, and other digital media.
YouHodler Commission Plans
You can choose from two commission plans, each of which has perks. You can select the 20% rev-share one or the $150 CPA that works best for you.

Below you can find the commission and the conditions for each.
Revenue Share 20%
Users who trade with Multi HODL pay the spread and rollover fees. As soon as the position is closed, the system automatically calculates 20% of the collected fees and sends the data as a commission. There is no minimum deposit to trigger this commission. The maximum commission generated per user is $500 or within six months.
$150 CPA
YouHodler pays you up to $150 per single client. First, you get $20 if the user opens a savings account by depositing crypto or stablecoins into the wallet. Next, you can get $130 if a user opens: a Multi HODL or Trubocharge (trading) deal worth $300, a Dual deal worth $990, or a Classic Loan worth $1990 or more.
YouHodler Affiliate Payments
The commissions are paid monthly, and you can request payment in crypto directly to your Youhodler wallet without any minimum amount to be withdrawn. You can earn interest for your commissions stored in the wallet.
If your minimum payout threshold reaches $200, you can request to receive your commissions paid in crypto to an external wallet or via SEPA bank wire. Accounts with a balance of less than $200, without YouHodler personal account, will roll over to the next month and will continue to roll over monthly until $200 is reached.
If you'd like to get paid via SWIFT, you need to reach a balance of $1000. Accounts with a balance of less than $1000 will roll over to the next month and will continue to roll over monthly until $1000 is reached.
You don't need to request the payout, as all payouts are processed manually in the 1st week of each month.
–> Signup for the Youhodler affiliate program and start earning
YouHodler Affiliate Program Creatives
What makes YouHodler stand out big time is its collection of creatives. Besides the localized landing pages, they have an extensive collection of creatives for their products, videos, email newsletters, and banners of different sizes.

The Youholder affiliate program is a well-rewarding crypto affiliate program that comes with two commission plans and offers all the tools you need to earn crypto by promoting Youhodler. Anything missing? A hybrid plan will appeal to more affiliates.
8. YouHodler Review: the PROs and CONs
There is no denying that YouHodler has impressive features and holds its own against competitors. In this section, I will briefly tell you the PROs and CONs of YouHodler so you can judge for yourself if the platform is a good fit for you.
YouHodler PROs
The interface of the platform is beginner friendly (straightforward);
Earn interest on your crypto holdings up to 10% APR;
You can easily borrow against your crypto;
Advanced trading and earning tools available;
The fees associated with the services are low;
Great Reward and Loyalty program;
The customer service is helpful, and there are also guides on the website
YouHodler CONs
Not available in several countries, including the U.S;
Quite strict verification procedures: KYC & AML;
The risk associated with some trading products is not CLEARLY mentioned;
As you can see from the PROs and CONs put side by side, I think the PROs outrank the CONs, yet that's for me as a user of the platform. You should research, analyze your risk and trading profile, and decide whether YouHodler is for you or…not.
9. YouHodler FAQs
Is YouHodler Legit?
YouHodler is a legit platform that offers a faster and easy way to secure a loan. It helps users trade and lend their cryptocurrencies on one platform.
Is YouHodler available in the U.S.?
Unfortunately, at present, YouHodler is not available to U.S. residents. A possible reason may be that the U.S. has strict rules about leveraged trading options. Another one is that companies need to extend money trading licenses to work with U.S. customers, which takes time to get. If you use YouHodler's services from the U.S. or other banned countries, your account may be frozen
Where Is YouHodler Based?
YouHodler is based in Cyprus, and its operations are in Switzerland.
Conclusion on the YouHodler review
To conclude, YouHodler is a legitimate platform that offers various features for cryptocurrency holders. This platform is well suited for beginners and intermediate crypto holders looking for a secure way to keep their crypto while earning interest instead of keeping their cryptos idle in a wallet.
Now the floor is yours 🙂 What do you think about YouHodler? Have you tried it?
Are you using an alternative and considering switching? Let me know in the comments form below.