Most people go to Pinterest for their fashion, home décor, and recipe inspirations. However, what they don't realize is that this platform is a massive sales and traffic source for businesses.
Despite the relatively small population of approximately 150 million users, Pinterest justifies the saying; the best things sometimes are in small packages.
This overly visual platform is increasingly becoming a vital source of customers for various online stores. Well, you shouldn't be an exception if you want to sell your online products alongside generating mass traffic to your website.
To succeed in this, check out the strategy below:
1. Know Your Audience
For any social channel, the best way to sell products is selling to know your buyer. This is why creating a persona should be your first step when planning your marketing strategy for Pinterest.
The audience persona should describe your potential customer's behaviour, interests, habits and other factors that may make the person interested in your products.
Better yet, Pinterest makes it easy to target your potential audience. Initially, Pinterest had a targeted advertising feature but has since changed to Pinterest Taste Graph with a whopping 5,000 categories.
With this, you can reach a specific audience on the platform. Note that the more redefined and specific your audience is, the better your chances of closing the sale.
2. Set Up Pinterest Business Account
When signing up, Pinterest by default opens a personal profile. Whereas running a personal account is awesome and great for your individual hobbies, it can't be compared with the power of a business account.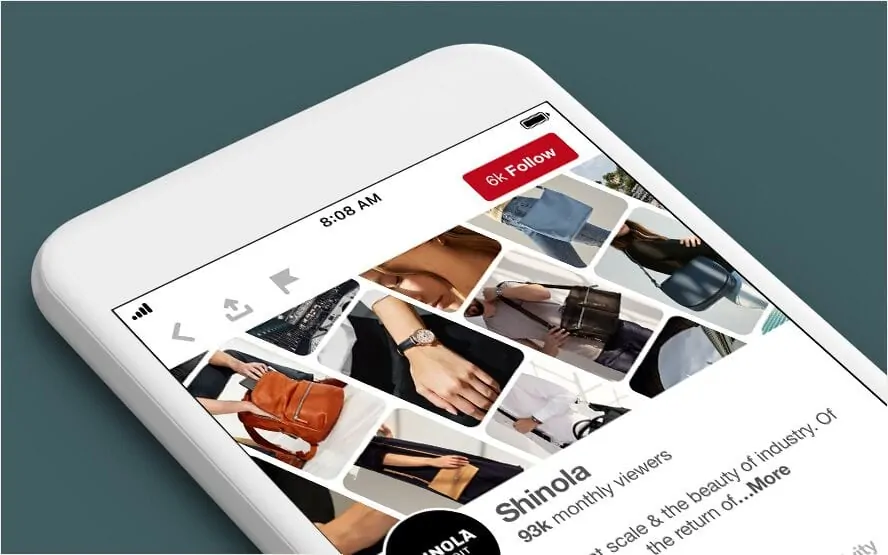 For starters, having a business account gives your brand more credibility. It also provides access to additional options that cannot be accessed by personal/standard users.
Like other social media profile accounts, ensure that you make the most of your profile. Like Google, Pinterest works like a search engine that relies on keywords and other aspects to give some context to your brand. A few things to note when optimizing your profile include;
Use keywords – including keywords to your brand name, pinned content and profile description is prudent.
Make the most of product descriptions – as you add descriptions to images on Pinterest board, link them back to your product pages.
Use hashtags – just like Instagram, Facebook, and Twitter, Pinterest makes the best of hashtags. Add some in your pins to make it easy for customers to find your products.
3. Create Buyable Pins
For sure, there are several great ways of selling through Pinterest. However, the easiest option will always remain the use of buyable pins. As the name suggests, these pins do as they say.
They enable Pinterest prospects to purchase items instantly from your Pinterest page. Installing buyable pins to your profile isn't daunting. You can simply download them from your browser.
4. Select Your Rich Pins Correctly
Well, buyable pins aren't the only ones worth having. Pinterest also has rich pins found in the Ads manager category that come in handy every other time. You can choose from various categories including;
Recipe pins
Article pins
Movie pins
App pins
Product pins
Place pins
Since you are trying to sell products, product pins should be your ideal choice. These pins give a code to place in your account and website, connecting your website to your Pinterest account. This means that any update, including real-time availability and descriptions from the store are reflected instantly on Pinterest.
5. Time Your Pins
Social media platforms all have their high-traffic time, Pinterest not being an exception. Hundreds of pins are always updated every minute and hour of the day. Therefore, how do you get your pin shine brightest?
All you need is your post to have as much repins as possible. Many people should repin your material so that it frequently appears to new users who could be potential customers.
The best hack to this is pinning at the right time and day. Consider pinning you're your target audience, and potential customers are online. From various sources and experts, the most appropriate time to pin is Saturday morning with the peak time starting from Friday 3pm. The worst time to pin is during normal working times, for obvious reasons.
6. Upload Pin-Worthy Images
As mentioned, Pinterest is a visual platform that is addicting and alluring to images. To increase conversions and generate traffic, you can't pin any image to your board. You should pin high-quality images, optimized for engagement. Well, what makes an image pinntastic?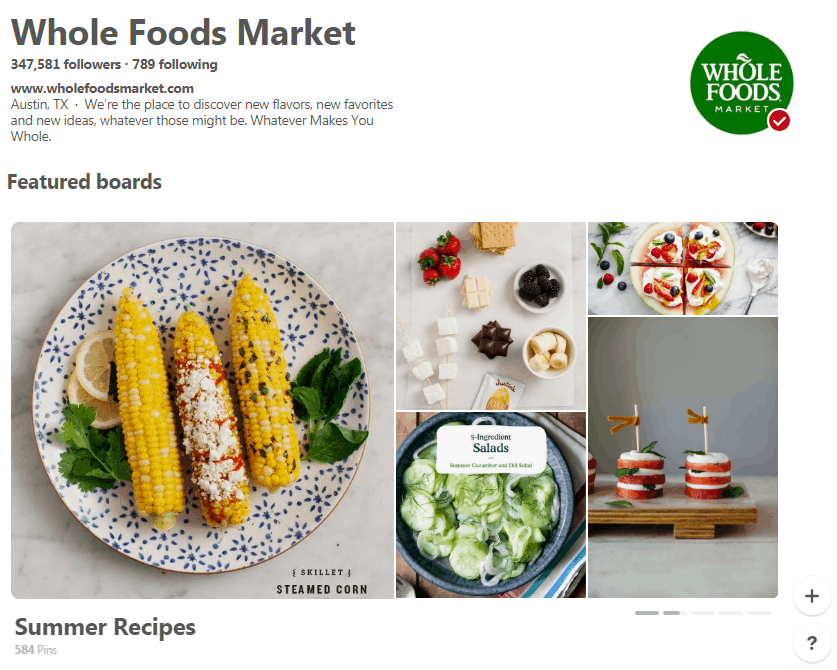 Photo credits – WholeFoodsMarket
Right size – if you don't know, Pinterest favors vertical images. This is because a significant percentage of Pinterest users view their feeds on mobile devices. Therefore, a perfect pinntastic image should have an aspect ratio of 2:3. Long pins are favourable as they take up more feed room, making it hard to pass.
Avoid faces – pinners will opt for simple product images than faces. Whereas pictures of people showing off your products are fine, make the product the image focus.
Have some color – a black and white image won't get as much attention as a vibrant colored photo. Therefore, keep the photo color in mind when taking product images.
Great photography – images poorly edited or pixelated pictures won't make the cut on Pinterest. Therefore, ensure that you create intriguing and unique images that suit your brand.
Always couple your photos with keyword rich caption, some catchy title, and useful information about your products that ensure you sell.
7. Join Pinterest Group Board
Joining a Pinterest Group board is the best way of generating traction to your blog or website. This is a community where Pinterest pinners can pin to the audience. Joining a board is not only the best way to increase traffic but also grow your audience base. Pin educative, insightful and interesting content regularly to increase your audience.
Finding group boards and getting to pin might be the only uphill task of this.
However, with tools like PinGroupie, you can easily search and find the most appropriate group board. Introduce yourself to the creator of the group, check the invite instructions and avoid overly salesy pins.
Conclusion
With the surge in Pinterest use, it is an appropriate time to leverage this platform to sell your products and generate traffic to your website. Several aspects of Pinterest can help you easily achieve this if done effectively.
On the contrary, you can also fail terribly if you don't observe simple Pinterest guides. Generating more traffic is the gateway to increasing your sales. Try the guides outlined above without forgetting the importance of social media in generating traffic.
Read more on Outbound.net about how to automate social media connection using bots for marketing.