Are you looking for the best WordPress translation plugins for your site? If so, keep reading.
It's a common misconception that most people worldwide understand English to a certain degree. But, even if that were true, why should they be forced to read websites in English all the time? Furthermore, you miss out on a considerably larger audience by offering your website only in one language.
Benefits of multilingual websites
If you are a website owner like me, I'm sure you have considered making your content available to people in countries other than the ones you primarily write for.
On top of that, creating a multilingual website is mandatory if you plan to access new audiences by going global or targeting a specific geographical location other than your main one.
Targeting multiple languages will massively increase your audience, bring more readers and customers, improve your international SEO rankings due to lower competition, and increase your brand awareness and market share.
If this hasn't convinced you yet, check the table below to find out which are the top 10 most spoken languages worldwide:
| Language | Total Speakers | Native | Non-Native |
| --- | --- | --- | --- |
| 1. English | 1,132 million | 379 million | 753 million |
| 2. Mandarin (Chinese) | 1,117 million | 918 million | 199 million |
| 3. Hindi | 615 million | 341 million | 274 million |
| 4. Spanish | 534 million | 460 million | 74 million |
| 5. French | 280 million | 77 million | 203 million |
| 6. Arabic | 274 million | 245 million | 29 million |
| 7. Bengali | 265 million | 228 million | 37 million |
| 8. Russian | 258 million | 154 million | 104 million |
| 9. Portuguese | 234 million | 221 million | 13 million |
| 10. Indonesian | 198 million | 43 million | 155 million |
Now ask yourself: How much would you benefit in traffic, leads, and sales if you could also target these audiences?
With those figures in mind, I would like you to check our review of Linguise, the tool that can make it possible.
Who can benefit from a multilingual website?
The figures of people who speak various languages you probably don't target already have yet to convincemust you that you need a multilingual website.
Use cases where a multilingual website is an absolute must for your business:
All kinds of businesses are from countries with multiple official languages, like the US, Switzerland, Canada, Belgium, Austria, Indonesia, etc.
eCommerce businesses want to expand their customer base in countries with people interested in your products.
Vendors that sell internationally have to offer support and documentation in multiple languages.
Digital publishers are willing to increase advertising and affiliate marketing revenue by targeting new audiences.
Online businesses want to rank in Google and other search engines for local keywords.
Businesses with a physical presence in multiple countries want to target local customers.
Businesses are willing to gain a competitive advantage by targeting new countries before their competition.
As you can see, there are many situations where a multilingual website will help you.
The reasons are one or more of the following:
Comply with legal regulations
Help you sell more
Get better SEO rankings
Increase your revenue,
Offer support and documentation to your customers
Gain a competitive advantage over your competitors.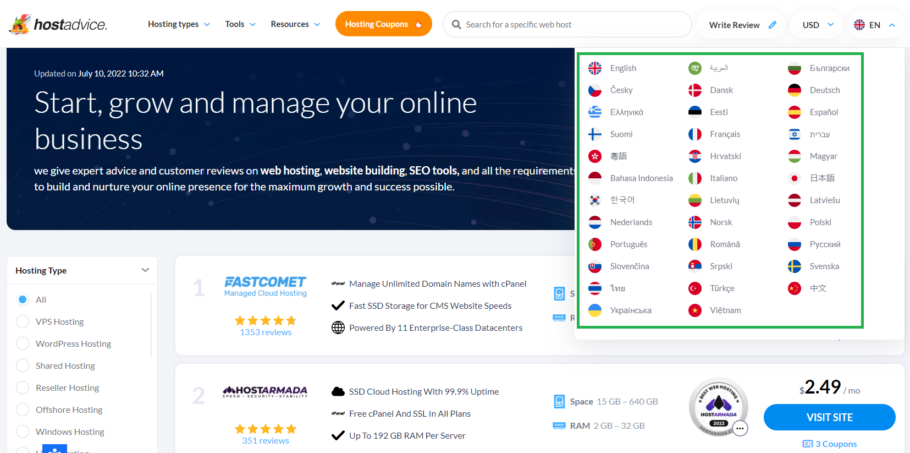 The picture above shows how a hosting review affiliate website makes its content to 36 more countries to get more readers and increase its affiliate marketing revenue.
You may now wonder how you can reach speakers of other languages with your WordPress website. A WordPress translation plugin can be a great place to start, and I will show you how.
How to choose the Right WP Translator Plugin
If you want to offer your content in multiple languages to attract other audiences, you need a WordPress translation plugin to manage the translated content and everything related.
The two main types of WordPress translator plugins:
Auto-translate: These plugins use online services such as Microsoft and Google Translate to generate translated versions of all your website content. The translated content is not perfect, as would be done by a translation company. But with all the advancements in neural translation, it's close to that. These plugins can consume less data storage than self-translate ones as the translation is often 'on-demand.'
Manual-translate: Also known as multilingual plugins, these plugins need you to enter the translated content. While this can be time-consuming and costly as it requires the services of a professional translator, the results are generally excellent.
Some plugins offer the best of both worlds in that they use an online translator but then allow you to make corrections and tweaks as appropriate.
Which plugin you will use depends much on what you are trying to achieve.
Choose an AutoTranslate Plugin
You are targeting 5+ languages;
The website has many pages (50+);
You are ok with decent translation but not perfect;
The content of your website gets updated often.
Choose a Manual Translate Plugins
You are targeting only 2-3 languages;
The website doesn't have many pages;
You are ok with paying more for professional translation services;
You will not update the content too often.
If you have a small or medium website and want to target 1-3 new markets, it would probably be better to opt for a self-translate and get the help of a translation service to provide the content. However, you must pay a translation service to update the translated pages to match the original whenever you change a page.
On the other hand, if your website has hundreds of pages or products and you want to target 4+ new local audiences, then an auto-translate one would probably suit you better. Otherwise, the cost and time to create all the translations will go through the roof.
Top WordPress Automatic Translation Plugins
We will now give you our handpicked selection of plugins to help you translate your WordPress website quickly and easily. All work with version 6 of WordPress (most are compatible with 5.8) and were recently updated.
| Plugin | Auto/Manual | Reviews | Price | Trial |
| --- | --- | --- | --- | --- |
| 1. Linguise | Automatic | 5/5 | $25/year | One month |
| 2.TranslatePress | Manual | 4.7/5 | $162/year | FreeVer |
| 3. WPML | Both | 4.1/5 | $99/year | MoneyBack |
| 4.MultilingualPress | Manual | 4.2/5 | $299/year | MoneyBack |
| 5.Weglot | Automatic | 4.8/5 | $59/year | Ten days |
| 6. Gtranslate | Automatic | 4.9/5 | $29/year | 15 days |
| 7. Polylang | Manual | 4.7/5 | $90/year | FreeVer |
Linguise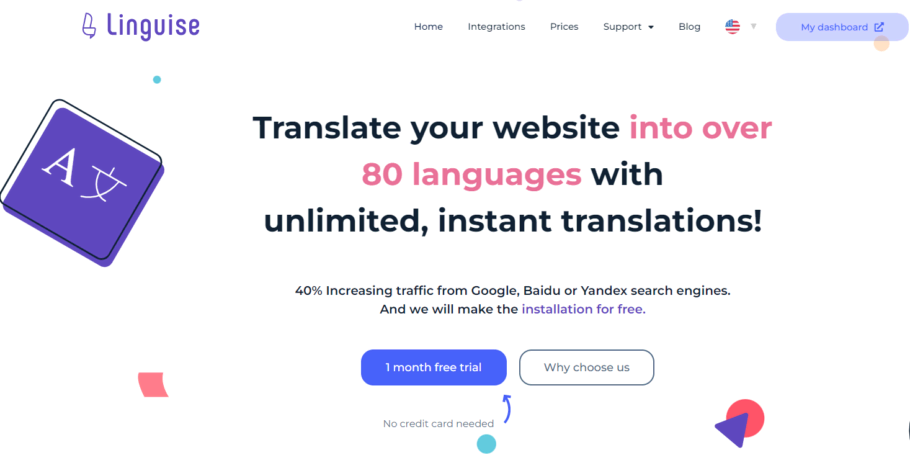 If you are looking for a cost-effective and super easy-to-install solution, we have it for you. Linguise it's a SaaS automatic translation tool designed with multiple CMS integration, including WordPress. It makes it incredibly easy to create a multilanguage WordPress website. The tool uses neural automatic translation models, making your website's translation into over 80 languages easy and cost-effective.
A couple of things make Linguise stand up from the crowd. The first one is that it is super easy to translate a WordPress website. All you have to do is sign up to Llinguise, add your website, install the WP plugin on your site, and configure the language switcher. That's it. The translation will start in the background.
You can refine the translated content manually using a visual front-end- editor or the Linguise Dashboard. You can have a fully multilingual, SEO-friendly site in minutes with a simple setup process and automatic translation support.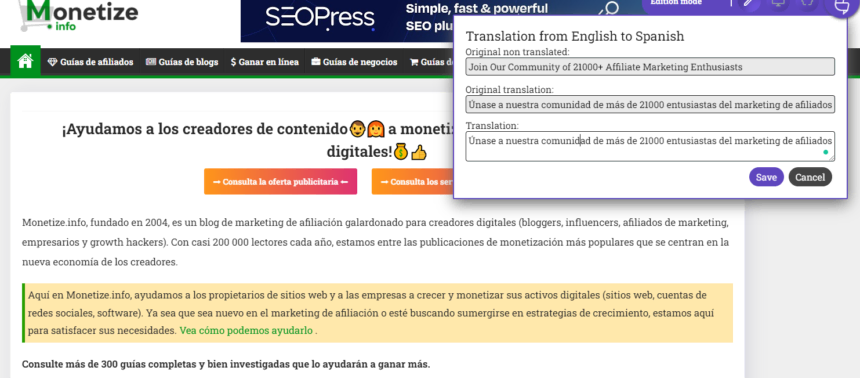 Another great thing is that Linguise is compatible with site builders and CMS that run PHP, including WordPress, WooCommerce, Joomla, and OpenCart.
Key features of Linguise Automatic Translation Tool:
One of the best  neural machine automatic translation tools
Automatic translation of all your site content in 80+ languages
SEO-optimized automatic translations, including URLs and links
Multilingual translation revisions
Compatible with multiple platforms and CMS
Possibility to make search queries in any languages
It doesn't affect your website loading speed as the translations are hosted in the cloud
Uses a cost-effective monthly pricing structure based on the number of translated words
One-month trial period with full access to all the features; no credit card needed
PROs of
Linguise
It offers automatic translations;
It doesn't affect the website loading speed;
Automatic translations are accurate;
It's beginners friendly;
It is international SEO compatible;
Works perfectly with page builders like Gutenberg, Elementor, or Divi and any theme;
Friendly prices.
CONs of Linguise
It doesn't have a tool that measures how many words my website has;
The translated words' quota can get depleted pretty fast;
The translated content will no longer be available if you cancel your subscription.
As you can see from the PROs and CONs of Linguise, put side by side, I think the PROs outrank the CONs considering the new audience and new SEO ranking you will get.
Linguise pricing
Linguise uses a monthly pricing structure based on the number of translated words. It currently has three paid plans available.
The Start Plan costs $15/mo for 200,000 translated words.
The Pro Plan costs $25/mo for 600,000 translated words.
Meanwhile, the Large Plan has unlimited translated words at $45/mo.
Each plan has unlimited languages, page views, and a single-site license.
Linguise offers a one-month free trial without having to add your credit card. You can test out its full features without taking any risks. I suggest you read our Linguise review and get a free trial to test it thoroughly.
Further reading(s):

Get Linguise
Linguise Demo
TranslatePress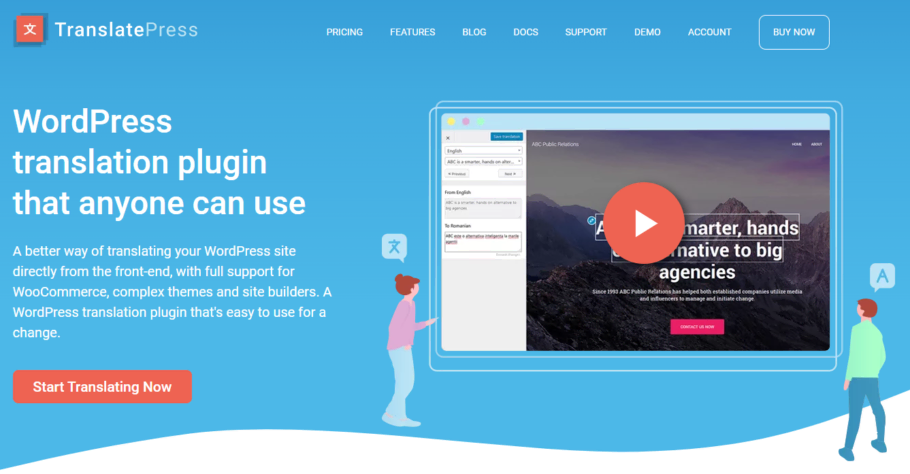 TranslatePress helps you translate your website in front-end mode rather than in the back-end mode of WordPress, as most of their competitors do. There's support for both manual and automatic translation methods. It's compatible with Gutenberg blocks, shortcodes, WooCommerce, and most themes. You'll also be able to translate metadata with its SEO pack addon.
You can add language switchers with a simple shortcode and translate dynamic get text added by WordPress and your other plugins and themes.
TranslatePress has more than 100,000 active installations and is regularly updated by its developers. The plugin makes it possible to translate your entire page at once.
Like WPML, MultilanguagePress, and other self-hosted translation plugins, your translations stay with you rather than being stored off-site.
Key features of TranslatePress:
Live preview of translated pages in the editor
Translates images, sliders, and other media, as well as regular content
Manual and automatic translation support (integrates with Google Translate API)
Language switchers can be placed anywhere via shortcodes, as WordPress menu items, or as dropdowns
Translation of Gutenberg blocks
Ability to translate only specific paths or exclude content from translations
Facility to publish content in your default language only until all translations are complete
Keyboard shortcuts
Google Translate & DeepL integration
Addons for SEO and multiple languages
PROs of
TranslatePress
There is a limited free version available
Very easy to install, configure and use
It's not using many resources
It is SEO friendly
CONs of TranslatePress
Limited SEO support in the free version
TranslatePress prices
There are three pricing plans for TranslatePress.
The Personal plan costs €89 and can be used on one website. It has an advanced translation interface; it integrates with Google Translate, the SEO pack, and multiple language add-ons.
The Business plan costs €159 and can be used on up to three websites. It has all the features of the Personal plan but also comes with Translator accounts, DeepL is automatic and automatic user language detection.
A Developer plan at €249 has the same features and add-ons as the Business plan but comes with unlimited site support.
All plans come with premium support and updates for one year.

Get TranslatePress
TranslatePress Demo
WPML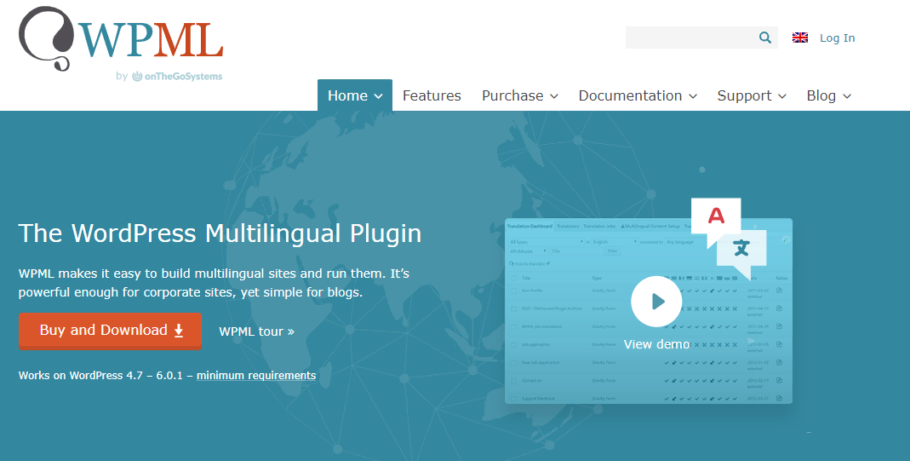 One of the oldest WordPress translation plugins is WPML. This premium-only plugin targets bloggers, businesses, and WordPress development agencies looking to build multilingual websites in WordPress.
Most themes and plugins that offer multilanguage capabilities are compatible with WPML immediately. This makes WPML quite a standard in translation plugins. It has plenty of modules that enable you to translate content, WooCommerce products, themes, and plugins.
Some features that make WPML stand out are automatic browser language detection, unlimited manual translations, Woocommerce and page builders support, and attachments in different language management.
On the other hand, I wouldn't say I like that WPML loads a lot of load to the database by keeping all the translated content, the meta information about pages, and much more in the website's database. Besides that, it has a modular approach, but if you want to translate a website, you still have to install at minimum 5-6 WPML plugins, as you can see in the picture below: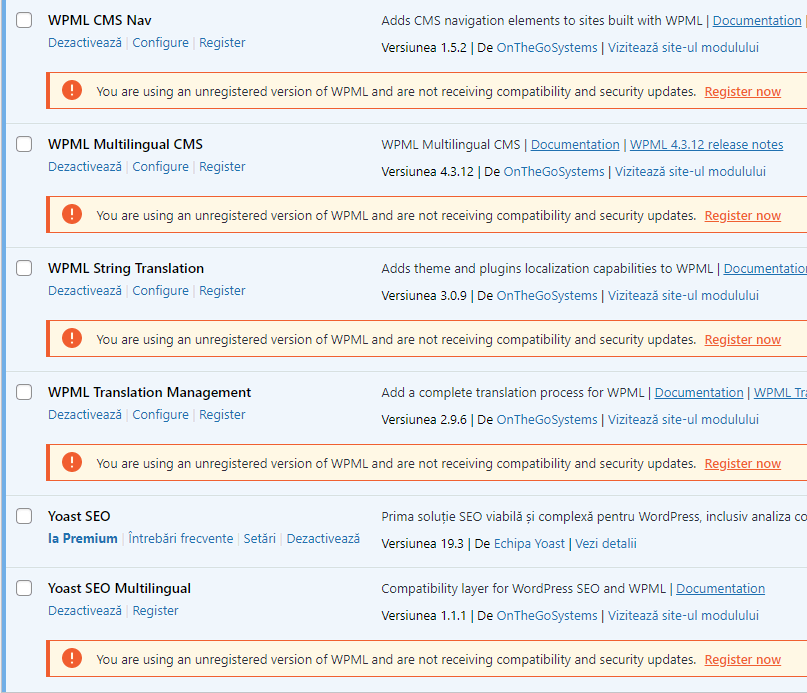 On a positive note, it does its job and works well for small and medium websites that do not receive content updates too often.
PROs of
WPML
You can translate all WordPress elements: content, media, menus, etc.;
It's compatible with most themes and plugins.
It is international SEO compatible;
You can install only the add-ons that you need;
CONs of

WPML
It burdens the website significantly as it duplicates everything in the database;
It's difficult to update translations when you change the default content;
Beginners will find it challenging to use it.
WPML Pricing
Regarding the pricing, the plugin comes with three paid plans: Multilingual Blog, Multilingual CMS, and Multilingual Agency.
The first one, the Multilingual blog plan, costs $39 per year and aims to help you make your blog multilingual. It comes with one site limit, no eCommerce support, no page builder support, and no automatic translation credits.
The second one, Multilingual CMS, costs $99 annually and aims to help you translate your website. It has a three websites limit, eCommerce and page builder support, and 90K automatic translation credits.
Multilingual Agency is the latest plan, costing $199 per year. It has unlimited website support and features from the Multilingual CMS plan and 180K automatic translation credits.
All account plans include support and updates for a year and are covered by a 30-day money-back guarantee. So if you purchase WPML and are unhappy with the results, you can contact the support department and request a refund in 30 days.
Get WPML
WPML Demo
MultilingualPress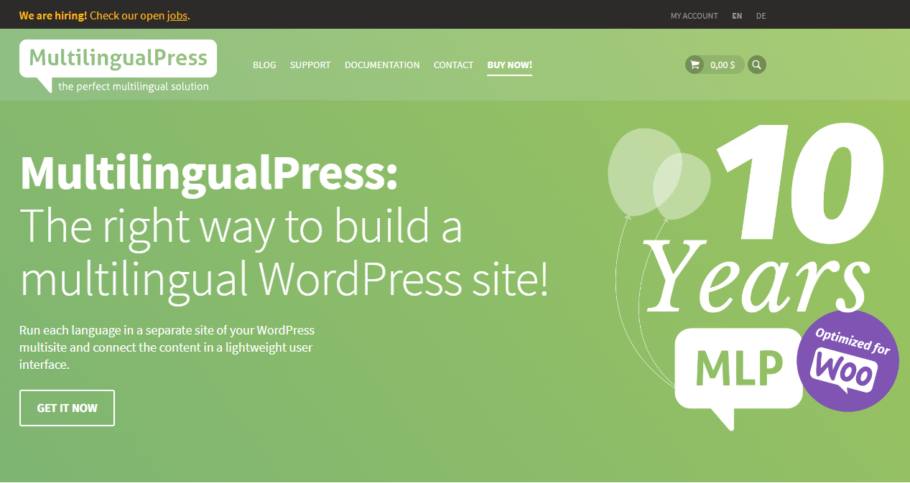 Unlike WPML and other translation plugins for WordPress, MultilinguaPress takes a different approach. To not add so much burden on the WP database and to improve performance, it uses WordPress Multisite to create and synchronize multiple WP installations for each language. In contrast, most other multilingual plugins load all languages but display only one, hindering site speed and performance.
Key features of MultiPress:
Translate WordPress content, including posts, pages, etc., and custom post types
Automatic translation is available with WP Auto Translate.
Auto-redirect visitors based on their browser language settings
Compatible with page builders and WooCommerce
SEO friendly, including Yoast synchronization (using an addon)
Ability to duplicate a site as a full copy of an existing one
When deleting a post or page, you can simultaneously delete the corresponding translations
Ability to use top-level domains per each language, e.g., yoursite.fr, yoursite.de, yoursite.co.uk, etc.
MultiPress pricing
The Standard plan is $99/year and offers three languages on one multisite.
The Pro plan is $299/year and offers six languages and three multisite installations.
For $599/year, you can get the Agency plan which includes 18 languages and nine separate multisite installations.
All plans come with premium support and updates for one year. Also, there is a 30-day money-back guarantee, so if you don't like it, you can return it and get the money back.
MultilingualPress has been around for ten years and, with over 200,000 downloads, is one of the most popular WordPress multilingual plugins on the market.
Get MultilingualPress
MultilingualPress Demo
Weglot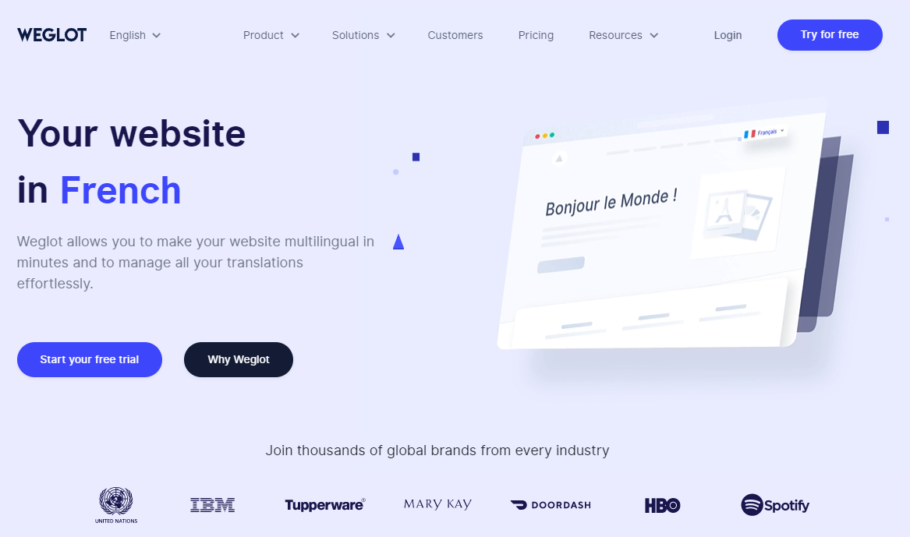 Weglot is a mighty manual and automatic translation plugin that seamlessly integrates with your site to make it available in your chosen languages. The setup process is as effortless as possible, and you can have your multilingual site up and running in minutes.
Weglot comes with powerful translation management tools. It even lets you collaborate with your team and professional translators. The best part is that the plugin follows all the best SEO practices for multilingual sites.
It utilizes Google Translate to do automatic translations, and the great thing about that is Google is constantly learning to improve the quality of its translations.
Key features of Weglot:
Automatic content detection and translation
It offers a free word count tool to estimate your needed translation credits.
The first layer of machine translation is from providers such as Microsoft, DeepL, Google, and Yandex.
Visual translations editor for manual amendments – allows you to see how the translated pages will look.
Hire professional translators directly from within Weglot.
Multilingual glossary for storing terms, brands, and product names to keep translations consistent.
Auto-redirect visitors to display your pages in the visitor's language based on their browser settings.
All website content, including email confirmations and pop-ups, can be localized and translated.
Up to 10 translated languages and 1,000,000 words (dependent on the plan purchased)
PROs of
Weglot
Easy to use
SEO-friendly
Well supported & documented
CONs of Weglot
A bit pricey
Less reliability on machine translation
Weglot prices
The free plan of Weglot offers you one language and 2K words suitable for minimal websites.
The Start plan is $12/month, offering you one language and up to 10K translation credits.
The Business plan is $23/month and offers you three languages and 50K translation credits.
For $59/month, you can get the Pro plan which includes five languages and 200K translation credits.
For $239/month, you can get the Advanced plan which includes ten languages and 1 million translation credits.
Finally, the Extended plan, which costs $599/month, offers you 20 languages and 5 million translation credits.
All the plans come with a 10-day free trial that you can cancel before being billed.
Weglot is a solid solution for translating a WP website. However, I consider it expensive as the pro package for a small website costs $490 per year with only five languages included. There are better alternatives.

Get Weglot
Weglot Demos
GTranslate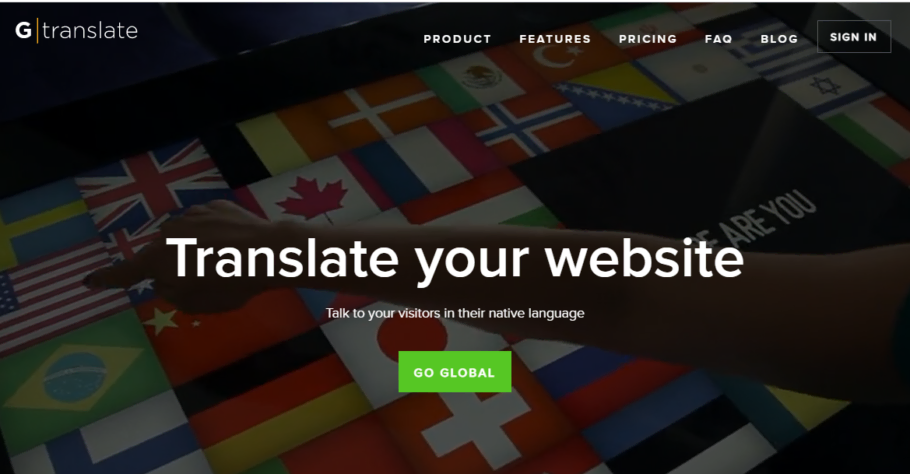 GTranslate uses Google Translate features but hides some unwanted displays that come with the API. It will auto-switch to the correct language based on the visitor's browser settings, and you can customize it based on your preferences, even down to alternate flag icons.
With support for 103 languages and full SEO compatibility for paid plugin versions, GTranslate is an excellent choice to monetize your site by reaching the most influential audience worldwide. It's also fast — by handling translations in the cloud, there's virtually no impact on your site's performance.
In free and premium versions, GTranslate boasts an impressive array of features that combine automatic and human translations to minimize costs and do accurate translations as quickly as possible.
Key features of Gtranslate:
The free version of the plugin provides features like:
Translate posts and pages, categories, tags, menus, widgets, themes, and plugins
Bi- or multilingual
Unlimited words and page views
Multilingual SEO, including Yoast compatibility and schema.org microdata translation
Neural translation for enhanced translation quality
Search engine-friendly URLs
Google Analytics integration
URL structure can be sub-directory (sitename.com/es/) or sub-domain (es.sitename.com) based
Manual editing of automatic translations
Media translations
WooCommerce compatible
Live chat support
Gtranslate prices
There are five pricing plans for Gtranslate.
The Free plan helps you to translate the website using a widget that gets machine translation from Google. It doesn't come with search engine indexing; you can not edit translations or URLs. Also, the translations are not hosted.
The first paid plan is the custom one and costs $10/month for a bi-lingual site or $20 to access all languages. Instead of machine translation, using neural translation comes with unlimited words and pageviews, search engine indexing, and the option to edit the translation.
The startup is the next plan and costs $20/month. It has the same features as the custom plan but gives you access to all languages.
The Business plan costs $30/month; it has all the features of the startup plan but allows you to edit URL translations.
Enterprise is their highest plan and comes with all features of previous plans but allows you to host your translations on top-level country domains.
Over 300,000 active downloads of the plugin are currently in operation. Additionally, it has an impressive user rating of 4.9/5.0.
Get Gtranslate
Gtranslate Demo
Polylang

Polylang is a WordPress translation plugin that simplifies creating a bilingual or multilingual site. You begin by creating posts, pages, categories, and tags as usual. Then, it would be best if you defined the language for each. A post's translation, whether in the default language or not, is optional.
Key features of Polylang:
Unlimited languages with RTL language script support
Automatic download and updating of WordPress language packs
Translate all elements such as menus, widgets, posts, pages, categories, tags, etc., and custom post types and taxonomies.
Language is set by the content, language code in the URL, or using different domains or subdomains for each language.
Ability to add a customizable language switcher in the navigation menu or as a widget
WPML API compatible
Translate slugs in URLs
Languages can be enabled or disabled
Premium support
Polylang pricing plans
The FREE plan of Polylang allows you to translate posts, pages, media, categories and tags, custom posts, taxonomies, widgets, and menus. Also, you can use subdirectories, subdomains, or even separate domains for your translated website.
The PRO plan costs 99 euros per year and, on top of the features in the FREE plan, allows you to share the same slug for translations, translate slugs in URL, duplicate posts across languages, integration with ACF Pro, and premium support.
The Polylang for WooCommerce plan costs 99 euros/per year and allows you to translate products, categories, tags, and global attributes. You can also synchronize categories, tags, shipping classes, features, images, and stocks and send emails in the customer's language.
The Business plan is the highest one and costs 139 euros per year. Besides the Polylang for Woocommerce plan features, you can synchronize the cart across multiple domains, translate slugs in URLs, duplicate the content when translating, disable or enable languages, ACF PRO integration, and premium support.
Polylang has over 600,000 active downloads, and it has attracted a user rating of 4.7/5.0 stars, making it a safe bet for making your website multilingual.
Get Polylang Pro
Try Polylang Demo
WordPress Translation Plugins FAQ
How to add Google translate to WordPress?
There are multiple ways to add Google translate to WordPress. If you want to add the Google Translate widget to WordPress, you can use a plugin like
Google Language Translator
. However, this translation doesn't bring any SEO benefits and is not as good as neural translation. If you want the best Google translator for WordPress, we recommend using a plugin like Linguise, Gtranslate, or Weglot.
How to translate a website?
The two main ways to translate a website are manual translation and automatic translation. For manual translation, you have to hire a translation company that delivers the translated content, and you will have to upload it on your website. If your website is on WordPress, you can use WPML, PolyLang, MultilingualPress, or TranslatePress. Automatic translation does everything automatically, and you can use a service like Linguise, Weglot, or Gtranslate.
Takeaways
Things to remember when choosing a WordPress language plugin:
Choose one WP translator plugin that follows all multilingual SEO rules to avoid getting a penalty for your website.
Ensure you check before installing any language plugin compatible with your current setup of plugins and themes.
Create a backup of your site to roll it back should something go catastrophically wrong.
If you choose an automatic translation plugin, add languages slowly; otherwise, you may deplete your SE crawling budget or trigger a duplicate content penalty.
Conclusion
Is your website already bi- or multilingual? If so, how have you achieved that? Are you using a WordPress translation plugin to automatically translate it into several languages, or do you do it manually, as you only offer one or two alternative language options?
Which translation plugins are you using, and do you have a particular favorite? Please share your experiences with other visitors and us in the comments below.