Through native advertising, you can offer visitors relevant content at the right times. Doing this you will be able to make nice profits by advertising the right CPA offers.  Gone are the days of seeking users out and forcing them to witness an ad that may or may not be relevant to them.
Teasers don't work anymore. At least, they don't work the way they worked before. You'll keep wasting your budget, even if you're an experienced marketer and have already changed several networks.
Guys, the system is still working; the thing is, people just DON'T HAVE MONEY, OR THEY ARE RELUCTANT TO SPEND due to the pandemic.
People see an ad, click on the banner, follow the link… look through the website and close the tab.
What should we do then?
The answer is clear: sell stuff to those who have money.
Using Taboola is a great option, as this network helps target wealthy audiences.
1. A word about native advertising first
Native advertising is an online marketing method that involves using paid ads that match the website's look and fit seamlessly into the surrounding content.
It lets you target a highly relevant audience and display your content to people who might be interested in your product or service. Both their authenticity and non-intrusive nature make users enjoy quality native ads.
In most cases, when we talk about native advertising, we refer to content recommendations widely spread across websites, especially blogs and magazines. The secret to Native Advertising is that it is non-disruptive, meaning it exposes the user to advertising content without trying so hard.
According to a survey conducted by Sharethrough, native ads drive more attention and brand lift over the traditional display.

1.1 Native Advertising Performance Stats
Consumers looked at Native Ads 53% more frequently than display ads.
25% more consumers were measured to look at in-feed Native Ad placements than display ad units.
Native Ads registered an 18% higher lift in purchase intent and a 9% lift for brand affinity responses than banner ads.
32% of respondents said a Native Ad "is an ad I would share with a friend or a family member" versus just 19% for display ads.
Read more: Native Advertising Guide [Complete 2021 Version]
2. Why choosing Taboola
Taboola is a native advertising platform. It accepts only trusted websites, which allow advertising on corresponding subjects (which are not blocked by AdBlock!), and where marketers buy ads.
Keep in mind that ad content moderation is strict: websites and ads are closely examined (just a quick reminder: forget about promoting adult offers. As for gambling – only the "white" one is allowed. Yes, you could try to cloak, but it is very time-consuming).
Taboola is a unique network: it is initially aimed at the target audience, "the upper-middle class and the elite of society." Such people live in the United Kingdom and the United States (although you can set up geo-targeting for Europe and China on the site); they are not limited in money and do not deny themselves pleasure.
But this is a special "closed caste," where the shopkeeper will not be allowed to enter the house through the front door, and the goods, delivery, packaging must correspond to THEIR ideas of "beauty."
Once in the "high society," a random person is sure to make many mistakes. Therefore, Taboola takes on the role of a homeschooler, a strict nanny-educator, controls everything possible, making sure the ads are top-notch.
2.1 How to get your ads approved in Taboola
An offer must be whitehat (legal);
Promo materials without a hint of vulgarity (piercing, tattoos, long nails with a multi-colored manicure, girls in underwear are considered vulgar);
The commercial offer must be expensive.
Keep in mind that Taboola is a network for the elites who read Business Insider, view reports from Bloomberg. It is simply not profitable to advertise a penny product. But also, Taboola is your ticket to big money, and advertising costs pay off quickly.
So it is financially advantageous to meet the strict requirements of the site. And you will please your ego: not everyone is honored to launch an advertising campaign there.
3. Registration on Taboola
Go to taboola.com. In the upper right corner, click on login. In the window that opens, find the entry below, «Don't have an account? Get started», and click on it.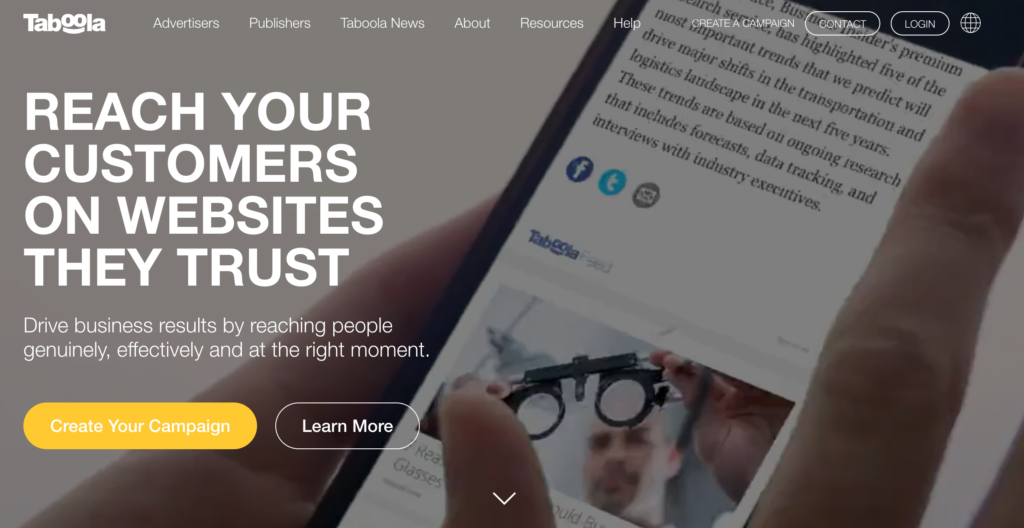 By the way, if you are having trouble with English, in the upper-right corner of the new window, select 1 of the 12 available options: English, French, Spanish, Deutsch, Portugues, Chinese, Korean, Japanese, Italian, Russian, Polski or Turkish.
Proceed to registration. Fill in the standard fields, check the box next to "I don't have a website" (you are an advertiser, not a platform for advertising), mark "Yes, I want to receive personalized tips to improve my performance" (do not show yourself very smart from the first steps).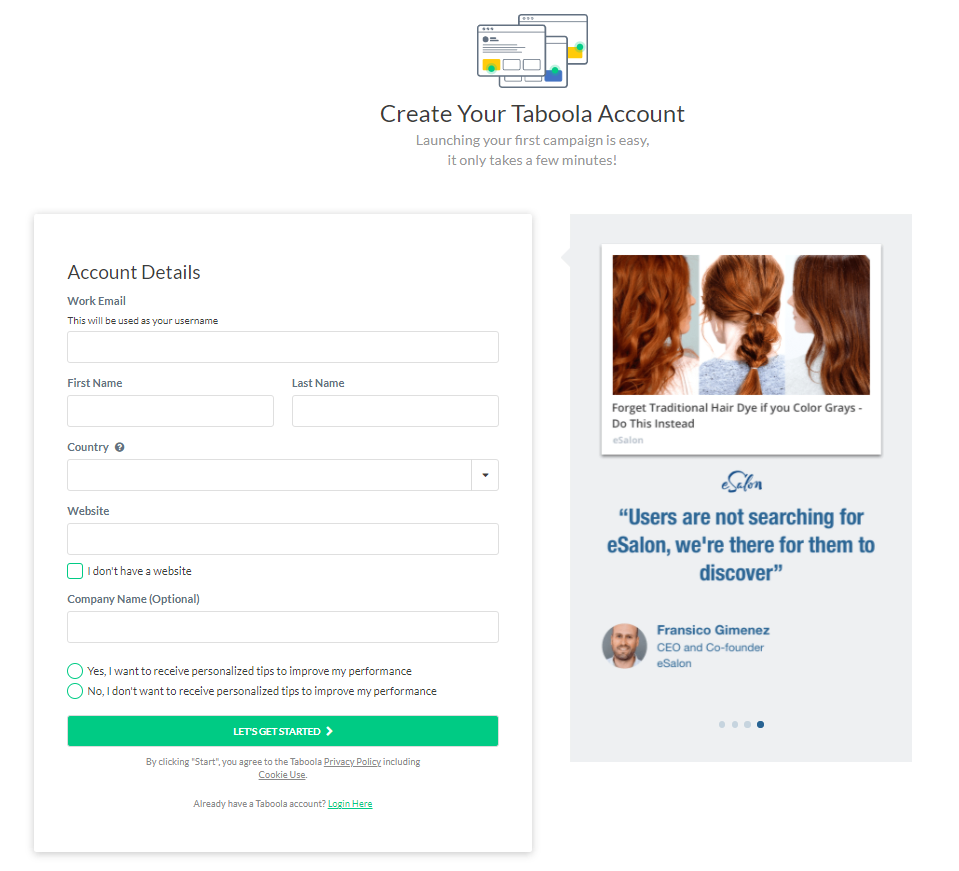 The next window may seem strange: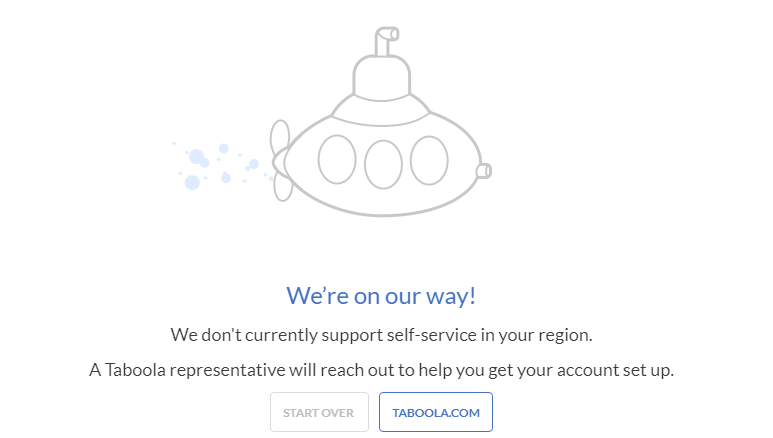 Oops. And we were hoping that registration was a formality. Go back and change your country of residence.

The platform begins to do nasty things from the first steps.
The simplest verification of the country's match and IP address, if the GEO does not match-you are a potential fraudster! Therefore, if suddenly errors appear during registration, you will have to clear the cache and register with the VPN again (with new data!).
4. Smart targeting settings in Taboola
The ad setup itself is intuitive: scroll through the tabs, marking the desired positions, or selecting from the drop-down list. Nothing complicated.
If the system took you for its own, registered you, and allowed the offer to be advertised, then the rest is a matter of technique. However, even here, some manage to ruin everything.
Targeting is cold advertising. And the more precise the ad campaign settings are, the higher the probability of success.
Success on Taboola depends on understanding "what is decent and what is not" and on audience segmentation. The more precisely you specify the criteria, the higher the profit.
Let's analyze some of the features associated with offers.
Finances
Taboola places ads on solid financial resources dedicated to economic reviews and analytics. So offers related to financial literacy, startups, and trust management come in well here.
The main GEOs are the United States, Great Britain, Canada, and Australia. Auxiliary – Germany, France. Traditionally, men between the ages of 25 and 45 are more interested in finance. This audience must be divided into segments.
Remember: a businessman at 25 and a businessman at 40 are unimaginably different people, different experiences, attitudes, and life values. It would help if you showed them different teasers, but they should look expensive (take a solid business publication as a basis).
Mobile games and apps
If the offer is offered for mobile devices – this should be reflected in the platform settings, excluding the desktop. And don't forget to specify the OS. The best age of the audience is up to 32 years old.
Health and fitness apps sell well through Taboola targeting. The main customers are women of all ages, and the male audience is young people under 35. Geo – USA, China, Europe.
Wellness products
The main sales market is the United States, and offers for cosmetics are popular in Europe.
The most popular offers to promote are:
Famous brands (originals, top three popular brands Bath & Body Works, Risqué, Mary Kay).
Products of the "home beauty salon" series.
The most profitable category is skincare; the second most popular is hair care. Oral care is only in the 5th place.
Promotion of food supplements through Taboola usually doesn't bring success. Exception: US market.
For an advertising campaign, choose:
GEO – USA.
The desired age of the audience: 18-54 years. The campaign is recommended to be divided by age, at least 18-25, 25-35, 35-45, and 45-54, and show different teasers.
For the first 2 age categories, the platform is mobile devices for the rest-desktop.
Goods
There is no point in selling cheap products with questionable quality on Taboola because there are high advertising costs. White offers sell well:
Cleaning products (English-speaking countries).
Long-term food and beverages (concentrates).
Gas and electricity saving devices, power supply units.
Goods for personal consumption in compliance with environmental standards (Europe).
Pet care products.
Audience age from 35 years, family (buy more).
Dating services
Growing trend: People are increasingly experiencing loneliness. For the campaign (attention: promo without an adult), it is better to take the age up to 40 years.
In an advertising campaign, you need to be guided by strict categories of "decent-indecent." The image should not be half-naked maidens with large circles, and guys with a bare torso descended from the covers of porn magazines.
Education
Where are the most potential students?
No, not in England, in China. The online education market here has more than 330 million users, but it is only 15% of the global market. Therefore, if there is no offer for the most responsive region, pour on the USA, Europe and follow the news.
During quarantine, the demand for such services increases. The main age of the audience is 25-35 years (people have not yet lost the habit of learning, they are busy building a career).
The following subjects are in demand:
Finances.
Foreign language.
Programming.
Personal growth training.
Rehab
Rehabilitation (drug addiction, alcoholism, depressive disorders) is a separate business that is popular in the United States. In Europe, they prefer not to advertise such things.
Therefore, in the campaign settings, it is better to set:
GEO – USA.
Platform – mobile devices.
Age – 30-45.
Sex (for depressive disorders) – female.
Please note: the advertising campaign includes images of unhappy people, pills and medical equipment-too. But for combining (for example, a person with a syringe) – ban.
ICO (Initial Coin Offering)
Crypto offers are still popular. Another thing is crowdfunding for ICOs with a focus on innovation. The best age of the buyer is from 28 years, men.
Please note: Any offer for an advertising campaign on Taboola, propaganda, lies, or false information will not pass. And don't forget to set up a filter to block bots.
5. What things you should not promote via Taboola
Forget about gambling, sweepstakes, adult-give up this idea: immediately get banned. Moreover, after the ban, the money is not returned, and your data and payment details are sent to the "blocklist."
The ultimate guide and Taboola review from our friends from the LeadBit affiliate network.
We remind you: Taboola closely monitors its reputation. It would help if you do not run ads for a gray offer through cloaking – this is a waste of time and money.
Conclusion
By reading this article from top to bottom, you've learned what native advertising is, how to register an account on Taboola, how to do smart targeting your audience, and what products you should advertise to improve your ROI.
Businesses are gravitating towards native advertising because of its ability to catch consumers' attention and entice engagement.
Let us know your thoughts in the comments below!