In this guide, you will learn, step by step, how to start and grow an affiliate marketing blog that can make you a decent income, and you can sell it for more than $100K.
Most probably, you already know how to start a blog. If you don't, check our complete guide on starting a blog.
An affiliate marketing blog is different from a personal or a blog that complements a company's business. You must create content for people looking to buy products and services. Also, you have to monetize the traffic and ultimately generate sales through affiliate programs and offers.
To clarify from the start, the monetize.info affiliate marketing blog makes close to $35K per year in its 3rd year of existence. Other blogs we started for clients following the same blueprint are doing better.
So in this guide, you will have everything you need to create a successful affiliate marketing blog. It would be best if you were willing to learn, put in the time for research, and have persistence.
But before anything else, let's dive into affiliate marketing.
1. What affiliate marketing is, and how does it work?
According to Rakuten Advertising research, 81% of brands rely on affiliate programs. If you want to step into the game and learn what it takes to become a successful affiliate marketer, then keep reading.
Affiliate marketing is performance-based marketing, where you earn a commission by selling others' products or services (on successful transactions).  That means if someone buys something through your affiliate referral links, you get paid. If not, you don't. It's as simple as that.
The significant part is that you don't have to worry about creating a product, delivering it, taking care of stocks, refunds, customer service, business development, invoices, and many other things a company has to.
Think, for instance, about Amazon. Through Amazon Associates, the affiliate program of Amazon, you can earn from 2 to 10% of the product purchased through your link without taking care of the things above. You can advertise pens, smartphones, computers, groceries, subscriptions, etc.
Your job is to gather an audience and promote the products you choose to your audience. It's that simple.
And what's the best way of gathering an audience and promoting the products to them modern, compellingly? If you answered a blog, then you were right.
2. Examples of Profitable Affiliate Marketing Blogs
Here are several affiliate marketing blogs that make a fortune online. Affiliate marketing nice is enormous, so there are thousands of such blogs, even hundreds of thousands, in my opinion. But I've chosen only five from different niches. This way, you will know what an affiliate marketing blog looks like.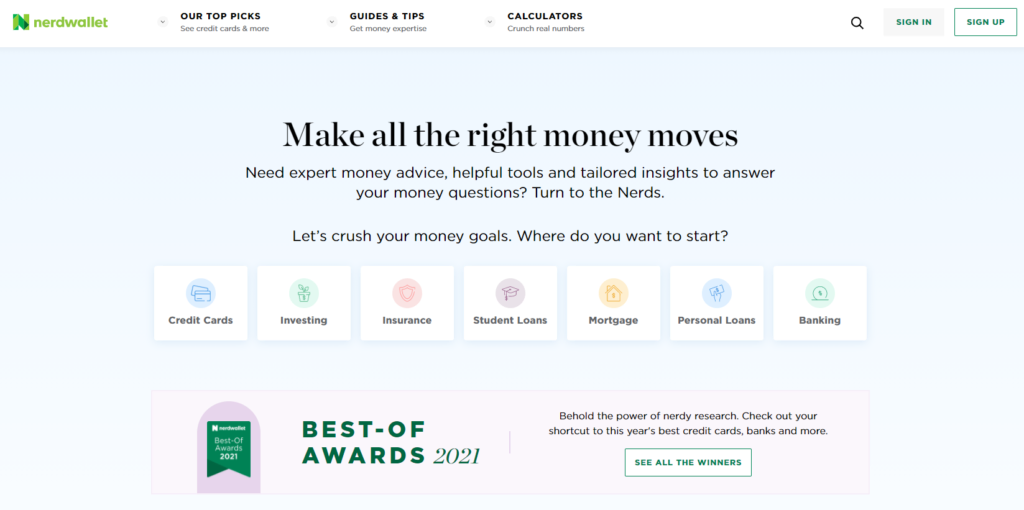 Nerdwallet is essentially a review affiliate site for financial products. They cover everything from credit cards to mortgages to investing and insurance. Have stellar content, an exceptional user interface, and an excellent marketing team.
Their stats look impressive: 11M visitors/month, 50000 backlinks, a DR of 83, 170K Facebook followers, and 65K Twitter followers.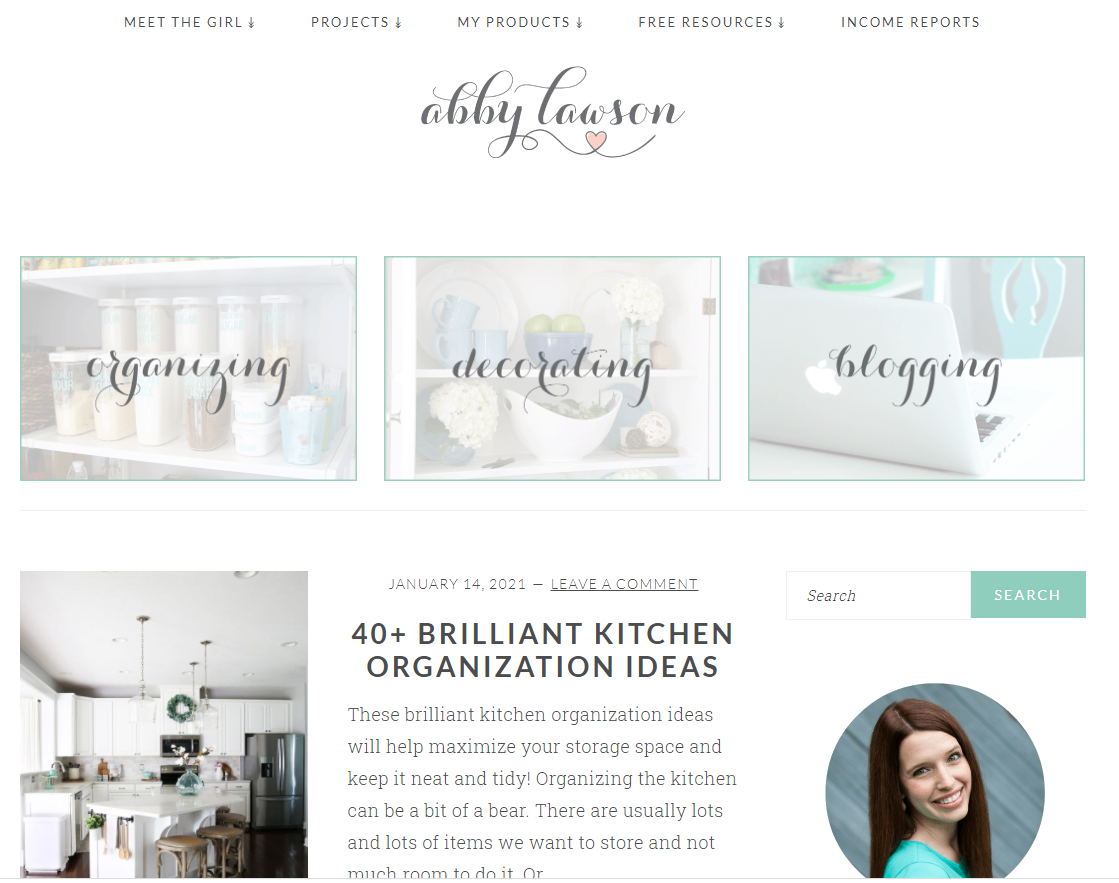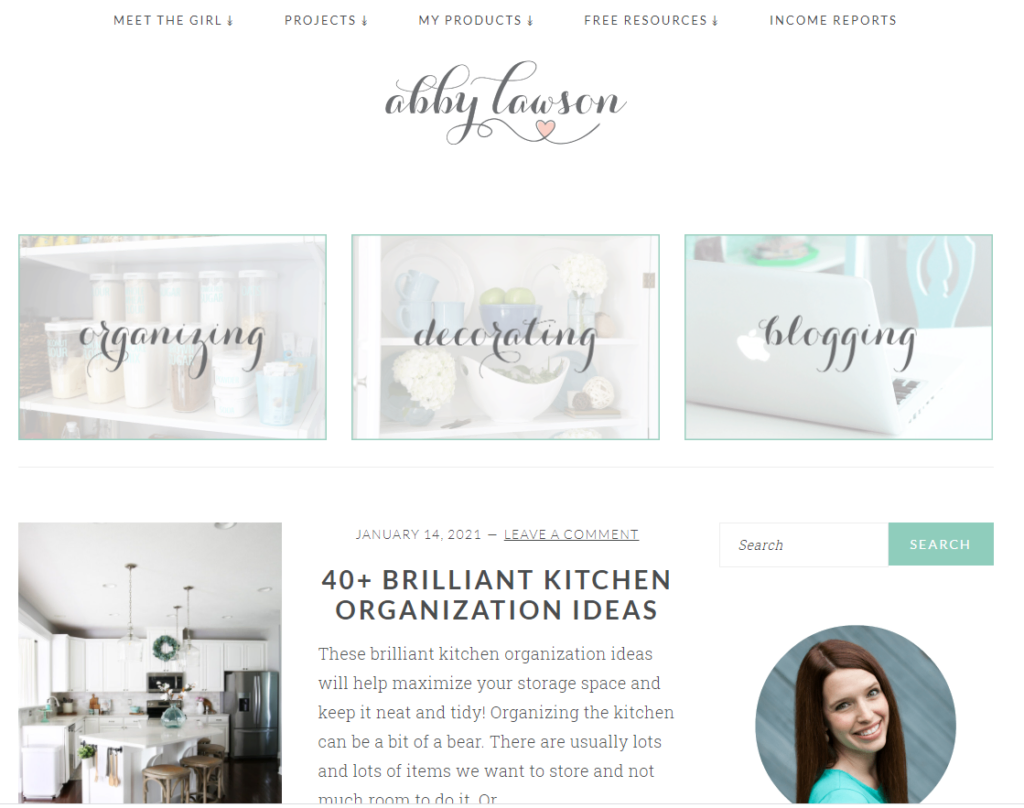 This blog is run by Abby, who writes about DIY, crafts, and organization. It's a trendy blog, and since Abby shares her income reports, we know she makes about $40,000+ per month.
Abby makes most of her money with affiliate marketing (mainly through Amazon Associates and hosting affiliate marketing with Bluehost), selling her courses.
Abby's blog stats look impressive for a personal blog: 53K visitors/month, 4000 backlinks, a DR of 65, 32K Facebook followers, 40K Youtube subscribers, and 8K Twitter followers.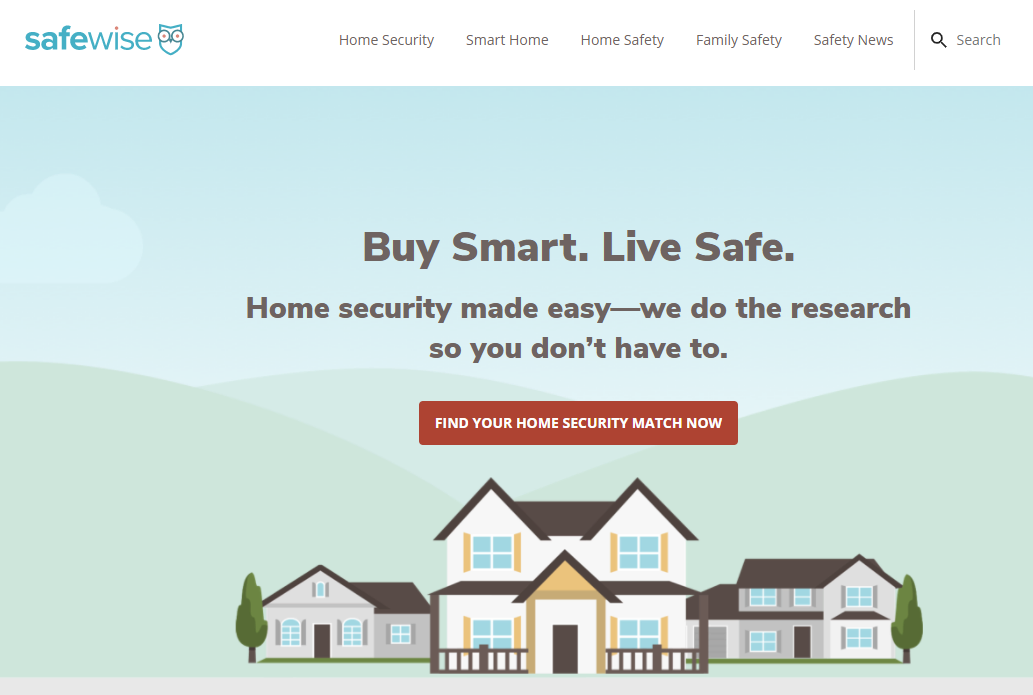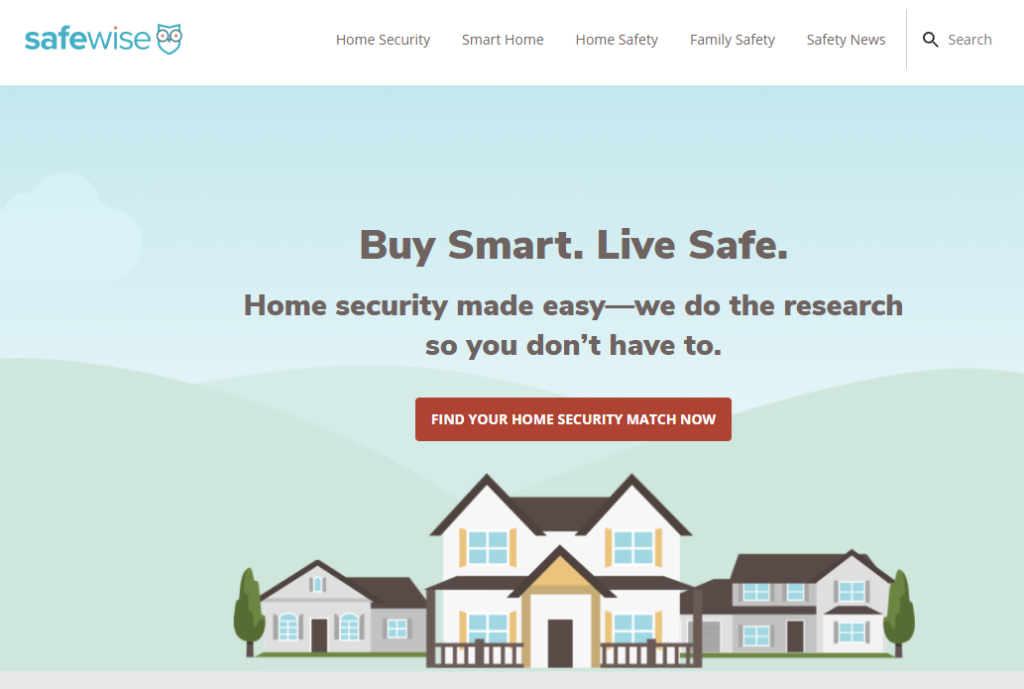 This affiliate marketing blog provides in-depth reviews and opinions on the best home security and home automation products. Probably most of their income comes from promoting OfferVault pay-per-call programs like Vivint. Vivint pays up to $560 for a qualified sale. 
Safewise affiliate marketing blog stats: 485K visitors/month, 7000 backlinks, a DR of 75, 14K Facebook followers, 40K Youtube subscribers, and just 1,5K Twitter followers.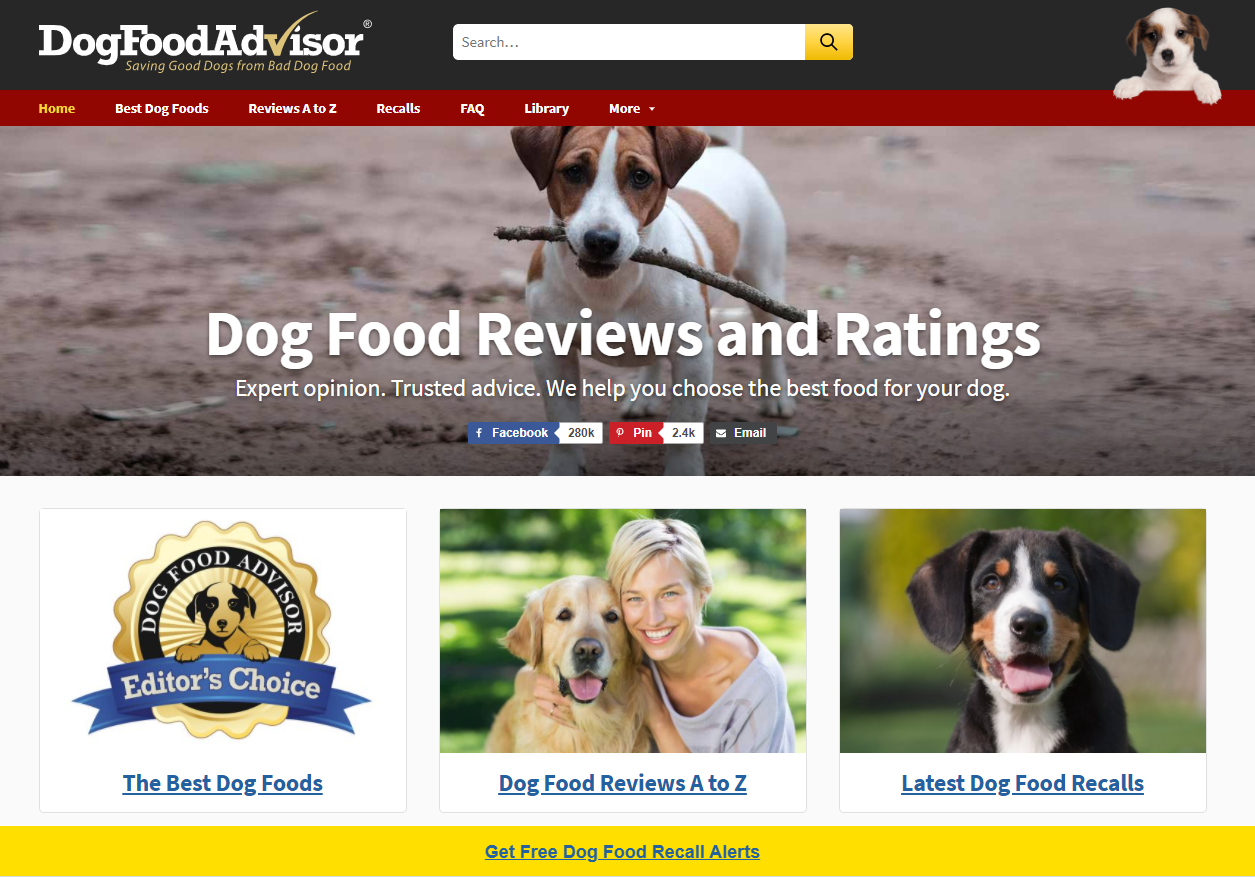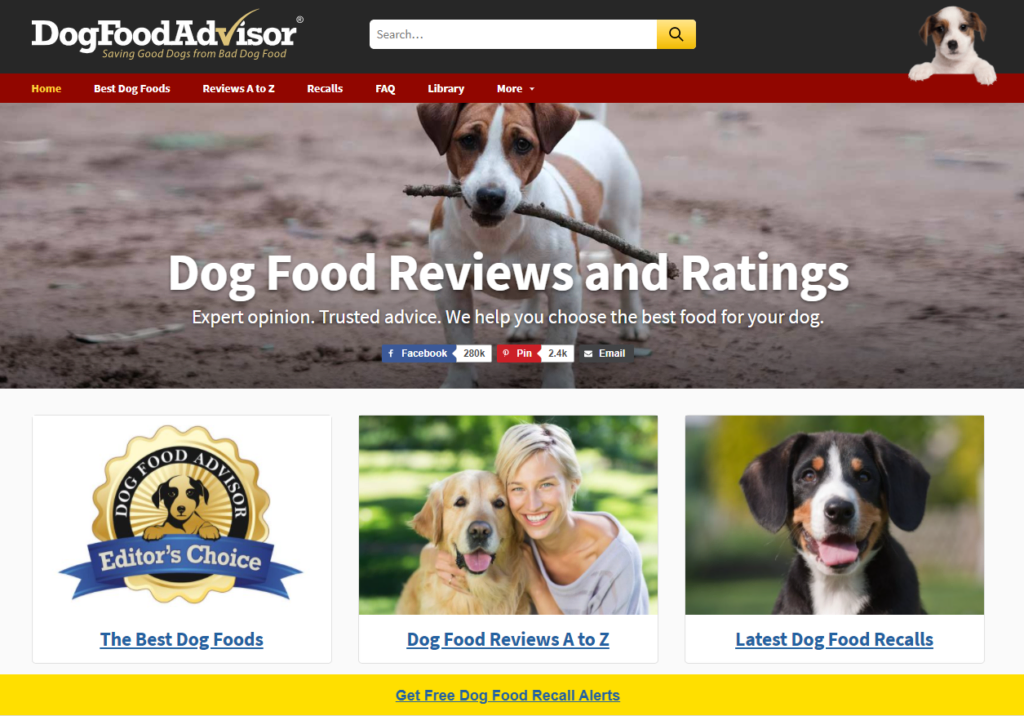 Dog Food Advisor helps dog owners choose the best food for their four-legged friends.  Mike, the website owner, monetizes the website through affiliate links and is featured as a "Buying Tip." There are no other forms of advertising, including banner ads or pop-ups, under or overs. The site probably has a mailing list in the hundreds of thousands, so that's another potential revenue source.
Dog Food Advisor affiliate marketing blog stats: 542K visitors/month, 5000 backlinks, a DR of 76, 280K Facebook followers, and just 2,4K Twitter followers.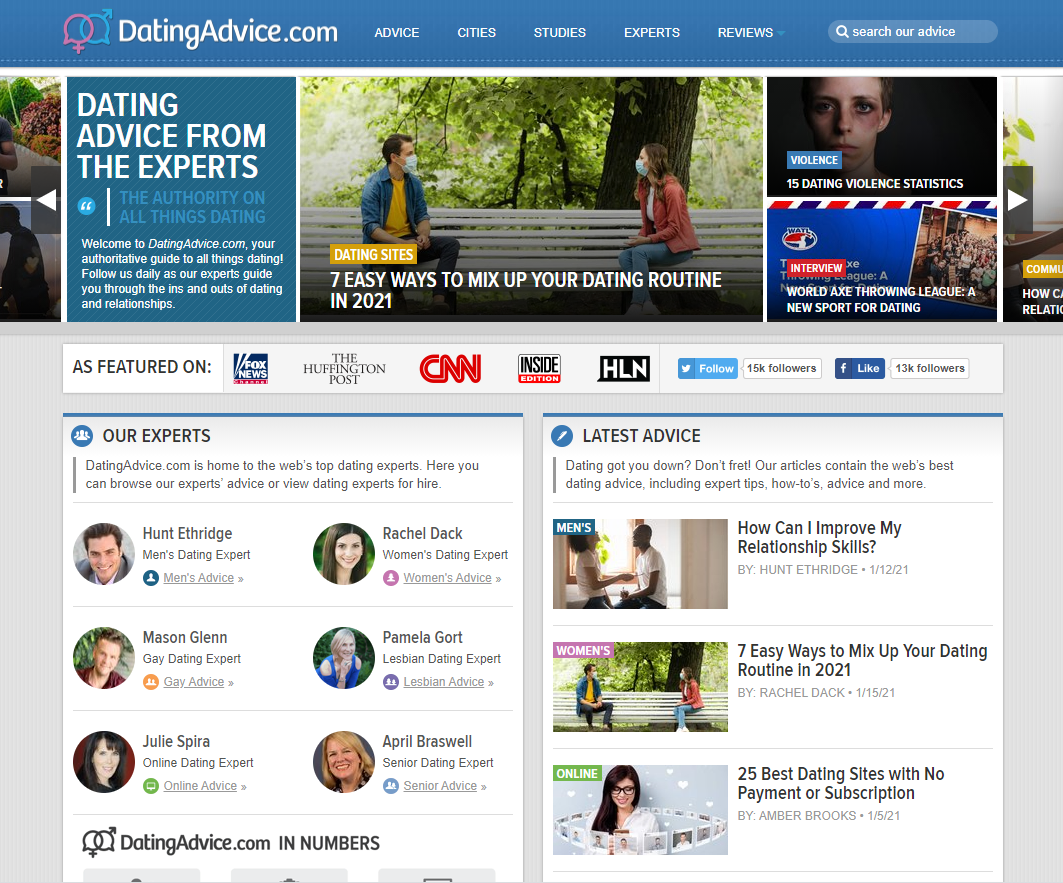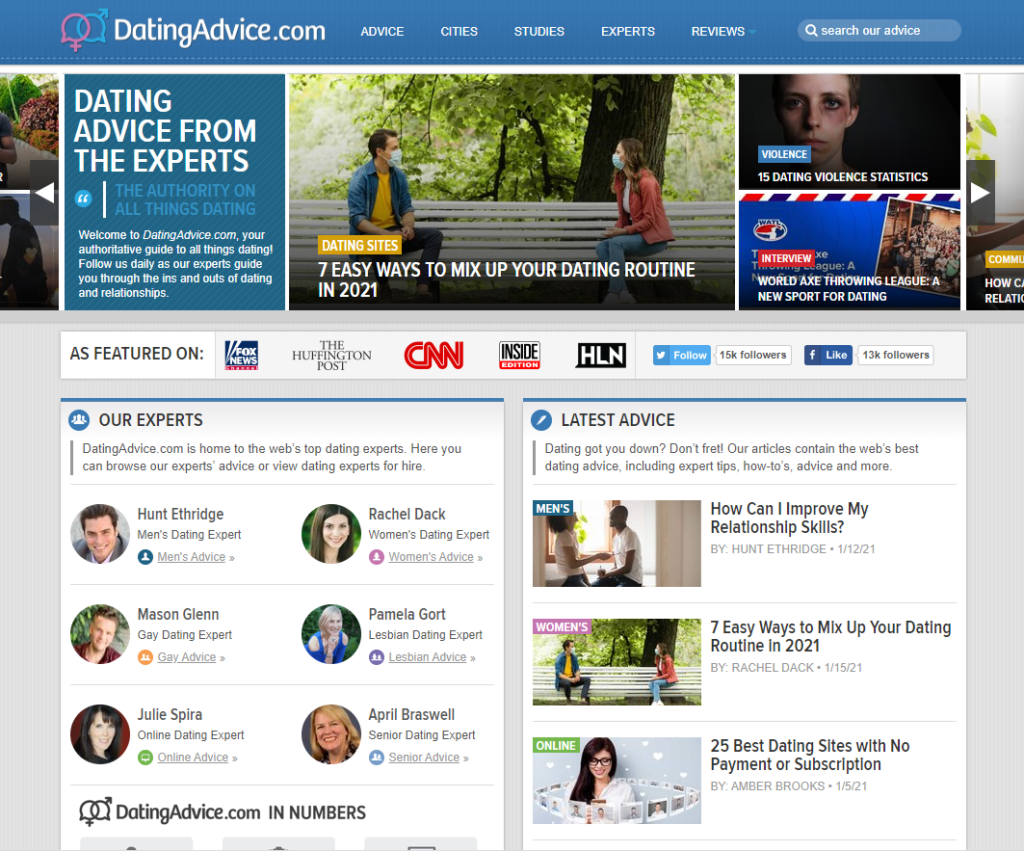 Dating Advice aims to help people improve their dating skills and find the best dating site for their needs. Its focus on 'expert advice and emphasis on answering genuine questions essentially brings dating mainstream. This affiliate marketing website makes most of its money by referring people to dating websites such as Match, eHarmony, etc.
Dating Advice affiliate marketing blog stats: 413K visitors/month, 3600 backlinks, a DR of 78,13K Facebook followers, and 14 K Twitter followers.
3. How to choose a profitable niche for your blog?
Niche research for affiliate marketing can be dull. It takes a lot of time.  But if you do this one step in a hurry, you'll regret it in the long run. Could you take my word on this? It is frustrating to invest a lot of time and money in the long run in a niche that doesn't make you too many profits or is also competitive.
Here's a quick tip for finding a profitable affiliate marketing niche: "Identify a niche where you can promote products that have a HIGH sales volume and LOW competition."
Related: Affiliate Marketing for Beginners [Complete Guide]
There is a complete section on choosing an affiliate marketing niche in the Affiliate marketing guide for beginners guide I've written. Read it first, and then you can come back to this guide.
Please spend enough time finding the right niche.
Here are, in my opinion, the best niches for affiliate marketing in 2022 and beyond.
Related:
Best Niches for Affiliate Marketing
The affiliate marketing niches mentioned above are selected based on the popularity and high returns for the affiliate marketers. They have worked great in their effectiveness in attracting maximum traffic and keep doing it in the long run.
Do not forget that selecting a niche is the foundation of how much money you will ultimately make through affiliate marketing. Hence, if you fail to choose a good one, all your efforts go in vain. And that's my second warning on this matter. I have been there and done that.
4. Define Your Target Audience
One of the biggest mistakes you can make is trying to appeal to everyone. Instead, narrow down everyone to a smaller group of people who want to buy and have the money to buy your product.
For example, if you sell dog jumpers, a person who doesn't own a dog isn't part of your audience, so you don't want to appeal to them.
What is the target audience?
You may think that the target market and target audience are the same. They are entirely different marketing terms.
The target audience is the people you propose your marketing and advertising efforts to.
A target market is anyone interested in your products or services, and your target audience is the people to whom you recommend a specific marketing asset or ad. The target audience is a part of your target market.
Facebook is an excellent example of what you should do. They allow you to narrow your audience based on demographics and other characters. You can set an income range, target males or females, or exclude anyone with children. It all depends on your marketing plan.
A marketing asset can be a landing page, Facebook post, email, or the product page.
Try to establish empathy with the audience you are planning to target. Know their difficulties, how they feel about them, and what they do to figure them out. The best way to learn this, in my experience, is through monitoring conversations in groups, forums, blog comments, and social media.
I know you want to know more about everything, so I have a link to help you. Join HubSpot Academy for free. Get free online certifications, product documentation, and training videos to learn what you need to succeed.
5. Find Affiliate Marketing Programs
Now that you know the niche where you want to build an authoritative website and set up the target niche, it's time to find affiliate marketing programs. When we look for affiliate marketing programs, we look for products to review and advertise on our website and make commissions through their affiliate programs. Let's make sure we are on the same page.
Why didn't we start our research with affiliate marketing programs if they are crucial in making income? That's because while the authority blog we build around a niche remains the same, we will change affiliate programs occasionally. We will get rid of those that do not perform well, test new ones that have better products, better commissions, etc.
There are three places I use to find affiliate programs:
5.1 Find affiliate programs through affiliate networks
Affiliate networks bring together thousands of publishers (bloggers) and advertisers. Signing up for an affiliate network gives you access to thousands of affiliate programs. You get performance details, advertising creatives, etc.

Our Top 21 Affiliate Marketing Networks in 2021, PROs and CONs for each network, how to signup to get accepted, and other helpful information.
Related:
Best 21 Affiliate Marketing Networks for 2021
I recommend looking into ShareASale, CJ, Amazon Associates, and Clickbank. Unless you are into a tiny niche, you will find several affiliate programs. The advantage is that using an affiliate network. You will have all the earnings centralized in one place.
5.2 Find independent affiliate programs
Believe it or not, many more affiliate programs are run independently by the product creators without using any affiliate networks. That's because they have proprietary affiliate software. They want to have complete control of their affiliates, etc.
Related:
High Paying Affiliate Programs for Bloggers and Marketers
There are many places to find affiliate programs. I would start with affiliate program directories, doing some Google searches on the most available products in your niche + affiliate program. Then you can visit your competitors, see which products they advertise, and search for their correspondent affiliate programs.
5.3 Select the best affiliate programs
Now you should have a pretty good list of affiliate marketing programs. Don't jump in and signup for them. Before affiliate managers accept you as a publisher, they want to see your website and traffic sources.
Some affiliate marketers are very picky about choosing blogs. That's because they don't want to see their brand advertised on shady or questionable websites. So we have to build an excellent affiliate marketing website first.
We can apply when we have our blog and at least 200 visitors ready.
As a rule of thumb, aim for affiliate programs that pay good commissions (at least 15-20%) and select high-paying products. Let's face it: The time to review, optimize, and create traffic streams is the same for a $49 or $490 product. But the money you make is ten times more on the second.
6. Find The Most Important Keywords
Discover the best topics for your content, find the best keywords, drive traffic fast to your website, and get quality backlinks. All of that will skyrocket your rankings if you do it right.
You have probably seen that most of the guides out there mention keyword research as the most important thing for creating content. But no one tells you that even if you optimize your blog post for important keywords, there is no guarantee that Google will rank you for that specific keyword.
My advice is to concentrate on creating content for the audience. Please don't focus on keywords because they will be natural in your blog post. Later, you can optimize it for keywords you already rank for.
Don't get me wrong. Keywords are essential, but not like they used to be. With this tactic, you'll find only content that is proven to work. You need to create a better version of it. But first, let me show you how to find keywords.
How to find keywords for your blog?
You'll do this with a free tool called Ubersuggest. You can do it with any other free or paid keyword tool, but I like this one because I can do it all in one place. This is how you do it.
Go to Ubersuggest. The first thing you'll see is a search box. If your website is, for example, about coffee tables, then type coffee table in the box.
As you can see, it will show your keyword along with suggestions and related keywords. I wasn't aware that coffee tables are so popular. In 10 seconds, you already have some right keywords and ideas for your future blog posts. I usually write down keywords and content ideas on paper. It's easier to keep an eye on them while writing posts.
When you scroll down, you'll see a list of top pages for that particular keyword.
Click on Show Keywords to see which are driving visitors to those pages. You'll get this.
I write down all the valuable keywords on paper. Aim for the long-tail keywords. Remember, you are looking for high volume and CPC keywords but low SD(up to 50 is good). I include keywords with high SD and spread them across my blog posts where applicable.
Here is a video guide created by the ahrefs team to learn how to do keyword research to find keywords you SHOULD target. The result? More rankings and organic traffic for your website.
Ok, time for a recap here. So now you know what affiliate marketing is, you saw some great blogs that bank thousands of $$$ monthly through affiliate marketing, and you've chosen the niche and the target audience.
7. How to create an affiliate marketing blog
This is where all the research we did already will materialize into action.
The best way to start with affiliate marketing is to create a blog. Although you can still do affiliate marketing without a blog or website, I wouldn't recommend it. Why?
You can get started immediately if you haven't created a blog on WordPress. You can follow the instructions in our step-by-step guide on how to start a blog, and you'll be able to launch your WordPress blog within 2 hours.
7.1 Domain name
A domain name is your address on the internet. A new domain name can be claimed through various online services. It's not expensive to register a new domain name—doing it with GoDaddy, or NameCheap can cost you as little as $10 a year, and other services offer domain registration in the $20 to $40 range. Some domain names are more expensive than others.
If possible, your domain name should match the name of your blog. It doesn't have to; once you own your domain name, you can put whatever you want on that site. Matching the web address to the blog name will give you more name and brand recognition and make it easier for readers to find you.
Two and three-word combinations are less likely to have been used already. You can find a free domain name related to your niche with a bit of creativity, and is more quirky and memorable.
Instead of purchasing a new domain name, you could check domain marketplaces like Godaddy Auctions and buy aged domains that already have some SEO power attached. Make sure you do your due diligence and that the domain you acquired was not involved in shady tactics.
Related:
How to Make Money With Aged Domains
7.2 Hosting
Once your blog has a domain name, it has an address but doesn't yet have a home. The files associated with your site will need to be hosted on a professional storage server so your viewers can access them.
There are many hosting sites out there. Many places that register domains also offer convenient hosting services, though you should ensure the site has the services you need before signing up. Blue Host is a shared hosting site for WordPress bloggers transitioning to a self-sufficient site.
The cheapest option is often a shared hosting account when you're first starting. Prices can start as low as $5-$10 per month. Sites that offer this option include iPage, eHost, and In Motion Hosting. Research the hosting site before you sign up.
Another path you can go is to start with a WordPress-managed hosting service. Check our article How to choose the best-managed WordPress hosting.
7.3 Content Management System
You've got a domain name and a host where the files associated with it can live. All you have to do is make your blog and transfer it to the host—and if you're not technically minded, this can be not very comforting.
A Content Management System (CMS) is a piece of software you install directly on your web host (not your computer) that streamlines the addition of necessary site features like tags and categories for pages, search and archive functions, forums, and comments sections.
There are several blogger-specific CMS programs, many of which you can use for free. WordPress is the most common.
If you need help setting up WordPress, you should get help from one of our recommended WordPress maintenance services.
7.4 The importance of  a WordPress Theme
The layout and design of your blog will give your reader their first impression of your business. You want to make sure it's easy to navigate and read on the practical side of things. Important posts should have a prominent place on the page, and the color scheme shouldn't interfere with your writing's legibility.
Related:
Consider premium themes, which come with customization options, support, and updates. Check our list of 50+ recommended affiliate marketing themes for WordPress blogs. Layout and color choices have some role in this; if you run a photography blog, you should choose a format that emphasizes images, for example. A financial blog might find it helpful to install a live tracker of the stock exchange on its front page; a sports blogger might have a ticker of scores and match results.
7.5 Logo and other graphic elements
A great way to clarify your brand is to design a logo that reflects your niche. I recommend taking the financial investment to hire a freelancer to design the logo for you. The logo will represent your brand in most readers' minds, and the initial investment you make in hiring a designer will be repaid by the boost to your brand recognition.
Check the best ten freelance websites where you can outsource your design project. A well-designed site will be more likely to attract visitors and ultimately be worth the initial financial investment.
Though this is most important with your logo, your blog design aspects can also be actual.  Here is a list of graphical elements: logos, Banners, Favicons, social media covers and profile pictures, ebook covers, etc. You can use Canva to design all these elements, but hire a designer when money comes in.
7.6 Affiliate Marketing Blog Essential Pages
All the pages mentioned above are essential to include within your affiliate marketing blog or website. They not only save you from legal issues in the future but also help you build trust with your website visitors.
7.7 Affiliate Marketing Blog Essential Plugins
We've written a detailed guide on the best WordPress plugins you should install on your affiliate marketing blog.
The only problem with plugins is that there are thousands of them to choose from, like themes. And if you add too many (or poorly built ones) to your blog, it can weigh your site down and make it run slowly.
These plugins have the features you need for your affiliate marketing blog. But maybe some cases when you need custom functionalities (for instance, to create tools in your niche). In this case, you should hire a WordPress development company to code them.
Celebration time! You have your 1st affiliate marketing blog ready. Congrats on that! However, the problematic parts now start. Don't worry; we have you covered.
7.8 Claim your brand on social media
You should use Social Media to your advantage. Claim your brand accounts on Facebook, Twitter, Youtube, Instagram, Linkedin, Reddit, Quora, Medium, and Pinterest. Many social media networks may work for you, depending on your niche.
Use NameChk.com to find available ones. Some major networks are URL structures: Youtube.com, WordPress.com,  tumblr.com, Scribd.com, Academia.edu, Quora.com, SlideShare.net, Medium.com, Etsy.com, About. me, Gravatar.com, Flickr.com.
Your social media pages should act as gateways pages to your affiliate blog. Drive users to these pages and convert them to signup for your newsletter by offering them the reasons to do it.
7.9 Start email marketing
Email marketing has been around for decades and continues to be one of the most preferred channels for marketers. According to Acesira, almost 68% of teenagers and 73% of millennials prefer emails for receiving communication from brands or businesses. This is likely because email is also the preferred communication channel for consumers.
By collecting the email addresses of prospects or customers and engaging them with exciting content or great offers, you can stay top of mind and generate revenue.
Don't lose precious time; install a newsletter box for users to sign up for updates and offers.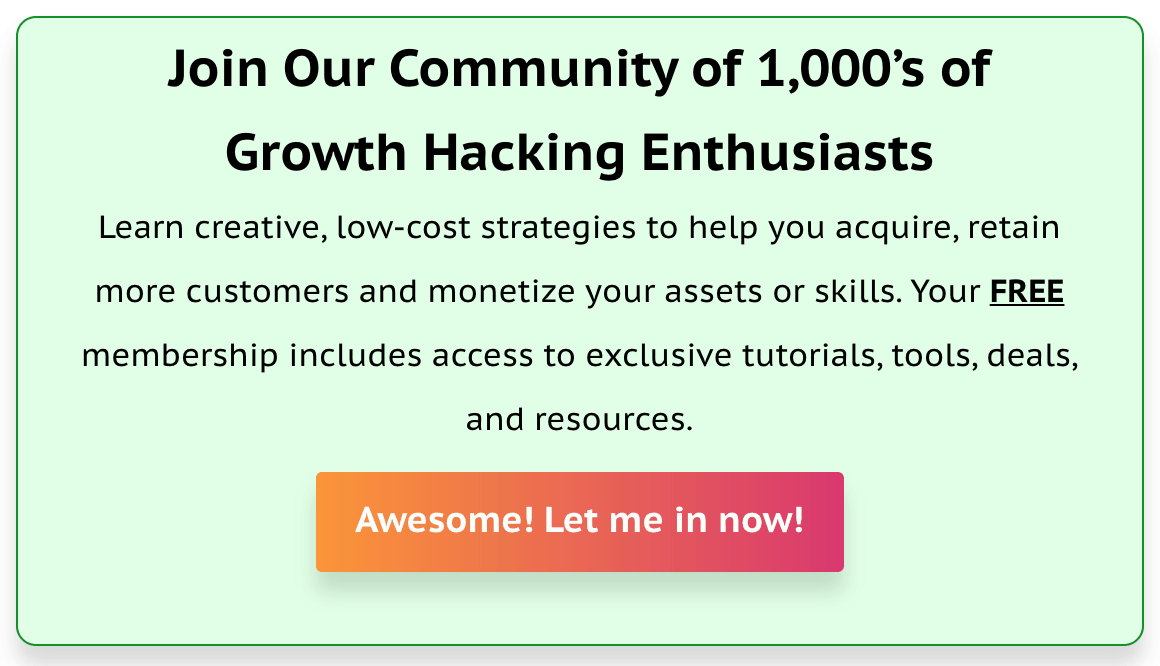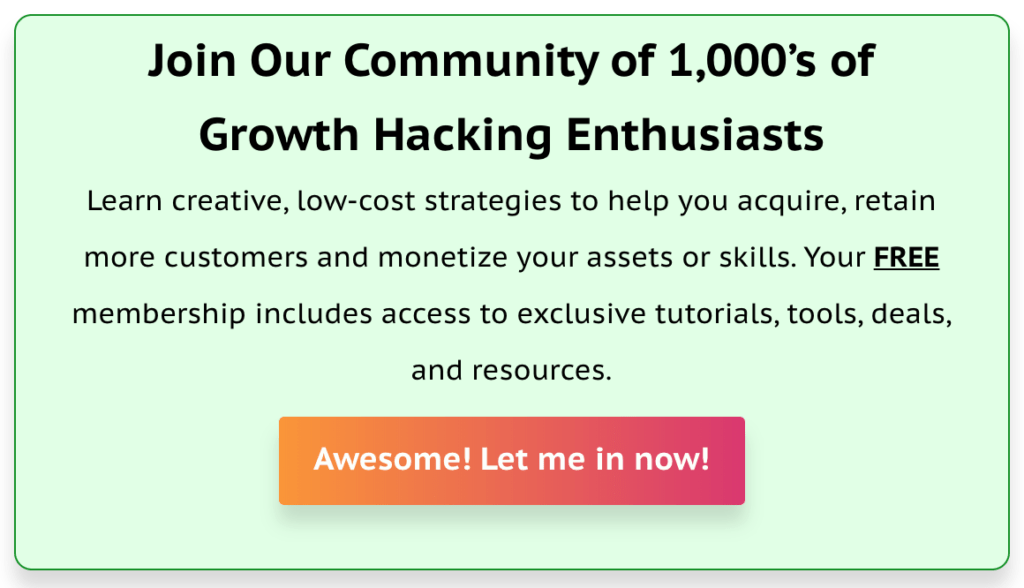 Later on, when your cornerstone content (more on this later) gets traffic, add content upgrades to grab email addresses and grow your list. This way, you grow an incredible asset that will make you money for years.
I recommend using OptinMonster [OptinMonster discount] for newsletter boxes and popups and ActiveCampaign for sending emails and marketing automation.
8. How to Write Content That Gets Read and Sales
After choosing a niche, setting up the site, and selecting an affiliate network or more to work with, you are now ready for the hardest yet potentially rewarding part of this business.
Your goal must be to become a reliable and authoritative site for your niche, so you must provide premium and high-quality content.
Many websites are trying to pass anything for good content, but these websites only aren't making any money, in all honesty. Those who make money are those whose owners either spend a lot of time and money finding amazing content creators or becoming ones themselves and optimizing their content in every sense possible.
8.1 Find Best Performing Content In Your Niche
Every blog post on page one of Google has the best-performing content, so this step should be easy to complete. You must type your keyword in a Google search box and get the best-performing content you are looking for.
Check results for a few keywords and pick three or more articles you will use as a template for your blog post.
I do it like this: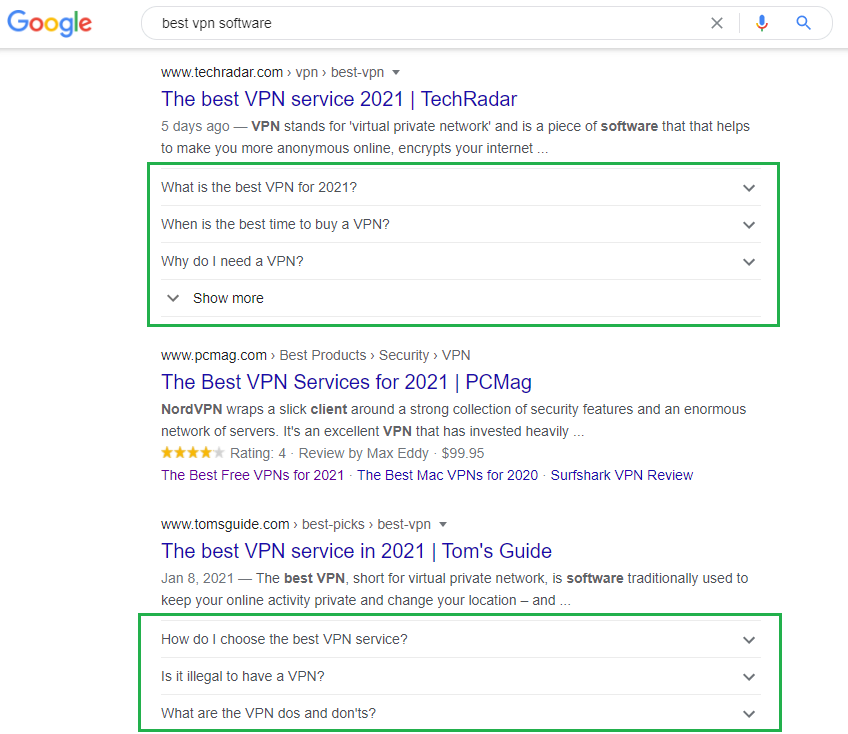 I go to Google search and type in the keywords relevant to my content topic. After I've scanned content on the first three spots on the first page, I write down on the paper list of short subheading ideas that I'll use for my blog post. I believe this is called outlining.
Then I go to Ubersuggest, and I type those exact keywords one by one in a search box. I check the results and scan my top competitors for that particular keyword. You can find competitors if you click on Content Ideas from the Menu.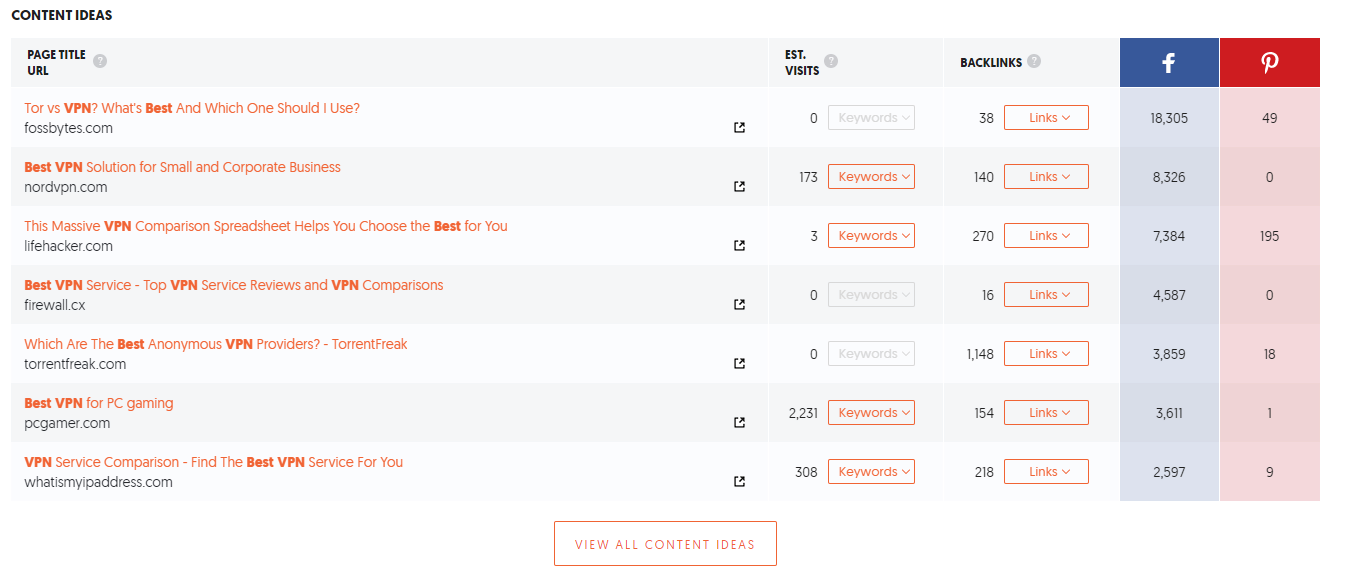 I make sure that I check what types of content they publish (articles, blog posts, videos, infographics, or something else) to know what to do to outperform them.
I have to say that I read all those blog posts, especially if I don't know much about that subject.
I also check if there are more subheadings I can use before moving on to the next step.
If you aren't satisfied with your list of subheading ideas, check posts from pages 2 or 3 of Google for more ideas.
8.2 What kind of content should you write?
And here we are at the hard part of this guide, content creation. Creating content is easy, but it's tough to create great content… Great content is a must-have. And great content is what you need to be a successful affiliate marketer or web store owner, blogger, or freelance writer.
Blogging expert Yaro Starak talks about something called a "pillar article" in his advice columns. Chris Garret calls it "flagship content," while Brian Clark calls it "cornerstone content." These experts describe the same essential thing: the articles that give your reader a clear conception of your niche and your opinions about it.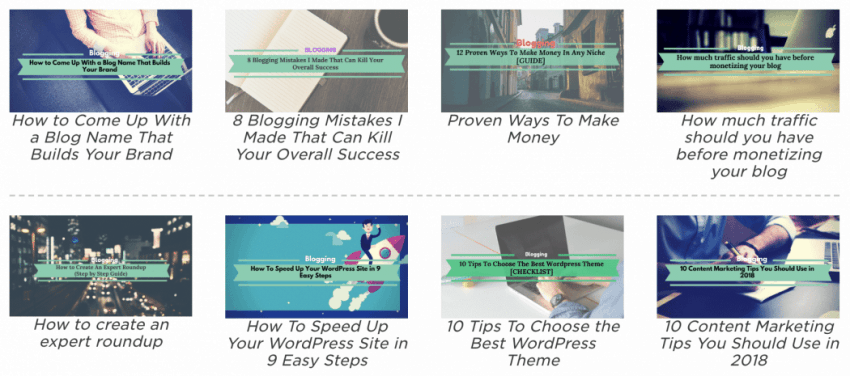 Depending on the format, core content articles should be extended—around 1500-5,000 words. These posts should not be time-dependent; a reader who sees the post a year from now should still find it relevant. These posts are the most likely to receive backlinks from other websites and, ideally, will continue to bring in new readers long after you initially post them.
So they don't get buried in your archives, it's a good idea to list these posts in a separate area, whether a drop-down menu or links in a sidebar—this lets new readers quickly access the most helpful content. You can also reference these articles in future posts to help new readers find and read them.
The more of these core content posts you include on your blog, the better. Ten is a good minimum, and you should consist of at least three in your first 15 posts.
8.3 How to create cornerstone content?
The ultimate goal of any good core content post is to teach your readers something, whether it's a skill related to your niche, an explanation of a concept, or an opinion piece that will help them see your niche in a new way.
If you're not sure what kind of article to write, some core content options are listed below and might help give you an idea of where to start.
You can think that your writing sucks, but you have to try. Maybe you don't know that you know how to write. In the end, you can always outsource.
Cornerstone content tips
If you don't know much about the subject, you are writing about, then research. Reread those blog posts and use 2 or 3 different posts to compile a paragraph for your post. And please never copy and paste a complete paragraph; use your own words to describe what you read.
The headline is the most important part of your blog post, so pay special attention to it. Make sure that you use powerful words and long-tail keywords in your headline.
Sumo and many others have already compiled a list of power words, so I'll share Sumo's list of power words with you. Another great way is to check headlines from popular magazines and modify them to fit your content.
Use Sumo's Headline Generator to see what works and CoSchedule's Headline Analyzer to get a better insight into the quality of your headline.
Write good openings. This is the second most crucial part of your content. Many people will read your opening and decide whether they want to read the rest of the content.
Keep sentences short. You can start with a question your audience needs to answer or make some controversial statement to get interested in your story.
You'll also need a reasonable conclusion at the end. It should contain a quick resume of your post and a clear call to action at the end to suggest to your visitors clearly what you want them to do next.
Always write like you are conversing with one person, and finish your post with a question. It will help to get people to engage in comments.
From my experience, it's best to go with "How To" posts. Also, review products within your niche but don't do it individually. Instead, make posts like "7 Best Leather Coats For Winter 2020" or "Top 5 Smart Watches For Your Kids". I hope you get the point.
Defining yourself as an authority in your niche is a great way to increase conversions and get a loyal audience. You should always create blog posts that are informative and not sales pitches. Your visitors will appreciate researched and well-written blog posts that answer their questions.
When you write affiliate reviews, always be honest. Don't try to sell anything you wouldn't recommend to your family and friends. Most people will read many articles online, and if you are the only one positively presenting a lousy product, you will lose visitors' trust.
8.4. Write Product Reviews
The most important thing about the content you post on your website is that it needs to be informative. The Internet is overflowing with websites whose only purpose is to sell stuff. Visitors, especially those willing to spend money, have learned to see the difference.
Most people fail to make even one sale from their product reviews. Do you know why? They usually brag about the product to increase sales. They don't talk about the limitations.
What happens when you talk only about good things about a product? You'll not only mislead your target audience, but they can easily smell that you're hard-selling to generate a commission. So they don't buy it.
We've explained in a detailed guide how to write compelling affiliate marketing product reviews that generate revenue
Here are several affiliate marketing review examples that we wrote and followed this proven framework:
Learning to balance the sales pitches with actual stone-cold helpful information is the trick of the affiliate marketing trade, which the business has mastered.
9. How to Optimize Your Content For Google
Once you have learned how to create helpful, informative affiliate marketing reviews and articles for your blog or have found outside help to do so for you. You will need to know how to rank your posts on Google and other search engines such as Bing.
Search engine optimization is a complex process that includes all sorts of steps, from making your content relevant to the topic, using keywords and meta descriptions and tags to ensuring your site is well linked up within and has links leading back to it from the outside.
Here is a video guide by Brian Dean. Watch it to learn how to do keyword research and create epic content around the keywords you found. Then you will learn how to optimize this content for users and search engines to get massive traffic.
9.1 Blog posts ONsite SEO
Other aspects of search engine optimization, such as internal linking and meta-description creation, will also be critical. Google looks for websites that are well-made, easy to navigate and contain lots of informative content.
This is why you will want every single post you make to have meta descriptions, meta tags, and several internal links leading to other pages within your website.
If you use WordPress for your websites or blogs, I recommend installing a handy plugin called SEOPress [SEOPress discount], which will help you optimize your posts/pages for the keywords you won't rank for. The free version should be enough to buy the premium version only when you have money to spend, or the site is already making money for you.
9.2 Implement Schema.org
The structured data can include information about a web page, e.g., author, title, description, rating, ingredients, cooking time, video length, etc. At its discretion, Google can then use this data to add more value to the search results. Here is an example showing how Google used structured data embedded in a web page to highlight review data:
Rich snippets like this are created by Google using structured data embedded into the web page.
9.3 Earn backlinks
Your reviews will not rank without backlinks, and you will not get traffic from SEO, which means no affiliate commissions for you.
Here on Monetize.info, we've written numerous guides on how to get backlinks, so I will post them here:
Watch the following tutorial from Brian Dean to learn nine strategies that will help you create quality backlinks.
If you want to scale your business and outsource your link-building efforts, I recommend checking the top 15 best link-building services.
10. Other ways to get traffic and sales
You don't need a massive advertising budget to raise your blog's traffic to upwards of 10,000 views a month and get recognized within your niche.
How can you entice even more people to your page?
10.1 Use Youtube
Do you know the 2nd most popular search engine after Google? Asking you this when we talk about Youtube. The answer is obvious :).
Over 2 billion people use YouTube. That's about 1/3rd of the internet. By 2021, video traffic will make up 82% of all traffic. Video is the future of the Internet.
It would be best if you leveraged the massive audience of Youtube by repurposing your informational content (guides, tutorials) and selling content (product reviews) for Youtube.
I've created a complete guide on monetizing your Youtube channel through affiliate marketing.
Related: How to Monetize Your YouTube Channel Through Affiliate Marketing [Complete Guide] 
Please read it to find out what content works best for Youtube, integrate affiliate programs naturally into videos, what legal disclaimers you should add, how to do keyword research, create informational videos, and rank them.
10.2 Social Media
Facebook, Twitter, Instagram, or Pinterest are the right places to start. Don't limit your marketing to asking your friends and family to like your blog. Facebook ads are inexpensive and can target ideal readers or groups. Follow other bloggers in your niche on Twitter.
You may get a follow-up; even if not, they could have interesting things to say. It's advice that bears repeating: joining the conversation in your community is one of the best ways to let people know you exist.
Social Media Guides We Recommend:
10.3 Create an email sequence
Remember that your subscribers are far more critical than your Twitter followers or your Facebook likes. That is your core group of readers who will hear from you directly.
When you create a post or send out an email blast, the people who will most likely spend their money on your products and the group you can count on for views of your most recent posts. Especially when you're first starting, growing your subscriber list should be one of your top priorities.
Successful affiliate marketers make most of their affiliate sales from their email lists. Whether you know it or not, email gives you the highest ROI.
10.4 Outreach people from your niche.
I've had a lot of success promoting my blog by outreaching members from my niche. Create a list of people that are active and email them. Create a friendly message explaining your blog and plans, and invite them to sign up and become enthusiastic readers.
If you need help on outreach people from your niche, check our Expert Roundup Creation Guide article.
10.5. Use native advertising
The days of embedding ugly, in-your-face banners across your website's header are over. It doesn't take blaring advertisements to convert customers. Native ads, or those that resemble your website's color, layout, and theme, are among the marketing trends to watch in 2021.
We've just written a complete native advertising guide. Read it to find out what native advertising is, how you can benefit the most from native ads, what native ad networks you should use, and how to start and manage a campaign.
Advertisers spend 77% of all mobile display ad dollars on native placements. Integrating your advertising into a high-quality web design will offer more conversions, as native ads result in two times more visual focus than banner ads.
10.6 Organize contests and offer incentives.
I've used blog contests and giveaways quite a lot to get more traffic, and I consider them powerful techniques. You can offer money, Amazon gift cards, USB sticks, t-shirts, books, or other things that people from your niche find interesting for prizes.
You may also offer incentives for members to signup for your newsletter. It may be digital products like booklets, and reports, or you may offer them cash. However, I don't recommend offering them money because most members will not be active after getting their prizes or are not interested in your niche, so they do not contribute to the affiliate marketing blog.
11. Affiliate Marketing Blogs FAQ
Conclusions on how to start an affiliate blog
Ok, now you have everything you need to create an affiliate marketing blog. I've detailed every step along the ride. Check our sequence of this article and learn how to monetize your blog.
Suppose you need help with any of the following steps of this guide. In that case, you can check our top 30 best affiliate marketing books and the list of best affiliate marketing blogs. Also, you should sign up for one of our recommended affiliate marketing forums or groups. Or contact us.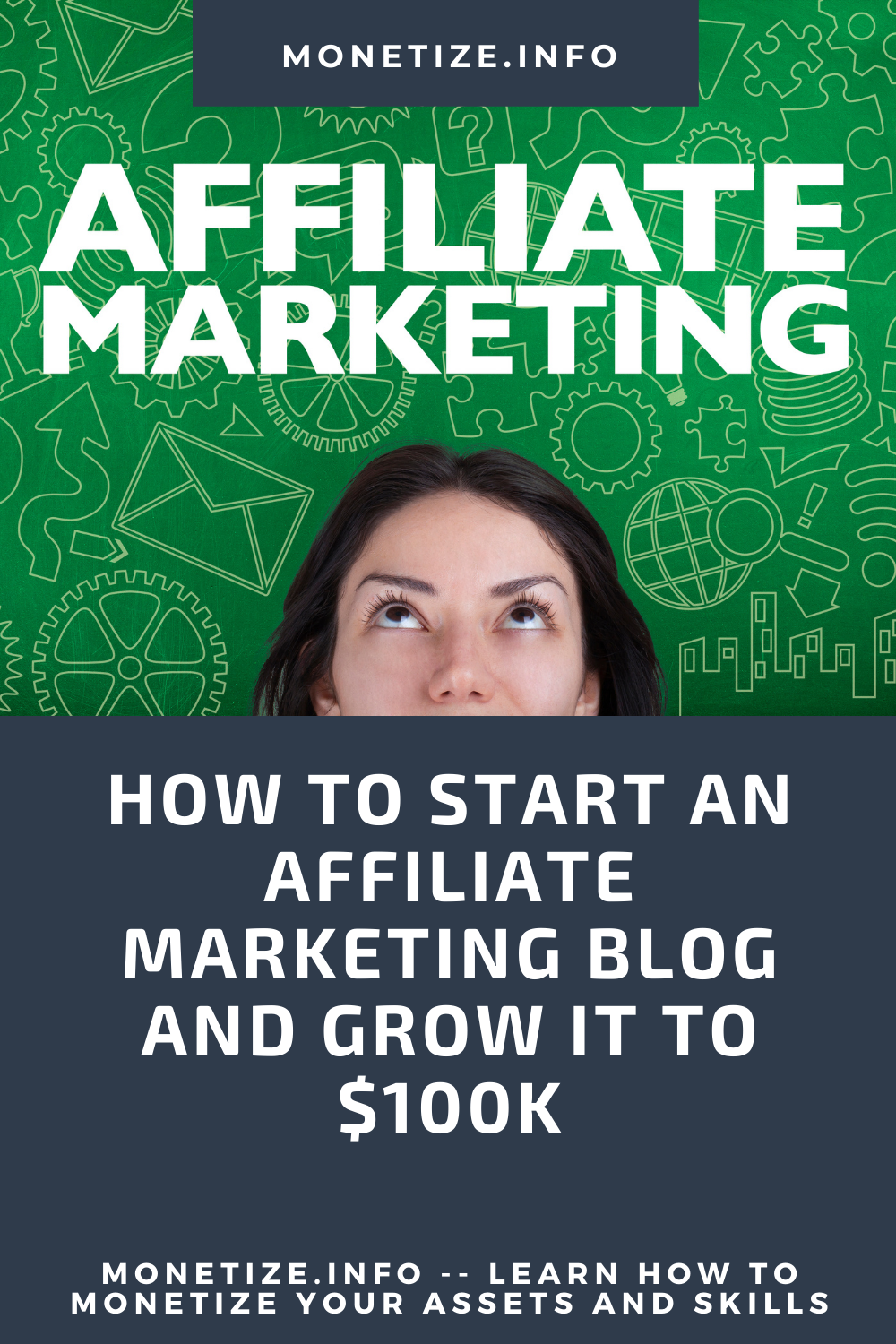 As I've said, I've created over 40 money-generating blogs till now, and I'm happy to answer and help you succeed. Want our team to create an affiliate blog for you? Hire us.
Do you have a blog or want to set up one?
Let me know in the comments form below.