It is impossible to imagine modern society without smartphones. Studies show that about 30% of an average consumer's daily screen time is spent by looking at the mobile screen specifically. The majority of smartphone users generally spend at least three hours a day on their devices, making portable gadgets a perfect platform for advertisers.
For many years sell ad space on a website was one of the most profitable ways to monetize your digital assets. However, this is not as profitable as it was before. Instead, mobile platforms, apps, and sites appear on stage and take leading positions. While mobile advertising can be highly beneficial, it is essential to do it right.
Best Mobile Ad Formats
There is a selection of different mobile ad formats, each of which serves its specific purpose.
Learning about these formats and applying the most suitable ones to your advertising campaign makes it possible to increase profits significantly.
From Mary Meeker's report we find out the following:
29% Of people's daily screen time are spent looking at smartphones
Global mobile data traffic grew nearly 70%
Mobile commands 24% of media time spent in the US
Mobile media time spent is higher at 51% compared to the desktop in the United States.
Let's look at the available types of ads for mobile—traditional and trending.
The Interstitial Ad
Interstitial adverts are some of the most well-known mobile ads that usually cover the whole or almost the entire screen of a device. They are perfect for grabbing the full attention of viewers as they cannot be looked over.
This is the most popular size as it allows for more context, clearer call-to-action, and more creative content like videos, store locator, and many others. This allows you to encourage more engagement hence lifting your SAR for better brand performance and recall.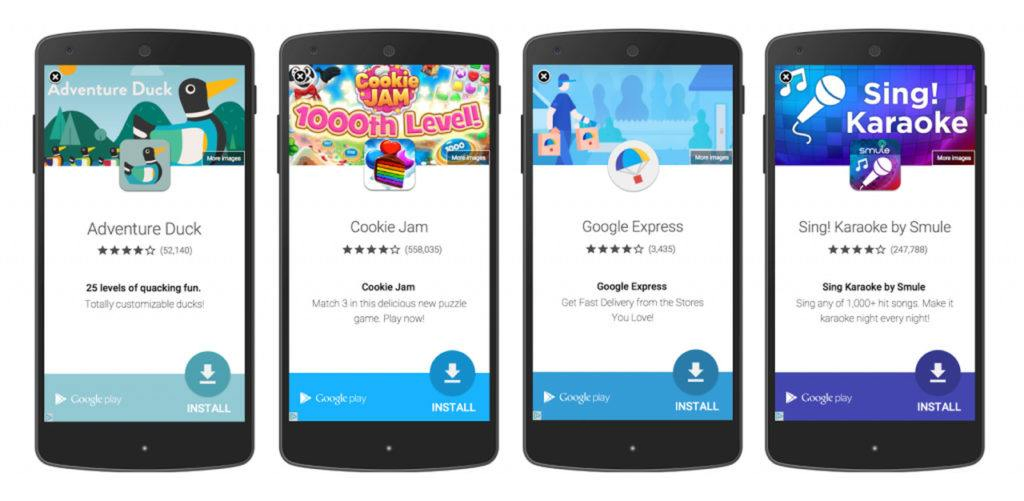 Such adverts appear during some of the most important actions on a smartphone, such as switching between pages of a site or performing specific activities in apps and games.
Some action is required to close this advert, such as tapping on the closing button. This way, a consumer pays closer attention to the ad and is more likely to follow the link further.
Interstitial Ads PROs
Larger space
Broader message and exposure
Visually compelling
High impressions and conversions
Offer interactive rich media content
Interstitial Ads CONs
Can be highly intrusive if placed badly.
High CTR may result from the difficulty to close the interstitial
May affect Google rankings
The Video Ad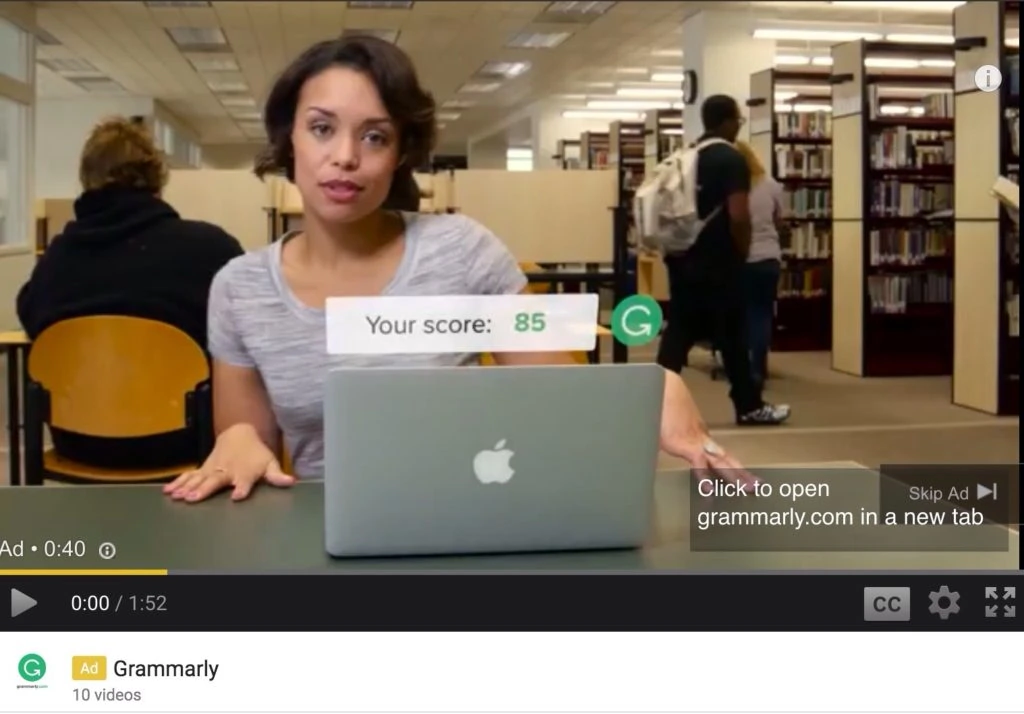 Video advertisement is more expensive than interstitial ads, but, at the same time, it is more engaging and rewarding for advertisers. A high-quality video ad is not as intrusive as some other ad formats, and it can grab viewer's attention more easily.
Consumers tend to like video ads more as they are fun to watch, as long as the advert is not very long. Such ads' preferable length ranges from 15 to 30 seconds to keep viewers' full attention and not cause irritation.
Video Ads PROs
Users like them more.
It focuses the attention of the viewer.
Good for brand exposure.
Video Ads CONs
It may be expensive to produce.
Can be intrusive when is poorly placed.
The Rewarded Video Ad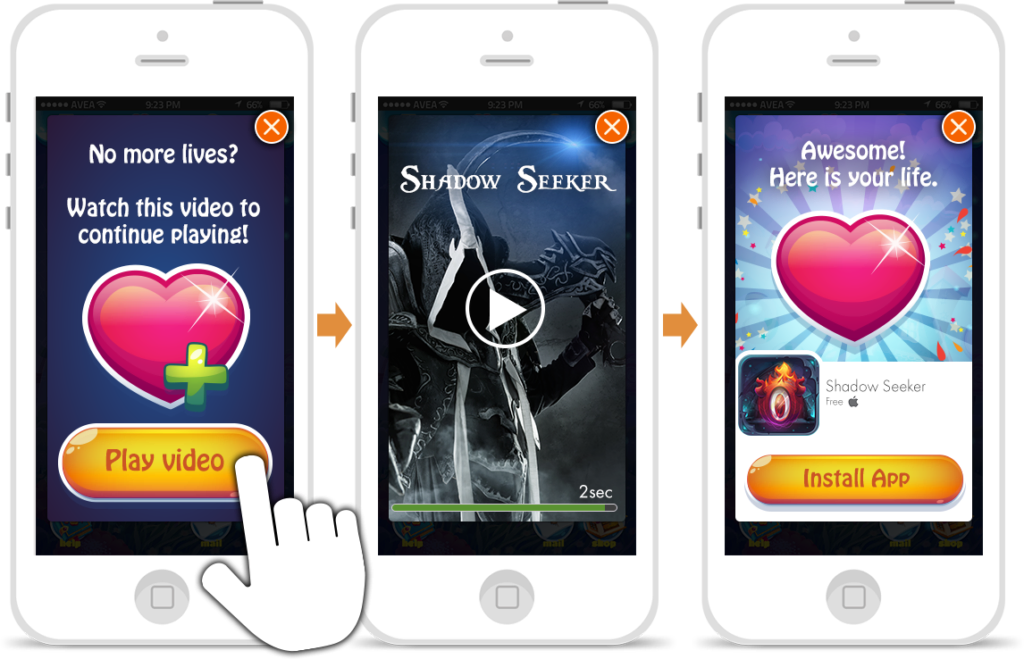 Rewarded video ads are improved video adverts that many customers enjoy. An advertisement, in general, does not offer consumers anything except for knowledge about a product or service.
However, rewarded video ads work both ways and provide something in exchange for the time viewers spend on the ad. This ad format is trendy in mobile games where players can activate these ads themselves and watch them in full to receive in-game currency or valuable gifts.
This rewarding system makes customers want to watch the ads without skipping as there is a prize waiting in the end. Having such adverts included in your campaign can increase customer satisfaction immensely.
Reward Video Ads PROs
Good engagement rate.
High completion rate.
High viewer satisfaction, as users get a reward for watching the video.
Reward Video Ads CONs
Traffic is of lower quality because the people watching the video aren't necessarily interested in the ad.
Lower action rate as many will watch the video for the reward.
Rewarded video ads don't help with the Lifetime Value of the advertising party.
The Expendable Ads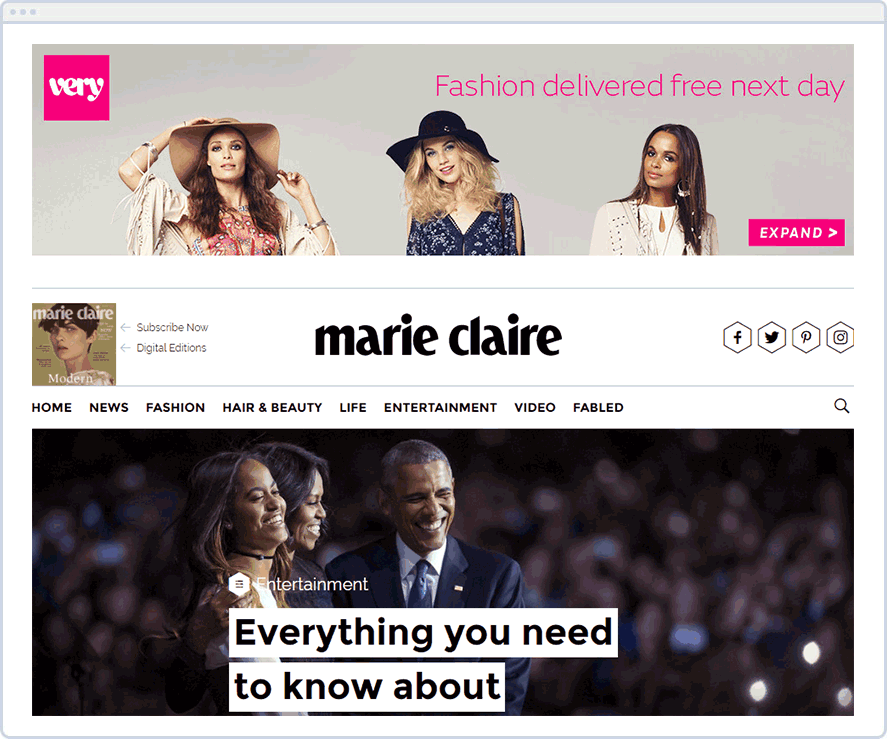 Expendable advertisements work as a combination of advert banners and other ad formats. They initially look like a banner, usually on the top or bottom of the screen, and contain essential information. In this blog post, you can see another ten expandable ad examples.
After tapping on them or pulling up or down, these adverts expand to provide a bigger ad with more information about the product. Consumers are generally perceived as more optional than some other mobile ad formats and less intrusive.
They can be opened at will, which means more people interested in this ad will click on it. This is also helpful for gathering data about the target audience.
Expandable Ads PROs
More information opportunities with the expansion unit—i.e. videos and interactivity
Obtain valuable tractions—through action-driven expansion where you can measure the number of times users view the ad content.
Expandable Ads CONs
May frustrate inexperienced users—as they missed the option to close the ad
Native Ads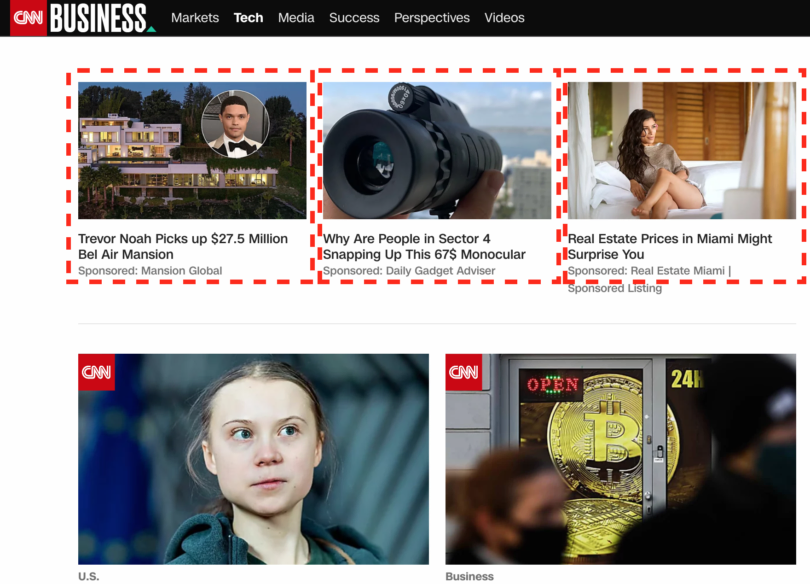 Fortunately, native ads come in various forms and sizes. It combines advertising messages with user-centric content. Meaning instead of giving publishers the ad, they will be given the components of the ad. It is up to them to display the element in ways that fit well with its app. So, the ad will appear as a part of the app's content—thus the name, "native".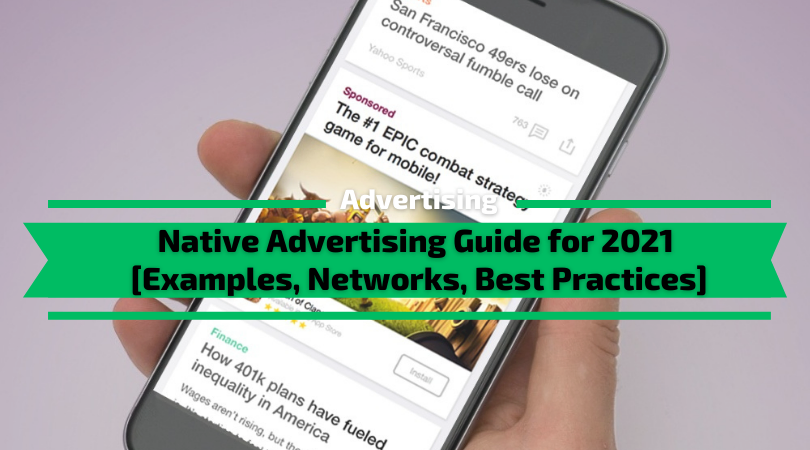 Many people deem that native ad format is by far the best mobile ad format. This is so because native ad leverages the context and relevance of the content on which it appears. 
Users treat the ads as new content in their information flow. 
Native Ads PROs
Better customer targeting.
Less Expensive.
Bypasses Ad Blind Customers.
Bypass Adblockers.
If done right, it can enhance the Content.
Native Ads CONs
It Can Seem Deceptive to visitors.
Publishers Receive Backlash in traffic figures.
Google may Penalize native ads if done wrong.
How to select the best ad format
Like any other type of advertising, the main goal is to reach the target audience and get as much coverage as possible. Picking a suitable mobile ad format makes it possible to grow a dedicated client base for your products or services and increase earnings.
Here are some of the benefits of high-quality mobile advertisements:
Reaching as many potential customers as possible by increasing the ad coverage
Targeting the most beneficial consumers such as those interested in your product and the ones with higher purchasing power
Receiving better advertisement impressions from viewers and so on
Overall, a carefully picked ad format might boost mobile advertisement performance even further and prove worthy almost immediately. There is a selection of different mobile adverts, and some of the most popular will be listed below.
Conclusion on Best Mobile Ad Format
Let's face it. There's no such thing as a universal ad format. You should understand how each works. Learn how to select the best mobile ad format to monetize your mobile marketing campaign.
Currently, video ads and interstitials for mobile look promising. However, given that we are all trying to reach varied audiences, it's important to think about what works best with the user's experience. Start from there and experiment with various mobile ad formats.  Then, tinker with effective mixes of ad format, placement, and frequency for your mobile campaigns.
For brands, the best practice is to provide a good experience with the ad, either through interactions, giving useful information, entertaining, or generating a positive feeling. This will engage users and deliver a strong impact on brand recall, which increases brand affinity.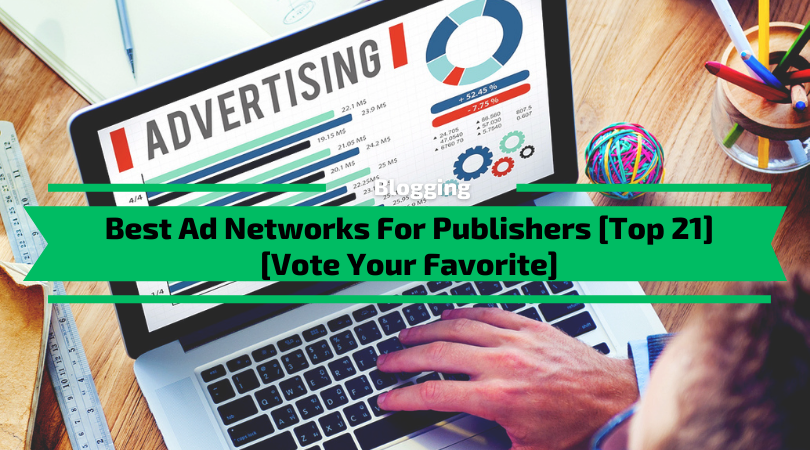 In a previous article, I reviewed the 21
best advertising networks for publishers
in 2021. Also, I have shown you how to signup and get approved in these advertising networks, what's best for you and how to get paid.