Telegram is known for its chatbot-like tendencies regarding users asking for information and businesses looking to increase their customer base. In this article, I will explain what Telegram is, what telegram bots are, and a list of some of the best Telegram bots in the market.
With Telegram being a revolutionary platform that takes pride in its security, message delivery speed, and development perks in communication, there's a lot to appreciate about it.
What is Telegram?
Telegram is a messaging app focusing on speed and security, and it's super-fast, simple, and free. You can use Telegram on all your devices simultaneously — your messages sync seamlessly across any number of your phones, tablets, or computers.
With Telegram, you can send messages, photos, videos, and files of any type (doc, zip, mp3, etc.), as well as create groups for up to 200,000 people or channels for broadcasting to unlimited audiences.
You can write to your phone contacts and find people by their usernames. As a result, Telegram is like SMS and email combined — and can take care of all your personal or business messaging needs. In addition to this, we support end-to-end encrypted voice calls.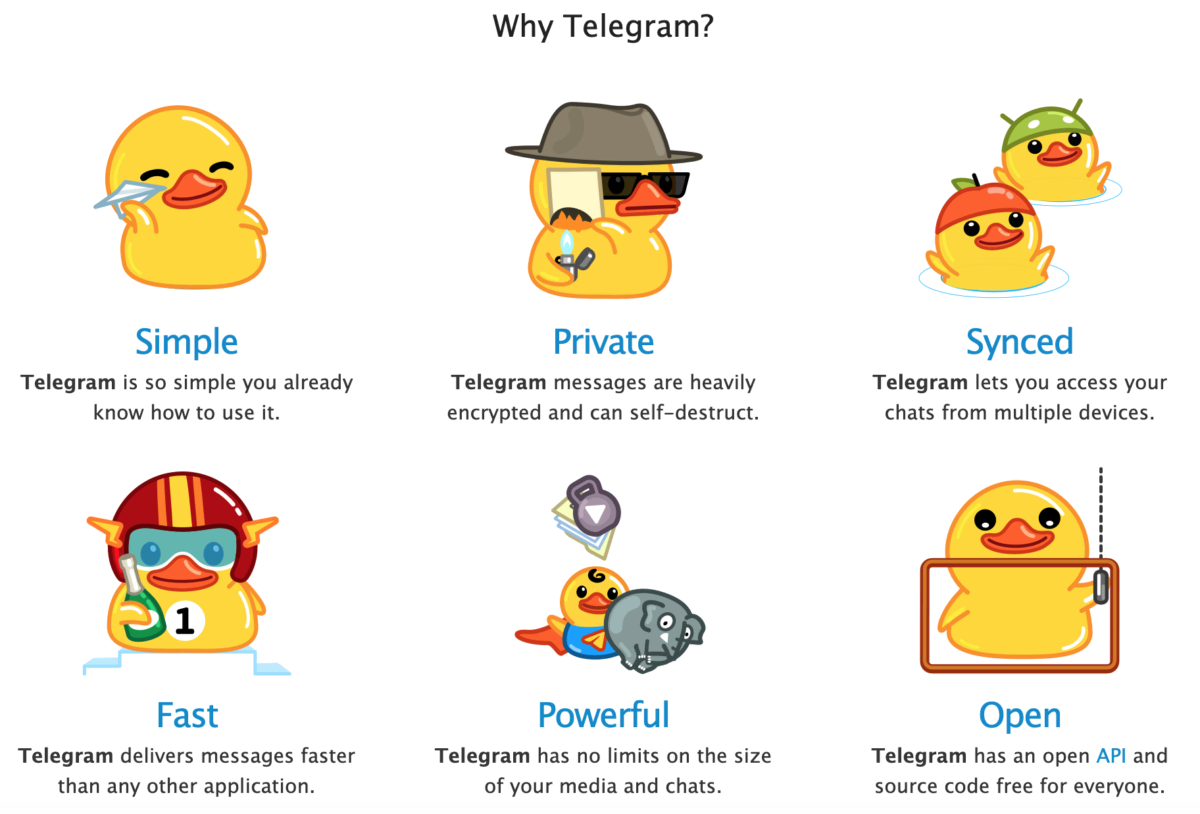 One unique perk about these chatbots is that they're always there 24/7, and they can deliver helpful information without having to wait.
In this article, we'll talk about what Telegram Bots are, what they can do for users, and even suggest the best bots in the market.
#1. What Are Telegram Bots?
According to Forbes, Telegram bots are "used for automated communications or updates between teams such as groups of developers," and also facilitates "automated conversations [that share] news or updates."
Since their emergence with the new Telegram bot API in 2015, these bots have been used now more than ever.
Telegram bots are used to perform specific functions, follow instructions, and interact with users, and these tasks are possible inside the Telegram environment and don't need additional installing.
Also, people of pretty much all walks of life can benefit from such technology.
So, whether you're a business owner, a customer, or just a regular person, for that matter, there's a bot for pretty much everyone.
Here are five ways that people can use Telegram bots:
#1.1. Helps Organize Your Day
Nowadays, people use automation to declutter their work and stay organized every day. Lara Rusconi, a tech writer at Next coursework and Australia 2, write, explains how that is:
Q: How do Telegram bots let you know when to stay organized?
A: "First, alter bots can be used to set notifications to be sent to either your Telegram account, a group, or even a specific chat. These notifications are reminders that help you not forget to complete a task."
Q: How do they organize?
A: "Bots can keep notes organized without having to check back every so often. With notifications enabled, it'll be as if they're tapping you on the shoulder to remind you of what's next on your to-do list."
Q: What about whenever you're traveling?
A: "Telegram bots can also act as travel assistance bots that use your preferences to avoid scanning for flights, and find accommodation and travel inspiration from automated searches to find what's best for you."
It's also good to know that people can connect to other people when necessary to customer service. For example, according to the Atlantic, these bots can act as virtual assistants that can "[ask] you a few questions and tries to get you the information you're looking for;" otherwise, it "connects you with a human who can."
#1.2. Keeps Track Of Your Site
Ever wanted Google Analytics to send data and other helpful information straight to your Telegram account? You can!
Telegram bots can do the work for you by directly beaming information from Google Analytics straight Telegram. This practice is something that businesses, for example, can benefit from since they looked at the numbers to learn about their target audiences, the shopping behaviors, etc.
This is especially beneficial for brands that post content on social media because these bots can analyze and send you conversational analytics via Telegram Analytics, and show you how many people read and react to posts, or notify you of any unexpected website traffic.
#1.3. Enhances Account Security
When it comes to account security and privacy, Telegram is all about it. According to Lifehacker, Telegram takes pride in "its simplicity and security," along with its new feature that "adds another layer of control over your messages."
Despite the main bot not being 100% immune to malware and unapproved content, you can still comfort the added protection should anything happen.
So that Telegram bots can keep up with their best practices, there are additional bots that protect your account from unwanted and inappropriate content. They can defend against attempts at uploading malware to your device; and, they can even ban other bots from entering a group, filter content, scan attachments, and control behavior.
#1.4. Encourages Fun And Games
The good news is, Telegram isn't always about the work. Why not have some fun with it? You heard, right! Telegram lets you have fun. Whether it's with family, friends, or other users, this is a great platform to have fun on.
First, when it comes to games, bots offer different HTML 5 games that you can play with friends or other users. Also, bots can track the accumulated scores (high and low) between you and your friends and allow you to invite others to play.
If you're into quiz games, bots let you add those games to your favorite group. Or, if you're looking to play solo, you can try out old-school single-player games like a snake.
#1.5. Your Go-To Guide For Marketing And Growth
One of the best things about Telegram bots is that companies can use them for marketing. Kiera Davies, a journalist at Brit student and 1 Day 2 write, explains how:
Q: How do Telegram bots enhance businesses?
A: "Bots can enhance the growth of your business by connecting to many external sources for any of your business-related questions, or give you any information on any keywords that are popular in search engines."
Q: Although market research can be beneficial for businesses, sometimes obtaining data can be challenging. How can bots solve this problem?
A: "Telegram bots like 'survey bot' can post surveys on your social media pages, and then send you the results, rather than send users pesky emails that seem spammy."
These bots can also send invoices to users. According to Mashable, these bots called "merchant bots" can "send specially formatted invoice messages to users." And, they "feature a photo and description of the product along with a prominent Pay button."
By enabling Telegram bots, businesses can promote their products and interact with customers in more efficient ways.
#2. The Best Telegram Bots?
Since Telegram bots can help people in almost all walks of life, here are some of the market's best bots.
You can easily find bots by clicking the Telegram Search and typing in a bot's specific name. Usually, creators of bots introduce their products and how they work.
2.1 Spotybot
Spotybot is one of the Telegram bots that let you listen to music available in this instant messaging application. You can share songs and lyrics with your friends as well. There are many similar bots that you can choose from, but this bot is one of the most popular music-related applications.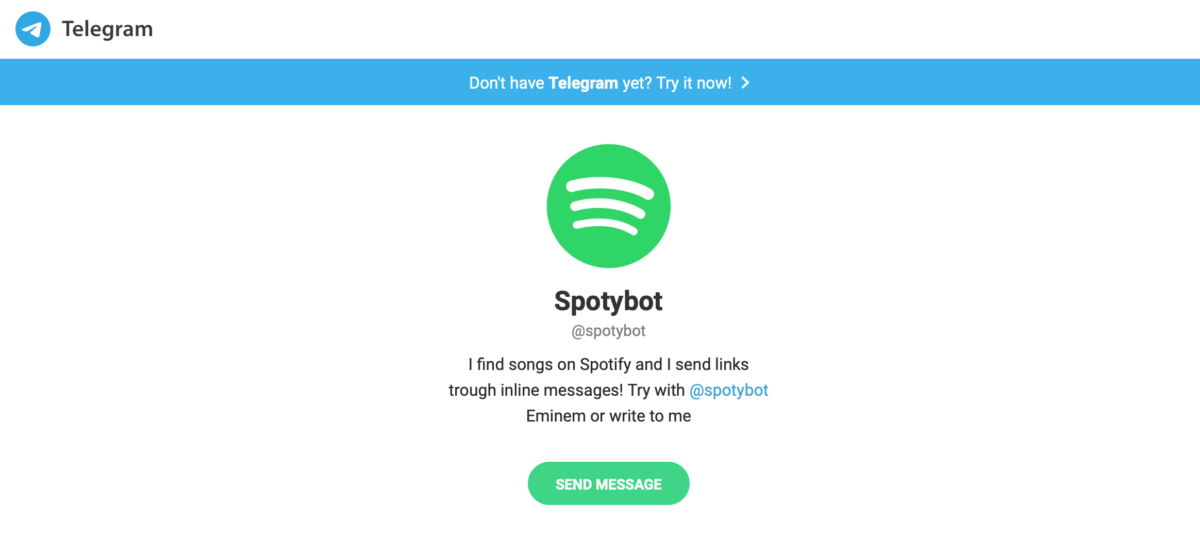 2.2 GitHub Telegram bot
This bot is an app designed for managing notifications from Github directly from Telegram's interface and even allows you to post comments on any issues. Despite the occasional bugs, GitHub still has you covered by unveiling updates and new features every so often.
2.3 LittleGuardian
This one is a program that protects Telegram users from getting inappropriate or malware-ridden content. With this protection, this bot guarantees that you won't be bothered with spam or any dangerous files capable of giving you viruses.
As an added incentive, the LittleGuardian bot creators are always fixing issues within the application and releasing new updates.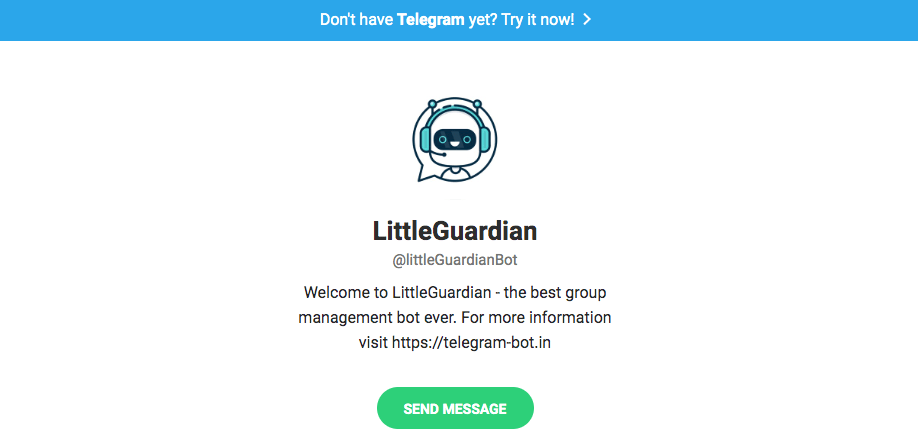 2.4 VoteBot
Want to create polls, and use them in your channels or chats? Then the VoteBot is the Telegram bot for you! All you have to do is communicate with the bot through a sequence of prepared questions, open the conversation, type @vote, and then select the poll that you want to insert.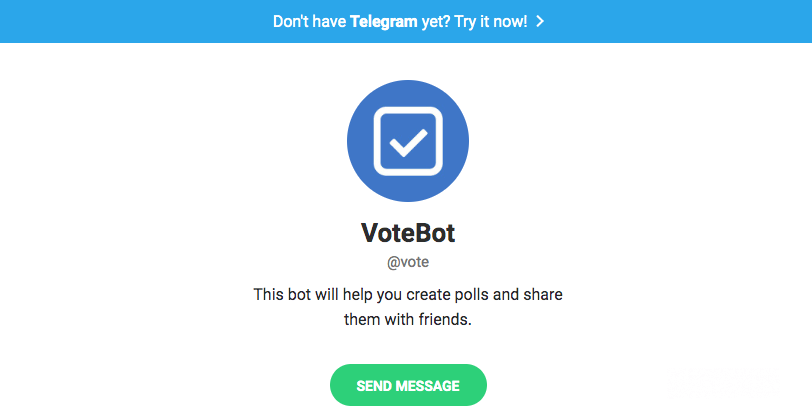 2.5 Shieldy
Like the LittleGuardian bot, Shieldy is another Telegram bot that aims to protect users from spammers. For example, when a new person joins a group, the Shieldy bot will ask him/her to act before officially joining.
If they answer incorrectly and can't prove their legitimacy, the bot would block them. In hindsight, this bot acts as a literal "shield," so to speak.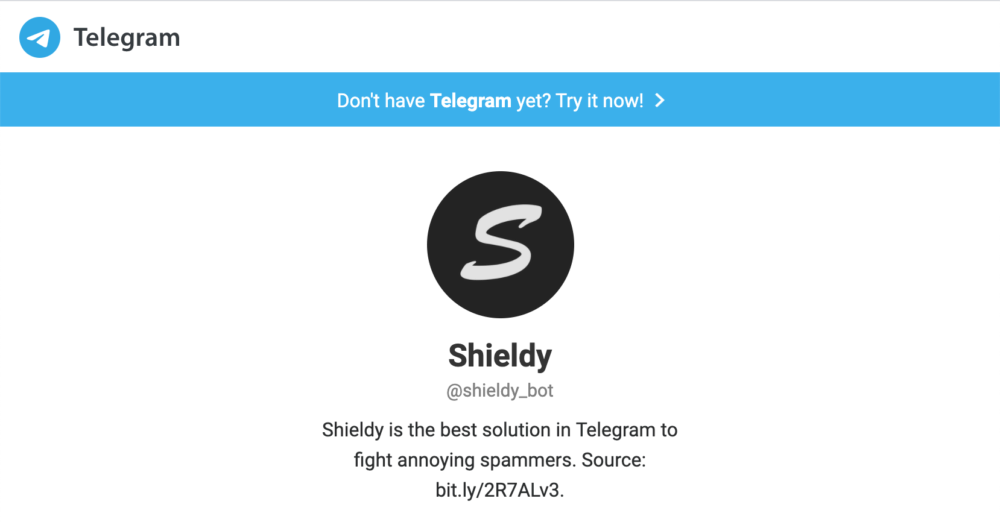 2.6 Smokey
Ever felt conscious about pollution that might be in your area? Then try out the Smokey bot. This bot uses GPS technology to identify air pollution levels where you are. It also provides guides on smog, at-risk areas, and how to survive and reduce air pollution.
As such, this bot can be beneficial for users and businesses because while this bot caters to environmentally-conscious users or those with health concerns, it also helps businesses educate their workforce and management on specific concepts and drive social initiatives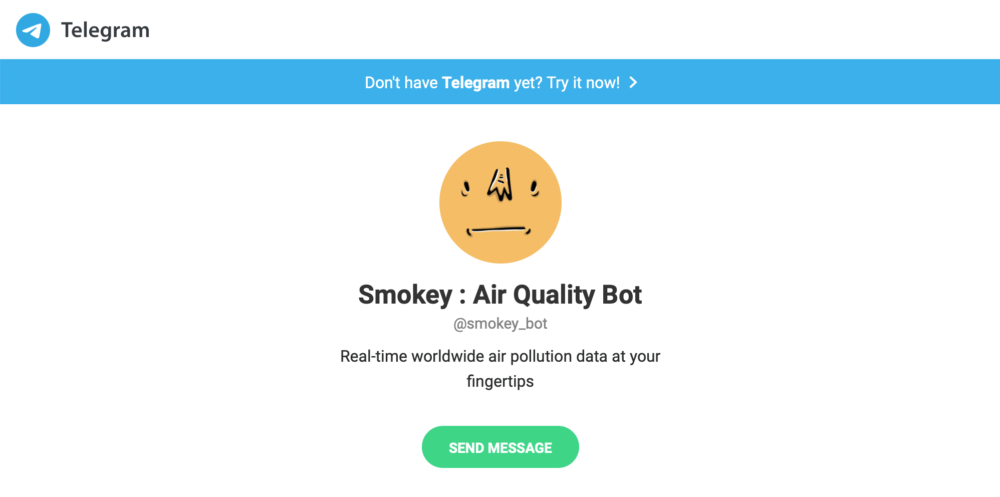 2.7 Zoom
Zoom is a popular video conferencing app that has garnered millions of users for personal, and business uses. So, it's not surprising that this brand would come up with a Telegram bot.
The Zoom bot can be added to your contact list and can even help you create or join a meeting on the spot. Whether you're a user creating a chat with family or friends, or a business checking in with your remote team(s), you can easily create video calls with this bot.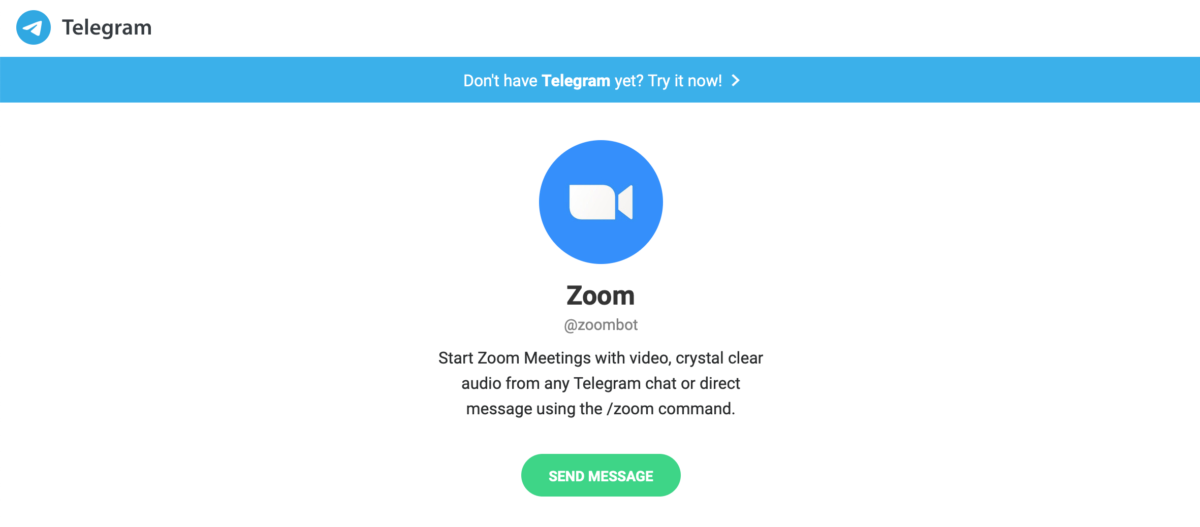 2.8 MetricsBot
The MetricsBot is an application for receiving information from Google Analytics directly into the Telegram environment. This bot is great for keeping track of your website or when you want to share information with your colleagues.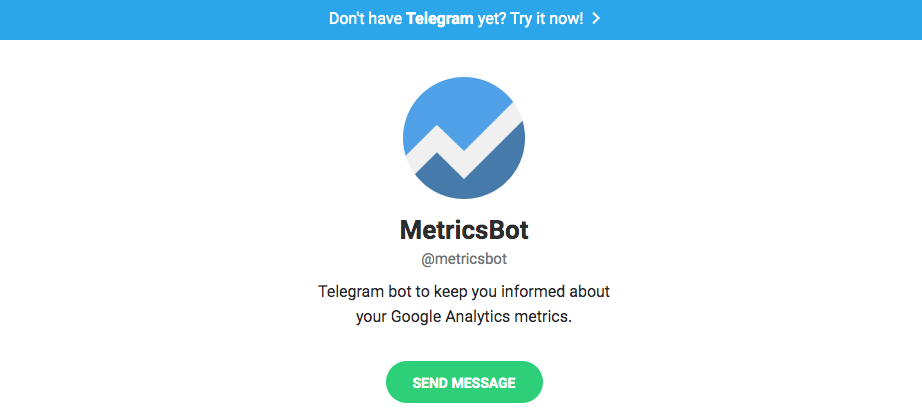 2.9 invokeGeekBot
IT specialists need to receive the latest job offerings to increase their chances of ending the job hunt. invokeGeekBot is here to serve information about the latest IT job offers. Additionally, the app provides frequent and daily career tips.
2.10 Voicy bot
The Voicy bot is an application that converts audio messages to texts. Therefore, you can easily send messages that would take too long to write.
Additionally, since Telegram prevents bots from downloading files bigger than 20 megabytes, creators of Voicy added voice-recognition to their main website.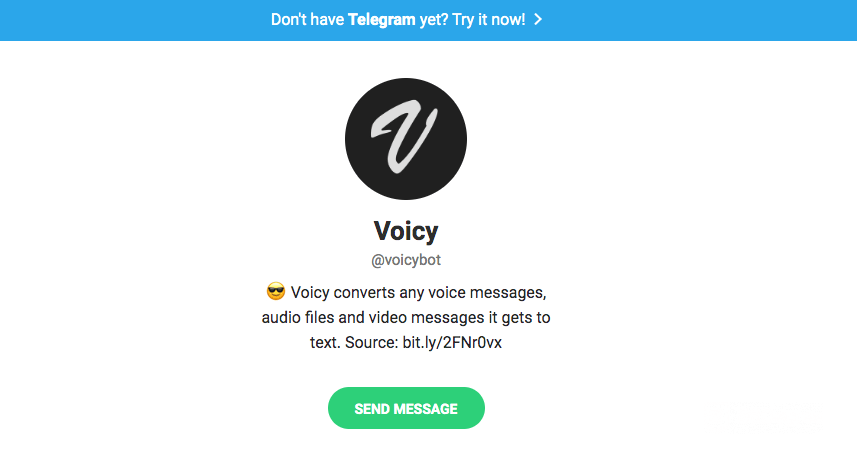 Conclusion
No matter your needs – personal or business – Telegram bots can be used in personal conversations, business groups, and channels. Therefore, there's no need to leave the messaging app to get to the content you need.
And with an arsenal of Telegram bots at your disposal, you can pick and choose the one that best meets your needs.
As a whole, you can use Telegram bots to:
Organize tasks
Look at the analytics of your site
Takes security seriously
Finds time to let you have fun
Help you grow your business
Though, like any other chatbot, Telegram bots aren't immaculate; in other words, they're not perfect. In fact, the potential security risks can't be ignored, especially when it comes to these bots.
Regardless, these Telegram bots' creators are always working to fix these issues and ensure that they're safe to use. Plus, third-parties are working to create better bots that may soon be immune to malicious malware and viruses.
Therefore, these bots will continue to be used by anyone who needs them; and, they will continue to be looked to for task completions and business growth.
LINKS