In this article, you will find out how to create great curated content. You may be in one of the following situations:
A marketer has been trying to get her list article to go viral.
A copywriter is trying to create an eye-catching non-clickbaity title for his new article on the rise of eCommerce which he also hopes to optimize for search engines.
A blogger is on the lookout for new blog post ideas.
A social media manager is struggling with her number of Instagram followers.
They all are looking for things in the same realm and yet they don't know where to look.
Coming to their rescue are these smart content compilation tools which take care of everything – from idea generation to trendy news researching, from superficial keyword research to grammar checking, from infographic generator to graph creators.
Just think of a need regarding content, and the internet has a solution.

Bill Gates said it in 1996: "Content is where I expect much of the real money will be made on the internet.." and this was right for so many years and will still be the truth for years to come. However, this does not apply to all publishers, especially to those that just started a business, as new bloggers.
1. First, the hard truth about content
Just think of all the new blogs that appear daily, to the thousands of recordings that are uploaded daily on Youtube or on all new messages that are posted on Facebook, Linkedin, Twitter and all other social networks. Nowadays everyone can create content and publish it quickly at a very small costs.
However, if we speak about quality content, the things change a little bit. Great content takes time and money to be produced and promoted to the right audience. If you are in a small niche, that's not very competitive. creating quality content will give you a boost over the competition.
But in crowded niches like Finance, Digital Marketing and many more where there are many already established publishers, even quality content will not get you too far. That's because the competition is very tough and your competitors are investing a lot in high quality, researched content.
You may have some successes but overall you simply can't win this game unless you're ready to invest thousands in content and marketing. Also, keep in mind that most of these competitors are authoritative websites in your niches so their content will appear higher in search engines.
What can you do?
Focus on curating content.
2. Curated Content is the new King
There was a time when marketers used to chant "content is king" all the time. The demand for writing services grew exponentially and they pleasantly provide writing, editing and proofreading services one of the best is WriteMyPaper.Today , thanks to the mantra, but the times are changing. Curated content has made its entry into the world of marketing, and has taken the world by storm.
Curated content is nothing but a series of articles or blog posts that are written for a specific audience based on demand. For example, consider the above-stated example of a cinema blog.
If most readers of that blog are into science fiction, then it would wise for the blogger to write about sci-fi films and create a curated list of articles that are published every week. Why not publish it on the weekend so that more visitors can read it?
One more technique: The expert roundup – is the activity where a blogger creates articles based on experts and their opinions. For a cinema blogger, the expert roundup can be about indie filmmakers sharing their thoughts on the status of cinema in a modern world where Netflix is making waves.
Here you can check one expert roundup we did on SEO where that got us over 8000 unique visitors, 29 retweets, over 600 social sharings so far and still counting: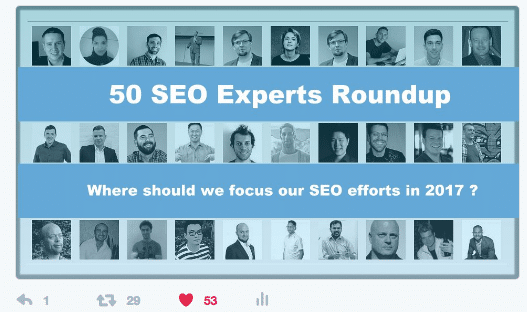 If you need help organizing a great expert roundup that will flood your website with traffic and skyrocket your brading authority check our expert roundup creating service.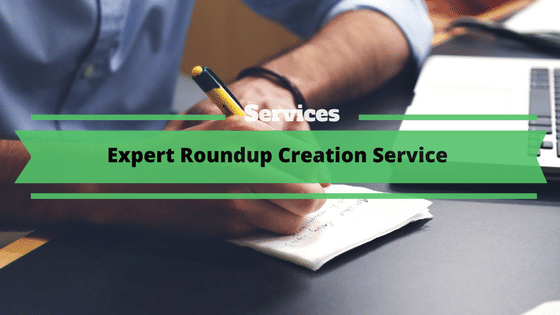 According to online studies, curated blog posts have a great effect on niche blogs as they are exactly what the readers are looking at.
Best Content Tools for Marketers, Bloggers & Copywriters
Every piece of content should start with a topic in mind. Keep in mind that you don't write for yourself but for your audience. In order to find out what your audience wants you should check the trends and see whats hot right now.
#1 – Google Trends
A marketer who does not use Google Trends for content creation is missing a lot. So much insight about current affairs and all the events that's happening around the world all on a single platform – this genius Google application makes it easier for marketers to look for ideas and hit the iron when it's hot.

This is really helpful for people looking to create viral content. One important element of viral content marketing is choosing topics that are trendy, making people on social and mainstream media to click, like, and share.
#2 – FAQFox
Now that you see the trends and picked one of your interest is time to find some questions people are looking for answer. For that we are using FAQFox.
FAQFox it's not a typical keyword research tool, it's great for understanding real user problems or queries. Let's see it in action: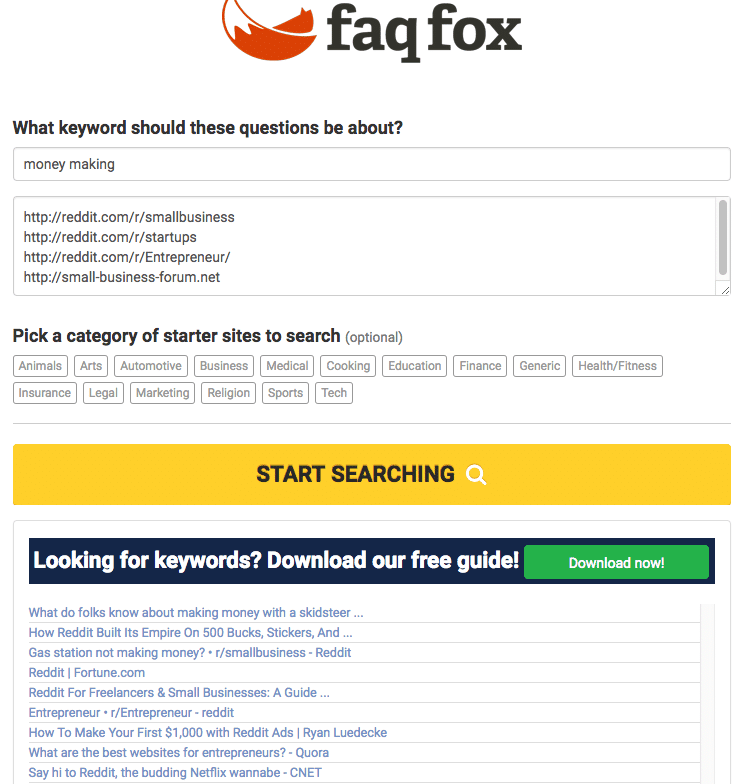 The tool lets you search by keyword, and then auto-populates a bunch of forum sites for scraping, depending on the category chosen.
At a glance, we can see a few more good threads for finding potential keyword opportunities (amongst a couple of totally unrelated threads). It is evident from this small amount of research that money-making is a popular topic amongst the audience.
#3 – UberSuggest
Think of UberSuggest as Google's Keyword Planner without the extra baggage. A user just has to enter a single keyword of his interest and the software generates a list of related keywords.
No competition, no search volumes, no extra data – just keyword suggestions to work articles on.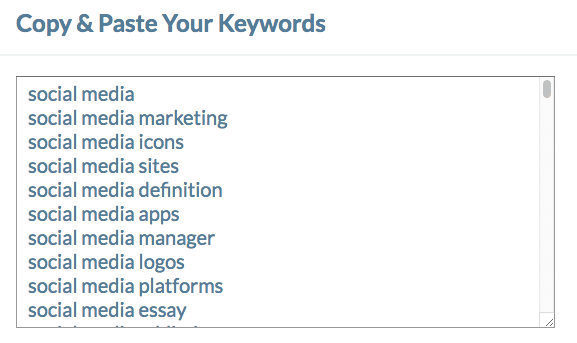 With the above example, if a user is getting five topics from HubSpot's generator, with UberSuggest, it's a never-ending list.
#4 – HubSpot Blog Topic Generator
Ok so now we have a hot topic for our article and a question or more we will answer in our article. Is time to create a great headline that will get people's attention.
Made especially for people who are struggling in coming up with cool blog topics, HubSpot's dynamic Blog Topic Generator throws up five great topics for every three nouns you submit.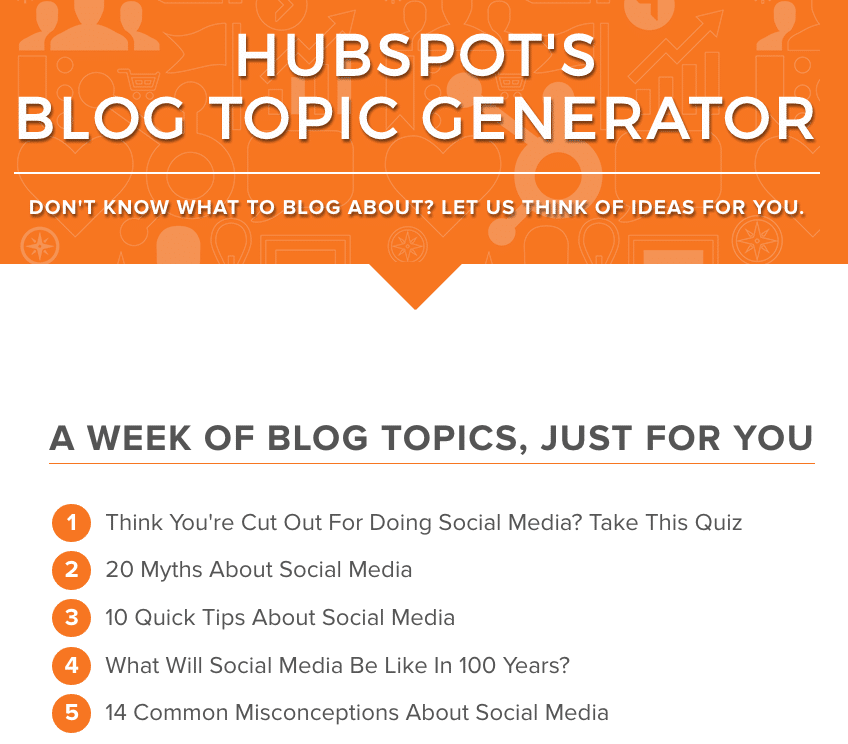 For example, a blogger who is looking to create content about digital marketing trends will submit those three words to HubSpot's generator, and in return will receive five blog topic ideas.
Out of the five, the best one reads "10 Things Your Competitors Can Teach You about Trends". The blogger can either go with any of the suggested topics or try different words. There are endless possibilities.
#6 – Hemingway App
Although a lot of marketers depend on the popular grammar app called Grammarly to proofread their copies, there is a better web app that takes care of not only grammar but also syntaxes, readability, and adverbs.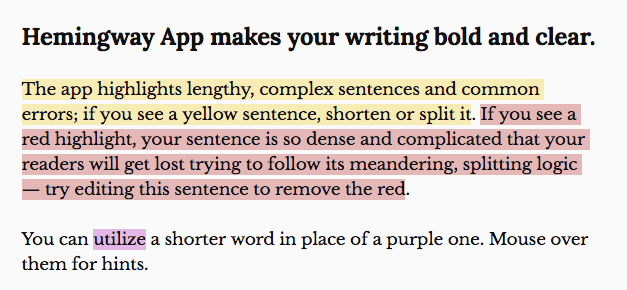 Just copy the text that needs to be edited and the app gives a complete report – use of adverbs, adjectives, readability score, and complex sentences. Content marketing is all about simplicity, and this app inspired by Papa is a must-have.
#5- Canva
If text-based content looks like the 2000s, the one can also try a hand at images, infographics, and videos. And the best free software to use to create graphics is Canva. Create featured images for wordpress blogs and articles and create images for Facebook carousels using free templates.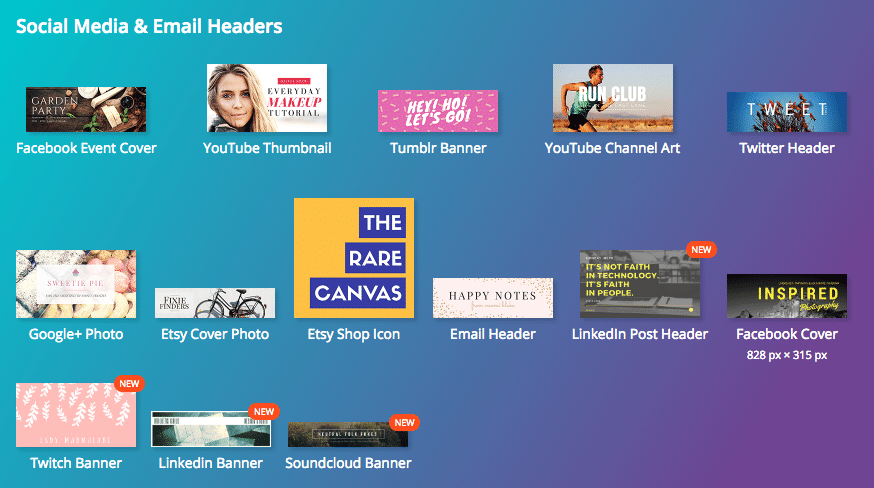 Canva makes it easier for a person who is not a graphic designer to design good-looking, marketing graphics.
Once a person uses Canva, the chances of converting to a premium user are very high. More design collections, templates, and extended features.
#7 – Headline Analyzer
An SEO professional looking for the perfect headline will go to this site, submit the headline, and get a detailed report. It takes care of everything that an SEO whiz will want to in a headline – character limit, trigger words, effectiveness, and what-not.
Some Essentials for Bloggers
Content tools aside, there are many more factors that bloggers and marketers should take into consideration before hitting the "Publish" button. A person may have used all the best tools in the market and would still struggle to market the content properly.
Keep in mind: Content without audience or engagement is of no use to a company.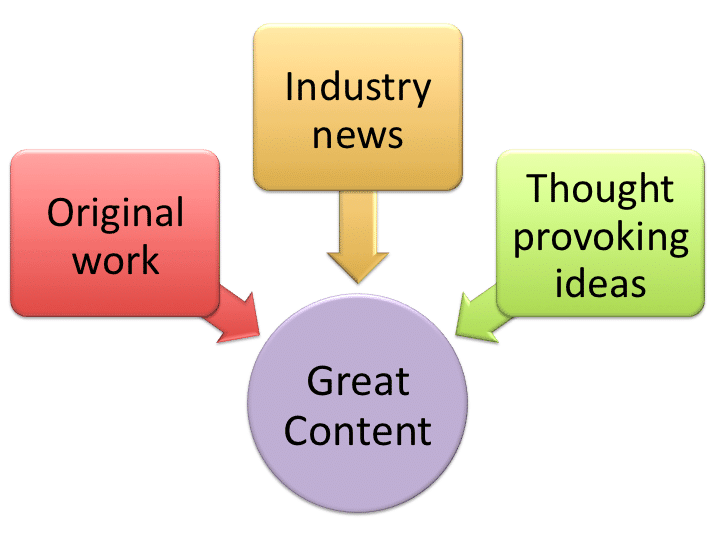 Make sure that these essentials are checked off before content is published:
Good sources lead to Great curated content – To create great curated content you need quality sources of content (well written and well researched). Subscribe to social media accounts and RSS feeds of the best websites in your niches.
Proofread – A content that is not proofread should not be published. There's nothing worse than a typo in the introductory paragraph of an article aimed at businesspersons
Content for the audience – If there is one mantra that bloggers should follow, then it is to give what the readers want. Even if bloggers take writing help from external websites, the focus should be what the readership is looking for. A blog about cinema talking about food recipes is a huge turn-off.
Social media – Today, content that is not shared on social media can hardly be called as effective content marketing. Search engines regard social signals as a strong factor to rank search results. So, bloggers should ensure that after a blog post is published, it is shared on all relevant social media sites.
Conclusion
The marketing world is never stagnant. It moves on from one trend to another, and it is up to the marketers, writers, copywriters, bloggers, and social media managers to tweak their strategies to attain the full effect.
The transition from "just content" to "curated content" is absolutely necessary if a marketer wants to survive in this competitive world.
Using the content tools mentioned above will be very helpful. Marketers can pull all sorts of tricks – hire writers, run online ads, create sponsored content – but the key is to be relevant and original. Those two things can guarantee success.
Daniel S. also contributed to this article.