It's possible to earn money with eSports even if you don't have any experience in playing games professionally. In the following guide, I will show you how to make money by trading eSports stocks and ETFs, betting on eSports, and getting a job or even starting an eSports-related business.
Before starting, let's have an overview of the esports industry so we can understand the magnitude of the growth that happened in previous years and what is projected for the future.
Esports Industry Overview
Esports and competitive gaming are growing in popularity and gaining viewership each month.
Business Insider estimates that there will be 29.6 million monthly esports viewers in 2022, up 11.5% from 2021.
The International 2017, the world championships for Dota 2, broke the record for the largest prize pool in esports history at $24,787,916. But more impressive is that every International since 2014 has accomplished that feat.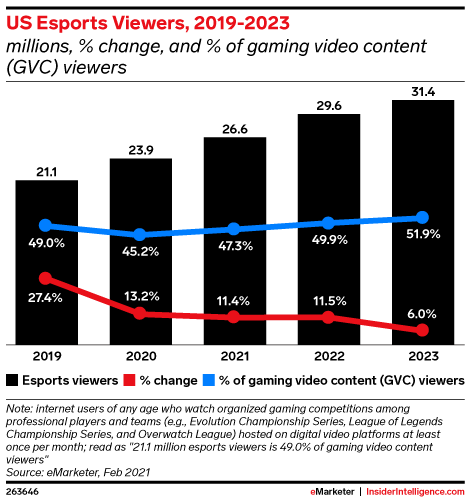 Regarding the players with the biggest prize money totals in esports history. At the top of our list is Johan "N0tail" Sundstein – $6.9 million (Dota 2), the second belongs to Kyle "Bugha" Giersdorf – $3.2 million (Fortnite), and the last one on the list is Peter "dupreeh" Rasmussen – $1.9 million (CS: GO).
The number of investments in esports doubled in 2018, going from 34 in 2017 to 68 in 2018, per Deloitte. That's reflected in the total dollars invested, too: Investments are up to $4.5 billion in 2018 from just $490 million the year before, a staggering YoY growth rate of 837%, per Deloitte.
The current value of the esports market is approximately $900 million, a figure that should continue to rise throughout the year, per Business Insider Intelligence estimates. Most projections put the esports ecosystem on track to surpass $1 billion in revenue for the first time this year. Newzoo predicts that the revenue will grow to $1.8 billion by 2022.
Buy eSport Stocks
Investing in esports stocks is one way to take financial advantage of the global success of eSports. Over the past decade, esports brands like Twitch and ESL and teams like Cloud9 and TSM have achieved multi-million-dollar valuations.
Some esports companies and teams are publicly listed, allowing you to buy their shares to help invest in their future whilst earning a profit share as they grow.
Other companies can even issue dividends, giving you a stake in their success each year as they grow. Others are owned by larger publicly listed corporations which operate in others sectors, too; by investing in the overall company, you are investing in esports too.
You can invest in esports via the traditional stock market. This means buying shares in a particular company. If the company grows, then you make profits.
These are some of the best esports stocks available at the moment:
1. Allied eSports Entertainment
Allied Esports is involved in all aspects of esports. They own many esports venues, including the HyperX Esports Arena and Allies Esports Trucks. Alongside studios, they own and operate several esports studios to bolster casting and streams alongside organizing some tournaments.
Operating in the background of many varied esports events is an excellent way to ensure the esports stock you're invested in is balanced across the market. Allied operate both stadiums, tournaments, and broadcast facilities. In-person events, online-only, and every type of game can be serviced by their offerings in esports. This makes it one of the esports stocks that crosses the entire industry.
2. eSports Entertainment Group
eSports entertainment group tie into a different area of competitive gaming. This company has wide-reaching influence in esports gambling and is an excellent pick in esports betting stocks. Esports Entertainment Group is expanding quickly, with approval now granted for them to operate in Atlantic City. This opens up entirely new horizons for the company.
3. Activision Blizzard
Activision Blizzard is an American video game publisher in Santa Monica, California. The company was founded in 1979 by Bobby Kotick.
Activision Blizzard has more than 300 million active monthly users across its games. These include Call Of Duty, Overwatch, World Of Warcraft, Hearthstone, Diablo III, Destiny 2, and many others.
Microsoft announced on Jan 18 that it would acquire Activision Blizzard for $95.00 per share in an all-cash transaction valued at $68.7 billion, including Activision Blizzard's net cash. Microsoft will become the world's third-largest gaming company by revenue when the transaction closes, behind Tencent and Sony.
4. Tencent
In recent years Tencent has become a massive name in esports and some gaming areas. The company has been involved in the enormous growth of mobile esports worldwide and general esports in Asia. This puts their games at the centre of the current esports world and biggest growth areas. This makes it an excellent pick for an esports stock and anyone looking to invest in esports.
Although, there are some things to bear in mind with Tencent. Buying stock in Chinese companies can be complicated at times, and there have been accusations that Tencent has been overvalued in recent months. Make sure you research, but Tencent remains one of the biggest and most profitable video game companies thanks to its involvement in esports.
5. Electronic Arts
Electronic Arts is an American video game developer and electronic entertainment company based in Redwood City, California. Founded in 1982, EA employs more than 20,000 employees worldwide.
EA published games such as Madden NFL, FIFA Soccer, Battlefield, Need For Speed, Star Wars Battlefront, and Mass Effect.
6. NVIDIA
Nvidia is an example of esports stock that deals with more of the backend for esports, the tech that allows the games to play. They are one of many gaming gear manufacturers that have become essential for high-level competitive play. If you're a big believer in a particular brand or just the growth of PC-based competitive gaming, then Nvidia is worth a look for an esports stock in 2022.
Other companies with a stake in esports include NVIDIA Corporation, Sony Interactive Entertainment, Intel Corporation, Microsoft Corporation, Epic Games, Ubisoft, Square Enix, Valve Corporation, Facebook, Google, Apple, and Amazon.
Read more:
Invest in eSports ETFS
ETFs might be for you if you're looking to invest in the general area of esports rather than any specific companies.
There are a growing number of esports ETFs targeting millennial investors. These feature some riskier esports-only stocks combined with more general gaming. There aren't too many strictly limited to esports, but plenty has crossover with this world.
1. Global X
Global X contains up to 40 holdings across both esports and gaming. Often esports ETFs will include larger-cap esports stocks of specific developers that are more video games than strictly esports. However, this is necessary to keep the ETF properly balanced with variously sized companies. The Global X ETF has many esports in the mix and video game companies that rely heavily on esports.
2. VanEck ETF
The VanEck ETF combines some areas of esports with the broader video game market. This ETF covers companies related to games development along with esports and hardware that's needed for the games to be played. This portfolio contains major developers like Activation Blizzard but also esports-specific stocks.
3. Nerd ETF
Nerd ETF is an exchange-traded fund that deals explicitly in esports and gaming stocks. Its basket, or portfolio, of stocks of publicly traded companies, includes game publishers, streaming networks, esports team owners, tournament organizers, and hardware companies
4. Heru ETF
The HERU ETF covers a big spread of the gaming market. It's only been in existence since December 2020. It has some big pluses going for it. It runs at an expense ratio of only 0.5%, which is pretty low for an ETF. The basket contains 40 holdings covering everything from video games to esports stocks.
Place bets on eSports
Consider yourself an expert on the tactics and strategies of the world's leading Esports players? Do you understand the CS:GO or League of Legends competitions like no one else? Do you have a head for numbers and odds? If so, eSports betting could be one way to make money.
Most online betting websites now include the option to bet on Esports just like you would bet on any other sport. It's still a relative niche form of betting, but if you feel confident, this is another way to potentially earn money from a fast-growing industry.
Types Of Bets In Esports 
There are several different types of bets you can play in esports.
Here are several types of bets you can place on eSports 
Outright Bet – This is the simplest type of esports bet. You're betting on which individual or team will win the competition or tournament. The great thing about this type of bet is that in addition to betting before the game starts, you can often make this type of bet as the tournament progresses.
Match Winner Bet – This is when you bet on the winner of a specific matchup. You can also bet on the match ending as a tie.
Score Bet – In this type of bet, you are betting on the match score. You can bet on how many points each candidate will score or on whether the score will be above or below a specific number.
Handicap Bet – If two competing teams do not appear to be evenly matched, one team is given a "handicap" to overcome to win, so you place the bet at longer odds.
Special Bet – You can also bet on other aspects of the competition or tournament you are interested in. For example, you can bet on which team might be eliminated from a game first or for a shoot-em-up. You can bet on how many kills a team might score, which team makes the first kill, or you can bet on how many rounds there will be before a game is won.
Proposition Bet – A proposition bet is a bet on a particular occurrence during a match relating to a specific game.
Trusted Websites to bet on eSports
You should continue reading if you're wondering about the kind of esports betting sites you can enjoy.
Competitive video games have exploded in popularity globally over the last decade, with vast amounts of cash generated by the world's biggest esports tournaments and events.
Here, we'll take a closer look at the phenomenon of esports and recommend the best online betting sites.
Pinnacle


Pinnacle gives you the complete betting experience with the full range of casino, live casino, sports, and Esports betting. Offering 13 different Esports with great low margin odds, Pinnacle's a leader in Esports betting. It provides a massive range of payments, including crypto payments.
The world's favourite and the biggest online betting site offers you everything you could want in Esports betting – including CS:GO, Dota2, League of Legends, Valorant, and so many more, all with a great choice of tournaments and betting markets. Do you want Esports? Bet365 has the Esports! Currently offers up to £100 in bet credits for new customers.
GG.bet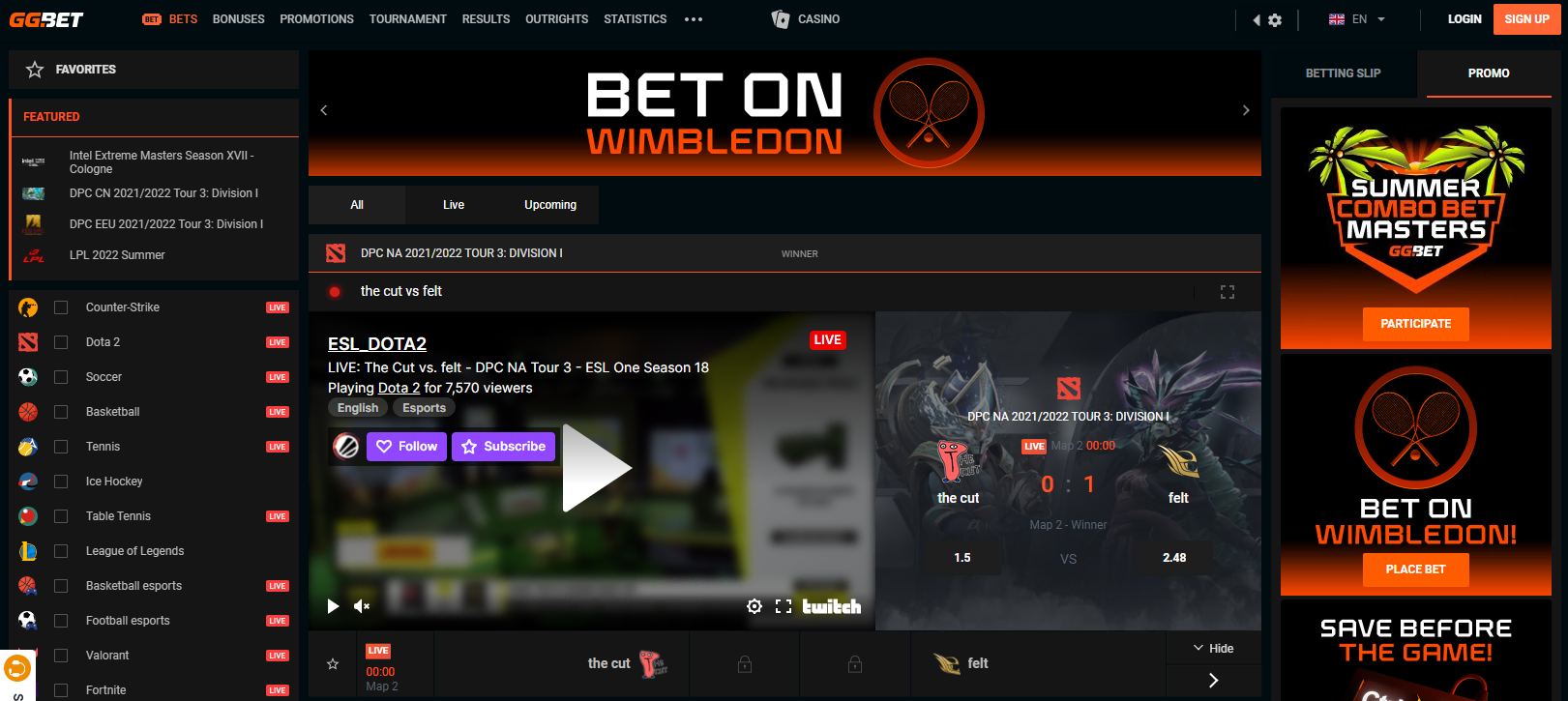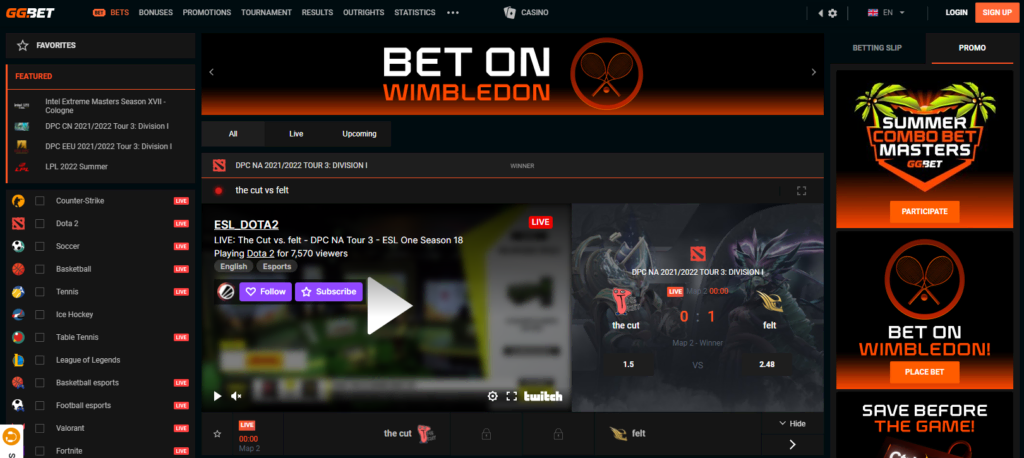 GG.BET is operated by the Malta-based brand Max Entertainment, licensed by the Malta Gaming Authority to offer its customers a safe and transparent esports betting service.
Dedicated to Esports means so much more choice at GG.bet, with all the top games covered in-depth for both major and minor events in CS:GO, League of Legends, and Dota 2, plus complete coverage of StarCraft 2, Smite, PUBG, Call of Duty, Hearthstone, Halo, NBA2K, Overwatch, Heroes of the Storm, Vainglory, and World of Tanks. And it's all live-streamed through Twitch for a complete selection of in-play Esports live betting.
CyberBet


Cyber.bet is a Curacao-based betting site that started in 2018 as an Esports-only specialist but has since expanded with a full sportsbook. Offers bettors a great range of Esports bets for League of Legends, Dota 2, StarCraft, CS:GO, Call of Duty, Overwatch, Rainbow 6, Hearthstone, PUBG, Fortnite, Apex Legends, Battle Royale games – everything you could want for Esports and Sports betting!
Bitcasino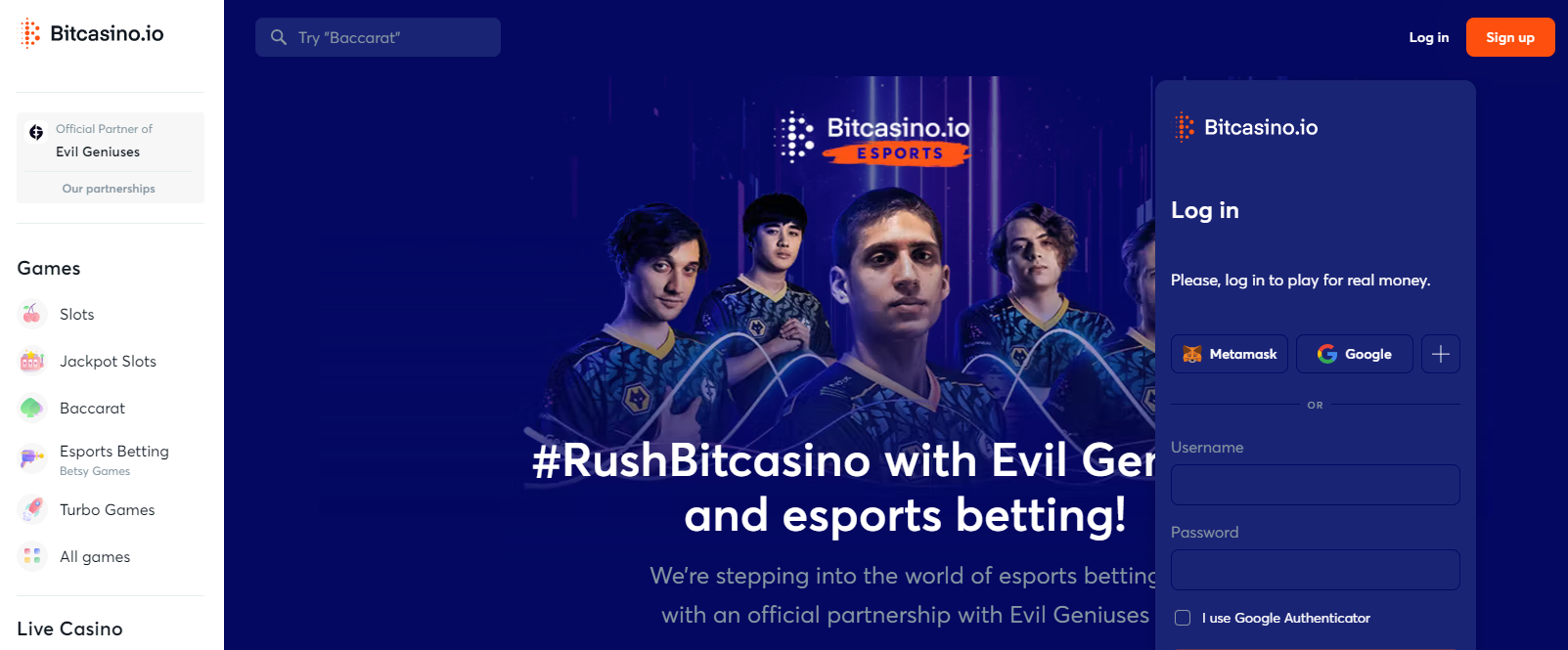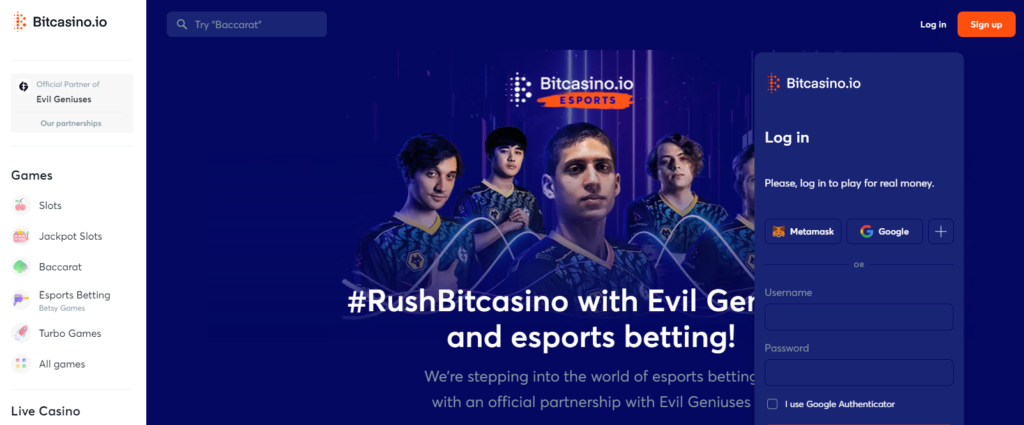 Established in 2014, this exclusive crypto operator has begun to show interest in the world of esports by offering excellent odds on an exciting selection of esports titles, including CSGO, LoL, Dota, Valorant, Rocket League, and sports simulators. It's quite an ideal bookmaker for playing and betting with cryptocurrencies.
Read more: How to Make Money With Online Betting Without Risk [6 Methods]
Get a job in the eSports industry
Many jobs require different degrees of expertise and knowledge in various aspects of the eSports industry. These jobs include writing about the news or researching why certain things happened within the industry.
Also, you may create content marketing material for games or companies, design graphics for digital assets such as flyers or posters, write game reviews, etc.
Alternatively, if design or writing is not your thing, you could use other skills you have to get hired by tournament organization companies like ESL, Dreamhack, LCS, or ECS. There are so many different types of jobs in the esports industry that you will find the right one for you.
Start an eSports business
Another way to make money with eSports is to start a business. And fortunately, there are a lot of opportunities you can pursue. As I've written in our articles about the best niches for affiliate marketing, eSports is a very lucrative industry, and many are to be made.
There is a lot to do here. You could sponsor or create a team; you can sell merchandise or start an affiliate marketing website using one of the WordPress themes we recommend. All you need is an idea and well-done market research to get started.
Local quality streamers usually have over 100.000 active followers, and the prices for announcements and sponsorship are generally lower than traditional media such as radio or TV.
On the other hand, you should do some market research first; not all businesses are suited for the esports market. But if you create an affiliate website, or sell clothing, food, or something already related to the geek niche, like collectables or even games, then you are probably in for the winning.
Organize Pay-to-Earn eSport Tournaments
Another earning option is pay-to-earn (P2E) esports tournaments that are noticeably different from the traditional esports tournament model. Here, players join forces and create their tournaments where they get to earn from participation fees, sponsorships, NFTs, and more.
The pioneer in this sphere is Ignite Tournaments. This company has allowed players to either organize their tournaments with entry fees or participate in ones where they get to farm crypto and compete for NFTs.
They are the first pay-to-earn esports tournament organization and streaming app, using a model that can appeal to many players looking to earn while they game. Entry fees can become part of a prize pool, but you can also gain rewards in crypto and NFTs that can later be exchanged and sold in the Ignite app.
Conclusion
As you can see, there are many ways to make money from eSports. Just to recap them:
Ways to make money with eSports without playing games
Trade eSports stocks – You can invest via the traditional stock market by buying shares in a particular company. If the company grows, then you make profits.
Invest in eSports ETFs – There are a growing number of esports ETFs targeting millennial investors. These feature some riskier esports-only stocks combined with more general gaming.
Placing bets on eSports – Most online betting websites now include the option to bet on Esports. If you feel confident, this is another way to potentially earn money from a fast-growing industry.
Get a job in eSports – These jobs include writing about the news or researching why certain things happened within the industry. Also, you may create content marketing material for games or companies, design graphics, write game reviews, etc.
Start an eSport business – You could sponsor or create a team, sell merchandise or start an affiliate marketing website. All you need is an idea and well-done market research to get started.
Organize Pay-to-Earn eSport Tournaments – There are pay-to-earn esports tournament organization using a model that can appeal to many players looking to earn while they game.
Most importantly, you can choose the one(s) which work best for yStreamingming, and trading skins might be your best option if you're a significant gamer. But if not, other avenues like betting, advertising and sponsorships work just as well.
Esports is a complicated yet profitable aspect of the gaming industry. It's essential to understand how it works before you jump into investing in esports. If you do your research, you will find various strategies that allow you to get started on your path to financial success.