Are you using WordPress as your website or main channel and are a member of the Amazon Associate Program? Then this guide will help you monetize your affiliate marketing blog by using one or more of the best Amazon affiliate WordPress plugins.
Both parties benefit from one another as the affiliate promotes products on their blog or website. Whenever an order is made successfully from the affiliate's website, the affiliate earns a commission plus, which causes more traffic to the website. It would be best if you had the tools to establish this affiliate program from Amazon. We have here some of the best Amazon affiliate plugins for WordPress.
Affiliate Booster
Affiliate Booster is an affiliate marketing WordPress plugin that can add superpowers to your affiliate blogs. Using this plugin, you can create affiliate websites that will load faster, look better, and convert more.
The famous blogger,  Kulwant Nagi, created the Affiliate Booster not, especially for Amazon websites, but it has many valuable features that you can use for Amazon affiliate websites.
Also, Affiliate Booster made it out in our list of 50+ recommended affiliate marketing WordPress themes.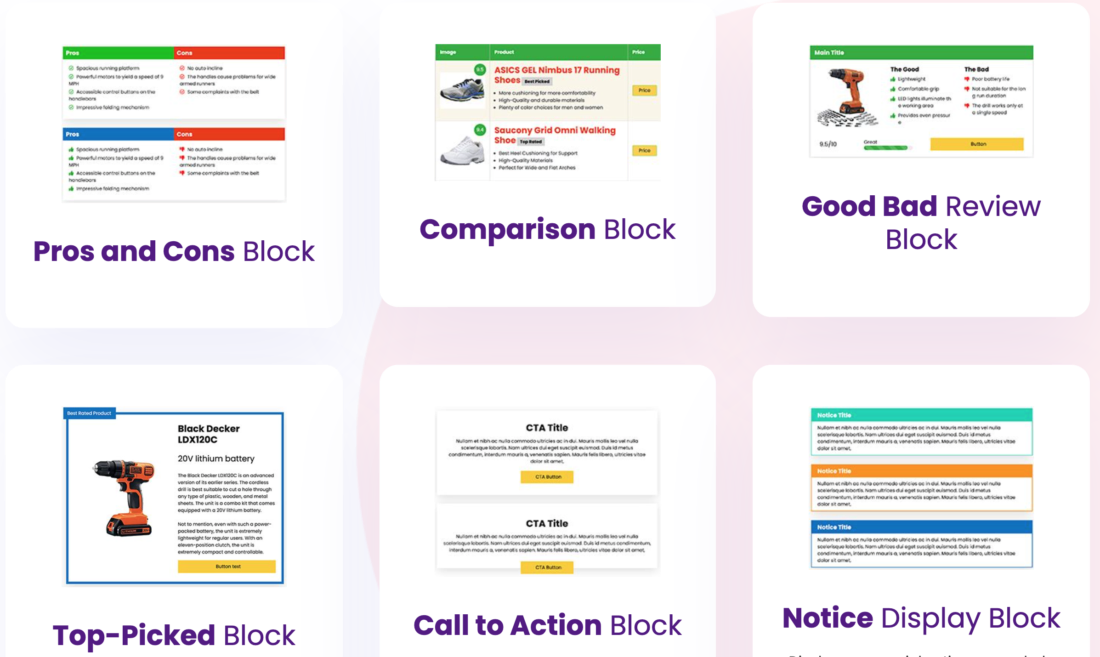 Main Features of Affiliate Booster
There are 28 pre-designed blocks available: PROs & CONs boxes, Import product details from Amazon URL, Product Features List, Product Comparison table, Notice boxes, Review blocks, Buy now nice buttons optimized for conversions, etc.;
You can easily add and customize the affiliate design blocks using the Guttenberg editor;
The blocks are Schema optimized, which will boost your SEO;
The Affiliate booster plugin is 100% mobile-responsive, enhancing the mobile users' experience.
Affiliate Booster PROs
There are 28 pre-designed blocks that you can easily customize to match your branding;
You can build good-looking and converting pages without writing a single line of code.
The blocks are both mobile-friendly and SEO optimized.
Very affordable at just $39/year for one site and $69/year for 50 sites.
Affiliate Booster CONs
The plugin works only with Guttenberg so there is no Classic Editor or Elementor compatibility.
Some of the blocks designed look a little bit outdated.
Pricing plans of Affiliate Booster
Single site – $39 per year
25 Sites license – $49 per year
50 Sites license  – $69 per year

More details / Download
Demo
AAWP
First on our list is the AAWP, the Amazon Affiliate WordPress Plugin. AAWP is one of the most popular and also one of the best affiliate plugins for WordPress. It serves a lot of variety on how to promote Amazon products to your website effectively.
AAWP allows your affiliate links to be created in different forms like a text link or by creating multiple data fields and inserting additional information like the product description, title, discount, and price. Utilize everything you need from these features to attract more clients and make your first successful order.
Main Features of AAWP
Easily customize ad design and use colours and styles that match your website.
Automatically adds tracking ID to create affiliate links
Create bestseller lists, new releases lists, and more ways to promote ads
Easily configure settings to your preference
It supports geotargeting and Google AMP
AAWP PROs
Using the multiple data fields, you can create tables for product comparison.
Geo Target your visitors to the Amazon near them based on their location
It also allows you to place ads wherever you want the ads to appear on your website
AAWP CONs
The user interface is not beginner-friendly. You might consider familiarizing yourself first.
You must open Amazon separately to find the products as this plugin doesn't have a search option.
A bit expensive for first-time users, and users only have one website.
There is no integration with WooCommerce.
Pricing plans of AAWP
Personal – €49 for one site billed yearly
Plus – €129 for three sites billed yearly
Pro – €249 for ten sites billed yearly
Ultimate – €399 for 25 sites billed yearly

More details / Download
Demo
WZone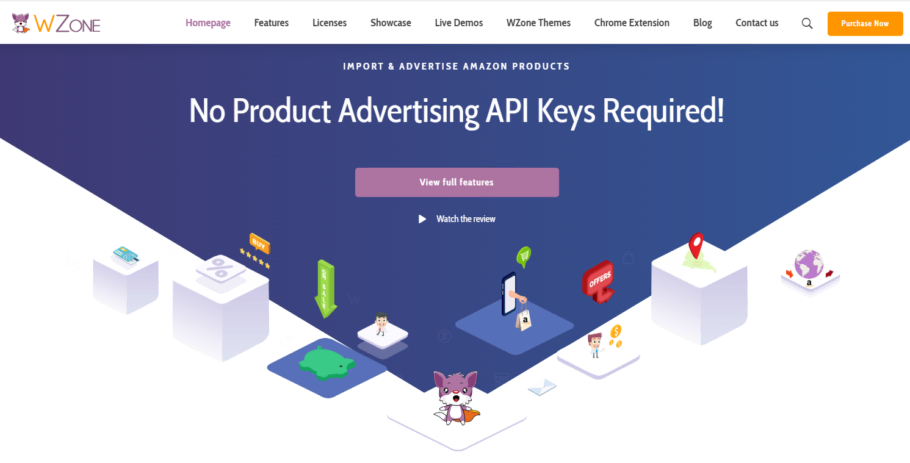 WooCommerce Amazon Affiliates (in short – WZone) is yet another plugin that has been added to our list of best amazon affiliate plugins for WordPress. There is no doubt that this affiliate plugin is included in our list as it offers us various features and tools to help users in their affiliate program.
This plugin is ideal for big WooCommerce or businesses running stores with many affiliate programs. WZone also offers dropshipping arrangements to control the affiliate links and program to their fullest.
What's more, the WZone makes use of Amazon's API key to easily keep your WooCommerce products listing up to date with ease. The plugin also gives you an in-depth report which helps you check your sales dashboard to meet your marketing and sales goals.
Main Features of WZone
Display product reviews from Amazon.
Support for variable products.
Support for multiple different Amazon store locations.
Automatic content spinner for product details.
Sync and import products without needing an API key.
Display badges on your store, such as products that are eligible for Amazon Prime shipping.
Below is a 1-hour long tutorial where you will quickly learn how to import Amazon Affiliate Marketing products to your website. You can then promote your website and drive affiliate sales to your Amazon Associates account.
WZone PROs
It is created especially to work with WooCommerce;
Automatically updates WooCommerce listings based on changes or keywords you select;
Automatically remove products that are not available on Amazon;
You can import Amazon images, ratings, coupons, and more to your WooCommerce pages;
It has a content spinner for product details. You can set it automatically or manually.
WZone CONs
It may be complicated to set up for the beginners
The free version is limited
Pricing plans of WZone
Regular License – $49 + $16.50 to extend support up to 12 months
AzonPress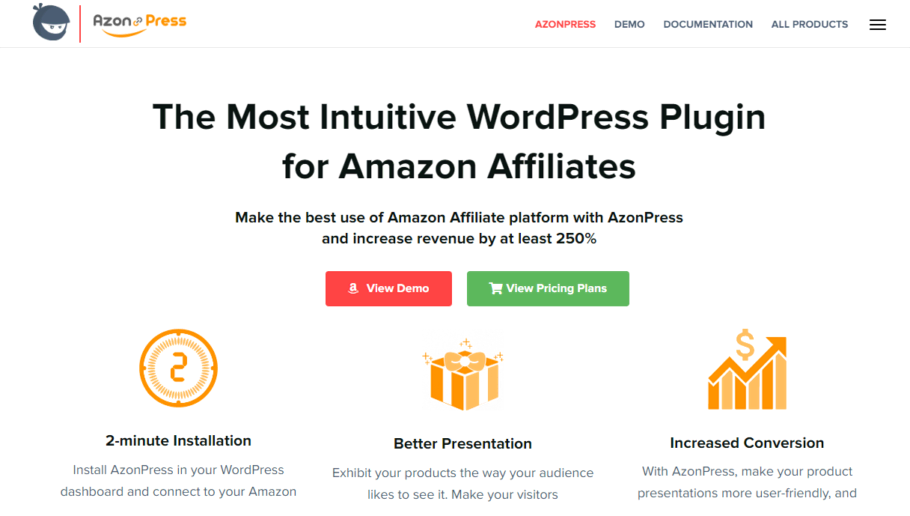 Like AAWP, AzonPress allows WordPress users to easily place Amazon affiliate links on their web pages, text links, customizable box displays, and comparison tables. It also adds a reporting dashboard where you can evaluate link performance and earnings over time.
AzonPress also enables shortcodes, making it easier and more efficient for the user. Generate and copy the code and paste it to your preferred location. By doing this, you can control the look of your overall website. In addition to that, the installation process is fast and easy.
However, starting at $31 per year for one domain, AzonPress is cheaper than AAWP. Alternatively, you can also purchase a lifetime license for $149.
Main Features of AzonPress
You can display your products in multiple ways, including individual product feature boxes, table lists, best seller lists, recent products lists, CTA, widgets;
Just search and select the desired product, and it will be automatically added to an intuitive product showcase table along with all the product info from Amazon.
Adding the bestseller lists can invite more customers to compelling products. It's easier for people to pick one from the best five than an extensive collection.
With AzonPress, you can configure how your affiliate links' geotargeting will work. You can redirect one country's traffic to another amazon shop.
You won't have to create repeatedly/code product specifications and table tables. Just copy and paste the designated shortcodes, and your job is done!
Below there is a video created by the AzonPress development team that explains the capabilities and features of this Amazon affiliate plugin:
AzonPress PROs
This plugin offers customizable layouts;
User-friendly plugin;
Connect to different affiliate links as many as you want
AzonPress CONs
Limited layout options compared to other plugins;
No integration with WooCommerce.
Pricing Plans of AzonPress
A single site plan that comes with one domain license – $31/year or $119/lifetime;
Agency plan that comes with 20 domain licenses – $63/year or $199/lifetime;
The unlimited plan comes with an unlimited domain license – $127/year or $279/lifetime.
All the purchases come with a 14-day money-back guarantee. So if you're unhappy with the purchase, you may contact AzonPress in 14 days, and they will refund you the funds.
More details / Download
Demo
AmaLinks Pro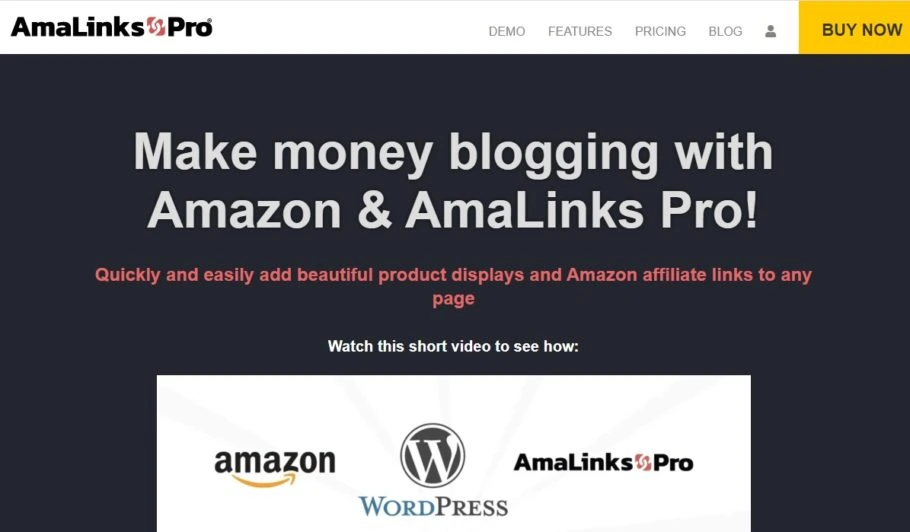 AmaLinks PRO is like any other Amazon affiliate plugin for WordPress that helps users with their affiliate program. It allows users to be creative on how they'll display their Amazon-affiliate products on their website. You can do this by tweaking the widgets and personalizing the links, helping your website garner SEO and engagements while marketing your affiliated products.
AmaLinks Pro has a table builder and comparison table builder add-on, enabling you to add stunning tables to your WordPress posts and pages. The plugin will pull all the data you add to your tables from Amazon's official website. You can easily add conversion-focused call-to-action buttons within the comparison tables and products list.
AmaLinks PRO developers never stopped updating the plugin until it stood for its value. If you purchase their plan, you have a 30-day money-back guarantee.
Pro Main Features of AmaLinks Pro
Quickly and easily add beautiful product displays and Amazon affiliate links to any page;
There are a multitude of Amazon elements you can insert: text & image links, CTAs or product showcases;
Comes with built-in Google Analytics Event Tracking, which lets you track product clicks in Google Analytics;
You can use this plugin with an Amazon API or without it.
AmaLinks Pro PROs
There are modern product box designs to choose from, and each design is configurable;
The plugin is built-in in compliance with the strict rules from Amazon Associates,
Users can still get their commission with the 90-day cookie;
There is no need to configure an Amazon Associates API.
AmaLinks Pro CONs
Some features still need improvement to become more stabilized;
Premium plans are a bit expensive for starters.
Pricing plans of AmaLinks Pro
The first plan is the Blogger plan which comes with one install only and costs $67/yearly;
The Basic plan comes with three installs and costs $127/yearly;
The Premium plan comes up to 25 installs and costs $197/yearly;
Lastly, the Platinum plan comes with unlimited installs and costs $597/yearly.
More details / Download
Demo
Lasso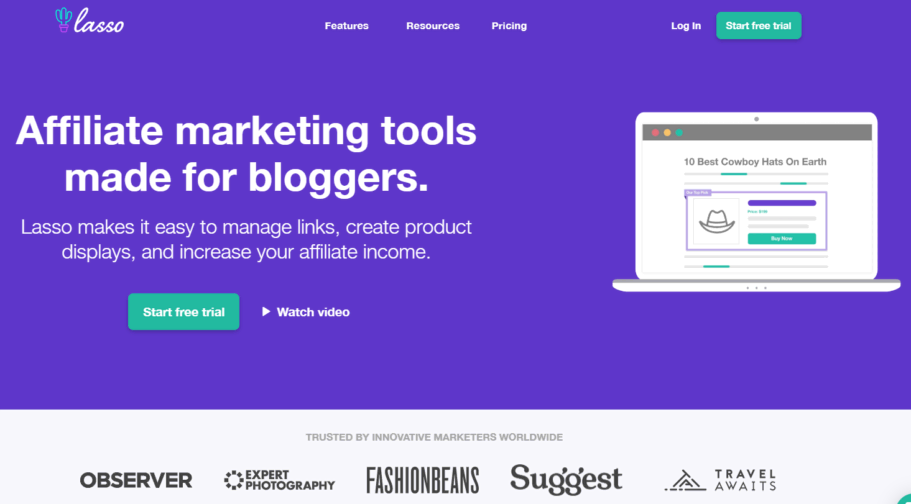 This may be one of the latest guys in the town of Amazon affiliate WordPress plugins; however, it doesn't lack features. Lasso is designed for bloggers to easily manage their affiliate links, create product displays, and increase their affiliate income.
Lasso automatically finds pages where a keyword you input is present so you can insert an affiliate link and boost your conversions. Besides that, Lasso will also automatically alert you when a critical link is broken or out of stock.
One neat feature is that you can easily switch a product's link from Amazon to Walmart across your site from the link index tab.
You can now copy and paste any Amazon URL, and Lasso grabs the product title, image, and price automatically without needing API keys. If Amazon changes the price or image, Lasso refreshes every product display with that price or image across your site. Plus, you'll get an alert if your product is out-of-stock or no longer exists.
On top of that, when someone from another country clicks an Amazon affiliate link, Lasso will automatically send them to their country's local Amazon store with Amazon OneLink.
Main Features of Lasso
Manage all your important links in one place;
Create new links with Keywords in two clicks;
Product templates that are good-looking and easy to customize;
Find out which affiliate links on your site are getting the most clicks by syncing to Google Analytics.
Lasso PROs
Lasso can import links and shortcodes from plugins like AAWP, Easy Azon, Thirsty Affiliates, and Pretty Links.
Very easy to use and operate;
It is designed for bloggers;
Can control which keywords to turn into affiliate links;
Can redirect to local Amazon websites;
Auto-alerts for affiliate links that are broken or out-of-stock.
Lasso CONs
Limited customization options;
Higher price point than the competitors;
There is no integration with WooCommerce.
Pricing plans of Lasso
Monthly plan at $29/mo
Yearly plan at $289/year
Both plans come with a 7-day free trial.
More details / Download
Demo
WP Table Builder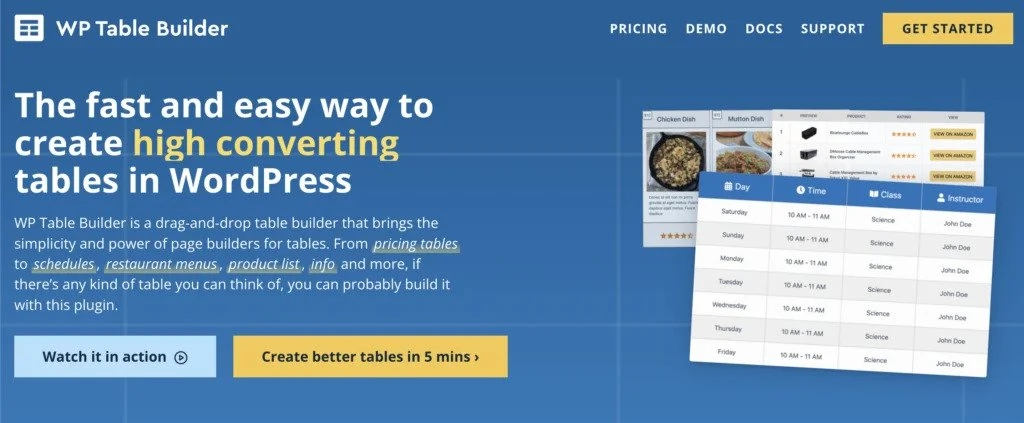 WP Table Builder is a drag & drop WordPress table plugin that lets you easily create Amazon products tables or comparison tables. You don't need to have any coding skills. All you have to do is drag and drop elements in the table.
It has five elements – Text, Image, List, Button, and Star Rating. You can easily create a beautiful table by using these elements.
The great thing about the plugin is that it lets you create mobile responsive tables. It also has a cell management mode that allows you to add/remove a column or row.
Main Features of  WP Table Builder
You can build a large variety of tables: pricing tables, schedules, restaurant menus, amazon product lists, amazon products features, etc.;
The tables look very good, and you can customize a lot of visual elements;
All the tables are mobile-friendly, which makes them look good on mobile devices;
You can build the tables without any coding knowledge using a drag-and-drop editor;
There are many pre-built templates that you can use to design nice-looking tables.
WP Table Builder PROs
All tables come with advanced customization;
The plugins seamless integrate with the Gutenberg editor;
The tables are responsive, so they look good on all devices;
Many pre-built templates you can use;
There is a lot of wide-range of table elements.
WP Table Builder CONs
You have to build Amazon tables manually;
The free version is quite limited.
Pricing Plans of WP Table Builder
Free Limited Version – Free
Premium 1 Site Version – $39 / year
Premium 1000 Sites Version – $79 / year
Premium Unlimited Sites Version – $249 / lifetime
More details / Download
Demo
Easy Azon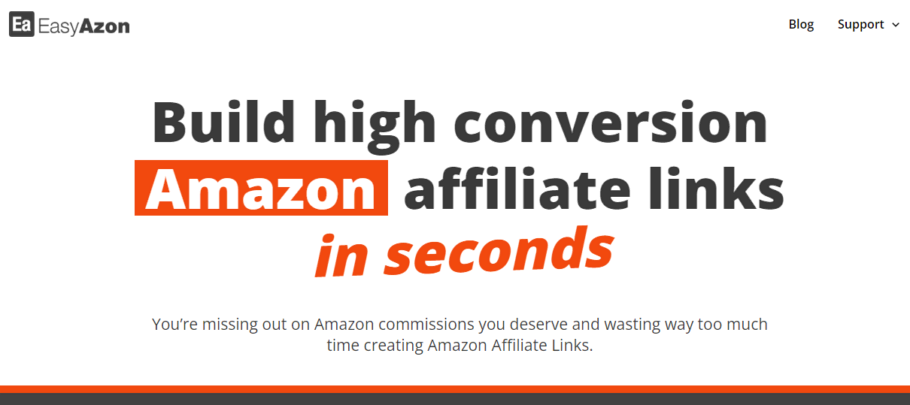 EasyAzon allows you to insert Amazon affiliate links right from the WordPress editor. It works with any Amazon locale and lets you quickly spin up text affiliate links as needed.
EasyAzon set-up is simple, and we support every location with an Amazon Associates affiliate program, including the United States, Canada, China, France, Germany, India, Italy, Japan, Spain, United Kingdom.
However, the free version is quite basic — it's just for text links.
Easy Azon PROs
Can search and link to the Amazon catalogue directly in the WordPress dashboard;
Can create multiple affiliate link types, including image affiliate links and CTAs.
Easy Azon CONs
Compatibility issues with some PHP versions;
No integration with WooCommerce.
Pricing Plans of EasyAzon
The plugin is free, and they recommend getting AAWP as a premium amazon affiliate plugin.
More details / Download
Demo
Amazon Auto Links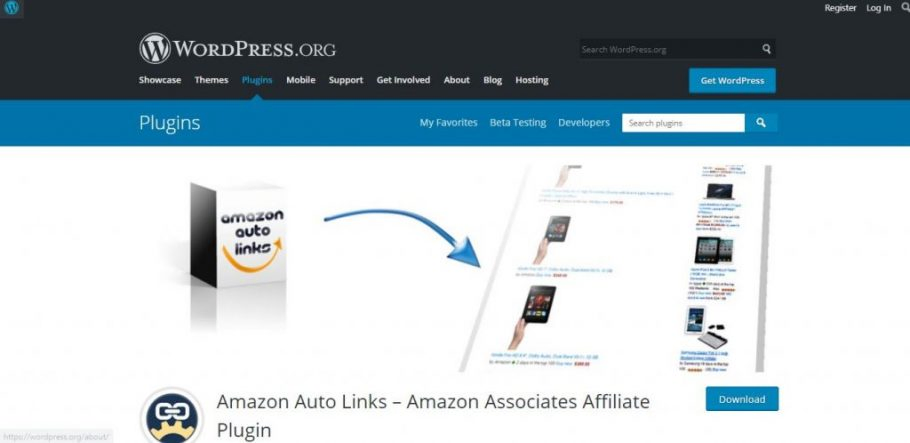 Just as the name suggests, Amazon Auto Links is a free WordPress plugin that allows you to generate product links from WordPress automatically. Using this plugin, you can easily find products and create affiliate links with your tracking ID without manually generating links.
The products themselves are based on one or more product categories chosen by you, and the displays regularly update product listings and update when product information or pricing changes. You can filter unwanted products by description, title, and ID number from your links.
Main Features of Amazon Auto Links:
Easily generate affiliate links
Compatible with all 14 Amazon regions
Includes a sidebar widget
Works without JavaScript
Check how easy it is to install and configure Amazon Auto Links:
Amazon Auto Links PROs
Designed for affiliate marketers with limited time and resources;
Can pick one or multiple categories for affiliate product displays;
The plugin is free of charge.
Amazon Auto Links CONs
Limited control over what Amazon products display on your site;
No integration with WooCommerce
Pricing plans of Amazon Auto Links
Free
More details / Download
Demo
Easy Affiliate Links

Easy Affiliate Links is another affiliate link management plugin. With the free version, you can easily add and manage all the affiliate links on your website, both cloaked and non-cloaked links and regular non-cloaked links.
With this plugin, you can cloak your affiliate links, edit your connections with a visual editor, categorize your links for easy indexing and searching, and import affiliate links from an XML file. It also lets you check all the clicks on your site on a monthly or lifetime basis, so you'll be able to measure the effectiveness of your affiliate link strategy. Also, this plugin tracks monthly clicks for each link.
Easy Affiliate Links PROs
It allows users to import their affiliate URLs from CSV and XML;
Users are also entitled to export affiliate URLs from XML;
Allows link cloaking to prevent users from being suspicious of the URLs.
Easy Affiliate Links CONs
Maintenance can be time-consuming;
Upgrading to the premium plugin is a bit costly.
Pricing Plans of Easy Affiliate Links
Free version
Premium plugin – $29 for 1 site
Multi-site license – $119 for 20 sites
More details / Download
Demo
Amazon Link Engine

The free Amazon Link Engine plugin automatically converts all Amazon affiliate in-text links and displays on your site into localized links. This plugin automatically redirects your visitors to the optimized Amazon locations near them. This plugin is for you if you have a lot of international traffic.
When an international user loads your web page, Amazon Link Engine detects their region and changes the link to direct them to the most optimal Amazon product page for them.
While some other Amazon affiliate plugins offer similar geolocation technology, Amazon Link Engine is powered by a specialized localization engine called Geniuslink that avoids common pitfalls like sending users to blank pages or out-of-stock items.
This works to increase purchases and improve user experience. Link restructuring applies to existing Amazon affiliate links and any new Amazon affiliate links you add.
Amazon Link Engine PROs
Automatically localizes links for different audiences;
Can localize links in existing and new content.
Amazon Link Engine CONs
You need a Geniuslink account;
There is no integration with WooCommerce.
Pricing plans of Amazon Link Engine
More details / Download
Demo
Conclusion
If you have a WordPress affiliate website or are considering starting an authority website and monetizing it through Amazon Associates, these are 11 must-have plugins for every website.
These plugins are my recommendations, of course, and it's up to you to install them or not.
Further readings on Amazon Affiliate Marketing for WordPress:
So are you already using any of these 11 best WordPress plugins, and which one do you think you should install? Are you using another plugin not on this list and think it should be on it?