One of the biggest struggles of affiliate marketing that just started their journey in affiliate marketing is to get approved by affiliate networks and affiliate programs. In the following guide, you will find out why affiliate managers are reluctant to approve beginners and how to ensure you will increase your chances of being approved by affiliate networks and affiliate programs.
Let's start with the top 3 reasons why affiliate managers reject some and do not allow all affiliates.
Top 3 Reasons Why Affiliate managers Reject Affiliates
You are eager to sign up for a new affiliate program, get your unique link, start driving traffic, and make some sales while making some excellent commissions.
However, the affiliate managers may reject your application. You are shocked! You want to send them business, and they don't want it?! Why's that?!
There are three reasons why affiliate managers do not allow all affiliate applications. After you read them, you'll understand that they are somehow right.
Risk of fraud
Unfortunately, some people make a living by scamming affiliate networks and programs. They send some fake leads, get paid, and then get caught. Then they start again at a different or the same network under another alias. Or they are hijacking affiliate programs with cooking stuffing, piggy banking on the brand that generates sales to which they did not contribute.
The University of Illinois estimated that 38.1% of partners in the Amazon affiliate program engaged in some fraud.
This is why it is harder to get into a network if you're from some regions of the world. The affiliate software flagged your country at high risk if there are many fraudsters from your country or your location and IP.
Further reading: Affiliate Marketing Fraud – Red flags, Types & Protection [Complete Guide]
Risk of a lawsuit
As an affiliate manager, the last thing you want to deal with is a lawsuit because one of your affiliates is doing something illegal.
Affiliate marketers promote a product using the affiliate manager's brand name, product name, and creatives. However, if an affiliate is engaging in sending SPAM,  making claims that are not true, or breaking the law in any way, someone can sue the company. And lawsuits are not cheap to get settled.
For instance, according to Cheq.ai, The Federal Trade Commission charged an online marketing operation for deceptive ad practices, driving users to their website via affiliate networks (2017). The FTC charged the affiliate marketing operation with sending millions of consumers spam emails with links to fake news sites with fictitious articles and phony endorsements to sell weight-loss products.
So affiliate managers want to ensure you are keeping their brand and product name in good shape and not putting them at risk of a lawsuit or public shaming, which will cost them money and business.
Limited resources
Affiliate managers are an essential resource to the network. And the biggest brands and most popular affiliate programs get hundreds of applications daily. But there's a limit to how many affiliates they can help out reasonably well.
The Pareto principle says in business that 20% of the people will bring you 80% of the business. And that's also true in affiliate marketing. Helping a newer affiliate figure out how to set up their tracking link on a landing page means less time serving their top affiliate, who's already generating five figures daily.
That's why most affiliate managers do not want to deal with an inexperienced affiliate that asks hundreds of questions and doesn't send any sales.
What kind of affiliates do affiliate managers want?
Now you understand what kind of affiliates an affiliate manager does not want to deal with. Let's talk about what kind of affiliates they DO want.
They'd love to have a white hat, professional, the super affiliate who does 5-figures a day. But that's relatively rare, so they have to compromise.
How the perfect affiliate looks like for affiliate managers
Treats the affiliate marketing industry like a business rather than a side hustle.
Can prove his experience and knowledge in the same or close industry or niche.
Can provide details on how he already generated business for other companies.
It has the potential to grow and improve its affiliate marketing game.
It wasn't involved in cases of defrauding affiliate networks or affiliate programs.
Will not involve any shady promotion tactics that will put the company at risk.
Now that you know what kind of affiliates are desired, I'm going to give you some tips on proving yourself worthy so you would be considered a good candidate.
10 Tips To Get Approved in Affiliate Networks
I remember my early days in affiliate marketing and how difficult it was to get accepted into the best affiliate programs.
So what should you do before reaching out to affiliate networks to increase your acceptance chances?
1. Make sure your website is top-notch
The first thing affiliate managers will check about you is your main website. Get a top-level domain like incomeadvice.com or monetize.info rather than a free subdomain like .wordpress.com or .blogspot.com to show them you're serious about your business.
Affiliate managers want to see a clean, uncluttered, and easy-to-navigate website that is not neglected. Keeping essential pages (like Privacy Policy, About, and Contact) visible will also score points.
Besides the main design, affiliate managers will also look through the content on your page. Ensure it is original, attractive for readers, and targeted to the affiliate program's key audience. If your website design is pleasant and your content fits their product like a glove, then the choice will be easy for them.
Actionable advice: 
Get a top-level domain for your website and design it, so it looks clean and professional and the content is easy to read. Create the necessary pages (About, Contact, Terms & Privacy) and make them easily accessible. Add content regularly and ensure it is relevant to the industry of the affiliate program's audience. Ensure you have a decent audience already. Nowadays, affiliate managers can
check your traffic figures
.
2. Apply for Relevant Affiliate Programs
To increase your chances of being accepted into an affiliate program, you should apply for those programs that match your audience's interests. Otherwise, affiliate managers would be pretty difficult to convince you will be able to make a decent sales volume.
Ask yourself if you can create engaging content centered around banking services or a piece of gym equipment for a fitness channel if you run a food blog and how many people will trust your recommendation?
In the following picture you can see how an affiliate program manager decided not to work with us as he considers we are not a very good fit for their program. More on this later 🙂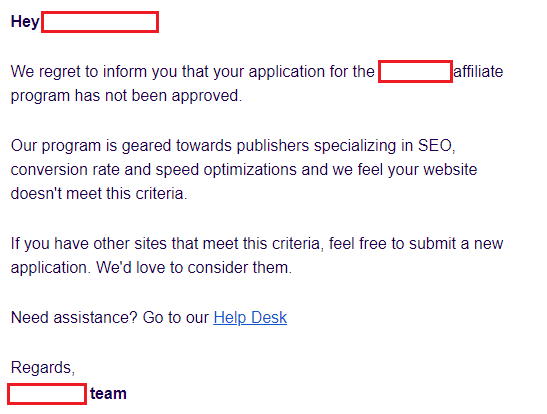 Further reading: Best Niches for Affiliate Marketing [11+][PROs & CONs]
Actionable advice: If your website or social media channel topic differs from the affiliate program's industry, don't waste your time sending an application because it most probably will be rejected.
3. Take a Look at Terms of Service
I can't think of anyone that likes to read lengthy Terms of Service documents besides a lawyer hired to sue you 🙂 (bad joke, I know)
However, you should read the terms and conditions of an affiliate program you want to join before starting to fill in your application. For example, the program you want to join might not accept promotions through social media, coupons, or PPC bidding. In this case, would there be any point in applying if you are a social media influencer? Not exactly.
Or if you are running a coupon website and you start earning commissions? They will void them when you ask for payment. You will lose time and money.
Knowing what affiliate program owners accept and what not will prevent you from making a blunder in your application. Telling them you plan to use PPC ads in your campaigns when they are not allowed will not increase your approval chances!
Actionable advice: Read the Terms of Service of the affiliate program you want to join and ensure you are a good fit for it.
4. Don't Provide Fake or Incomplete Information
Some affiliate programs may not be available in your country or have a min audience requirement. Don't join those programs by entering fake details about your country, using a VPN, or giving wrong numbers of your audience size. There are numerous tools to scan signup and flag inconsistencies in filling forms, and you will be marked as not trusty.
Also, you should not provide fake information like your name, identity, etc. How can they trust you with their marketing if you cannot register who you are? So you have to provide original information.
By providing your full contact details and all the requested data, you will show that you are serious about joining the affiliate marketing industry and treating the other side respectfully and thoughtfully.
Also, preferably use an email address from your domain rather than a free email provider or a newly registered one tied to the affiliate program. Example [email protected]
Actionable advice: Take the application seriously and fill it with the right details. Use a professional email address and offer enough details on the specific questions, not 2-3 words answers.
5. Explain Properly How You Will Promote the Products or Services
Remember when I said before what kind of affiliates do affiliate managers want to deal with? Here is your chance to impress them with your knowledge and experience in affiliate marketing.
Showing affiliate managers that you have picked their products for a reason and that you have created a plan through which you hope to bring more people to their business is a sign to them that you have put some thought into the application.
This is also an excellent place to mention your strong points – do you have any relevant skills that they might find helpful? Have you worked for a company in a similar industry? Are you familiar with specific affiliate tools?
Actionable advice: Explain to affiliate managers how will you promote their product and plan to make sales. Ensure you read the Terms of Service document and do not mention any forbidden methods.
6. Ensure Your Application is Errors-Free
If you apply for an affiliate program created for an international audience, you must understand English well. Also, the affiliate manager wants to ensure that you understand their terms of service and their communications. They don't want their brand jeopardized in promotional creatives, landing pages, or other content that comes with spelling mistakes or is barely readable.
Actionable advice:  Make sure your affiliate application is grammatical and spelling errors-free. If you are not happy with your level of English, you can hire a proofreader on Fiver who can proofread your application template for $5 or so.
7. Do You Have Someone That Can Vouch For You?
You're more likely to get accepted if you have someone who can vouch for you. For instance, a friend or a connection that's already an affiliate. It's essential to have friends and contacts in the affiliates world. I encourage you to attend affiliate marketing conferences and join affiliate marketing forums and social media groups.
You will meet affiliate managers and marketers who will help you onboard your favorite affiliate marketing programs.
Actionable advice:  Make a habit of visiting forums, groups and attend conferences for affiliates. You can connect with affiliates and managers to help you step up your affiliate game.
8. Get in touch with your affiliate manager
Small and medium affiliate programs list the affiliate managers on their affiliate program page. Or you can find them on Linkedin. Politely contact the affiliate manager and explain to them that you just applied, and if they have any questions, you will gladly answer.
This will show them you are serious about your affiliate business. Also, they will be able to learn more about you and speed up the application process. Make sure you're not harassing them or being annoying.
Actionable advice:  After you signup for an affiliate program, search on their website or Facebook and Linkedin, contact details of the affiliate manager, and politely introduce yourself to them.
9. Use a Stepping Stone
Maybe the affiliate program you want to work with has a $500 revenue requirement per week. Start with an affiliate program or network that's more newbie-friendly. Work with them, and prove yourself there.
Once you generate some revenue, go back to the original network you wanted. Show them the proof that you have more experience now.
Actionable advice:  Level up your affiliate game step by step. Start first with beginner-friendly affiliate marketing programs and networks. When you have good results with those, you can start approaching high-ticket programs with higher requirements.
10. Follow up after your application was rejected
It doesn't mean the answer is final if your application was rejected. You can politely contact your affiliate manager and ask them if there is a reason why they consider you're not a good fit for their program.
If the reason is legit, then you learned something. But if it's a misunderstanding, then you have the chance to make things right, offer more details, and get yourself approved.
Want to stress out again that you should be calm and polite; otherwise, you'll do more harm than good.
Remember the case I've shown you before with our rejection in an affiliate program? If not scroll to point 2 of this list. I have to admit I was pretty shocked in their rejection as I saw a really good synergy between their program and our audience. So, i've decided to get back to the affiliate program manager and ask him for the reason of our rejection.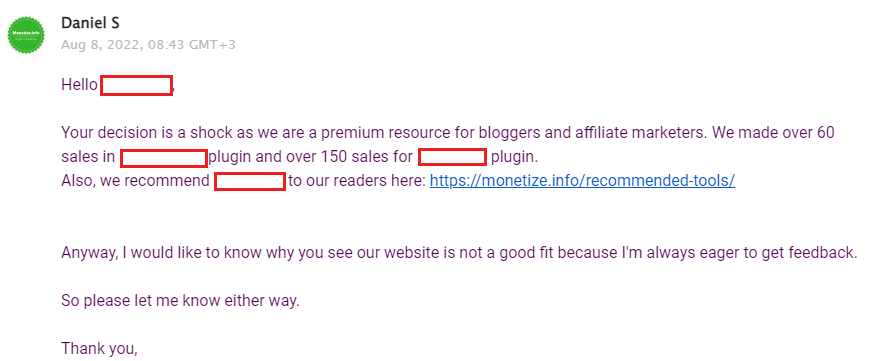 After they checked again my application they decided I'm a good fit for the affiliate program so they would like to cooperate with me.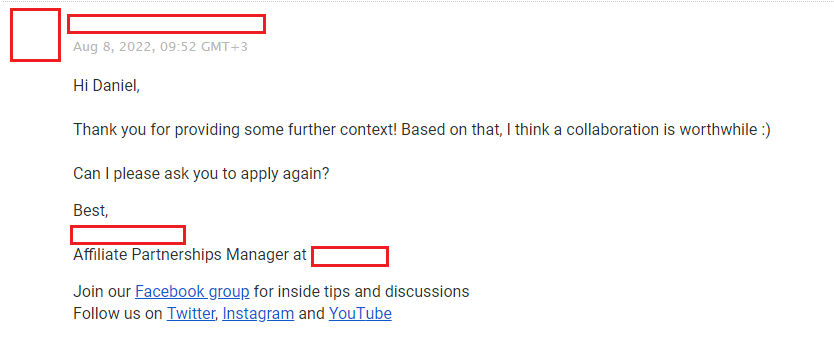 Actionable advice:  Follow up after a rejection message and ask the affiliate manager for details about rejection. Sometimes is a misunderstanding that you can easily correct and get yourself approved.
11. Be Patient (Bonus)
Affiliate managers usually have to go through dozens, if not hundreds, of applications daily, so it takes some time. And there is nothing worse than receiving several follow-up emails within the first day.
Affiliate managers understand your excitement and eagerness to get started. But answering many emails about the application status just distracts them from checking the applications.
So be patient with the reply.
FAQ
How to get approved in an affiliate program?
Briefly, you need to 1) prove that you treat affiliate marketing as a business rather than a side hustle or a get-rich scheme, 2) you have the experience required to promote the product or service and bring sales, 3) you will follow their terms and conditions and will not try to defraud the program or engage in shady activities like SPAM. This guide shows you 10 tips for getting approved in almost any affiliate program and network.
How to get amazon affiliate approved?
Takeaways
Here's a simple lesson that has served me well: to get what you want, help others get what they want. Affiliate programs and networks make you go through the application and interview process for a reason. By understanding what they are looking for, you can position yourself as an asset they will be eager to work with.
Always try to create a situation where everyone wins.
Over to You
I wrote this guide with the hope that it will help marketers to get approved by affiliate programs and networks. I remember my early days in the game and how I was rejected without knowing what I could do to improve.
Just to clear everything. Even now, I'm getting rejected from time to time. And that's ok. Don't forget that it takes both sides to work well together for an affiliate agreement to work best. If, for some reason, the affiliate manager considers that they don't want to work with me, many others do.
Now I'd like to hear from you.
What is the biggest struggle you face while applying for affiliate programs? And what is the common reason for being denied by the affiliate managers?
Let me know via comment. I will try to help you out.