Gravity Forms is the Easiest, Most Trusted Tool to Create Advanced Forms for Your WordPress-Powered Website. We are using it here on Monetize.info and most of our other sites. Which makes it powerful is the addons collection that comes.
GravityForms Features
When it comes to features, Gravity Forms stays ahead of the curve. Gravity Forms is best suited for users who need to build complex forms on a WordPress site with ease. The ever-growing list of features set Gravity Forms way apart from its competition. Let's take a look at some unique features offered by Gravity Forms.
We are using the polls module, the user registration module to signup contributors, the quiz one and PayPal integration one to allow payments for our products. Check the BlackFriday deal created using GravityForms and PayPal module here.
You can also use GravityForms to create advanced register, login and contact forms, or to accept posts from guests on your blog, etc.
GravityForms PROs and CONs
GravityForms PROs:
Has CAPTCHA. This is beneficial as people won't receive spam or unwanted submissions.
Plenty of settings to control every aspect of the forms
Unlimited data storage.
GravityForms CONs:
There are no free or lifetime versions. You have to pay every year for usage.
You can only use Google Sheets while using Gravity Forms Elite.
People had difficulty navigating and figuring out how to make forms.
GravityForms Pricing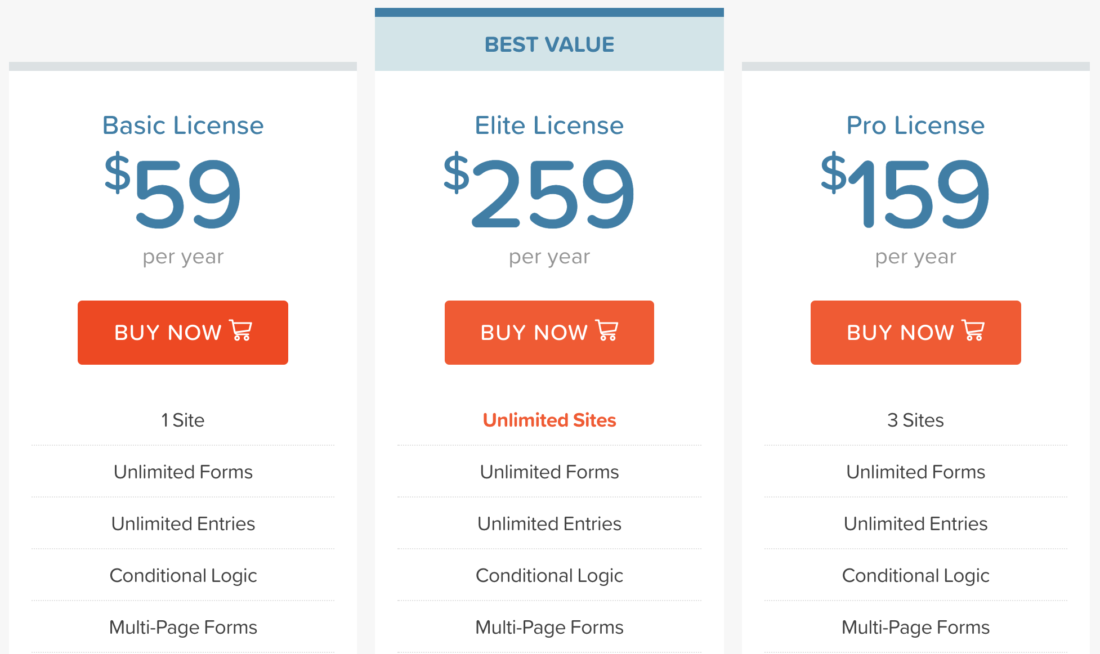 Pricing of Gravity Forms plugin starts at $59 per year for a single site license with basic addons. You can get the Pro license which is priced at $159 for three sites and basic + pro addons. Or you can go with the top of the top, which is the Elite license available for $259 per year with all addons and unlimited sites support.
GravityForms Support
Each license entitles you for one year of ticket-based support. The Elite license gives you priority support. Questions are usually answered very promptly with an impressive turnaround time for ticket resolution.
GravityForms BlackFriday Discount
Black Friday:
The sale starts on November 25th at 9 am E
Discounts will be 50% off Elite($129), 40% off Pro($89) and 30%+ off Basic ($39).
The sale will end on November 28th at 5 am ET.
Cyber Monday:
The sale starts on November 28th at 5 am ET.
Discounts will be 30% off Elite($181), 30% off Pro($111) and 30% off Basic ($41).
The sale will end December 1st at 5 am ET
However, if you're a business owner or a professional blogger who needs the ability to add quote forms, file uploads, post submissions, and more on your website, than Gravity Forms is definitely worth the investment.