This guide is intended to walk you through the path to start and grow your digital marketing agency. Would you mind reading it to learn how to grow from a freelancer with no reputation to a full-fledged agency with full-time employees and a retainer-based client base?
We understand that not everyone will be interested in this journey. But we hope it's representative enough that you can find yourself within it and get tactics to take you to the next level – whatever that is for you.
As we've written before, digital marketing agencies are quite a recession-proof business, and as we are heading rapidly to one, this is another reason to grow yours now.
#1. Just starting [Quick wins]
When we say just starting, we mean it.
We're referring to a solo marketing consultant who's just struck out on their own with no clients, no case studies or testimonials, and no identity in the marketplace. So from that point, we've got to start with some quick wins. If you can charge right out of the gate, that's great, and if not, we'll consider getting 'paid' with a testimonial or case study.
Either way, the easiest sell for us will be a relatively easy activity for you to deliver a relatively high amount of value for the client.
This is not intended to be the end-all-be-all of your offers but is instead designed to get your foot in the door and begin to build a commercial relationship with a client and a public identity in the marketplace.
1.1. Exit Intent Pop-ups
Installing and configuring an exit-intent popup is one of the highest-value and easiest-to-implement tactics you can help your clients with. They can set up very fast and provide a tangible bump in a critical metric (traffic –> lead conversion %) that can allow you to charge based on value and capture a high hourly rate.f
There are quite a few tools that offer this, but if you don't have any you already like, we'd suggest looking at OptinMonster. They're straightforward to set up, you can get started with them for free, and if this is a new skill for you, they keep the "learning overhead" low to get the ball rolling.
Read more: How To Drive More Conversions With Exit-Intent Popups
1.2 Abandoned Cart Automation
Abandoned cart automation is another great quick win. We've got the feature built directly into our platform for Shopify and WooCommerce, so it can be a very natural onboarding point to bring clients underneath your partner account.
This is another one of those "high return, low effort" activities where you can reasonably quickly boost someone's cart conversation ratio, or in a larger sense, their lead –> customer ratio with a simple abandoned cart sequence if they don't have one already set up.
We'd suggest not targeting clients who already have one set up (for now) because we're looking to get fast, low-effort results to get your foot in the door here.
Read more: How To Track And Fight Shopping Cart Abandonment [Ultimate Guide]
If they already have one set up, tweak it, and it will be considerably more labor-intensive than setting one up from scratch for you to go in and understand it. Diminishing returns will have already kicked in.
1.3 Other Free Marketing Resources to Develop Quick-Win Skills
Below is a link to several resources about free marketing courses out there to help you develop more marketable skills and seek out quick win offerings:
1.4 Charging and Compensation
Ideally, you can charge for this. The two specific tactics mentioned above lend themselves handily to value-based pricing because they can quickly impact your clients' major conversion points.
In most cases, $500 will not be unreasonable (and will, in reality, be quite an undersell from your perspective). However, sometimes you can't charge right out of the gate. Sometimes you're starting from square one with no awareness, track record, or name to fall back on.
In that case, we'd suggest you implement a few times with the explicit agreement that you will be compensated with a testimonial, customer reference, and case study you can leverage to land new clients. If you are brand new, that's still a valuable currency to stockpile.
#2. Digital Marketing Agency Fundamentals
2.1 Time Tracking
Once you've got some initial traction in the market, it's time to get the fundamentals squared away from building a viable and sustainable business. We'll start with tracking your time to get a handle on your costs related to your hourly wage and overhead.
If you're not already tracking the time you spend on the tasks you perform for your clients, it's time to start. TSheets is a great place to start. QuickBooks makes it, and if you're using it for yourself, it's completely free.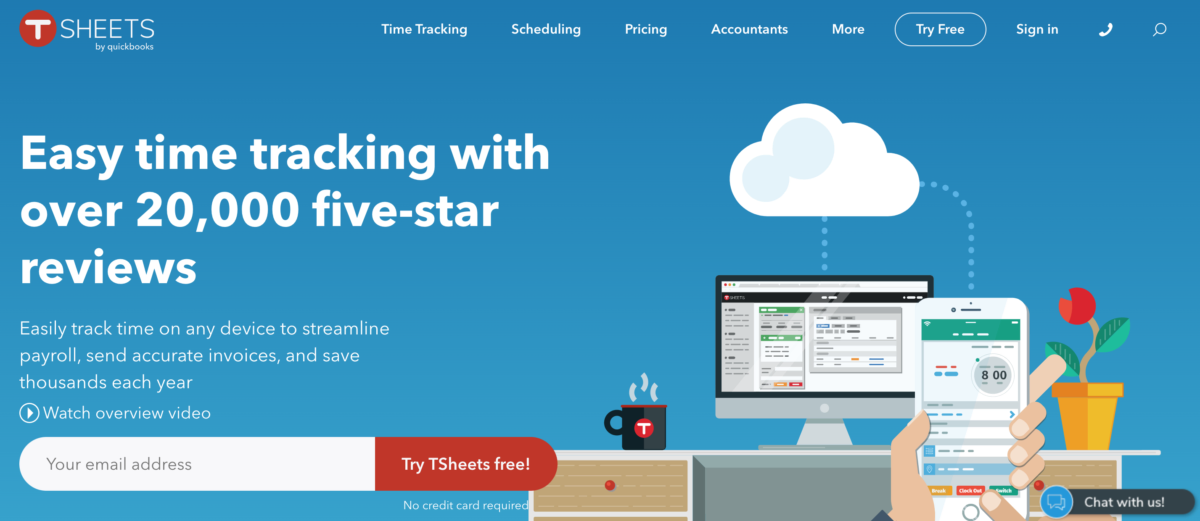 TSheets Alternatives: TimeDoctor, Hubstaff (our recommendation).
Track your hours for a month to get a baseline for how long things take you. From there, we can make sure you're charging enough to pay yourself a decent wage.
2.2 The Tools of the trade
Depending on your services (SEO, Social Media, Backlinks, Branding, Content), many tools make your life easier.
As I said, there are many other tools you could use, but I consider the above the most for running a full-service digital marketing agency.
2.3 Cost-Based Pricing
Once you've got your numbers for how long it takes you to perform your services, you can start to build out the most straightforward pricing model, one that's cost-based.
So let's say for a customer that you write four blog posts each month and create five backlinks through guest posting. To achieve this, you spend 14 hours writing content and 3 hours outreaching webmasters or fetching guest posting lists to publish your content. Another 2 hours are used to create a report, do the invoice, etc. Your monthly tool cost is $600.
The customer's total price should be 17 hours x $30/hour = $510 + a fraction of the tool's price to cover the costs. For instance, if you have ten monthly customers, the fraction of the tool's price for each customer is $60.
So the total price for your services should be $510 + $60 = $570. Of course, if you choose to outsource the writing or the Outreach, the hourly rate of the people you work with can be different.
We've got a resource below to help you design a pricing model based on how long marketing activities take you.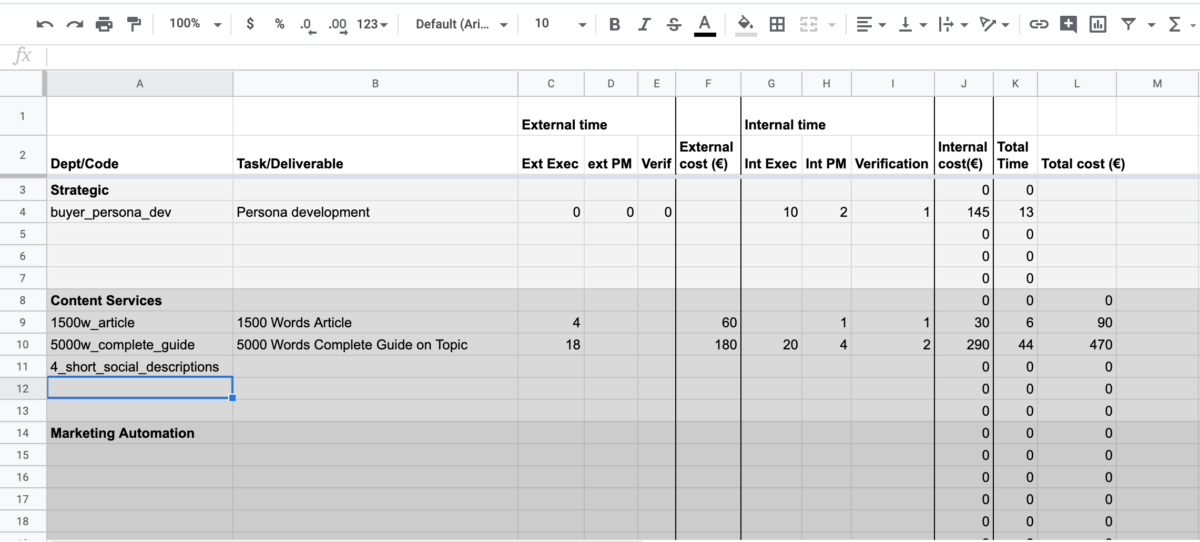 2.4 Understand and Calculate Key Metrics like LTV
Although there are countless metrics you can track, we're focusing on LTV and a few other fundamental values that drive the value conversation for your relationship with your clients. Consequently, those metrics also drive your pricing and how much value you can capture for yourself.
That's never going to happen, though, if you don't understand the metrics or calculate them. Below are two resources that go through them. The first is from Neil Patel and is a bit more focused on SaaS businesses, whereas the second resource is from Optimizely and is a bit more general purpose.
2.5 Price in Line with the Market
Understand market realities around things like margins.
What's a healthy rate to charge? 50%? 5%? If you're below market standards, you may not find too much resistance to increase your take-home pay, whereas if you're getting away with pie-in-the-sky margins, congratulate yourself and schedule a call with us so we can understand your secret sauce a little better. 🙂
2.6 Consolidate Client Metrics and Report on Performance

Databox is a powerful and easy-to-use dashboarding tool to help you pull metrics from many standard marketing tools into one easy-to-distribute dashboard.
They have an agency account, which makes it easy to maintain KPIs for different clients. If you specialize in a particular industry, they make it very easy to spin up your predefined dashboard for all of your clients.
#3. How to Grow Your Digital Marketing Agency 
Welcome to Growth. This is exciting and an accomplishment in and of itself. By this point, you've got your unit economics figured out (see the time tracking and cost-based section above), so you're only taking on profitable clients and projects.
Not only that, but you've got your clients' unit economics figured out, and you're able to prove your value to them, knowing that every dollar they spend on marketing translates into an even better amount of revenue. You may not be as big as you want to be, but you've built a profitable – and thus inherently sustainable business – congratulations.
3.1 Specialize and Niche-Down
Step one to growth is defining what you do better than anyone (or most). This will help out with many aspects of the business side of things. You'll be able to build authority more quickly.
Counterintuitively, you can attract more interest by narrowing down because of the ease and lower cost of reaching your prospects. You'll have an easier time systematizing your processes, your "secret sauce," and creating case studies for your marketing.
Lastly, because it will be easier to generate (and prove) results with a narrow focus, you'll be able to transition to value-based pricing more easily and get the margins you're after. When niching down, consider two avenues: industry and skill. So consider "PPC + Real Estate" instead of just "Dentists" or "Lead Nurturing."
3.2 Find Your Fit
Once you've niched down, it's time to dig in and see who the best clients for you are:
Where are you able to drive the best results?
Which leads require the fewest touches before coming on board?
What are the defining characteristics of the clients who are the easiest to work with?
From here, it's all about applying what you discover to your marketing and prospecting activities. Shift your dollars, and teams focus on finding more of your best and beginning to get comfortable saying no.
It's ok to acknowledge that prospective clients are not the right fit for you (and you're doing the one-off $500 projects to get a feel for how the client is to work with, aren't you?)
This also doesn't have to be a negative experience saying no. Defining who you are and what you do can open you up to meeting other agency owners who complement what you do, and perhaps your poor-fit prospects can be referred over to them and maybe even net you a finders fee. Win-win-win.
3.3 Raise Your Prices
Although this is important, so much that's been written about it is wrong. 'Gurus' will tell you to raise your prices simply because "you're not charging enough." They are the business equivalent of "the secret" and "law of attraction." Just believe in yourself, and the world will reward you.
While that sounds nice, we believe in listening and responding to the market and raising prices because of market forces instead of magical thinking. So, yes, raise your prices – but only after doing everything before this. You should have initial low-cost project offers to "test drive" clients.
You should have your agency metrics figured out and be able to prove the value you're providing to your clients because you know the metrics. You've focused your agency down to the point where you give a particular service to a specific group of people.
3.4 Specialize
At this point, your reputation and identity have started to grow. You're finding you're "generalist" competition to be not such a such of stress anymore.
Walking away from clients is easier, and you sometimes get a bonus out of it. Your acquisition costs are pretty low because you're so well defined. It's at this point where you raise your prices. It's an indicator of success, not a tactic to get there.
3.5 Hire Some Help
Up until now, there's been no talk of employees. You may be already at that stage, but we've intentionally avoided it. We're not trying to scale simply for scale's sake.
We're not impressed by how many employees work under you, but instead, optimizing your take-home profit compared to the stress it takes you to achieve it.
Working with others is one of the most stressful aspects of agency life: they get sick, they take vacations, they get in a mood, and their performance is not guaranteed. Until now, we've looked to process, to software, and focus on getting things to a good place for you. Extra people come last because they bring so many problems with them.
The first place we're going to look for help is with freelance marketplaces. Modern talent marketplaces make it easy to define and find what you're looking for, track performance, hold pay until agreed-upon performance is met, and give you options in the event you bring on someone who isn't pulling their weight.
Below are links to FreeeUp and Upwork. FreeeUp is a bit more modern, focusing on marketing, whereas Upwork is massive and will the scale and breadth to handle nearly anything you could throw at it.
3.6 Upsell To Your Clients
Upselling your existing clients is a great way to improve agency growth, especially if it's a full-service agency.
But when you're asking clients to buy more services, you can't come off as pushy. Instead, you have to upsell naturally, making sure they see how your services provide value.
How to upsell to clients?
If your clients buy an online ad package from you, why not offer them web design services too?
Show them the value of an attractive landing page and how it can increase their revenue exponentially! If they're happy with the result, you could offer them copywriting services the next month to boost their conversion rate further! Since you have already proven your value, they're more likely to take the deal.
Remember, the more you know about your business domain, the more your clients will trust you.
3.7 Productize and Package
This step may have already happened on its own, but even if not, the groundwork has already been laid.
What is the product? Is it not a specific offer to a particular group of people, promising a particular result? And isn't that what you've been doing by defining your niche, standardizing your offering, and collecting success stories?
You've been trending towards a standardized service offering that can be packaged up to the market despite running a service business. The only "service" part can be the delivery of the package itself.
However, by leveraging freelance talent pools (and even scouring them for a project manager/ business manager), even the service delivery can be packaged up (at least to you, the owner).
This is the last step in claiming your freedom and having your profit per hour worked (as a proxy for profit per stress undertaken) be optimized and reach Agency Nirvana.
And if you enjoy the hands-on work, you are still welcome to dive in.
However, now diving in will be a choice. Perhaps you enjoy the work, or maybe you want freedom. Maybe you begin speaking and developing your brand by touting the accomplishments you've produced for your clients thus far.
Perhaps building your brand allows you to continue being hands-on with work, but only with the absolute most-desired clients.
Part of productizing and packaging your offerings entails billing and tracking for all of this. We suggest looking at Rebilly to manage the recurring billing for these productized offerings of yours and then plugging in your Stripe account to Baremetrics to track your growth, churn, and lifetime values over time.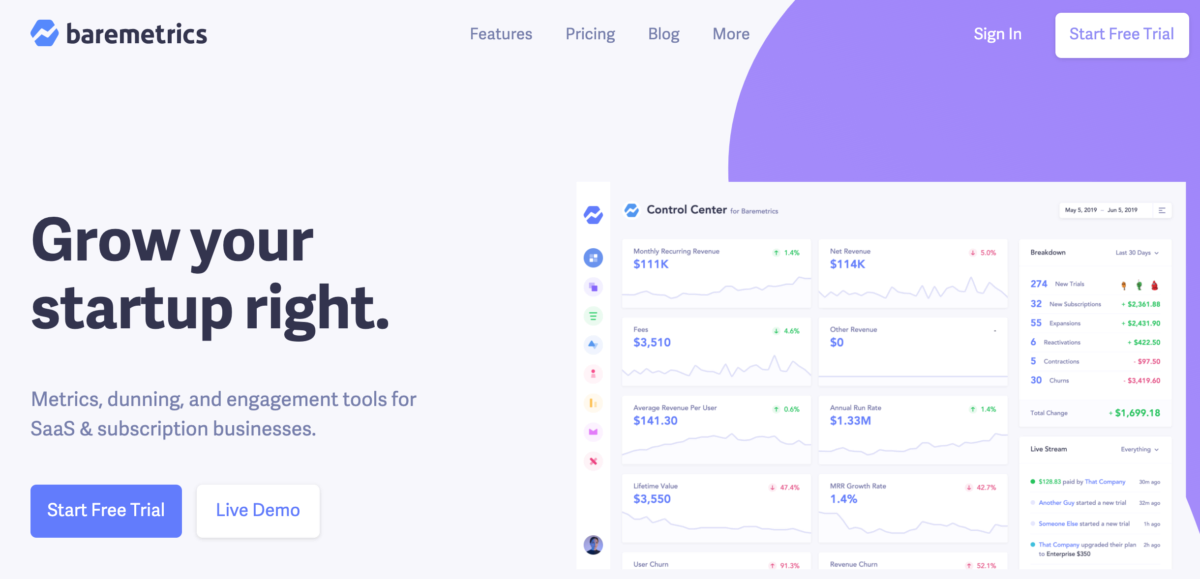 Conclusion
A big congrats for making it this far – you've gotten to the place where work has become a choice and not an obligation. Enjoy it.
It would help if you were a master in marketing a digital agency for steady growth. Bear in mind, though, that evolution doesn't happen overnight. It takes time!
So keep it and always strive to understand your target audience better because that's where every marketing tactic begins.