Nowadays you can find online outsourcers for any job you need to get done. There are a great number of outsourcing websites that offer services to either allow you to list jobs or connect with professionals in your industry.
Since you already know what services you're looking for, the next step is to find the hiring platform to provide you with the best people.
You should be aware that there are many different options when it comes to finding the right people, especially online, and many of those options operate in distinctive ways.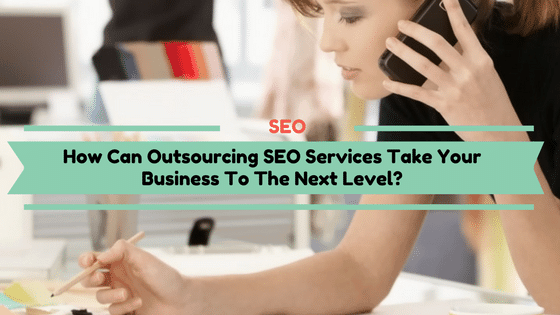 Pin
As a starting point to your research of the most appropriate platform for your needs, we've compiled a list of websites we have experience using.
There are other outsourcing websites out there, however, the best idea is to start finding people to hire that work from home.
#1: Upwork.com
Upwork could be described as the most complex outsourcing website on the internet for the moment.
It all started a few years ago, when two popular online outsourcing companies, oDesk and Elance, have decided to merge, and Upwork was the result of their successful partnership.
Upwork allows you to find outsourcers to work with, while it tracks their time and their work.
You should use Upwork if…
you want to have a wide, international selection of workers for your project, ranging from beginners to experts.
Advantages:
Upwork is extremely user-friendly and you can be sure you'll find a huge number of outsourcers looking for work. Usually, if you post a task or a vacant position you're looking to fill, you'll likely receive a large number of keen applicants to choose from within a few days.
It's easy to hire people through Upwork and it proves to be very helpful in your search for the best candidate, based on their portfolio, the skills they've demonstrated and their previous feedback.
Upwork also offers you a simple way to pay your outsourcers and, if something wrong happens, like a contractor refuses to send you the work you've paid them for, Upwork will step up and help you receive what you're owed.
The time-tracker function of Upwork makes it easy to ensure your outsourcers are doing their job. Moreover, if you want to communicate with outsourcers, you can do this through the platform.
Disadvantages:
It's quite expensive to pay people through Upwork's system. You have to pay Upwork a 2.75% rate in processing fees for every hour your outsourcer works. While this may not seem like much, you'll find that it does add up over time.
There are some options to lower this price to a $25 monthly flat fee depending on what country your account is based in, but it's not available to 100% of users.
It can take a lot of time and interviews in order to fill a position. Since Upwork has one of the largest databases of online workers, there is a lot of competition when it comes to applying for the available jobs. As an employer, you might find that searching for the right person for the job can be quite time-consuming. This isn't necessarily bad if time is by your side, but, most likely, you'd like to find someone to do the job instantly.
The large number of people looking for jobs on Upwork implies the risk of fraud. Although this rarely happens, some applicants might be using a fake name and a fake account and ask for upfront payment for a job they don't plan on completing.
You should use Upwork.com if…
It's important to carefully screen your applicants. If possible, ask them to sign a contract and check their scanned identification. It's not uncommon for disgruntled workers to do a bad job, or take your ideas to competitors, so exercise caution and protect yourself with legal paperwork.
[
Join Upwork.com
]
#2: Freelancer.com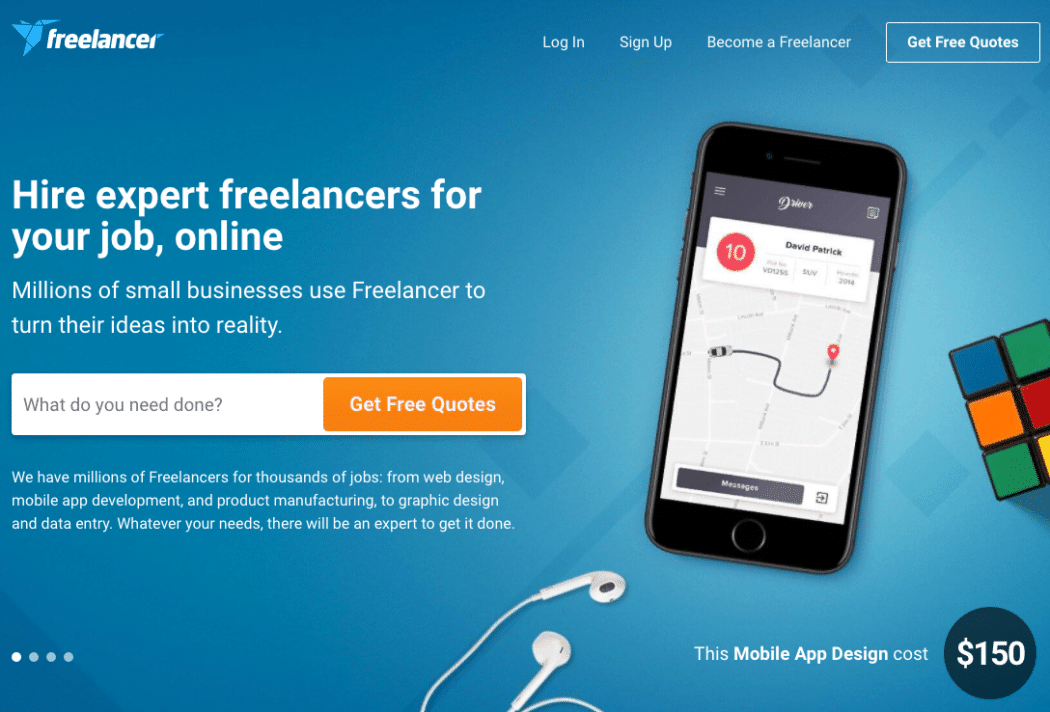 Pin
Freelancer is a direct competitor of Upwork and they function on similar principles and processes. Both workers and employers can connect on the platform, and employers have the possibility to screen, reject or hire workers registered on the website.
Instead of partnering with another large freelance website, Freelancer has developed through its strategy of acquiring smaller outsourcing websites around the world, which have built the large company Freelancer is today.
Advantages:
Like Upwork, Freelancer.com allows you to set jobs for an hourly wage, one agreed-upon amount, or a series of milestone payments.
Its system does not differ too much from that of Upwork, which is an advantage, as the hiring process of both websites is easy and intuitive. Freelancer also offers its users a Desktop App and a Mobile App, to make sure work can be monitored from anywhere.
Disadvantages:
Same freelancers, different websites. Over the years, some people have expressed their dislike of the similarity between Freelancer.com and Upwork. This is a consequence of the fact that many freelancers around the world are present, and bid for jobs on both websites.
As an employer listing jobs on both sites, there is a strong possibility that more or less the same people will bid for your job. With that being said, if these freelancers weren't listing themselves on multiple websites, they couldn't actually call themselves freelancers, right?
For using Freelancer.com, you have to pay higher fees. Unlike Upwork's 2.75%, Freelancer.com asks for a 10% fee, which can be reduced with paid monthly membership. However, when you compare 2.75% to 10%, the difference cannot be ignored.
You should use Freelancer.com if…
you want to engage the interest of workers all around the world, and have a second backup website to post a job on.
[
Join Freelancer.com
]
#3: Fiverr.com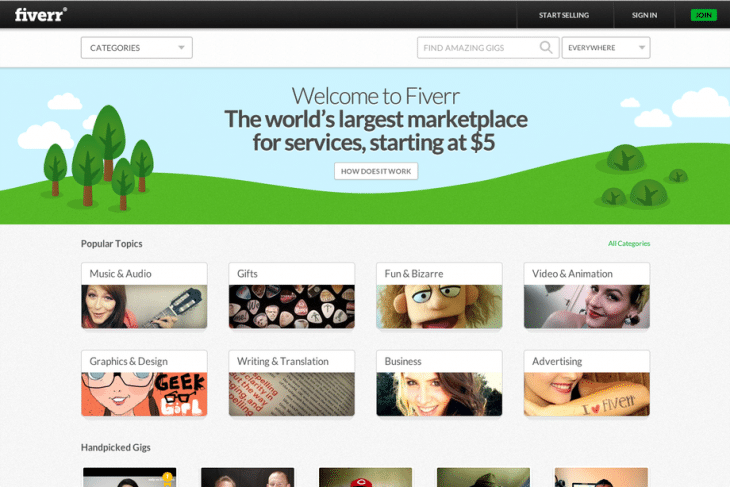 Pin
As you may know, Fiverr has been around for quite a while. Their main benefit is that you can get almost any small job done, called a 'gig', for just $5.
While similar websites that charge other flat-rate amounts have started popping up, Fiverr has maintained its standing and popularity. The website allows employers and workers to connect by exchanging small services or items for only $5.
Advantages:
The key advantage is that you know you know upfront exactly how much you are expected to pay for a task to be completed. There are options to 'upgrade' your purchase by paying $10, or $15, but that's up to you.
Fiverr has an easy ordering process, and the range of services and products on the website is huge. You can get social media advice, videos created, a cartoon drawn, a postcard sent, a tweet sent out to a million followers, and everything in between.
Disadvantages:
You are paying $5, so don't hope for a high-quality service. While some expect miracles, it's important to not overestimate what you're buying. If you purchased a gig for a marketing message to go out to one million followers, don't be surprised if you don't have one million sales the next day. Be realistic about what you're buying. While quality is definitely not the greatest, keep reminding yourself: you only paid $5 for it. The upside is that if you find a valuable gig, you can use it over and over again and save a lot of money.
The website doesn't track the results of the work the seller completes for you. This means it is your responsibility as a buyer to read the description and, most importantly, any small print and evaluate the results yourself.
For example, if you've paid for someone to send visitors to your Facebook Page, take note of how many Facebook Fans you have at the time of the gig order and how many came after the gig was marked as completed. In case you don't have any complaints about the gig, the website will credit the $5 you paid to the seller and close the order.
You should use Fiverr if…
you want to list a potential $5 job, or just want to pay for a quick, basic job to be completed for $5.
[
Join Fiverr.com
]
#4: PeoplePerHour.com
This site brings together people who are either seeking or offering services relating to writing, web development, designing, social media, business development, etc. It is a UK-based company, which follows a system, pretty similar to other freelancing sites. On this site, you will find both online as well as on-site freelancing gigs. Jobs are either fixed-price or hourly type.
They claim to have onboard close to 936,000 businesses and almost 2,4 million freelancers. Also, they sent more than 130 million pounds to freelancers which are large values making them a big player in the freelance markets.
People Per Hour Advantages:
You can add examples of your work to your portfolio, either by uploading files or by embedding links.
Freelancers receive 15 free project bids each month and can purchase blocks of additional bids at a reasonable rate.
You can ask a public question about a project to clarify the brief before you bid. You can also see other people's questions and responses.
You can ask your previous customers to add endorsements on the platform. This is a great way to enhance your standing on the site through your external client feedback.
PPH requires a buyer deposit into an Escrow account when they award a project. This means your money is securely held and waiting for you when the project is signed off.
Peopleperhour offers various ways to chat with freelancers including video call which is very useful in many scenarios.
People Per Hour Disadvantages:
Fees structure – 20% fees on the first 500 pounds earned with a specific customer. Between 500 pounds and 5000 pounds the fees drop to 7.5% and over 5000 pounds earned with a specific buyer drops more to 3,5%.
Currencies – The site support only 3 currencies: pounds, US dollars, and Euros. f you're paid in Dollars and you're a UK freelancer, you either pay a standard exchange charge to move the funds into your UK bank account or a small commission to pay funds into another form of account.
Customer Support: Freelancers report that it is hard to get a hold of the company with tech and support issues with the platform.
You should use People Per Hour if…
you're looking to hire freelancers for your job and have the time to invest in creating detailed requirements and communicate them to the freelancers as this platform is based a lot in communication. Overall as an entrepreneur or blogger, you should try this site once to recruit freelancers.
[
Join PeoplePerHour.com
]
#5: OnlineJobs.ph – Hire Filipinos
According to its website, Onlinejobs.ph is the world's largest and safest marketplace for finding rock star Filipino workers. You can find a worker for almost any job, each one living in the Philippines.
Advantages:
The key advantage of this website is its training and screening process. When you engage in the website's services, you will be receiving a worker that has been screened and in some cases trained to specifically execute the job you are looking to hire them for.
The process of hiring works almost identical to Upwork – you can either post a job listing, or take a look at the workers' CVs and then choose someone to engage with. Filipinos are known for their proficient English skills, attention to customer support and adherence to instructions.
The cost of living in the Philippines is much lower, that's why you'll find the Filipinos rates and salaries are much lower than if you were hiring from the US or New Zealand.
Disadvantages:
Depending on where you are located, Filipinos are most likely going to be living in a different timezone to you. As an alternative to combat this disadvantage, other websites offer a wider variety of workers in other time zones if you want your workers to live in a similar timezone to yours.
The Philippines are known for frequent natural disasters which can lead to power outages. While this can happen to any worker in many different countries, Filipinos are more at risk because these incidents happen quite frequently. Power outages can go on for one or two days, so it's recommended to have a backup in place if you're working towards a tight deadline.
You should use Onlinejobs.ph if…
You'd like to hire Filipinos with their reputation for excellent knowledge of the English language and stellar customer support.
[
Join OnlineJobs.ph
]
#6: HeadHunter
HeadHunter is a Russian website that specializes in providing employers with access to worker profiles. The website does not take a percentage of future earnings, but rather charges employers for posting jobs, or viewing contact details of workers that have listed themselves on the website.
This website is regarded quite highly in Russia, so most workers that create profiles here have a very rich education, experience, and working background.
Advantages:
The website's pricing is quite competitive compared to its international counterparts. You pay around $40 for one job listing or to have access to HeadHunter's database in order to approach prospective candidates for 24 hours. The rates and salaries workers ask for are noticeably lower than on websites like Upwork.
Another advantage of this website is its security screening. The website takes safety very seriously and will ask employers for copies of their business registration documents, as well as thorough reference checks of workers who create profiles on the website.
Disadvantages:
The biggest disadvantage is the language because the entire website is in Russian and so are all the worker profiles. If you like the way this website sounds and you want to use it you can always translate the pages, as well as search for workers who have specified that they are fluent in other languages than Russian. Most Russian outsourcers on the website will speak English.
HeadHunter has some weird pricing structures. For example, if you are only going onto the website to talk to a specific person, you will still need to pay for access to the database of the district or region of Russia and neighboring Slavic countries this person is living in. Depending on the region you want to view workers from, the pricing varies. For instance, you can gain access to the entire database of workers based in Kazakhstan for half the price of a small Siberian district.
Slow system – we're not sure if this is because of the design or not, but the payment process is not automated. This means that you have to first submit a 'call of interest' on the website, then you are taken to a place where you can 'top up' your account.
Once you've topped up your account you then have to 'buy' the service or database access you want from within the system. Finally, you'll have to wait up to 48 hours for the website staff to grant you access. It's fine if you have time to wait around, but confusing and seemingly slow when you want instant access to what you paid for.
You should use HeadHunter if…
you want to hire Russian workers at a good price.
[
Join HeadHunter.ru
]
#7: 99Designs.com – Find a designer
99Designs, as the name suggests, is a platform for employers to find designers. You'll be able to get logos, flyers, website designs, and almost any other design you might need. The website is split up into two parts: "Contests" and "Projects". Contests are where the employer posts a description of the design they need, choose a payment amount and then wait for designers to submit their work.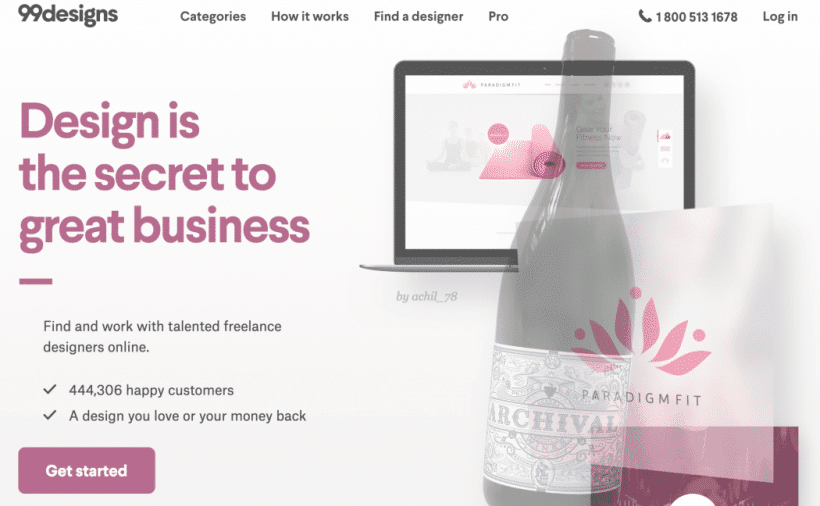 Pin
The employer can then choose a winning design or ask the freelancer to edit a submitted design until they're happy with it. 'Projects' is for employers who have had success with designers bidding on their contests in the past; if they really like a particular designer and want to hire them for other projects, they can do this through the website.
Advantages:
The main Contest part is a handy way to receive a lot of different designs to choose from. On the other hand, the projects and the process are not revolutionary, and the same designers can usually be found and engaged on other websites.
Disadvantages:
There has to be a winner. The biggest disadvantage is that when you post a job, you are guaranteed a certain amount of designs to be delivered. However, even if you did not like any of the designs, you still have to choose someone to 'win' the contest. This sometimes means that you don't get a logo you want, but you still need to pay as if it was completed.
You should use 99designs if…
you're not 100% sure about what kind of design you want for a specific project and want to choose a winning design from a range of suggestions.
[
Join 99Designs.com
]
#8: Dribbble.com – Find a designer
Dribbble is the social network platform of designers around the world. According to their own website, you can find web designers, graphic designers, illustrators, icon artists, typographers, logo designers, and other creative types that share small previews of their work, process, and current projects.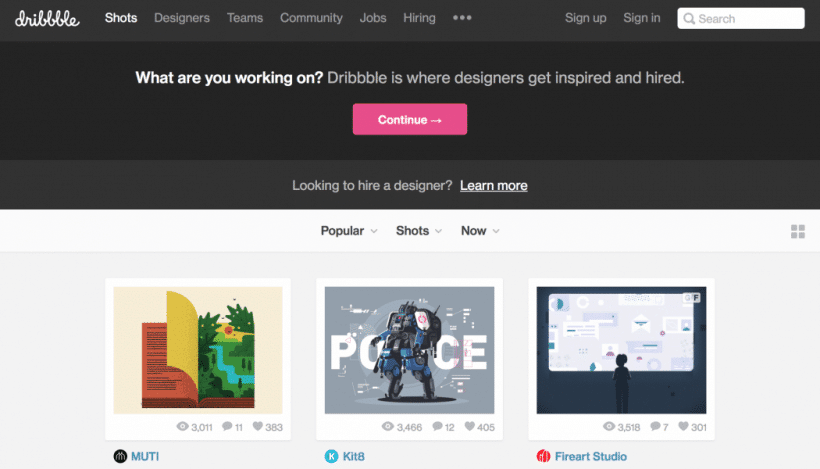 Pin
Advantages:
Because of the way the website is designed, Dribbble is a Mecca of design talent. It was primarily created for designers to check out each other's work. It's human nature to want to put your best foot forward in front of colleagues, and therefore you're likely to find very original and creative examples of work from designers around the world. This way, you can decide to contact and talk to designers you're interested in after you've had a chance to see their portfolio.
Disadvantages:
It's just a social network – the website does not pose itself as a matchmaking service between employers and designers, and therefore the website does not screen their users. If you like the designs of a freelancer, it's your responsibility to do your due diligence and seek references and other information about him and their work ethic. Likewise, the website won't step in on your behalf if you've had a negative experience with one of the designers listed on their website.
You should use Dribbble if…
you want a background check of the portfolio of a designer you're about to hire on another platform, or if you haven't found any designers on any other platforms that can create the type of designs you want.
[
Join Dribbble.com
]
#9: WarriorForum.com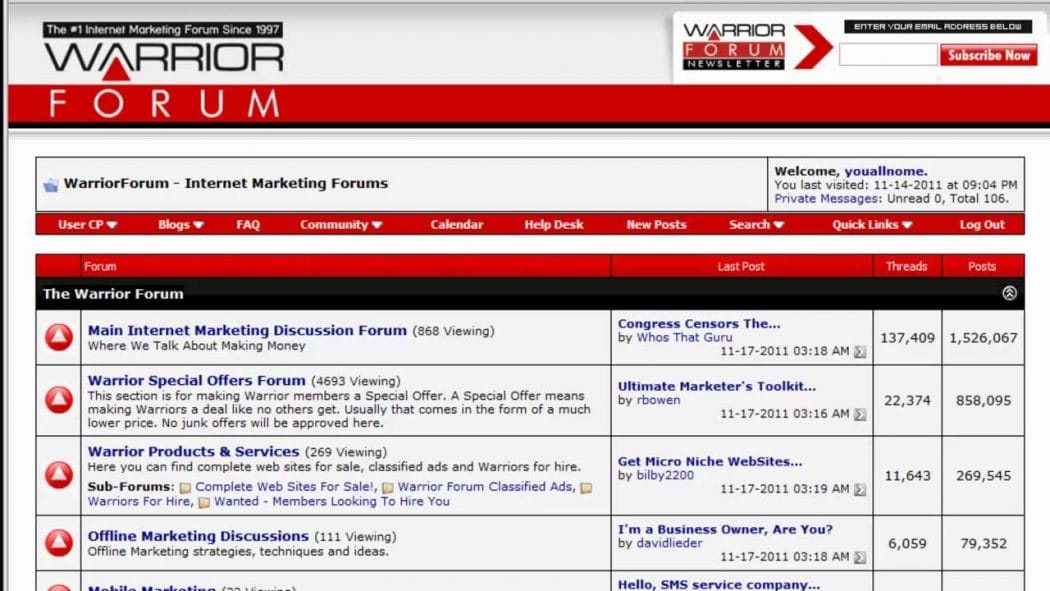 Pin
Warriors Hire is a section of the popular Warrior Forum website owned by Freelancer.com. This is a communication channel to let online marketers find online marketing related services that Warrior Forum members have said they can help with.
Advantages:
The forum is very basic. It features only two options: you can either list a service if you are a contractor and want to be hired, or you can browse or search for services that are being offered by contractors.
The website takes no cut from any hires made as a result of this forum. Because all posts are made by existing Warrior Forum members, you can look at contractors' profiles to see how long they have been involved in online marketing.
Disadvantages:
It's a very Basic System. The biggest advantage is also its disadvantage. Because of how elementary the forum is, employers have limited ability to screen contractors and the other way around.
Also, this forum does not broker working relationships and should be considered as just that: a forum where you can meet and connect with people.
You should use Warrior Forum's Warrior Hire if…
you want to find a contractor in a forum for a one-off job, and you're comfortable with agreeing on working terms directly with the worker.
[
Join WarriorForum.com
]
10 TopGold Forum Marketplace
TopGoldForum's Marketplace is a section of the popular TopGoldForum website owned by MediaDigi.com. This is a communication channel that lets online users buy and sell different goods and services like SEO, Social Media, programming services, marketing, websites and domains, hosting, advertising, digital money exchange etc.
Advantages:
Getting a TGF account and then looking for jobs is very easy and it has no fee. However, you should spend some time to fill your profile and get good ratings before being accepted for important projects.
Having categories like Money Exchange, Scripts, Software and Apps, Hosting, Domains TopGold Forum Marketplace may be the perfect place to get all you need for your next project and also to post more offers if you are providing multiple services.
If you've just started offering services or looking for jobs while you're still learning, you should register on TopGold Forum.
Disadvantages:
This forum has an extremely basic system. It doesn't allow employers to fully screen the freelancers, nor do the freelancers see all the details regarding the hirer. Moreover, the forum doesn't help you establish working relationships and you'll have to negotiate them yourself.
You should use TopGoldForum if…
you need to find a freelancer for one job and you don't mind discussing the working terms yourself.
[
Join TopGoldForum.com
]
Conclusion
These are the top outsourcing websites that online business owners can use in order to find contractors for their business.
As always, do your own research first and don't rush in and post too many job offers on too many websites, especially if you have to pay to do it.
We usually advise against paying for job listings, however, we understand that in the long run, it may be a more cost-effective option if the alternative is paying the website a percentage of everything your worker earns.
Take your time, create profiles on these websites and look at the types of jobs being posted. Also, look at the other outsourcers who have profiles there.
You can always hire from more than one website, but you'll want to narrow it down to two or ideally one when you start getting a team together.
It's much easier to manage your team from within one system.