Do you want to start an affiliate program, and promote it to get affiliates that will drive sales, or you are a publisher and plan to make money as an affiliate? That's great! You might be confused about which types of affiliate marketers are available and how they navigate the affiliate space. That's cool, you are not the only one, and we have you covered.
In the following article, we will show you 15 types of affiliate marketers you will meet online. While some just started as bloggers, others are established media companies like Ziff Davis. This information is useful both for affiliate managers who want to attract affiliates and to affiliate marketers because they can get inspired to make money revenue.
Before anything else, keep in mind that "Affiliate refers to a wide range of partner types which includes independent publishers, digital marketing entrepreneurs, major media companies, and in some cases, other brands who promote offers to their customers as an added value.
Here is a list of some of the most common types of affiliates:
1. Content sites
Content partners are website owners that write and publish content online. This is why their name. These websites have editorial teams and often produce large volumes of viral content.
They monetize the content via advertising revenue as part of their business model. These content partners could be significant media companies like BuzzFeed or Business Insider or smaller, independent digital publishing operations.
Solely user-generated content (UGC) sites, such as discussion forums, can fall into this category as a vast majority of the website content is created by users.
Below you can see a screenshot of Addictive Tips, a pretty popular content website. The editorial team creates content about gadgets, PC tips, VPN software, and they monetize the audience through affiliate programs.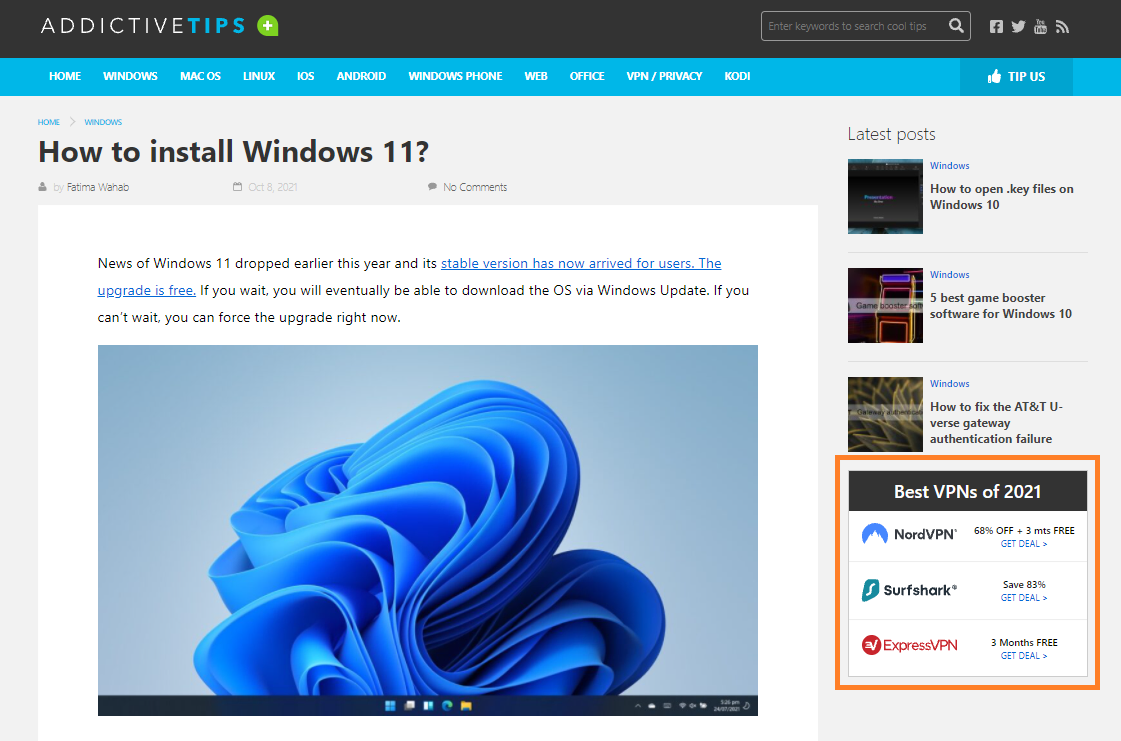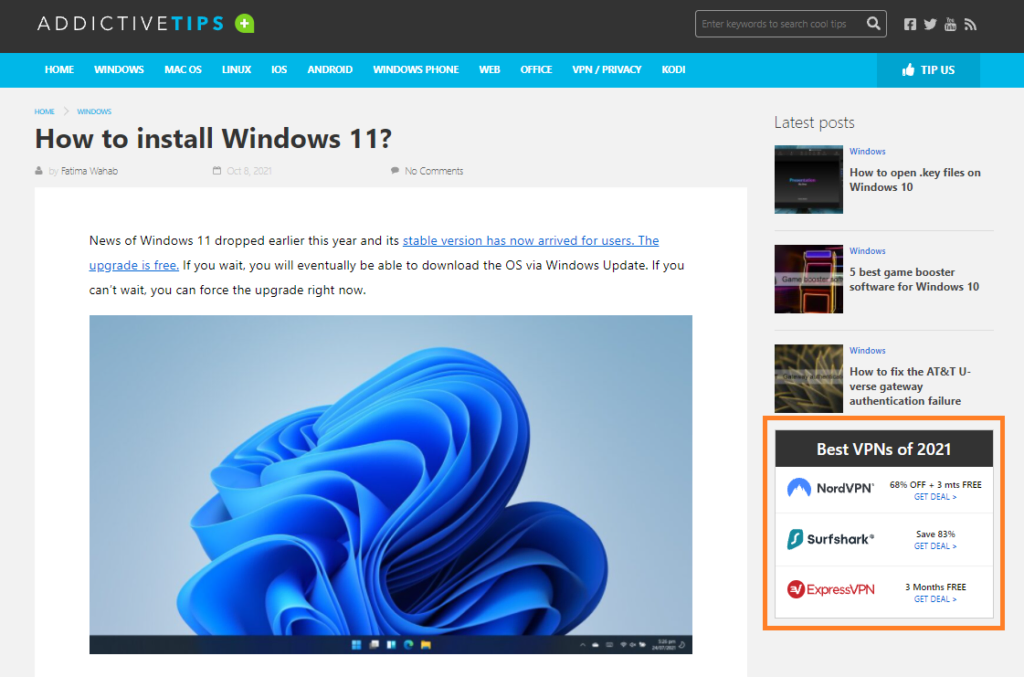 Content sites are great money makers. Their audience is willing to try new products as they trust the brand already for their recommendations.
Content sites for Affiliate marketing
Affiliate Content Sites examples: Addictive Tips, Benzinga, BuzzFeed, Ten.info, Monetize.info, Top Gold Forum
Advice for affiliate managers: These websites have large audiences, so offering them incentives to join your affiliate programs may be suitable. Don't be shy and ask for traffic stats, demographics, etc.
Advice for content website owners: Signup for affiliate programs that offer products and services that match your reader persona. Update your content to invite users to check the products you advertise.
2. Bloggers
Blogs are a subset of content types. The main difference between a typical content website is that bloggers create most of the content of their blogs on their own and have a closer relationship with their readers.
As an affiliate manager, you'll be able to find a lot of blogs in almost any specific niche. These blog niches range from personal hobbies to consumer product reviews to tips and tricks on everyday-life topics like saving money or parenting.
The screenshot below shows the Daily Money Saving blog where Denise shares tips with her audience on saving money.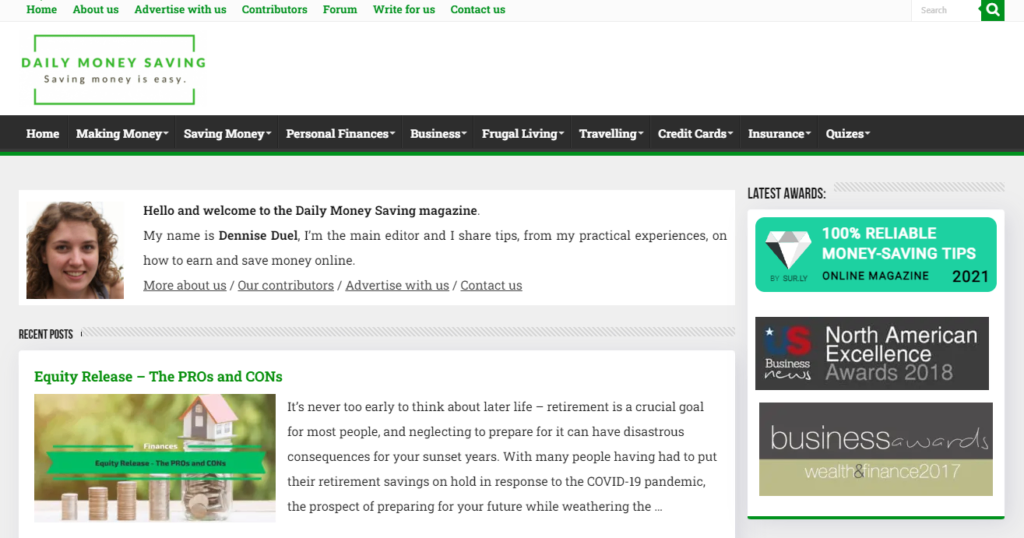 The blogger may use different monetization methods like display advertising, sponsored posts, affiliate banners or include affiliate links peppered throughout their blog posts. But be careful. Not all bloggers are created equal. Choose bloggers that speak to your target audience about issues relevant to your products or services.
Blogs for affiliate marketing
Bloggers examples: Daily Money Saving.
Advice for affiliate managers: Contact the bloggers personally and offer them incentives to try your product and join your affiliate program. Don't be shy and ask for traffic stats, demographics, etc.
Advice for bloggers: Signup for affiliate programs of products and services you already use or you've personally tested. Write in-depth reviews explaining to your readers how they are beneficial for them.
3. News & Media Sites
Many large media companies monetize content and place native advertising like native articles within articles using affiliate links. Recently, news and media sites are getting into the affiliate game. That's happening because they are looking for better income streams as ad revenue is declining due to the adblockers and people ignoring ads more and more.
Media giants like Ziff Davis are acquiring online publications regularly while others are diversifying revenue streams to combat dying ad sales. Either way, these are significant players in the game, and they can negotiate better affiliate commissions, etc.
Also, these companies are doing extensive research and A/B testing on affiliate links placements and CTAs, so it's better to watch these sites and see what works for them. Then implement these methods on your websites and monitor the performance.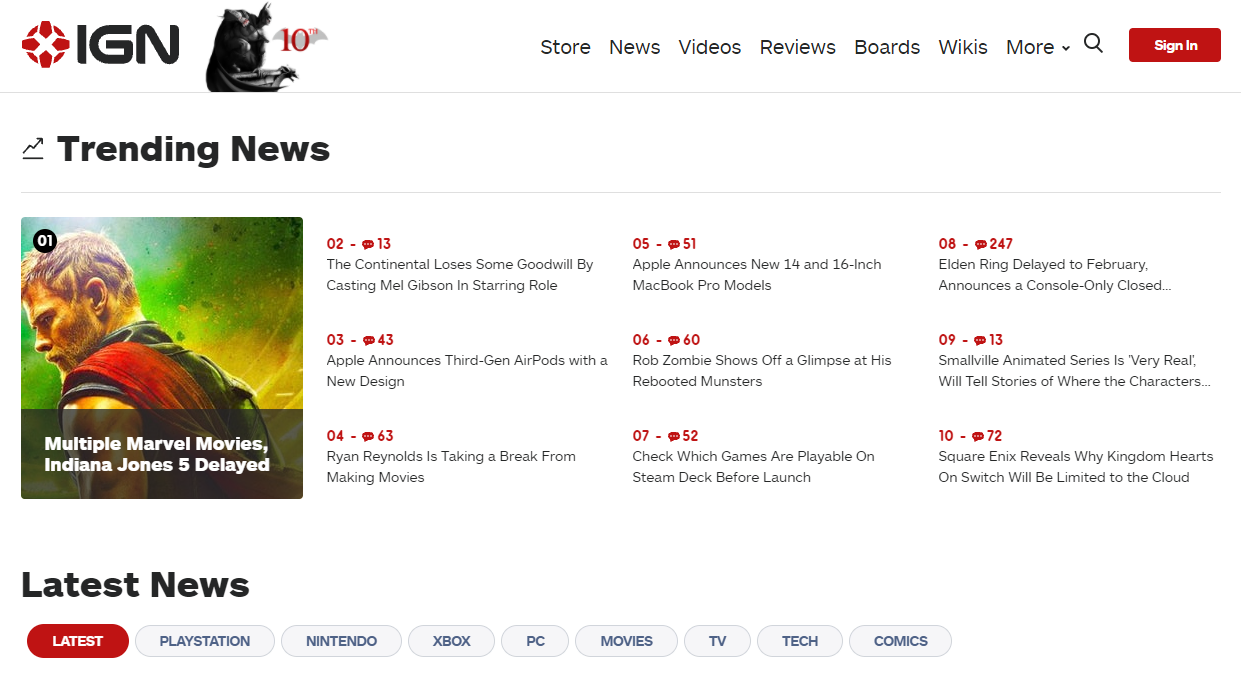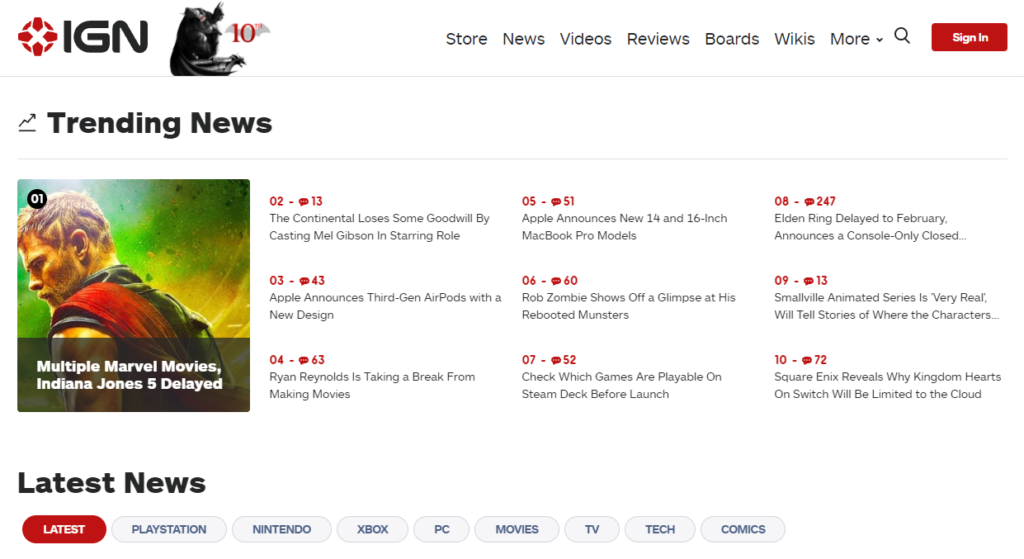 IGN Entertainment is one of the leading Internet media companies focused on video games and entertainment. IGN reaches more than 250 million monthly users worldwide and is followed by more than 47MM social followers.
News and Media sites for affiliate marketing
Media sites examples: IGN.com
Advice for affiliate managers: These websites have large audiences, so offering them incentives to join your affiliate programs may be suitable. Don't be shy and ask for traffic stats, demographics, etc.
Advice for news website owners: Besides news, add informational articles and guides to perform better in affiliate programs.
4. Review Sites
These sites review different products, usually in a specific niche. One of the most popular affiliate programs for those is Amazon Associates. Affiliates and partners are told that creating an Amazon review site is one of the best ways to build their business and generate profits every month.
In the picture below, you can see a screenshot of the homepage of such a website – Water Filter Guru. This is an authority website in the nice of water filters.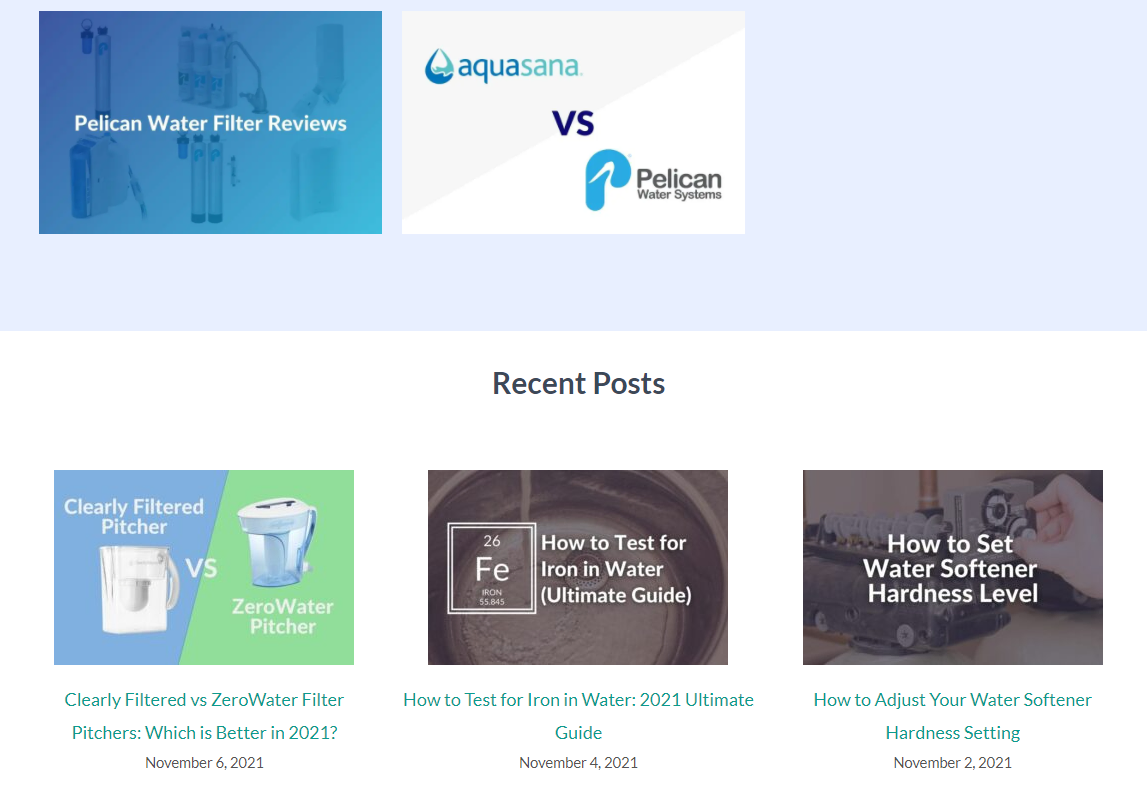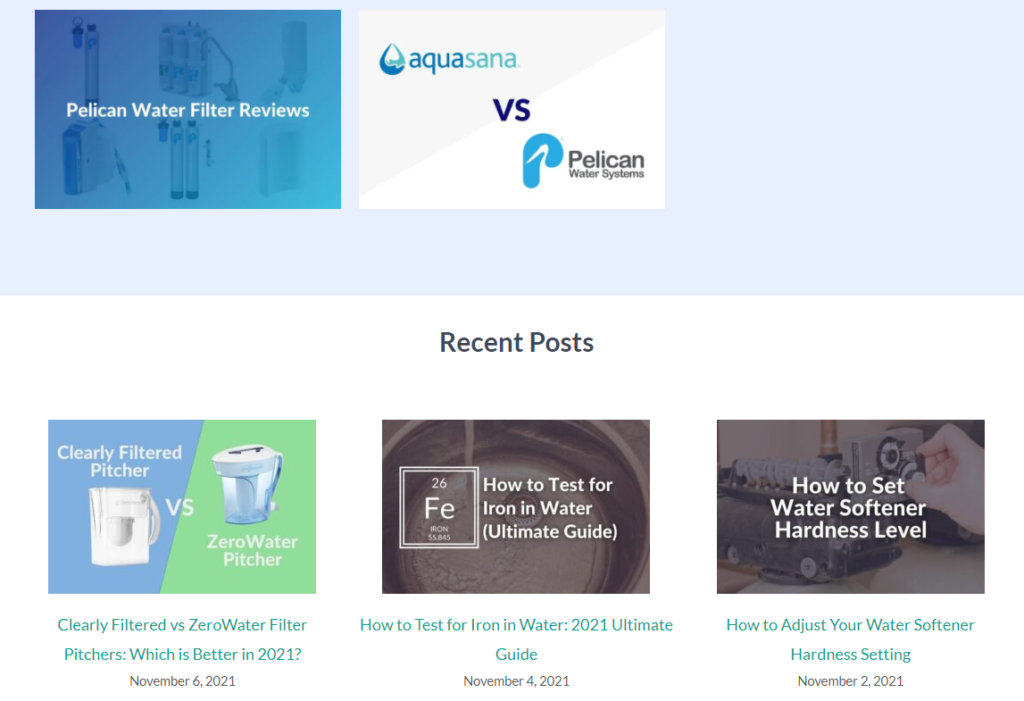 If you are an affiliate manager, make sure you choose only reputable review websites. Look for those with keyword-rich URLs, clean, uncluttered content without many popups or widgets, and thoughtfully considered reviews geared toward the reader's needs.
Review sites for affiliate marketing:
Review sites examples: Thoroughly Reviewed, Water Filter Guru
Advice for affiliate managers: Look for websites that have authority and reputation in your niche.
Advice for website owners: You should look for different affiliate programs besides the usual ones and make sure you test them to find out the one that converts best for your audience.
5. Coupon Sites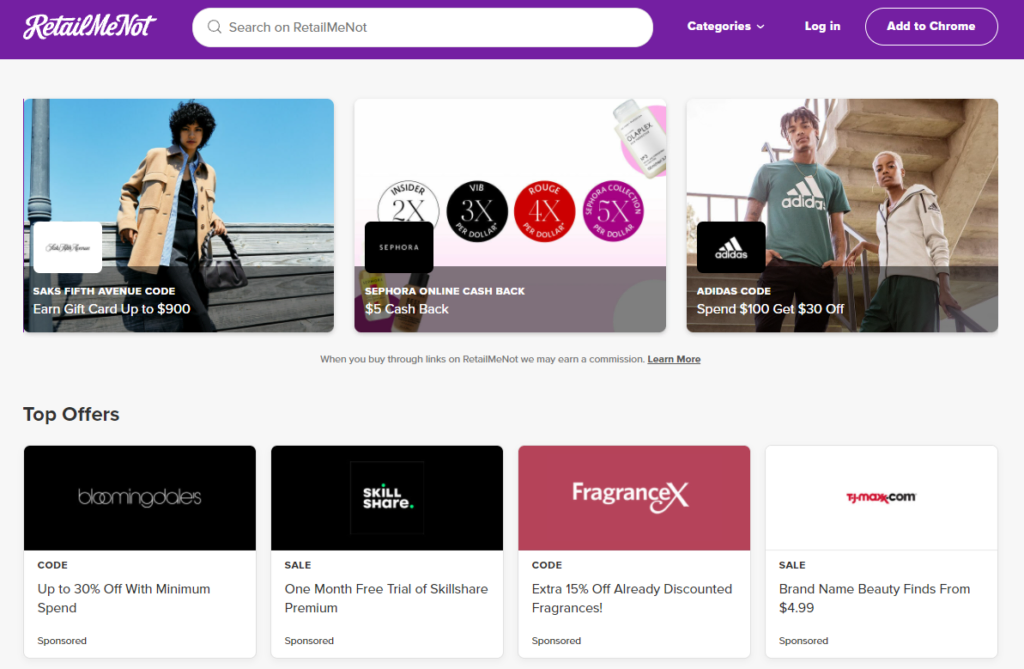 Coupon or Deal sites are easily the most popular type of affiliate site out there today. And for a good reason: They are eCommerce-friendly websites that consumers turn to when they're looking for a deal–and that is the majority of online consumers.
Affiliates will offer coupon or discount codes to their users and earn commissions on any sales that result from someone clicking through one of their links to a merchant site. Some even allow users to upload coupon codes of their own.
Coupon sites examples: RetailMeNot, Offers.com, Coupons.com
Advice for affiliate managers: Owners of coupons website are always looking for the best commissions and programs that convert well. Make sure you can offer them top deals if you want top traffic.
Advice for website owners: Coupon websites have tough competition, so you need to ensure you can differentiate yourself. Besides, SEO should be a priority as most traffic comes from people looking for discounts on a specific product or service. i.e. "product discount", or "product discount"
6. Loyalty or Cashback Sites
Cashback sites are quite popular with users, too. They give back money to members based on purchases they've made through the site's affiliate links. The cashback site would get a commission for every sale, but now they give a percentage of their commission right back to the user who made the actual purchase.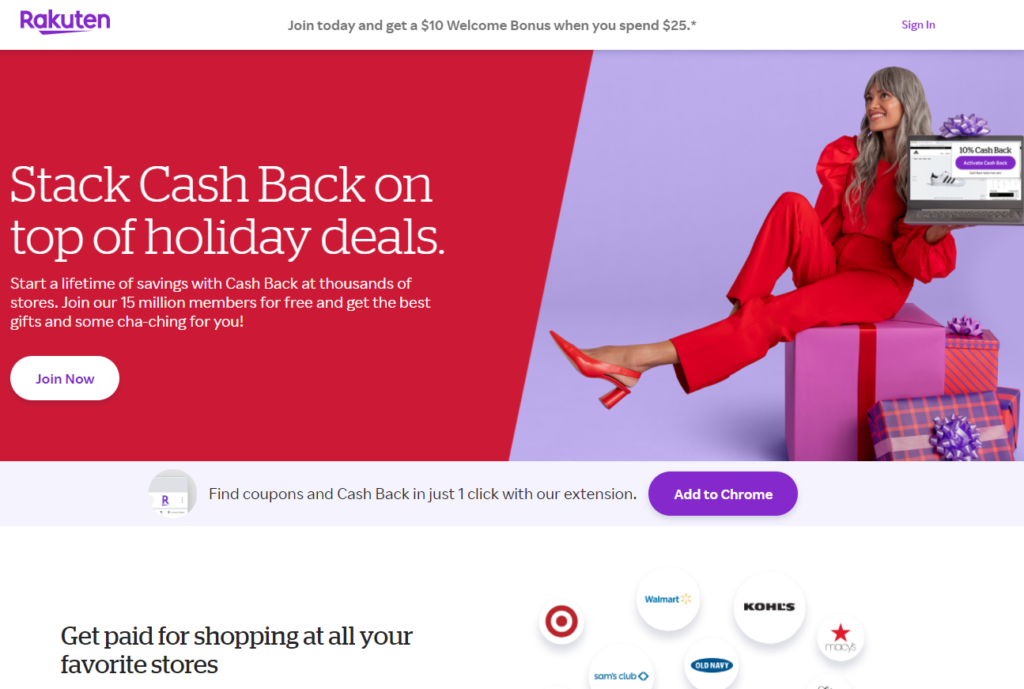 It means a lower profit for the publisher with each sale, but they more than makeup for that by encouraging members to make purchases through various promotions and incentives. eBates is the most popular and widely used.
Cashback affiliate websites examples: Rakuten, GoCashback.com, ExtraBux.
Advice for affiliate managers: If you plan to list your shop on cashback websites or apps,  first study the audience and ensure it is different from your visitors. Otherwise, people that already order from you will order through the affiliate program.
Advice for cashback website owners: Try to go as niched as possible and always come with shops and products that have good products but don't are well known yet.
7. Shopping Comparison Websites
Websites and apps that offer eCommerce tools like comparison shopping rely heavily on data feeds full of products tied to affiliate links. Sites like Shopping.com let users search for millions of products, returning relevant results.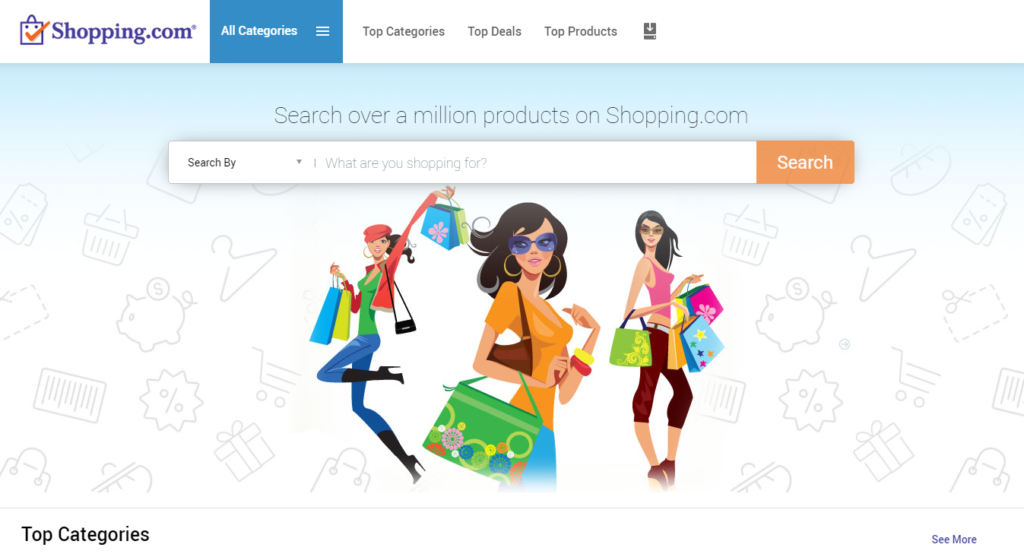 When users click through a product to purchase on a merchant's page, they use an affiliate link, helping the comparison shopping site earn a commission.
Shopping Comparision Websites examples: Shopping.com
Advice for affiliate managers: To get multiple sales, you should make your products stand up from the crowd. Try to come with better prices, bundles, support options, etc. Also, these kinds of websites have large audiences, so offering them better commissions may be suitable.
Advice for website owners: Try to help the shopper as much as possible by offering them many shops, purchasing options, and functions to compare the products quickly.
8. Email List
People still use email to communicate despite text messaging or instant notification being super-popular. According to Statista, there are 4 billion daily email users, and this number is expected to climb to 4.6 billion by 2025. Also, the global email marketing market was valued at $7.5 billion in 2020 and is projected to increase to $17.9 billion by 2027.
So you can see that email marketing is a valuable revenue string if it is used right. Large publishers have built email lists to rely less on search engine traffic and penalties from algorithm updates. And many independent affiliate marketers use it to make money.
Email campaigns targeting a specific customer demographic are standard, and multi-merchant email opportunities that feature deals or special promotions are a few examples.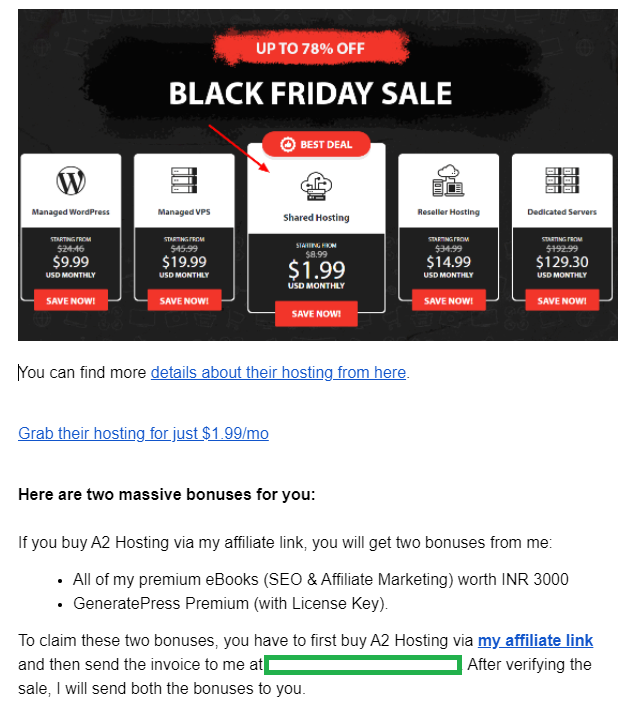 As an affiliate marketer, I suggest grabbing your visitors" emails and emailing your lists with highly targeted affiliate campaigns. For instance, in the image above, you can see how an affiliate that runs a digital marketing blog sent
If you are an affiliate manager, you should remember that working with email affiliates can be risky, especially if they're not CAN-SPAM compliant. Affiliate fraudsters will sometimes categorize themselves as Email affiliates in the networks because their promotional activities tend to not be as visible to the merchant/advertiser.
Email affiliates examples: Monetize.info, Top Gold Forum, WPMayor.
Advice for affiliate managers: Ensure that the email lists are CAN-SPAM compliant lists; otherwise, you will put your brand in danger. I suggest you deal with affiliates with solid websites, and they can prove the origin of their email lists.
Advice for website owners: As soon as you start an affiliate website, start grabbing visitors" email addresses using content upgrades, newsletter forms, giveaways, etc. Email lists have a great ROI if used right.
9. Mobile apps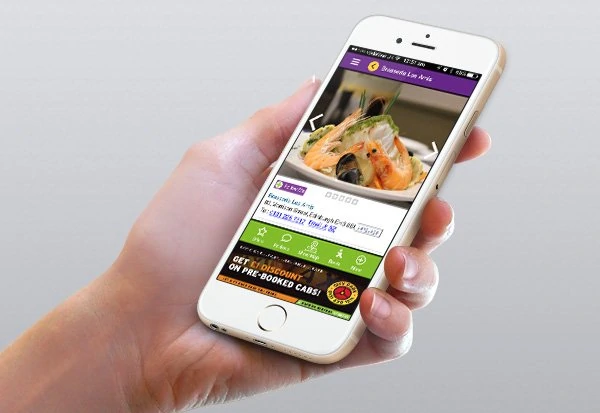 Specific sites build in affiliate links to their apps. That goes for coupon or shopping comparison sites with an app, but also standalone apps themselves.
Popular apps like Shazam and Pandora use affiliate links to send users toApple'ss iTunes Store, while free gaming apps monetize via incentivized offers.
Advice for affiliate managers: These websites have large audiences, so offering them incentives to join your affiliate programs may be suitable. Don't be shy and ask for traffic stats, demographics, etc.
Advice for mobile apps owners: We suggest you signup to multiple affiliate networks and do a lot of testing to identify the affiliate programs that convert best for your audience. As these apps have a large audience base and most people do not pay for them, you should look for suitable CPA offers.
10. PPC Affiliates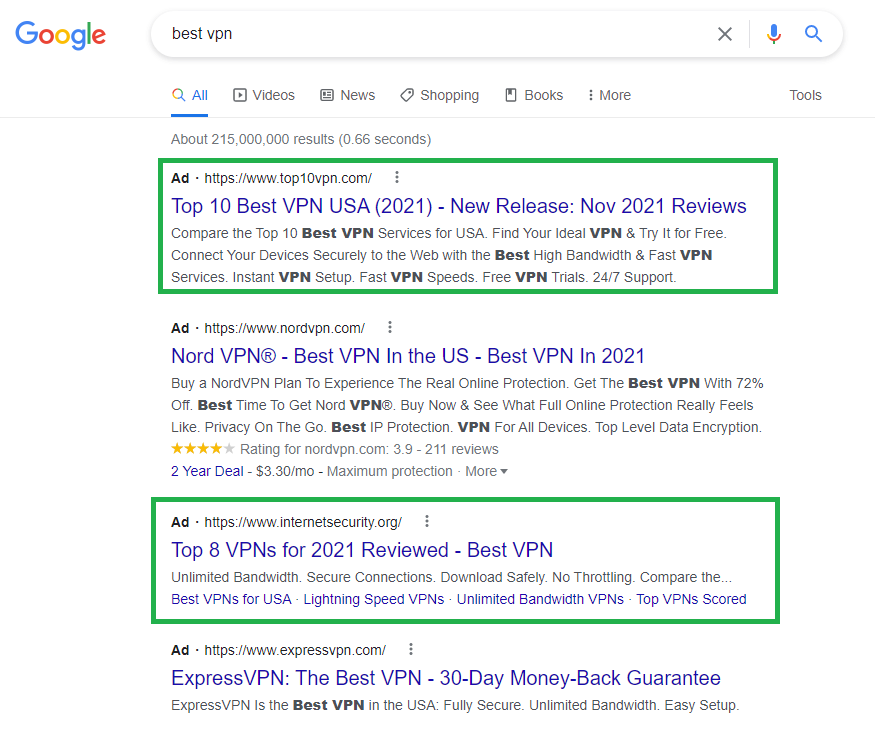 These affiliate marketers leverage Search engines, Facebook, and other paid advertising sites to drive quality traffic to affiliate programs. They may do it directly to the vendor's website or through a landing page.
PPC affiliate marketers make a buck by making more from the affiliate commissions than paying for PPC ads to Google, Facebook, and other advertising networks.
The bottom line, merchants need to consider how each affiliate drives traffic to promote their offers to ensure they're appropriate for the product they're trying to promote and ultimately sell, compliant and playing by the rules.
PPC Affiliates examples: Top10VPN, InternetSecurity.org.
Advice for affiliate managers: PPC affiliates are reluctant to offer details about their promotion, and sometimes they use grey/blackhat methods. Make sure they are not deceptively using your brand.
Advice for PPC affiliates: Try to protect your best advertising methods from the eyes of vendors and competitors. Also, signup to reputable affiliate programs, or you may end up not getting paid for your efforts and advertising costs.
11. Sub-Networks
Sub-networks also referred to as sub-affiliate networks, are affiliate marketing companies that build affiliates of their own. They often act as an"affiliate of affiliates," whereby one relationship with a sub-network can provide access to 100s of other affiliates through their network.
The sub-networks manage all the relationships with the partners in their network. Sub-networks generally sign up through the brand's SaaS Tracking Platform of Affiliate Network, but in some cases, a sub-network will require a direct integration of their own.
Sub-networks offer high-volume traffic opportunities and can make up a significant portion of affiliate programs" activity. Some example sub-networks include SkimLinks (now a Taboola company) and VigLink.
Advice for affiliate managers: Sub-networks have a large base of affiliates. They take care of improving conversions; however, you should be precautions about fraud or low-performance networks as you may end up paying for nonperforming affiliates.
Advice for sub-networks owners: You should screen your affiliates to ensure the fraud and low performance are kept at a reasonable lever; otherwise, the affiliate programs or affiliate networks may end your contracts.
With the rise of Instagram, Tik Tok, and YouTube celebrities, social influencers can make up a significant portion of a brand's affiliate program.
Social Influencers generally take a little more time to develop a close relationship with, and they prefer to work with brands they believe in or products they use themselves.
If you can establish a close relationship with a small cohort of influencers, it can be a powerful part of your affiliate strategy.
Social influencers examples: –
Advice for affiliate managers: Like for bloggers, many social influencers have solid audiences. Most of them will ask for upfront payments without proving they can generate sales. I suggest working only with social media influencers that have solid proof of conversions.
Advice for social media influencers: Look for solid, time-proven affiliate programs with products or services close to your audience.
13. Software / Toolbar Affiliates
Affiliates in this category use software, toolbars, and browser extensions to drive sales. Some resort to adware, malware, and other strategies.  Others, however, may be valuable assets to any affiliate program. For example, some software developers have low-priced or free alternatives for their products, monetizing with ads. They could bring your products in front of the right eyes. Think online wallets, video, audio, and graphics editing software, etc.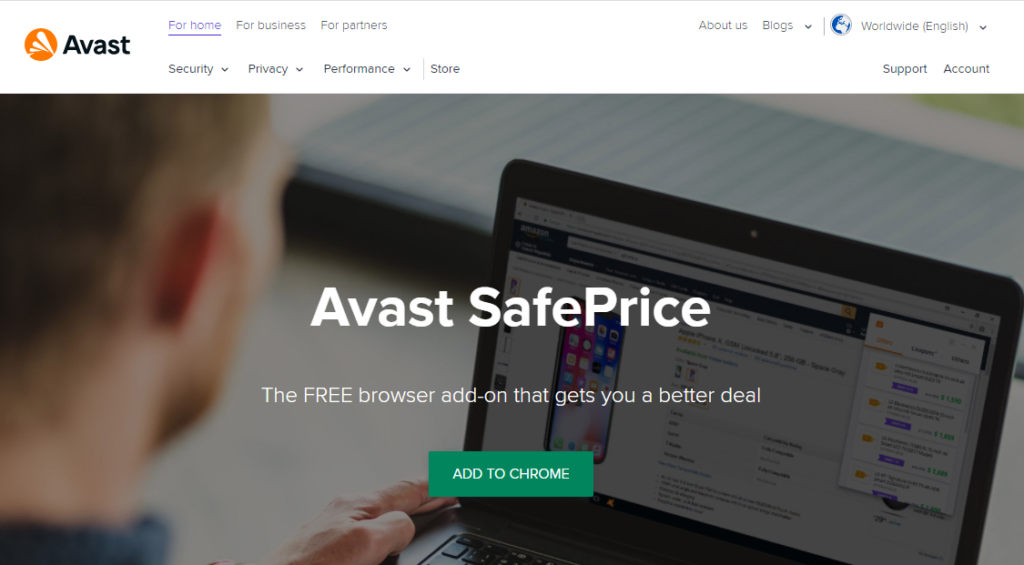 Others, like Avast SafePrice, have such an excellent reputation that partnering with them would surely inspire confidence and benefit your brand. As usual, it is essential to choose and police your affiliates carefully. You have to protect not only your brand and reputation but also your other affiliates.
Software/Toolbars Affiliates examples: Avast SafePrice
Advice for affiliate managers: Affiliates will display your products to new audiences with software and toolbars. However, you should screen the affiliates very well and ditch those involved in shady marketing tactics like adware, etc.
Advice for software /toolbars affiliates: Look for time-proven affiliate programs with solid ratings.
14. Pay-Per-Call Affiliates
Marketers in this category drive inbound phone calls in exchange for a commission. Whether or not pay-per-call affiliates can benefit your affiliate program and fit in with your other affiliate types depends heavily on your business-specific.
One thing is sure; if you want to employ this remuneration model, you will need to find a viable solution to track referrals. Generally, pay-per-call works best for service providers (legal, auto service, travel, insurance, etc.). Still, it has proven effective for high-end products, especially when combined with click-per-sale or click-per-lead.
Pay per Call Affiliates examples: –
Advice for affiliate managers: Ensure that the affiliates are not deceptively using your brands or services. Also, find a mutually beneficial way to track affiliate sales.
Advice for pay-per-call affiliates: Look for solid, time-proven affiliate programs that can easily track your leads.
15. Video and Podcast Affiliates
They could easily qualify as content or review affiliates. It seemed fitting to place them in a different category because their marketing methods are more interactive and challenging. They promote products and services through video, audio, or combinations of the two.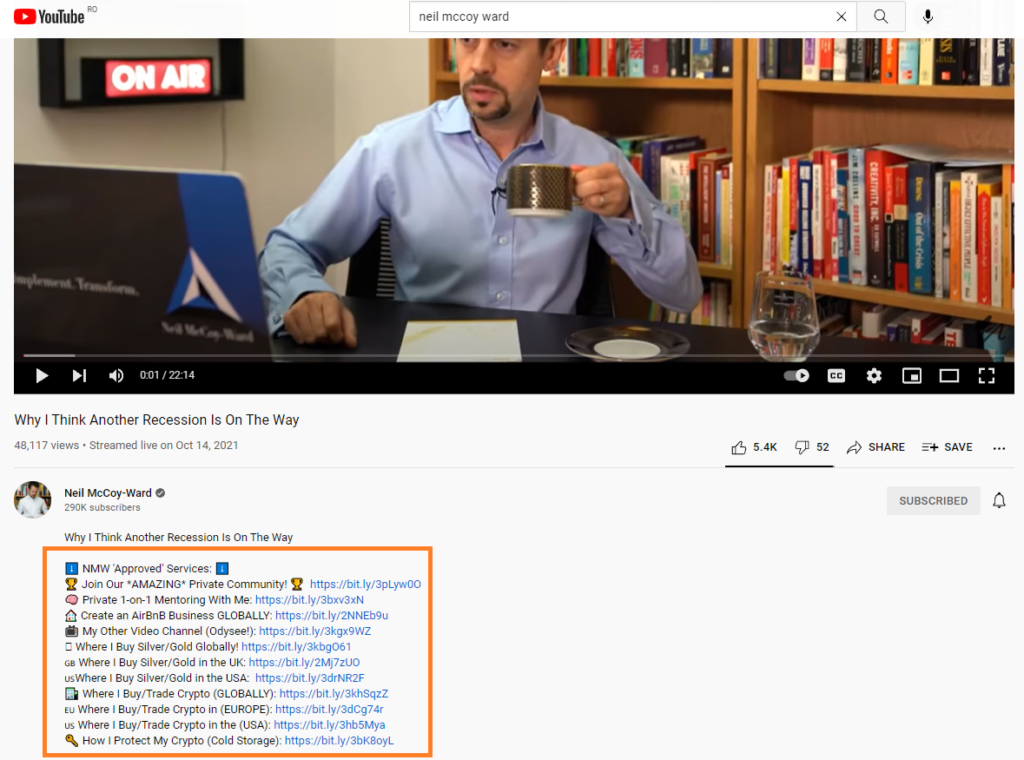 Buyers often look up video demonstrations of the products or services they wish to buy. Many also listen to podcasts and will follow recommendations received this way. I've seen some talented affiliates who use animations to promote various products and services.
When buyers are more distracted than ever, and competition is tight, video and audio affiliates are worth gold. They can help you draw attention and convert. As with the other affiliate types, though, choose your collaborators carefully and supervise their activity.
Video and Podcasts Affiliates examples: Neil McCoy-Ward
Advice for affiliate managers: Just like social media influencers, many social influencers have solid audiences. I suggest working only with video and podcast influencers that have solid proof of conversions.
Advice for video and podcasts: Look for solid, time-proven affiliate programs that easily track your leads with a specific discount code.
Conclusion on types of affiliate marketers
So there you have it: 15 affiliate marketing types and advice for affiliate managers on approaching each category. Also, we have advice for each kind of affiliate on finding the best converting affiliate marketing programs.
It can be challenging to determine which type of affiliate publisher is right for you. There is a lot of information available. Your affiliate program or partner program might only apply to specific partners. Your program may be flexible enough that it can impact all of them. A successful business depends on knowing its audience.
I've just launched an affiliate marketing consulting service that will guide you through your journey in starting, launching, promoting an affiliate program, or, if you are on the other side of the fence, to make good money through affiliate marketing. Check it here.
The bottom line is that, nowadays, affiliate sites can cross over to more than one type of site. For instance, here on Monetize.info, we write reviews, have a coupons section, and email our lists with affiliate marketing offers.